Survivor News and Notes for NFL Week 8 2020
News, notes, and observations impacting the 2020 NFL Week 8 survivor pool landscape, straight from the TeamRankings experts.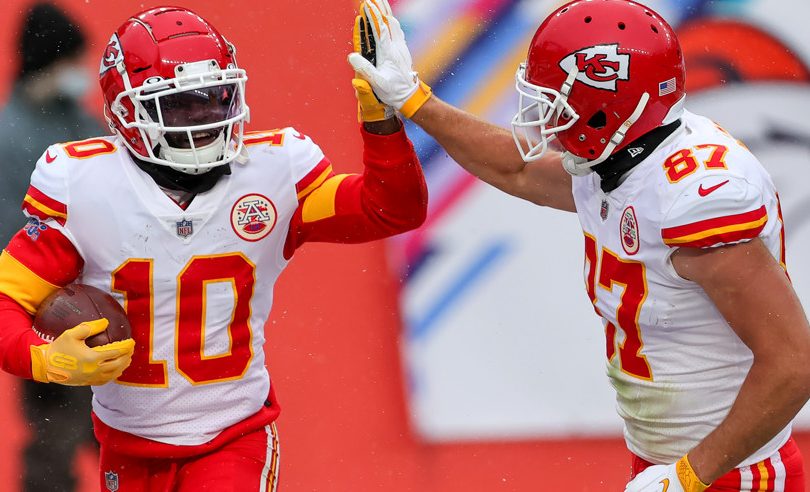 Travis Kelce and Tyreek Hill give high fives when looking at who is next on the schedule (Photo by Steve Nurenberg/Icon Sportswire)
Monday, November 2nd at 1:45 p.m. ET
There were two important Survivor upsets on Sunday:
Tennessee lost to Cincinnati. The Titans made up 11% of our subscriber pick suggestions, and were picked by 10% of the public. So, that one was close to a wash from a TR vs. the public perspective.
Green Bay lost to Minnesota. The Packers only made up 0.1% of our subscriber pick suggestions, and but were picked by 10% of the public. On balance, that game was a big win for our subscriber base.
Combined with a handful of upsets of teams with a 1% public rate or below, 22% of the public has been eliminated so far this week, compared to only 11% of our subscriber pick suggestions.
However, tonight's game will determine whether this is a just a good week or a fantastic week for TR subscribers as a whole. With Kansas City already winning, the vast majority of TR subscriber picks this week (97%) have already been accounted for, while 32% of the public is picking Tampa Bay tonight.
So most TR customers should be rooting hard for the Giants, as an upset would boost the public elimination rate for Week 8 up over 50%, compared to a TR pick elimination rate of under 15%.
Sunday, November 1st at 10:15 a.m. ET
With second string QB Andy Dalton officially ruled out for the Cowboys, and Ben DiNucci making his first career start, the Eagles remain favored by 10 to 11 points (depending on sportsbook).
Consequently, the Eagles are our most recommended pick for this week right now, slightly ahead of Kansas City. Combined, KC and Philadelphia picks currently make up 86% of our recommended pick suggestions. (We discussed below, in Friday's note, why KC's high win odds make this high concentration on just two teams acceptable.)
Most of the rest of our pick suggestions are on Tennessee and Tampa Bay, aside from a few higher risk options in some pools with non-standard rules.
Comparing our pick rates to the public overall, we are:
Very high on Philadelphia (46% vs. 14%)
Slightly high on Kansas City (39% vs. 29%)
Basically in line on Tennessee (11% vs. 10%)
Almost completely fading Tampa Bay (3% vs. 33%) and Green Bay (0.1% vs. 10%)
Essentially, compared to the public, we're shifting about 30% of recommendations from Tampa Bay to Philadelphia, and 10% from Green Bay to Kansas City. So let's talk about those.
Tampa Bay is a 13-point favorite. Both the market and our models have them at 85% win odds. Philadelphia is a 10-point favorite. The market has them at 82%, and we've got them at 78%. So there's more risk in picking the Eagles. However, the other two legs of the Holy Trinity (pick% and future value) are strongly in favor of Philadelphia. The Eagles have a public pick rate of 14%, compared to 33% for Tampa Bay. And the Eagles are a mediocre team while the Bucs are the best team in the NFC according to our power ratings, which results in Tampa Bay having much more future value. If you trust the numbers, the Eagles are the better pick in terms of increasing your odds to win a survivor pool. You have a slightly higher chance of getting eliminated this week, but you save one of the top teams in the NFL for  a future week (when a bunch of your opponents will have already burned them this week), and you also avoid a very popular pick that could lose in an unlikely upset and wipe out around a third of survivor entries nationwide.
As for largely avoiding Green Bay and suggesting Kansas City instead, the win odds do pretty much all the talking there. KC has a 90%+ chance to win, Green Bay has around a 65% chance to win. Maybe if Green Bay had no future value and 0% pick popularity, that drop in win odds could be acceptable, but probably not. Given KC's high future value, there's obviously some downside to picking the Chiefs this week. However, this is their easiest game of the season, and they're not projected to have as high of a win odds edge over the rest of the field in any future week. So there's a strong case for using them now (one that we've talked about since the preseason) and saving Green Bay to use in a better spot.
Of course, betting odds and win odds projections will continue to bounce around a bit between now and the Sunday kickoffs, and our models will react to the latest info. Depending on the implied win odds of Philadelphia and Kansas City, for example, you still may see shifts in which team is the top recommended pick for your pool, or gets the most picks in a multi-entry pick portfolio.
As usual, just update your pick as close to your submission deadline as you reasonably can so you're taking advantage of the most recent data we have.
Friday, October 30th at 2:00 p.m. ET
The point spread for Philadelphia-Dallas has continued to move in Philly's favor, with the Eagles now favored by 10. With their win odds rising as well, the Eagles have now overtaken Kansas City as our top recommended pick in standard-rules pools at some pool sizes. The Chiefs still have the highest Week 8 EV by a solid margin, but the Eagles are roughly tied with the Buccaneers as the second highest EV this week, and Philadelphia has much less Future Value than either Kansas City or Tampa Bay.
Our pick suggestions remain heavily focused on the Chiefs and Eagles as of this morning. Currently 87% of our recommendations are on those two teams, with most of the rest split between Tampa Bay and Tennessee. (We do have a few suggestions on some riskier options in pools with various non-standard rules.)
That's a highly concentrated mix of recommendations. For reference, the previous highest combined recommendation rate for our top two teams this year was in Week 2, with a combined 74% of subscriber pick recommendations on either Arizona or Tampa Bay.
We often preach that it's important to spread your risk out when making a portfolio of survivor pool picks, but a big reason for doing that is to avoid the chance for total elimination if multiple upsets happen to occur. This week, with KC's win odds at 93%, there's much less risk of that happening, so a more concentrated portfolio is reasonable if you've got solid exposure to the Chiefs in your pick mix.
On a final note, more positive coronavirus tests were reported today: a Broncos offensive lineman and a Vikings linebacker. Those games (Chargers at Broncos; Packers vs. Vikings) have now gone off the board at most sportsbooks, and the Monday Night Football game (Buccaneers at Giants) is also still off the board.
The Bucs and Packers currently make up 45% of the public's picks this week, so if those games get canceled we could see big late shifts in public pick rates this week, which would in turn impact our pick suggestions. The official word is that the games will take place, but we (as always) strongly encourage you to update your picks as close as possible to your pool's weekly submission deadline, so the latest news we have about these games is taken into account.
Thursday, October 29th at 12:00 p.m. ET
Tonight's game between Carolina and Atlanta does not have big survivor implications. A little less than 1% of the public is taking Carolina this week.
One game that does, though, just got some coronavirus news, as the Giants had a positive test and multiple other players have been quarantined for close contact. According to Tom Pelissero, that includes all but four of the New York offensive linemen. So if you are keeping track at home, that means the Tampa Bay Buccaneers will potentially play a team for the second week in a row where the linemen cannot practice during the week.
Tampa Bay is the most popular survivor choice currently. Our recommendations are largely avoiding Tampa at their current popularity, but if this game is impacted, that could drastically shift other public pick numbers as a result.
Currently, Kansas City continues to lead our recommendations, while Philadelphia continues to climb as well, making up about 40% of current recommendations. The point spread in the Eagles-Cowboys game is up to 9 points, as Andy Dalton continues to remain in the concussion protocol and seventh-round rookie Ben DiNucci from James Madison is currently on pace to start for Dallas.
Wednesday, October 28th at 2:30 p.m. ET
The public's picks in Week 8 are concentrated heavily on Kansas City and Tampa Bay, with three other options (Tennessee, Green Bay, and Philadelphia) making up almost all the other picks. Those five choices make up about 95% of all selections so far.
Our recommendations are largely concentrating on three of those choices, while typically avoiding Tampa Bay and Green Bay.
We've talked about Kansas City's future value all year, and this is a week that it starts to get realized, with win odds over 90% against the Jets. While the public is taking the Chiefs about 31% of the time, our recommendations are at 46%.
This week offers a rare week when you can take the safest team (by win odds) and in doing so, still fade a very popular (less safe) choice. Tampa Bay has slightly more popularity, but lower win odds than Kansas City. That sets up a scenario where you can take the safer team and have about an 18% chance that around a third of the remaining pool gets wiped out.
For the remaining entries that are taking Tennessee and Philadelphia, you can think of them as also largely fading the more popular Bucs. In the case of the Eagles, who are the second-most frequent recommendation, there is only an 8% drop in win odds from Tampa, but that's counteracted by the Bucs being three times more popular, and having much more future value.
We are recommending the Eagles and Titans as the alternative choices right now, and not the Packers, because of the difference in future value. The Packers (and Bucs) are both in the top five of our future value estimates going forward.
As you know, survivor weeks can go any number of ways, depending on the specific results. But Week 8 sets up nicely on both the current expected value and future value fronts. Our pick suggestions currently have a slightly higher overall survival expectation than the public (due to heavier Kansas City usage) while also preserving more future value overall despite using Kansas City more heavily. That's because 45% of the public are using Tampa and Green Bay compared to 50% of our entries going to low future value options in Tennessee and Philadelphia.
Tuesday, October 27th at 1:15 p.m. ET
Almost everyone survived in Week 7. All of our recommendations survived for the week, while the public only lost about 2% total, mostly via losses by Seattle, Dallas, and Atlanta.
Here is a summary of the weekly pick rate by the public, and our final recommendations, for any team picked 2% or more by either.
| Team | Public Pick Rate | TR Pick Rate | Difference | Result |
| --- | --- | --- | --- | --- |
| Buffalo | 48% | 18% | -30% | Won |
| LA Chargers | 17% | 31% | 14% | Won |
| Kansas City | 12% | 0% | -12% | Won |
| New Orleans | 9% | 17% | 8% | Won |
| Philadelphia | 5% | 2% | -3% | Won |
| Green Bay | 3% | 0% | -3% | Won |
| LA Rams | 1% | 31% | 30% | Won |
Even though the survival rate was similar, our recommendations did a better job of preserving future value. Another 12% of public entries used the Chiefs, just ahead of a two-week stretch where they get the Jets and Panthers at home and should have a high EV. Another 3% used up the Packers, who have had some moderate popularity in a few weeks so far, but have been recommended to less than 1% of all our entries on the season. Green Bay has one of the higher future values over the second half of the season and will become a valuable team to have soon.
This week, that Kansas City future value becomes present value. They are by far the biggest favorite of the season so far, when they host the Jets this week. Meanwhile, there is only one other game currently on the board with a team favored by more than a touchdown: Tampa Bay against the Giants. (Eagles-Cowboys is off the board, but was at Eagles -7.5 before it was taken down, so it could also end up there.) We'll begin to breakdown the picks you are seeing tomorrow, and see where our recommendations fall relative to the public on Kansas City.