Week 16 Football Pick'em Strategy & Advice (2021)
The Week 16 Pick'em value picks will be published on Wednesday, after the conclusion of Tuesday night action in Week 15.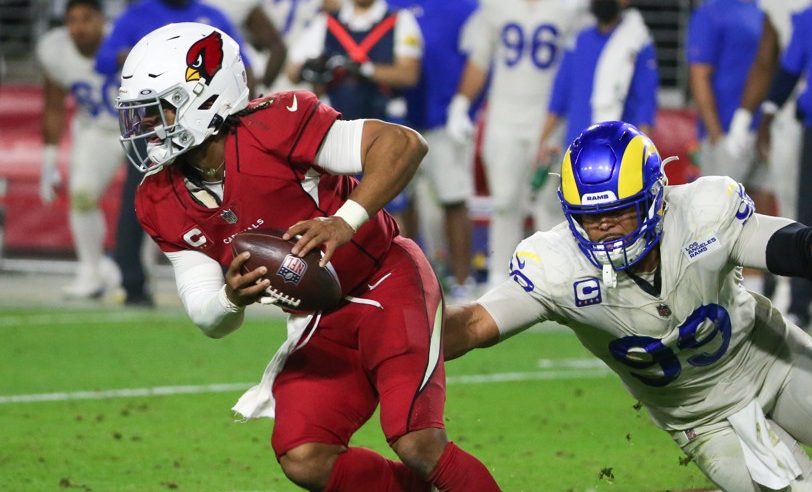 Arizona will try to rebound on Christmas Day against the Colts (Jevone Moore/Icon Sportswire)
Here, we'll track Week 16 news and discuss the implications for maximizing your edge in NFL and college football pick'em contests. We'll also provide some of the rationale behind picks potentially recommended by our Football Pick'em Picks product.
Week 16 Pick'em Updates
We will continue to add to this post until Sunday of NFL Week 1 6, so check back for daily updates. Here's what's available now:
---
Tuesday 12/21
Week 16 Early Value Picks Outlook Delayed Until Wednesday
Our value-picks analysis, as well as customized picks for our Football Pick'em Product, are delayed until Wednesday because of the two NFL games that were moved to today. So check back tomorrow for the early breakdown of Week 16 matchups.
---
Wednesday 12/22
Week 16 Early Value Picks Outlook
Here's our early look at some potential value plays in NFL pick'em pools for Week 16.
San Francisco (at Tennessee Titans)
Line: -3.5
TR Win Odds: 65%
Popularity: 52%
San Francisco is a great value play on Thursday Night Football at Tennessee. The public is picking this one about evenly, but these teams are going in opposite directions.
The 49ers have won five of their last six games, while Tennessee is 1-3 in its last four games and continues to struggle on offense without RB Derrick Henry. However, the Titans could get WR A.J. Brown back this week.
San Francisco is a favorite of more than a field goal at the moment, so getting the betting favorite here when about half the public is on the other side is a solid move.
Denver Broncos (at Las Vegas Raiders)
Line: +1.0
TR Win Odds: 51%
Popularity: 28%
The Raiders and Broncos are in a toss-up game.
The Raiders benefited from catching Cleveland in a terrible COVID-19 situation this week, but they're 2-5 since their bye week. Backup QB Drew Lock will start for Denver after Teddy Bridgewater got carted off last week with a head injury, so the Broncos figure to lean on their strong running game.
With the public heavily on Las Vegas, taking the Broncos is a pot-odds move.
Jacksonville Jaguars (at New York Jets)
Line: +2.5
TR Win Odds: 47%
Popularity: 17%
The public apparently hasn't seen the Jets play this year. A whopping 83 percent are picking the J-E-T-S in a game where they are only a slight favorite.
Yes, the Jaguars are bad, but both teams in this game are. If anything, the Jets have been worse with rookie QB Zach Wilson playing.
The Jaguars have also been a train wreck this season, culminating in last week's firing of first-year head coach Urban Meyer. But when two train wrecks get together and the public is heavily on one side, there's a lot of value in going contrarian.
The Jets are also one of the most popular spread picks this week, along with heavier favorites Green Bay and the Chargers.
Minnesota Vikings (vs. Los Angeles Rams)
Line: +3.0
TR Win Odds: 41%
Popularity: 17%
If you're looking for another upset option at moderate risk, the Vikings are another team to consider this week. They get the Rams at home, and they're playing for their playoff lives in a key game.
As only a field-goal underdog, you can get a situation where your opponents are likely to be on the Rams at a 5-to-1 ratio.
New England Patriots (vs. Buffalo Bills)
Line: -2.5
TR Win Odds: 55%
Popularity: 54%
Finally, we'll close with a moderate value play in the key AFC East showdown between the Bills and Patriots.
Right now, just over half the public is on New England. The Patriots are the slight favorite, making them a just-better-than-coin-flip call where the public is divided.
---
Wednesday 12/22
Week 15 Results Summary
It was going to be hard to duplicate the success of Week 14, where 39 percent of all weekly contestants reported winning a prize. And we did see a fall-back in Week 15, as a few key results went against our picks.
Still, it was a solid week overall, and spread pools rebounded by outperforming the public in both weekly and season-long pools.
Game-Winner Pools
In game-winner pools, the public averaged 10.1 wins in Week 14. The biggest upset by spread was Arizona losing to Detroit, followed by Tampa Bay losing to New Orleans.
The value plays were a mixed bag, as Jacksonville and Denver losing offset gains with the Colts and Steelers winning.
Our season-long "Max Profit" picks averaged 9.5 wins this week, while the weekly picks averaged 8.9 wins. There was a lot of variation in the picks in season-long pools, though, depending on your place in the standings and which picks you received, along with when subscribers last updated picks.
Take Detroit, where 10 percent of entries in season-long pools—likely trailing in the standings—received the Lions as a long-shot pick.
The Raiders are another example, as they fluctuated between being a value underdog and a value favorite both before and after the game was moved to Monday. Ultimately, 60 percent of subscribers had Las Vegas as the game-winner pick against Cleveland.
Spread Pools
The public was hot over the last few weeks, but some covers for underdogs changed that, including the most popular pick, Green Bay, winning but not covering in a close game. The public averaged 8.4 wins in spread pools.
Our season-long recommendations averaged 9.2 wins, while the weekly pick sets came in ahead of that at 10.0 wins, so ATS pools are the most likely source of some weekly wins this week.
Our biggest spread results compared to the public were picks on Detroit, Pittsburgh, Indianapolis, and New Orleans.
FYI
Week 14 Was the Start of Pick Strategy Changes in Some Pools
With five weeks to go, Week 14 was the week where your pick strategy may change in season-prize pools depending on which goal you selected (Avoid Bad Finish versus Max Profit).
We are now over 70 percent of the way through the season, which means we're entering the endgame. It's time to try to make a move if you are outside the money in season-long contests. (You can read more about endgame strategy and how it might impact your picks here.)
You should evaluate whether you want to go for Max Profit or Avoid a Bad Finish. The most common result when you become a little riskier with picks is that you drop in the standings.
The best way to come back and get in the money in a pool is also to take those chances when there is a relative payoff, so you have to risk something to get something.
If where you finish—even if it isn't in the money—is important to you for other reasons, such as finishing above your coworker or family member, now is the time to adjust your pick goals by editing your pool.
---
FYI
Important Notes About Picks We Highlight
Keep in mind three things about picks we highlight in this article:
Optimal pick strategy balances risk and potential reward.
Maximizing your odds to win a pick'em pool generally requires identifying the best opportunities to differentiate your picks. You want to fade the public while taking on minimal risk to do so. For example, taking a favorite being picked by less than 50% of your opponents is usually a great opportunity.
Not all of the picks we highlight are suitable for all pools.
Don't be surprised if our Football Pick'em Picks product doesn't recommend several of the picks we mention in this post—especially the upset picks. The best pick strategy for your pool depends on a number of factors such as your pool's size, rules, and prize structure (a concept that's covered in part by our article on season vs. weekly prize strategy).
Picks we highlight may no longer look compelling by game day.
We analyze and write about picks using data (e.g. win odds and pick popularity), but that data can change up until kickoff. A key player being ruled out or a shift in public sentiment about a team can erase the differentiation value that a pick initially offered.
We'll provide periodic updates in this post if major data changes occur for picks we've mentioned, so make sure to check back. However, there's a much better way to stay on top of changing data trends throughout a week, which all sharp players need to do.
Our Football Pick'em Picks product automatically imports the latest win odds and pick popularity data multiple times per day. You can see the latest information in the Data Grid.
After you generate customized picks for your pool, you can also update those pick recommendations whenever you want via the My Pool Picks screen. The updated picks will incorporate the most recent data we have.
---
FYI
About Our Pick'em Pool Advice
What makes our football pick'em advice different from other sites is that it isn't generic.
In any given week, the best picks for your football pool depend on a number of variables. Your pool's size, rules, and prize structure all influence strategy, as do factors like your place in the standings and how many weeks are left.
So many different scenarios exist that it's impossible to give pick advice that makes sense for every one. An underrated six-point underdog could be a great pick in a big weekly prize pool and a terrible pick for a small season-long pool where you're currently in the money.
Technology to the rescue
Other sites don't understand this stuff, or they just ignore it because it's complicated and hard. We're the only site that has built algorithms to evaluate these strategy factors and provide you with customized pick recommendations every week.
The result? Every year, an average of 71% of our subscribers win a prize in a football pick'em contest.
So if you want to see all the Week 1 picks we recommend for your football pool, you need to use our Football Pick'em Picks product.
Why we write this column
At the same time, we know our subscribers like to understand the rationale behind picks the product may recommend, especially when those picks go against the grain. So over the years, we've started to write more about the "whys" behind our approach.
We also utilize this column to help educate our readers about pick'em pool strategy. We highlight tactics proven to result in more pick'em pool wins over the long term and point out common pitfalls to avoid.
Our goal with these articles is to dig deeper into pick'em pools than anyone else by using an objective, data-driven lens. We'll recap key results from the previous week, identify the most compelling value picks of the current week, and evaluate the implications of breaking news on pick'em strategy.
We hope you enjoy reading, and we encourage you to check out more of our football pick'em strategy articles.
---
Thursday 12/23
Packers, Chargers, and Rams Lead Most Popular Spread Picks
Don't forget that we have the San Francisco-Tennessee game tonight, and two games on Christmas Day with Cleveland-Green Bay and Indianapolis-Arizona.
Speaking of the Packers, they are the most popular spread pick this week. So far this year, when the public is on one side 75 percent or more, they are 10-15 ATS.
Here are the most popular spread picks this week:
Green Bay (80%)
LA Chargers (78%)
LA Rams (73%)
NY Jets (71%)
Tampa Bay (65%)
The Jets' popularity is notable since it is directly against the line movement, where they have dropped from -2.5 to a pick'em based on COVID-19 news.
We will be back Sunday with updates for that day's games, but unless there is specific notable news, we do not plan on updating here over the next two days.
---
Sunday 12/26
Reviewing The Week 16 Dynamics Entering Sunday
Three games are already down, and unfortunately, two of them saw a slight favorite lose when the public was pretty evenly split on the outcome. San Francisco was the tougher one, as the 49ers had a 10-0 halftime lead and should have been in control against Tennessee, but they failed to put them away.
Here's how Sunday is shaping up:
Cincinnati Moves Into Value Favorite Role With QB News Out of Baltimore
Lamar Jackson was questionable this week with his ankle injury, and he was ruled out Saturday. But then Baltimore got even worse news when backup Tyler Huntley tested positive for COVID-19, a week after he played well against Green Bay.
Baltimore is now starting Josh Johnson, who played earlier this year for the Jets and was signed off their practice squad. As a result, the Bengals have moved to 74 percent win odds, similar to their current pick rate.
The other value favorite is tomorrow night, where Miami is now favored but the Saints are the more popular pick.
Seven Games with Over 70% Win Odds for Favorite
Over half the games today have higher win odds, including Cincinnati. That makes for fewer clear upset plays with a level of risk necessary for most game-winner pools.
Jacksonville, Denver, and Minnesota are Key Values
As far as upset plays, the Jaguars, Broncos, and Vikings are the best options for value and risk. The Broncos are a pick'em and our win odds have them as a slight favorite, but the public is taking the Raiders 73 percent of the time with Drew Lock at QB for Denver.
Jacksonville and Minnesota are both slight underdogs, but the public pick rates are extreme for the favorites, making them the best options to try to make a push if you are trailing leaders in your pool.
Spread Pools
Green Bay was the most popular pick (81 percent) in spread pools. A late Cleveland touchdown to pull within two points made the difference there and provided a pretty big gain against the public if you played the Browns.
The Chargers, Rams, and Jets are the most popular picks today. In weekly pools or contests where you are trying for a comeback, you could see contrarian plays against those teams.
We have seen line movement in favor of Cincinnati, Atlanta, and Buffalo, so depending on your contest spread, those are candidates for picks based on closing-line value right now.
Our top model spread play is Pittsburgh at Kansas City, so you could also see the Steelers featured in your picks.