5 Value Picks For NFL Week 16 Pick'em and Confidence Pools (2020)
NFL Week 16 value picks include two slight underdogs flying under the public's radar, and two favorites being picked less than half the time.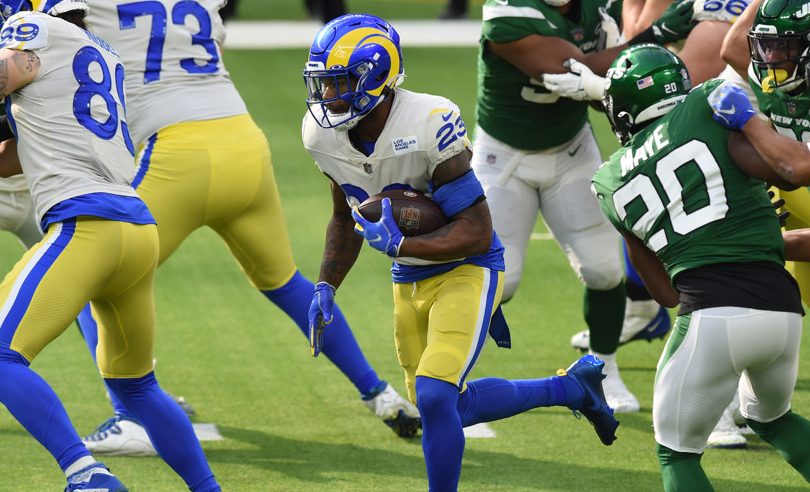 INGLEWOOD, CA - DECEMBER 20: Los Angeles Rams Running Back Cam Akers (23) runs the ball during an NFL game between the New York Jets and the Los Angeles Rams on December 20, 2020, at SoFi Stadium in Inglewood, CA. (Photo by Chris Williams/Icon Sportswire)
Last week gave us two of the biggest upsets of the year, as the Jets and Bengals both got wins over playoff-bound teams. Will Week 16 provide similar surprises?
As you start to think about your NFL Week 16 picks, the analysis below will help you make smarter decisions in your NFL office pool or in online contests like ESPN Pigskin Pick'em, Yahoo Pro Football Pick'em, and CBS Sports Football Pick'em.
The foundation of this pick analysis is the Data Grid feature of our Football Pick'em Picks product, the only tool on the market that customizes picks to maximize your edge in football pick'em and confidence pools.
A Note On End-of-Season Pick'em Pool Strategy
Depending on your place in the standings, you may now benefit from adjusting your pick strategy depending on what your goals are, and what you need to do over the last three weeks to secure a prize position.
We have an article discussing end-game strategy in football pick'em pools that may help you think through some of the decisions you may need to make.
Recap of Last Week's Picks
We got risky last week with the picks we highlighted here, which included three betting underdogs and one slight favorite in a week with lots of big favorites.
Overall, the picks we highlighted ended up 2-3, while the public averaged getting 3 of those same games correct. Thankfully, though, we avoided highlighting the Rams or Steelers!
Five NFL Week 16 Picks You Must Consider
As usual, we've assessed the Week 16 picks below according to where they fall on the risk vs. reward spectrum.
Just keep in mind that not all of these picks are suitable for all pools. How much risk you take with your picks over the last two weeks of the season should largely depend on whether you're defending a lead in your pool, or trying to fight your way into a prize position with a final surge.
Note: Point spreads, win odds and pick popularity data can shift as game day nears, and it's quite possible that one or more of the teams below will no longer be a good value pick later in the week. Use our Football Pick'em Picks product to get our latest recommendations for your pool.
1. Los Angeles Rams (at Seattle)
Point Spread: +1.5
TR Win Odds: 47%
Pick Popularity: 24%
Category: Unpopular Tossup/Value Gamble
The Rams are coming off the biggest upset of the year, losing to the previously winless Jets. So it's understandable that LA has fallen far out of favor with the public against always-popular Russell Wilson and his Seattle Seahawks.
However, this is one of the closest spreads of the week, and the Rams still have a real chance to complete the season sweep and re-take the lead in the NFC West. If you need a slight upset to take, this one leads the way from a value perspective.
Get access to all football pick'em pool content, picks and tools
Free subscription offers now available!
Already a premium subscriber? Sign in for access