Week 7 Survivor Pick Strategy & Advice (2021)
With Arizona as the most popular public pick this week, we dive into the 2021 Circa Survivor Contest and strategy.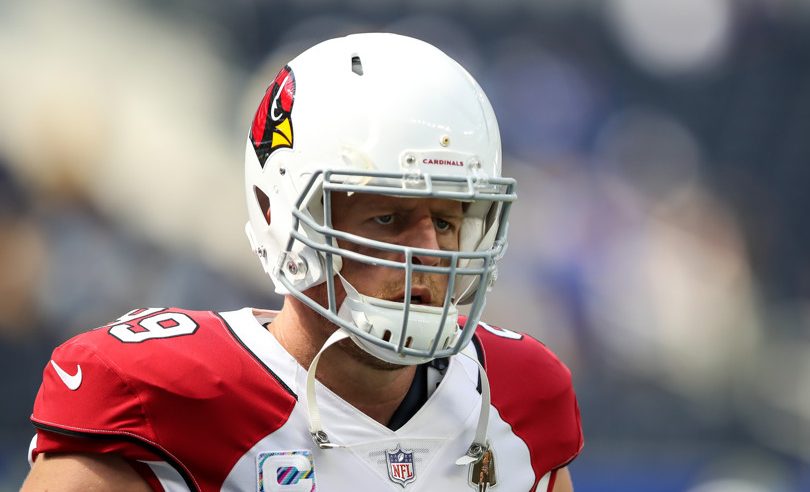 Do you think J.J. Watt is happy to be out of Houston? (Jevone Moore/Icon Sportswire)
In this column, we explore strategies to maximize your edge in NFL survivor pools, also known as knockout or eliminator pools. We also provide some of the rationale behind picks potentially recommended by our NFL Survivor Picks product.
Week 7 Survivor Updates
We'll add to this post every day until the Sunday kickoffs, so check back for updates.
---
Tuesday 10/19
Week 7 Early Most Popular Teams Summary
Here are the most popular picks for Week 7. The top four on this list should remain the most popular choices, and we'll see if any alternatives rise up to challenge Tampa Bay.
Arizona Cardinals (48%) vs. Houston Texans
Green Bay Packers (16%) vs. Washington Football Team
New England Patriots (13%) vs. New York Jets
Los Angeles Rams (12%) vs. Detroit Lions
Tampa Bay (4%) vs. Chicago Bears
Currently, no other teams have more than 2% pick popularity so far.
Let's quickly go through each of these options as we start the week.
Arizona Cardinals
The Cardinals are the most popular pick, but they still have one of the highest EVs thanks to having win odds of 92 percent. They are favored by 18 points and are matching Buffalo from Week 4 for the highest win odds of the year (both against Houston).
The Cardinals also have pretty good future value. They are an option in Week 10, will likely have a high EV in Week 15 against Detroit, and also are one of the top options in Week 16 against Indianapolis at home.
With that said, Arizona has lower future value than the Rams and Bucs, the two other teams with high win odds this week. As a result, it may be worth trading in some future value for a very high chance of moving on to Week 8.
Green Bay Packers
The Packers are part of a trio, along with the Patriots and Rams, as alternatives to Arizona. They fall in between those teams in win odds and future value.
Green Bay has win odds of 76 percent. That's pretty solid in a vacuum, and it's the highest we project for the Packers until Week 14 (also 76 percent, versus Chicago).
The issue is that 60 percent of pools are on two teams with high win odds, so Green Bay's EV (0.92) is lower than you would typically like for a team with some future value.
New England Patriots
The Patriots are favored by seven points and have 72 percent win odds. However, they have some of the same issues as Green Bay as a pick.
Considering their future value, those win odds would make them a decent option in a typical week. But with such heavy favorites this week (including two at lower popularity), the Pats have a relatively poor EV.
It could make sense to use New England in multiple-pick pools where you want to save future value and have both the Rams and Cardinals for weeks where you must make two picks. The Pats could be a diversity option for the back end of portfolios, too.
Los Angeles Rams
The Rams are favored by 15 points and have 87 percent win odds. That would make them the safest option on the board in most weeks, but not this week.
The Rams are tied with the Bucs for the highest EV (1.08), and they're just above Arizona in that category. They're also right between the two other high-survival options in terms of future value.
Using the Rams this week is a reasonable option, though they do have future value in the near term, including next week in another good spot against Houston.
Tampa Bay Buccaneers
The Bucs aren't particularly popular. They have a pretty good EV (1.08), but it isn't any better than the Rams and Cardinals. They also have more future value, which makes them a little less attractive than those two given the future value trade-off.
However, the Bucs are a reasonable alternative for an entry that cannot use, or does not want to use, either of the Rams and Cardinals. Unless the win odds shift upward (or the Rams and Cardinals' odds drop), Tampa Bay should probably be third in the pecking order.
The Bucs are good to use now, but they're better to save for upcoming weeks.
---
Tuesday 10/19
Week 6 Survivor Recap
Week 6 was mostly one for the big favorites to roll. The two most popular picks (Rams and Colts) won easily. The Chiefs were the third-most popular pick, and after trailing at halftime, they rolled to a win in the second half.
For the second straight week, about 97 percent of the public advanced. There was no big single elimination result for the public, with the Bills, Dolphins, and Broncos' losses contributing most of those eliminations.
For the second week in a row, the Las Vegas Raiders were responsible for eliminating a portion of our portfolio recommendations in some pool types. They did so by losing last week, and they did so by winning at Denver this week.
The Broncos were making up only about 1 percent of our recommendations on Sunday morning, but a line move upward shifted some picks away from the Steelers and Packers and to the Broncos. They ended up making up about 9 percent of our recommendations as a low future value, very unpopular pick with similar win odds to those other options.
Our 91 percent survival rate was below the public. On the other hand, those who advanced again managed real future value savings.
Our recommendations almost entirely avoided the Rams, who are the third-most valuable team behind Buffalo and Tampa Bay. That comes into play both this week and next week.
---
FYI
Survivor Strategy Articles and E-Book
If you're serious about winning more survivor pools, you need to learn the key strategies that create edge. You can start with our free survivor strategy articles, which explain a number of the concepts we apply to our customized survivor pick recommendations.
We've also published a strategy e-book, "Survivor Pool Strategy: What It Takes To Win," available for free download.
---
FYI
About Our Survivor Pool Advice
We break down the pros and cons of various survivor pick options in this column, but none of our advice is ever absolute.
Why don't we just tell you the "best" survivor pick of the week? Because there is no universal "best pick" for all NFL survivor pools.
The best weekly pick for your pool depends on a variety of factors, including the number of entries still alive and your pool's rules. For example:
Bigger pools reward more risk-taking.
The more entries in your pool, the lower the chance you have to win it. In addition, you have a limited number of weeks to send hundreds or thousands of opponents to slaughter while you survive unscathed. As a result, bigger pools demand more focus on avoiding the most popular picks.
Non-standard rules change pick calculus.
If your pool requires double picks late in the season, or if it's a strike pool (i.e. your first incorrect pick doesn't eliminate you), you don't want to use the same pick strategy you'd use in a standard-rules pool. Those rule variations significantly influence decision factors, such as the value of saving good teams for later use.
Plus, what if you've already picked the team (or teams) that some article says is the best? What if the point spread for that "best pick" has gotten several points worse since the article was published? How should you spread your picks across multiple teams if you're playing more than one entry?
Technology to the rescue
Other sites don't understand this stuff, or they just ignore it because it's complicated and hard. We're the only site that has built algorithms to evaluate all the strategy factors that matter and provide you with customized survivor pick recommendations every week.
The result? Over the past four years, our subscribers have reported nearly $3 million in survivor pool winnings using our data-driven picks and tools.
So if you want to see all the Week 1 picks we recommend for your football pool, you need to use our NFL Survivor Picks product.
As another bonus, the product updates multiple times per day with the latest win odds and pick popularity data, so you're never forced to make pick decisions based on stale data.
Why we write this column
At the same time, we know our subscribers like to understand the rationale behind picks the product may recommend, especially when those picks go against the grain. So over the years, we've started to write more about the "whys" behind our approach.
We also utilize this column to help educate our readers about survivor pool strategy. We highlight tactics proven to result in more survivor pool wins over the long term and point out common pitfalls to avoid.
Our goal with these articles is to dig deeper into the world of survivor pools than anyone else does, using an objective and data-driven lens. We'll recap key results from the previous week, identify the most compelling picks of the current week, and evaluate the implications of breaking news on survivor strategy.
We hope you enjoy reading, and we encourage you to check out more of our survivor pool strategy articles.
---
Wednesday 10/20
Early Outlook in a Top-Heavy Favorite Week
This week features three different teams favored by at least 12 points and another team that is nearly a 10-point favorite. That isn't completely unheard of—it just happened last year in Week 15—but it also isn't particularly common.
When you do get several larger favorites, it usually tends to be later in the year when injuries have ravaged teams and some are playing a third-string QB.
Given that it's coming fairly early this year, and the the heavy favorites also have a fair amount of future value, it's created some interesting dynamics.