Week 5 Survivor Pick Strategy & Advice (2021)
As we enter Sunday, our Week 5 survivor pick recommendations are focused on four different teams. Also, Loser Pool recommendations for Week 5.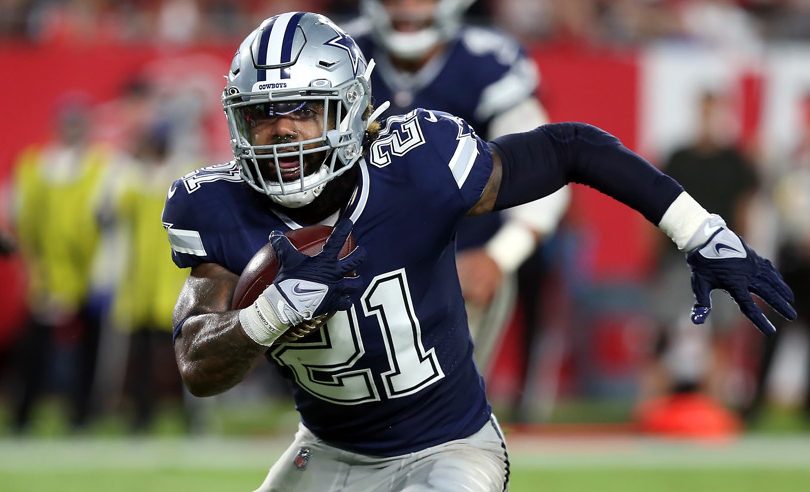 Ezekiel Elliott and the Cowboys have won three straight (Photo by Cliff Welch/Icon Sportswire)
In this column, we explore strategies to maximize your edge in NFL survivor pools, also known as knockout or eliminator pools. We also provide some of the rationale behind picks potentially recommended by our NFL Survivor Picks product.
Week 5 Survivor Updates
We add to this post every day until the Sunday kickoffs, so check back for updates.
---
Tuesday 10/5
Week 5 Early Most Popular Teams Summary
Here are the most popular teams early on for Week 5. Barring big injury news, these will likely be the most popular picks:
Tampa Bay Buccaneers (21%) vs. Miami Dolphins
Dallas Cowboys (20%) vs. New York Giants
New England Patriots (19%) at Houston Texans
Minnesota Vikings (16%) vs. Detroit Lions
Baltimore Ravens (7%) vs. Indianapolis Colts
Unlike some recent weeks, there is no clear-cut public favorite this week, as four different teams have similar pick rates at the top. Any could end up reasonably being the most popular pick in your pool. They each have different factors in their favor, so let's go through the top options.
Tampa Bay Buccaneers
The Bucs (-10.5) are the largest favorite of the week and thus have the highest EV. However, that EV is at 1.07, so it isn't significantly higher than some of the other options.
They also have the highest future value of the choices in this group by far. That means their usage might depend on your pool size and rules.
In a smaller pool, the Bucs are a pretty good pick. In a larger one, there will probably be three to four other weeks later on where they have even higher value.
Dallas Cowboys
The Cowboys slightly lower win odds (74%) than Tampa Bay (80%) and New England (77%) right now, which puts their EV (0.97) below those options. They also have moderate future value, especially as an option on Thanksgiving week, when there is no clear top choice as it stands now.
If you think their popularity will be reduced in your pool, they could still be a good pick. But at the current numbers, their expected value is not high enough compared to some other options.
New England Patriots
The Patriots are the second-largest favorite of the week right now (-9.0) and have a pretty good EV, coming in just below Tampa Bay. They are a solid option this week unless the popularity climbs. (It could do so if the public data reflects some pre-set picks, as Houston looked terrible Sunday).
The Patriots have moderate future value, as they are also an option in Week 7 (vs. the Jets) and in larger pools in Week 17 (vs. Jacksonville).
Minnesota Vikings
Minnesota also comes in below New England and Tampa Bay in win odds. Our models are even further down on the Vikings than the betting market. We give Minnesota a 70% chance of winning, while the betting odds are at 75%.
However, the Vikings have the lowest future value of this group. In a larger pool, strike pool, or multi-pick pool, going with them may make sense for that reason.
As it stands right now, Minnesota's next-highest win odds are in Week 18, the final regular-season week. That week is relatively harder to predict given team motivations and the potential for resting players.
Baltimore Ravens
The Ravens are a viable alternative to the top four choices. They have decent win odds (74%) and are less popular than options like Dallas and Minnesota.
You do give up a fair amount of future value here, though. The Ravens currently rank seventh in our future-value projections for a 100-entry pool.
They have multiple future weeks where they are a decent alternative to the most popular choice if you don't want to use them now against the Colts.
---
Tuesday 10/5
Week 4 Survivor Recap
Week 4 gave us a pair of overtime games, and both resulted in some survivor eliminations.
Both the New York Giants and New York Jets got their first win of the year in upset fashion. One was generally better for our recommendations than the other.
Here were the top five elimination results for Week 4.
| Team | Opponent | Line | Public |
| --- | --- | --- | --- |
| Tennessee | NY Jets | -5.5 | 16.5% |
| New Orleans | NY Giants | -7.5 | 13.0% |
| LA Rams | Arizona | -3.5 | 0.2% |
| Miami | Indianapolis | -2.5 | 0.2% |
| Detroit | Chicago | 3 | 0.2% |
About 30% of an average pool was eliminated, primarily with the Saints and Titans losing. Our recommendations mostly avoided the Titans but were heavier than the public on the Saints.
New Orleans blowing a 21-10 fourth-quarter lead was not fun. About 24% of our recommendations lost, almost all on the Saints.
On balance, it was a slightly positive week for our subscriber base. A slightly higher percentage advanced than the public thanks to being much lower on Tennessee. They also used a little less future value by being relatively heavier on Cincinnati and lighter on Buffalo than the public.
---
FYI
Survivor Strategy Articles and E-Book
If you're serious about winning more survivor pools, you need to learn the key strategies that create edge. You can start with our free survivor strategy articles, which explain a number of the concepts we apply to our customized survivor pick recommendations.
We've also published a strategy e-book, "Survivor Pool Strategy: What It Takes To Win," available for free download.
---
FYI
About Our Survivor Pool Advice
We break down the pros and cons of various survivor pick options in this column, but none of our advice is ever absolute.
Why don't we just tell you the "best" survivor pick of the week? Because there is no universal "best pick" for all NFL survivor pools.
The best weekly pick for your pool depends on a variety of factors, including the number of entries still alive and your pool's rules. For example:
Bigger pools reward more risk-taking.
The more entries in your pool, the lower the chance you have to win it. In addition, you have a limited number of weeks to send hundreds or thousands of opponents to slaughter while you survive unscathed. As a result, bigger pools demand more focus on avoiding the most popular picks.
Non-standard rules change pick calculus.
If your pool requires double picks late in the season, or if it's a strike pool (i.e. your first incorrect pick doesn't eliminate you), you don't want to use the same pick strategy you'd use in a standard-rules pool. Those rule variations significantly influence decision factors, such as the value of saving good teams for later use.
Plus, what if you've already picked the team (or teams) that some article says is the best? What if the point spread for that "best pick" has gotten several points worse since the article was published? How should you spread your picks across multiple teams if you're playing more than one entry?
Technology to the rescue
Other sites don't understand this stuff, or they just ignore it because it's complicated and hard. We're the only site that has built algorithms to evaluate all the strategy factors that matter and provide you with customized survivor pick recommendations every week.
The result? Over the past four years, our subscribers have reported nearly $3 million in survivor pool winnings using our data-driven picks and tools.
So if you want to see all the Week 1 picks we recommend for your football pool, you need to use our NFL Survivor Picks product.
As another bonus, the product updates multiple times per day with the latest win odds and pick popularity data, so you're never forced to make pick decisions based on stale data.
Why we write this column
At the same time, we know our subscribers like to understand the rationale behind picks the product may recommend, especially when those picks go against the grain. So over the years, we've started to write more about the "whys" behind our approach.
We also utilize this column to help educate our readers about survivor pool strategy. We highlight tactics proven to result in more survivor pool wins over the long term and point out common pitfalls to avoid.
Our goal with these articles is to dig deeper into the world of survivor pools than anyone else does, using an objective and data-driven lens. We'll recap key results from the previous week, identify the most compelling picks of the current week, and evaluate the implications of breaking news on survivor strategy.
We hope you enjoy reading, and we encourage you to check out more of our survivor pool strategy articles.
---
Wednesday 10/6
Minnesota-Detroit Line Move With C Frank Ragnow Out
The Lions placed Pro Bowl center Frank Ragnow on injured reserve Wednesday with a toe injury. He'll now miss at least their next three games.
For a team with other key injuries, it's a significant blow.