Week 5 NFL Survivor Picks: Trust Dallas or Look at Another Option? (2020)
Dallas, owner of a 1-3 record, is the most popular survivor pick of NFL Week 5. Does that make sense with other similar options on the board?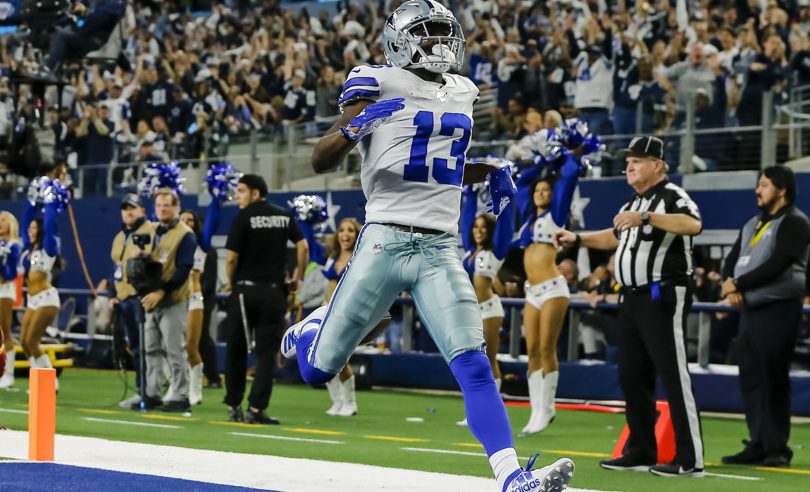 Dallas is playing a Giants offense that is last in the league in scoring, but their defense has been shaky (Photo by Matthew Pearce/Icon Sportswire)
In NFL Week 5, Kansas City and Baltimore, the two teams with the most future value going forward, are also the two largest favorites. However, there are several other teams favored by at least six points, presenting a large menu of viable survivor considerations.
That depth, combined with the fact that many entries have already used KC and/or Baltimore, has given rise to 1-3 Dallas leading the way in terms of survivor pick popularity this week. But it's an interesting week of strategic choices in which your best pick likely comes down to where you stand in a particular pool.
In this post, we analyze the five most popular NFL survivor picks of Week 5 using the "Holy Trinity" of survivor pick strategy data: win odds, pick popularity, future value.
The foundation of this pick analysis is the Data Grid feature of our NFL Survivor Picks product, the only tool on the market that customizes picks to maximize your edge in survivor pools.
Last Week Survivor Recap
Last week, this article asked whether you should go with the Rams or Ravens, or go contrarian. Our most frequent subscriber recommendation was to go with the San Francisco 49ers, who had the highest expected value of any non-Ravens/Chiefs choice, and generally hope for a Rams upset. That bet, obviously, did not work out well.
Although the 49ers and Rams were both involved in tight games late against their NFC East foes, the Rams benefitted from a final-drive interception and survived after leading by only one point in the fourth quarter. The 49ers, on the other hand, were victimized by late turnovers and lost a game where they were up a field goal with 10 minutes left.
Here were the public's picks and our recommendations for Week 4, for all teams that were being selected by at least 2% in either group:
| Team | Public Pick Rate | TR Pick Rate | Difference | Result |
| --- | --- | --- | --- | --- |
| LA Rams | 50% | 15% | -35% | Won |
| Baltimore | 22% | 16% | -6% | Won |
| Seattle | 8% | 0.1% | -8% | Won |
| Tampa Bay | 5% | 3% | -2% | Won |
| Green Bay | 3% | 0.1% | -3% | Won |
| Dallas | 3% | 0% | -3% | Lost |
| San Francisco | 3% | 39% | 36% | Lost |
| Houston | 1% | 4% | 3% | Lost |
| Kansas City | 1% | 22% | 21% | Won |
As a result of the San Francisco gambit not paying off, our subscriber recommendations survived 57% of the time in Week 4, versus 92% for the public. It was a week where a few key plays could have easily swung that result the opposite direction, but the result was one of our worst weeks (compared to the public) in a long time.
It also means that through Week 4, the public now has a slightly higher overall survival rate (37% to 30% for our recommendations) than our TR picks. Some good news there is that TR subscriber entries that are through to Week 5 should be in favorable shape relative to the public in upcoming weeks, based on future value and saving better teams on average.
Still, that one hurt. The same type of contrarian pick that has helped our subscribers win many pools over the years went against us in the worst way last week (hugely popular "obvious" pick wins, contrarian pick loses), but sometimes that's going to happen.
Week 5 NFL Survivor Pick Analysis
First, a quick reminder. If you want to get serious about winning more survivor pools, you need to learn the key strategies behind maximizing your odds to win, and our free survivor strategy articles are a great place to start.
Below, we'll break down the public's five favorite survivor picks this week, evaluating the pros and cons of each pick. You're probably thinking about picking at least one of these teams, but remember there are also more options to consider in Week 5, and highly contrarian picks can sometimes provide a solid boost to win your pool.
(At the end of the post, we'll tell you how to get our Week 5 survivor pick recommendations, customized for your pool's size, rules, and the teams you've already picked.)
Note: Data referenced below was current as of Wednesday morning, and could change between posting time and kickoff time. Our product updates multiple times per day with the latest information.
Dallas Cowboys (vs. NY Giants)
Survivor Pick Popularity: 28% (#1)
Point Spread: -10
For the second week in a row, the team facing the New York Giants is the most popular choice in survivor pools. The 1-3 Cowboys aren't as popular as the Rams were a week ago, but they also do not have win odds that are quite as high as the Rams did last week.
This seems like a matchup of the resistible force versus the moveable object. The Dallas offense is cooking but the defense cannot seem to stop anyone, while the Giants are dead last in points scored in 2020 (11.8 per game).
This is the first week in 2020 to seriously consider Dallas as a survivor pick, although 3% of the public lost taking the Cowboys last week against Cleveland. Dallas' future value is mostly tied up in two remaining matchups with Washington in Week 7 and Week 12, if you do not use them this week.
There are eight other teams favored by 6 or more points this week, so there are plenty of other options with only slightly lower (or perhaps higher) win odds than Dallas this week.
Baltimore Ravens (vs. Cincinnati)
Survivor Pick Popularity: 16% (#2)
Point Spread: -13
For the second straight week, Baltimore is the second-most popular choice in survivor pools, while having both the highest win odds and point spread. This week, the Ravens get Cincinnati at home in a division rivalry game.
As will be the case often this year, Baltimore has good expected value this week, since the Ravens have high win odds but are not hugely popular relative to their level of safety as a pick. Just as with last week, Baltimore presents an interesting question of whether to use their value now in a week where there are other choices available, or continue to save them for the future, where fewer and fewer entries will also have them available.
Baltimore again looks like a reasonable choice, but whether they are the best choice depends on your specific situation, rules, and number of other remaining entries. For example, if you are in a large pool that is likely to go deep into the season and requires multiple picks late, using Baltimore now, when they are going to be a very large favorite in Week 15 and 16 against Jacksonville and the NY Giants, may not be the best choice. If you are one of seven entries left in a small pool, and the majority of others have already used Baltimore, though, it may be a stronger consideration.
Arizona Cardinals (at New York Jets)
Survivor Pick Popularity: 12% (#3)
Point Spread: -7
If you are on the "always pick against the Jets" train this year, then Arizona is next up. So far, 12% of the public is going that direction.
Arizona has little future value after this week. The only week over the next eight where we currently project the Cardinals to be favored is in Week 9 at home against Miami.
That said, Arizona's higher popularity, at least relative to other options with similar win odds this week, reduces their expected value as a survivor pick. So the choice on Arizona comes down to preserving future value by picking them, versus taking a different team that stands to give you a biggest boost in your pool this week, but also would be more valuable to save.
Kansas City Chiefs (vs. Las Vegas)
Survivor Pick Popularity: 9% (#4)
Point Spread: -13
Hosting the Raiders, Kansas City is tied for the largest point spread this week with Baltimore. Given that KC's pick popularity is below Baltimore, they have good expected value this week.
However, the choice with Kansas City, as it will be in many weeks, is whether now is best time to use them. In four weeks, the Chiefs get the Jets at home followed by the Panthers at home, two games where you would expect them to be favored by even more than they are against the Raiders.
New England Patriots (vs. Denver)
Survivor Pick Popularity: 8% (#5)
Point Spread: No Line/Off the Board
Will the New England game even be played? Right now, 8% of the public is taking the Patriots at home over Denver. But there is a lot of uncertainty around this one at the moment after star cornerback Stephon Gilmore tested positive for coronavirus on Wednesday, four days after Cam Newton did. Practice will be canceled while the league monitors further testing coming out of New England.
And if the game is played, even if pushed back from Sunday, will Cam Newton be involved? We saw on Monday night that the Patriots' offense looked completely different with Brian Hoyer and Jarrett Stidham at quarterback.
The QB situation could have a significant impact on New England's win odds in this game, and therefore also on the expected value of taking New England. Add in that there's an outside chance that Drew Lock could return at QB for Denver, depending on when the game is played, and there are just too many questions around this game currently.
Get Our Week 5 Survivor Pick For Your Pool
To recap, we are not saying that the first team listed above, the Dallas Cowboys, is the best Week 5 survivor pick for your specific pool(s). We're telling you that the Cowboys are the most popular Week 5 survivor pick in pools nationwide, while the Ravens, Cardinals, Chiefs, and Patriots are the public's next most preferred plays.
About 73% of survivor entries this week are picking one of those five teams, meaning there are plenty of other teams being selected in a more spread-out week in survivor. Should you join them? Maybe, maybe not.
The best Week 5 pick for your NFL survivor pool depends on a variety of important factors, including the number of entries still surviving in your pool and its rules. It takes a lot of data and math to figure out which pick (or combination of picks, if you're playing multiple entries) gives the biggest boost to your expected survivor pool winnings.
To get our specific Week 5 pick recommendations, hop over to our NFL Survivor Picks product (link below), tell us a few details about your survivor pool(s) and the teams you've picked so far, and you'll see the picks we recommend for each of your entries.
How do we know our approach is sound? Over the past three years, our subscribers have reported nearly $2.5 million in survivor pool winnings using our data-driven picks and tools.
We encourage you to check it out:
Survivor Pool Picks From TeamRankings
More Football Picks:
Pick'em Pool Picks |  NFL Betting Picks