Week 4 Survivor Pick Strategy & Advice (2021)
Week 4 brings us the largest favorite of the year so far in Buffalo against Houston, plus several alternatives who save future value.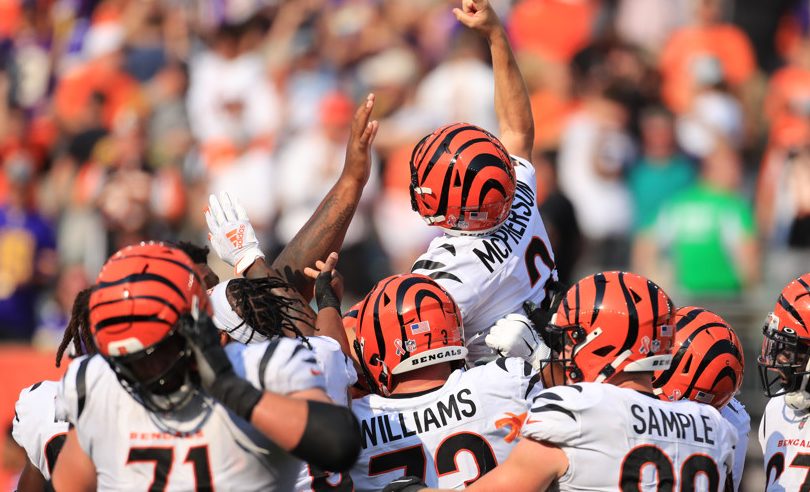 The Bengals are survivor relevant in Week 4 (Ian Johnson/Icon Sportswire)
In these columns, we explore strategies to maximize your edge in NFL survivor pools, also known as knockout or eliminator pools. We also provide some of the rationale behind picks potentially recommended by our NFL Survivor Picks product.
Book Reminder!
We published our first-ever e-book, Survivor Pool Strategy: What It Takes To Win. It's free right now, so download your copy here.
The book covers a lot of topics that should be of interest to survivor newcomers and veterans alike. It includes chapters on basic strategy concepts such as risk versus reward and future value, as well as a variety of case studies on pool-winning entries and historical pick decision scenarios.
There's also a fun chapter breaking down the results of the 2020 Circa Survivor Contest, in which winners split $2 million in prize money.
Week 4 Survivor Updates
We add to this post every day until the Sunday kickoffs, so check back for updates.
---
Tuesday 9/28
Week 4 Early Most Popular Teams Summary
Here are the most popular teams early on for Week 4. Barring big injury news, these will likely be the most popular picks:
Buffalo Bills (36%) vs. Houston Texans
Tennessee Titans (26%) at New York Jets
Cincinnati Bengals (14%) vs. Jacksonville Jaguars (Thursday Night Football)
New Orleans Saints (10%) vs. New York Giants
Kansas City Chiefs (3%) at Philadelphia Eagles
The Chiefs are a distant fifth here, as only four teams are above 5% popularity this week.
Let's quickly hit each one:
Buffalo Bills
The case for the Bills is pretty straightforward. They are by far the biggest favorite of the week and the safest play on the board. They have win odds over 90% against a Houston team starting rooking QB Davis Mills.
The Bills are the highest-EV play of the week, and they should remain so as long as their popularity doesn't soar well above 50%. However, they have high future value, so preserving them here makes sense in many pools.
The larger your pool, the more you have to make multiple picks, and the presence of any strikes or buybacks all are factors in favor of saving the Bills.
Tennessee Titans 
The Titans are the second-most popular pick this week so far, as they get the hapless Jets coming off a scoreless blowout. However, their EV is reduced because of their own popularity and because of the relatively high win odds for Buffalo.
Tennessee has similar win odds to the other teams in consideration, all of whom are favored by around a touchdown, but is more popular than all of them. The Titans also have decent future value, though not enough to deter you from using them now.
Cincinnati Bengals
Cincinnati has virtually no future value and is in the next tier of safety behind Buffalo. That future value situation makes the Bengals an attractive play this week.
That's particularly true in larger pools, where you want to preserve a team like Buffalo deep into the season, or in a strike or buyback pool where you can justify that risk to save value on your entry.
New Orleans Saints
The Saints have more future value than the Bengals, but this is a good spot to use them now at home against the Giants.
The Saints' future value is heavily tied to pool size and expected length. Most of their remaining value weeks are in the final month of the season (at the Jets, vs. Miami, vs. Carolina, and at Atlanta from Week 14 onward).
Kansas City Chiefs
The Chiefs are a contrarian option after two straight losses. Their future value has taken a slight hit given their recent form, but they are still among the five most valuable teams to hold.
Given their lower popularity than the other teams favored by a touchdown or more, the Chiefs have the second-best EV this week. However, they make more sense as an alternative pick in larger portfolios, where your entry will benefit from chaos this week among the popular choices.
As always, you can get the most up-to-date popularity data in our Data Grid. Check your specific pool rankings and recommendations to see what makes sense for you.
---
Tuesday 9/28
Week 3 Survivor Recap
Like the Oprah Winfrey episode where everyone got a car, everyone got a survivor win in Week 3. Well, almost everyone, as the Kansas City Chiefs were the lone big favorite to lose.
Here were the top five elimination results for Week 3.
| Team | Opponent | Line | Public |
| --- | --- | --- | --- |
| Kansas City | LA Chargers | -7 | 1.6% |
| NY Giants | Atlanta | -2.5 | 0.8% |
| Pittsburgh | Cincinnati | -2.5 | 0.6% |
| Seattle | Minnesota | -2 | 0.2% |
| New England | New Orleans | -3 | 0.1% |
About 97% of the public advanced out of Week 3. The Chiefs weren't a particularly popular survivor pick because of their high future value.
The only other eliminations were on entries that took chances on teams favored by a field goal or less. So for the second week in a row, there have been no big elimination results, and the public (and our recommendations) have survived at over 90% for two straight weeks.
That high survival rate doesn't mean last week was a wash, though. Our recommendations, which were heavily focused on Carolina and Cleveland, did a better job of preserving future value compared to the average public entry, which used Denver, Buffalo, Arizona, and Baltimore more frequently.
---
FYI
Survivor Strategy Articles
If you're serious about winning more survivor pools, you need to learn the key strategies that create edge. You can start with our free survivor strategy articles, which explain a number of the concepts we apply to our customized survivor pick recommendations.
---
FYI
About Our Survivor Pool Advice
We break down the pros and cons of various survivor pick options in this column, but none of our advice is ever absolute.
Why don't we just tell you the "best" survivor pick of the week? Because there is no universal "best pick" for all NFL survivor pools.
The best weekly pick for your pool depends on a variety of factors, including the number of entries still alive and your pool's rules. For example:
Bigger pools reward more risk-taking.
The more entries in your pool, the lower the chance you have to win it. In addition, you have a limited number of weeks to send hundreds or thousands of opponents to slaughter while you survive unscathed. As a result, bigger pools demand more focus on avoiding the most popular picks.
Non-standard rules change pick calculus.
If your pool requires double picks late in the season, or if it's a strike pool (i.e. your first incorrect pick doesn't eliminate you), you don't want to use the same pick strategy you'd use in a standard-rules pool. Those rule variations significantly influence decision factors, such as the value of saving good teams for later use.
Plus, what if you've already picked the team (or teams) that some article says is the best? What if the point spread for that "best pick" has gotten several points worse since the article was published? How should you spread your picks across multiple teams if you're playing more than one entry?
Technology to the rescue
Other sites don't understand this stuff, or they just ignore it because it's complicated and hard. We're the only site that has built algorithms to evaluate all the strategy factors that matter and provide you with customized survivor pick recommendations every week.
The result? Over the past four years, our subscribers have reported nearly $3 million in survivor pool winnings using our data-driven picks and tools.
So if you want to see all the Week 1 picks we recommend for your football pool, you need to use our NFL Survivor Picks product.
As another bonus, the product updates multiple times per day with the latest win odds and pick popularity data, so you're never forced to make pick decisions based on stale data.
Why we write this column
At the same time, we know our subscribers like to understand the rationale behind picks the product may recommend, especially when those picks go against the grain. So over the years, we've started to write more about the "whys" behind our approach.
We also utilize this column to help educate our readers about survivor pool strategy. We highlight tactics proven to result in more survivor pool wins over the long term and point out common pitfalls to avoid.
Our goal with these articles is to dig deeper into the world of survivor pools than anyone else does, using an objective and data-driven lens. We'll recap key results from the previous week, identify the most compelling picks of the current week, and evaluate the implications of breaking news on survivor strategy.
We hope you enjoy reading, and we encourage you to check out more of our survivor pool strategy articles.
---
Wednesday 9/29
To Buffalo Or Not To Buffalo
That is the question.
Whether 'tis nobler in the moment to save the slings and arrows for a future week,
Or to take Josh Allen's arm against a sea of touchdown favorites and by opposing them end them.
Buffalo and Comparisons to Week 3 of 2018
In our strategy e-book, we have a chapter breaking down Week 3 of the 2018 season, when the Minnesota Vikings lost as a 16-point favorite.