Week 3 Survivor Pick Strategy & Advice (2022)
Week 3 of the 2022 NFL season presents some unique challenges, as there are no clear survivor options or massive favorites. Who should you pick?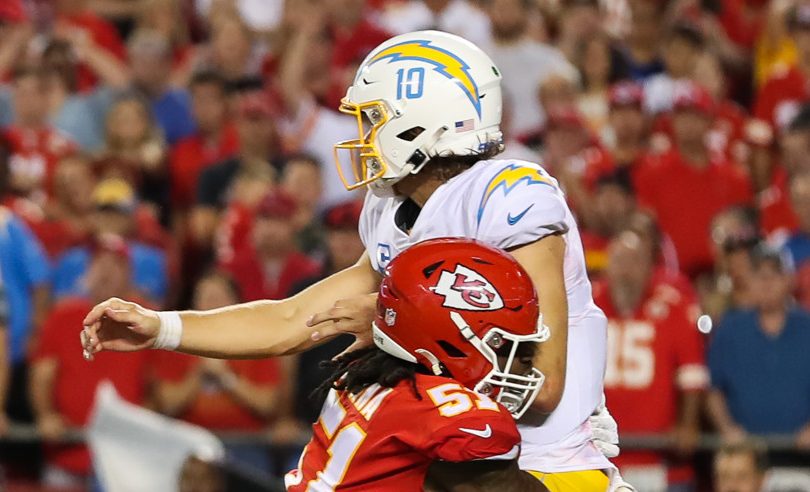 The Chiefs and Chargers both figure into our playoff betting picks (Scott Winters/Icon Sportswire)
Another survivor week is in the books, and it was another wild one full of comebacks and crazy finishes. We are back for Week 3 after our top three recommendations made it through unscathed.
Pool sizes continue to dwindle, and survivor participants might be getting a little skittish and fall back on teams they feel comfortable with. That presents even more opportunity if you can stick to the process, so let's get to it.
In these weekly columns, we explore strategies to maximize your edge in NFL survivor pools, also known as knockout pools or eliminator pools. We also provide some of the rationale behind picks potentially recommended by our product.
We plan to periodically update this post until Sunday of Week 3 arrives, and we will also be posting video updates throughout the week as well, so check our articles section for those. Here's what's available now:
---
Tuesday 9/20
Five Most Popular Week 3 Survivor Picks
Here are the most popular teams early on for Week 3 of the 2022 NFL season:
Los Angeles Chargers (31%) vs. Jacksonville Jaguars
Kansas City Chiefs (24%) at Indianapolis Colts
Cincinnati Bengals (13%) at New York Jets
Minnesota Vikings (9%) vs. Detroit Lions
Philadelphia Eagles (4%) at Washington Commanders
Let's briefly go through the five most popular options.
Los Angeles Chargers
The Chargers are the "largest" favorite of Week 3, as well as the most popular pick. We put "largest" in quotation marks for a few reasons.
First, this is a very tough week where there are no big favorites. The Chargers are favored by only seven points, just modestly ahead of six other teams favored by between 4.5 and 6.5 points. Chargers QB Justin Herbert also suffered fractured rib cartilage against the Chiefs last week, which puts his status up in the air.
The Chargers are drawing 31% of the public picks in early data. It will be interesting to see where that ends up, because it could include a fair amount of picks that were pre-set before Week 2, when the Chargers looked like the clear top favorite.
For some perspective, here are the recent examples of teams drawing at least 20% pick popularity while favored by seven points or fewer:
| Year | Matchup | Week | Popularity | Result |
| --- | --- | --- | --- | --- |
| 2021 | MIN (-7) vs. DET | 13 | 21% | Lost |
| 2021 | DAL (-7) vs. LV | 12 | 21% | Lost |
| 2021 | PIT (-6) vs. DET | 10 | 21% | Tied |
| 2020 | MIN (-7) vs. DAL | 11 | 29% | Lost |
| 2020 | IND (-7) at JAC | 1 | 21% | Lost |
| 2019 | LAR (-7) vs. ARI | 17 | 24% | Won |
| 2018 | DEN (-3) vs. SF | 14 | 23% | Lost |
| 2018 | NO (-7) vs. PHI | 11 | 29% | Won |
| 2018 | IND (-7) vs. BUF | 7 | 26% | Won |
| 2018 | CAR (-7) vs. NYG | 5 | 23% | Won |
We don't see it often, and it more typically happens later in the season when choices are constrained. But right now, the Chargers are very popular. We'll see where that ends up as the week continues and as we get more news on Herbert.
Kansas City Chiefs
That table we put in the Chargers section above? It also applies to the Chiefs this week, as they currently have 24% popularity as a 6.5-point favorite at Indianapolis.
Kansas City also has our third-highest future-value rating after two weeks. The Chiefs will have lots of future weeks where they will be valuable, particularly in larger pools that are likely to still be active past Week 8.
Their combination of high popularity, roughly similar win odds to a bunch of other options, and high future value means we aren't likely to recommend following the crowd this week.
Cincinnati Bengals
A segment of the public is settling on the Bengals at the Jets. This was the matchup last year that wiped out the highest number of survivor entries, as over 40% of the public was on the Bengals when they lost to the Jets in Week 8. You still may not so fondly remember that one as you make your picks this week.
The Bengals have pretty low future value after starting 0-2, and from that perspective, they are an option to at least consider.
Ordinarily, their win odds (-4.5 point favorite, 67% win odds in the betting markets) would make them an avoid, but this isn't a normal week. With over half of early entries concentrated on two teams who aren't favored by much more, they at least present a risk vs. reward payoff worth considering.
Minnesota Vikings
If one segment of the public remembers getting knocked out by Bengals-Jets last year, another probably has nightmares about the Vikings losing on the last play of Week 13 to the Lions as the most popular pick that week.
The Vikings are currently favored by six points against the Lions, giving them similar win odds to Kansas City this week. Meanwhile, at 9% popularity, they are being picked at a rate 2-3 times lower than the Chiefs and Chargers.
That combination gives them pretty good expected value this week. They do have solid future value, although they do not rank in our top five. The Vikings get the Bears at home in Week 5 (when they could be the most popular pick) and host the Jets and Giants later in the year in weeks we project them for greater than 75% win odds.
Philadelphia Eagles
After their 2-0 start, the Eagles have moved all the way up to No. 2 in our future-value rankings, behind only Buffalo. We currently project them to be favored in every remaining matchup, and they have win odds of 70% or higher in 10 games.
That includes this week, where they are favored by 6.5 points over Washington, matching Kansas City, and similar to the Chargers and Vikings. At only 4% public pick popularity at the moment, they aren't being picked much for a team with a similar risk profile as far more popular options. That makes for a really good EV if you want to use them versus save all that future value.
We'll see if that pick popularity rises, though, as more Week 3 entrants check in following the Eagles' impressive performance on Monday Night Football against the Vikings.
As always, you can get the most up-to-date popularity data in our Data Grid. Check your specific pool rankings and recommendations to see what makes sense for you.
---
Tuesday 9/20
Week 2 Survivor Recap
Week 2 again provided plenty of drama, and the public again lost some darlings that were drawing higher popularity.
Here is a summary of the most popular picks for Week 2, and the results:
| Team | Opponent | Popularity | Result |
| --- | --- | --- | --- |
| LA Rams | Atlanta | 28% | W, 31-27 |
| Denver | Houston | 18% | W, 16-9 |
| Cleveland | NY Jets | 12% | L, 31-30 |
| Cincinnati | Dallas | 11% | L, 20-17 |
| Green Bay | Chicago | 9% | W, 27-10 |
| Buffalo | Tennessee | 8% | W, 41-7 |
| San Francisco | Seattle | 4% | W, 27-7 |
| Indianapolis | Jacksonville | 2% | L, 24-0 |
| Kansas City | LA Chargers | 2% | W, 27-24 |
71% of the public survived Week 2, while 29% got eliminated, primarily thanks the state of Ohio. Both the Bengals and Browns lost in late fashion, with Cleveland blowing a 13-point lead in the final minutes and giving up the game-winning touchdown to a rookie out of Ohio State (Garrett Wilson). Cincinnati, meanwhile, struggled on offense most of the day and lost on a late field goal to Dallas as time expired.
Our pick recommendations were focused on San Francisco, Denver, and Green Bay, all of whom advanced. We did have about 5% of recommendations on the Bengals, which was below the public pick rates on Cincinnati. As a result, about 95% of all PoolGenius recommendations advanced out of Week 2.
After just two weeks, only about 27% of all public entries are still alive. To put that in some perspective, from our article on how long survivor pools last, 2015 is the only year in the last decade with a lower cumulative survival after two weeks. The median is 59% of entries still intact after two weeks, more than twice this year's rate.
Meanwhile, about 43% of PoolGenius subscriber entries are still alive, putting them at more than 1.5x the public average after just two weeks. In addition, the entries that are alive have done a slightly better job of preserving future value than the public, as the public has used relatively higher shares of the Ravens, Rams, and Bills so far.
---
FYI
Survivor Strategy Articles
If you're serious about winning more survivor pools, it pays to learn the strategies that give you a long-term edge.
You can start with our free survivor strategy articles, which explain a number of the concepts we apply to our customized survivor pick recommendations:
---
FYI
About Our Survivor Pool Advice
We break down the pros and cons of various survivor pick options in this column, but none of our advice is ever absolute.
Why can't we just tell you the "best" survivor pick of the week? Because there is no universal "best pick" for all NFL survivor pools.
The best weekly pick for your pool depends on a variety of factors, including the number of entries still alive and your pool's rules. For example:
Bigger survivor pools reward more risk-taking.
The more entries in your pool, the lower the chance you have to win it. In addition, you have a fixed number of weeks to send hundreds (or even thousands, in really big pools) of opponents to slaughter while you survive unscathed. As a result, your best strategy for bigger pools generally demands more of a focus on avoiding the most popular picks.
Non-standard rules change optimal pick strategy.
If your pool requires double picks late in the season, or if it's a strike pool (i.e. your first incorrect pick doesn't eliminate you), you don't want to use the exact same pick strategy that you'd use in a standard-rules survivor pool. Those rule variations significantly influence decision factors, such as whether you should be more inclined to save a good team for later vs. use it now.
And then there's all this stuff:
What if you've already picked the team (or teams) that some article says is the best pick this week?
What if the point spread for that "best pick" has gotten several points worse since the article was published?
How should you spread your picks across multiple teams if you're playing more than one entry?
Technology to the rescue
As far as we know, we're the only site that has built algorithms that evaluate all of the strategy factors that matter in survivor pools and provide you with customized survivor pick recommendations based on the data updated multiple times a day.
The result? Since 2017, our subscribers have reported over $3.7 million in survivor pool winnings using our data-driven picks and tools.
If you want to see all the picks we recommend for your pool, use our NFL Survivor Picks product.
Why we write this column
At the same time, we know our subscribers like to understand the rationale behind picks the product may recommend, especially when those picks go against the grain. So, over the years, we've started to write more about the "whys" behind our approach.
This column can also help educate our readers about survivor pool strategy. We highlight tactics proven to result in more survivor pool wins over the long term and point out common pitfalls to avoid.
We hope you enjoy reading, and we encourage you to check out more of our survivor pool strategy articles.
---