Week 3 NFL Survivor Picks: Are The Colts The Obvious Pick? (2020)
Week 3 NFL survivor pick decisions boil down to one question: Pick the Colts or fade the public? We break down pros, cons, and options.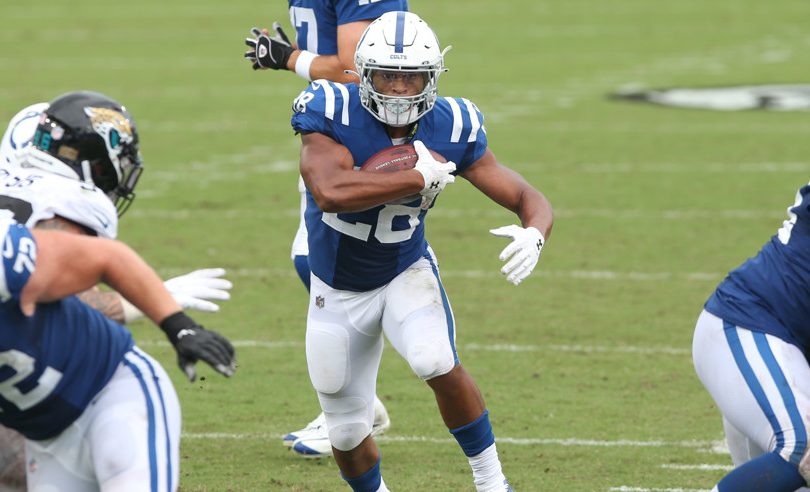 Jonathan Taylor and the Colts get to play a Jets team that has given up 140 rushing yards a game (Photo by David Rosenblum/Icon Sportswire)
NFL Week 3 is here, and we finally have our first double-digit favorite of the season in Indianapolis. After two fairly spread-out weeks in NFL survivor pools, during which there really wasn't a dominant favorite, the public is reacting accordingly with its Week 3 survivor picks.
In this post, we analyze the five most popular survivor picks and knockout pool picks of Week 3 using the "Holy Trinity" of survivor pick strategy data: win odds, pick popularity, future value.
The foundation of this pick analysis is the Data Grid feature of our NFL Survivor Picks product, the only tool on the market that customizes picks to maximize your edge in survivor pools.
Last Week Survivor Recap
We'll put it simply: Everyone survived last week (or to be more precise, nearly everyone). The largest survivor loss was New Orleans, but the Saints only made up around 1% of the public's picks.
Meanwhile, our top three subscriber recommendations were the Arizona Cardinals, Tampa Bay Buccaneers, and Cleveland Browns, all of whom advanced.
What's critical to understand, though, is that just because everyone survived doesn't mean the week was a wash. The public once again leaned much more heavily on teams like San Francisco, Kansas City, and Green Bay to survive Week 2, while all of those teams have significant value in terms of saving them for the future.
Surviving the week by avoiding those picks now gives our subscribers an advantage in future weeks, when a chunk of the public will not have those good teams available.
Week 3 NFL Survivor Pick Analysis
First, a quick reminder. If you want to get serious about winning more survivor pools, you need to learn the key strategies behind maximizing your odds to win, and our free survivor strategy articles are a great place to start.
Below we'll break down the public's five favorite survivor picks this week, evaluating the pros and cons of each. You're probably thinking about picking at least one of these teams, but remember there are also more options to consider in Week 3, and highly contrarian picks can sometimes provide a solid boost to win your pool.
(At the end of the post, we'll tell you how to get our Week 3 survivor pick recommendations, customized for your pool's size, rules, and the teams you've already picked.)
Note: Data referenced below was current as of Wednesday morning, and could change between posting time and kickoff time. Our product updates multiple times per day with the latest information.
Indianapolis Colts (vs. NY Jets)
Survivor Pick Popularity: 45% (#1)
Point Spread: -11
It took three weeks this year, but the public finally has its Obvious Survivor Pick. It's also another week when the Jets are the most popular team to pick against. Last week, San Francisco was the most popular choice while playing the Jets, and nothing Gang Green did has discouraged survivor players from returning to the anti-Jets well.
The Colts are the first double-digit favorite of 2020. As a result, the public is fully on board, with about 45% of survivor pool entries nationwide taking Indianapolis. There is a clear safety difference in going from the Colts to any other team this week, as the next largest spread is currently the Browns at only -7. That spread difference equates to about a 9-10% win odds drop-off between the Colts and the next safest option.
Most of the Colts' future value is now tied up in Week 6, when they host the Bengals and will be one of the bigger favorites of that week, in a week where there is no clear-cut top option as of right now.
A 45% pick popularity is typically a great opportunity to avoid the "obvious" pick and root for an upset that knocks out nearly half of your survivor pool. Because of their relative safety, though, the Colts still have solid expected value this week despite their sky high popularity. Whether they are the best pick (or one of the best picks) this week will depend on where the popularity numbers shake out and if any betting line movement reduces the safety premium by the time kickoff rolls around.
It's worth noting that the public is probably high on the Colts from a recency bias perspective after Indy trounced the Vikings last week, so it will be interesting to see if this line is bet down very late in the week. Our predictive ratings see it as a closer to a 9.5-point edge for the Colts.
Arizona Cardinals (vs. Detroit)
Survivor Pick Popularity: 10% (#2)
Point Spread: -6
Arizona is currently the top choice among those avoiding the Colts this week. But at 10% popularity, the Cardinals are actually a little more popular this week than last week against Washington, when Arizona was a slightly bigger favorite.
When compared to other non-Colts options, the Cardinals also don't stand out in terms of win odds, as five other less popular survivor picks are favored by a similar (or greater) amount.
What Arizona does have going for it is only moderate future value. The only week where the Cardinals project to be favored by more than they are favored in Week 3 is a Week 9 matchup against Miami at home.
Los Angeles Chargers (vs. Carolina)
Survivor Pick Popularity: 9% (#3)
Point Spread: -6.5
The Chargers are a very similar choice to the Cardinals in many ways.
LAC is coming off a strong performance against Kansas City, and it is not certain whether rookie QB Justin Herbert will remain the starter or if the team will go back to Tyrod Taylor, who missed the Chiefs game with a chest injury. The Chargers also get Carolina the week after the team lost star running back Christian McCaffrey for at least a month.
The Chargers have similar win odds to a large tier of teams positioned behind the Colts in Week 3. However, they are a little more popular than some other choices this week if you are avoiding the Colts, which could impact their expected value as a survivor pick depending on where their popularity ends up.
LAC also has some moderate near-term future value, as they are potentially useful in Week 6 (vs. the Jets at home) or Week 8 (Jacksonville at home). That future value, though, isn't high enough that it would singlehandedly disqualify them as a pick to consider this week.
Tampa Bay Buccaneers (at Denver)
Survivor Pick Popularity: 8% (#4)
Point Spread: -6
Tampa Bay draws a Denver Broncos team that played the Tennessee Titans and Pittsburgh Steelers tough, but came up short of a win in both games.
Denver, though, has lost starting QB Drew Lock to a shoulder injury, and will likely start Jeff Driskel in this game; they also signed Blake Bortles this week. That QB shuffling has bumped up Tampa Bay's win odds in this one, so they also join the next-safest tier of teams behind the Colts.
Tampa Bay does have a little higher future value than both Arizona and the Chargers. While there is not any single future week in which the Bucs look like an amazing survivor pick option, there are lots of weeks where they look like they will be favored. So if one of their future opponents ends up being much worse than expected this year (or suffers bad injury luck, etc.), Tampa Bay could become a top option in some future weeks.
Cleveland Browns (vs. Washington)
Survivor Pick Popularity: 6% (#5)
Point Spread: -7
Cleveland is yet another team in the large tier of next-safest pick options after the Colts. Compared to those non-Colts alternatives, the Browns have the highest point spread and implied win odds in the betting markets.
The Browns also have the lowest future value of any of those options, as this game against Washington projects as the last game in which Cleveland will be a large favorite this year, barring unexpected developments like big injuries. The Browns don't have a single future week in the 2020 season where we currently project them with more than 60% win odds.
That combination of low future value and decent win odds relative to other non-Colts picks makes them a potentially attractive choice in some pools.
Get Our Week 3 Survivor Pick For Your Pool
To recap: We are not saying that the first team listed above, Indianapolis, is the best Week 3 survivor pick for your specific pool(s). We're just telling you that the Colts are the most popular Week 3 pick in survivor pools nationwide, and the Cardinals, Chargers, Bucs, and Browns are the public's next most preferred plays. Almost 80% of survivor entries this week are picking one of those five teams.
Should you join them? Maybe, maybe not. The best Week 3 pick for your NFL survivor pool depends on a variety of important factors, including the number of entries still surviving in your pool and its rules. It takes a lot of data and math to figure out which pick (or combination of picks, if you're playing multiple entries) gives the biggest boost to your expected survivor pool winnings.
To get our specific Week 3 pick recommendations, hop over to our NFL Survivor Picks product, tell us a few details about your pool(s), and you'll see the picks we recommend for each of your survivor pool entries.
How do we know our approach is sound? Over the past three years, our subscribers have reported nearly $2.5 million in survivor pool winnings using our data-driven picks and tools.
We encourage you to check it out:
Survivor Pool Picks From TeamRankings
More Football Picks:
Pick'em Pool Picks |  NFL Betting Picks