Week 2 Survivor Pick Strategy & Advice (2021)
We answer a subscriber question about popular survivor picks and discuss Green Bay's value in Week 2 survivor pools.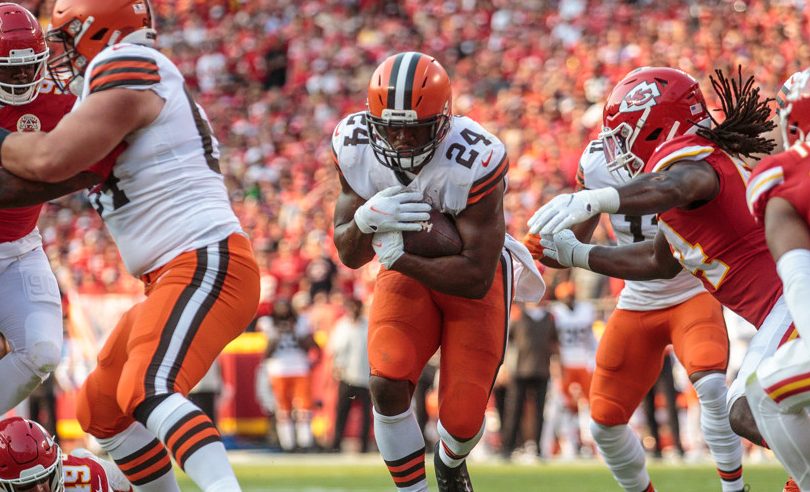 Nick Chubb and the Browns will try to run over Houston (Photo by William Purnell/Icon Sportswire)
Week 1 of the 2021 NFL season was filled with upsets, though none of the most popular survivor picks lost. We're now rolling on to our Week 2 survivor pick analysis.
In these columns, we explore strategies to maximize your edge in NFL survivor pools, also known as knockout or eliminator pools. We also provide some of the rationale behind picks potentially recommended by our NFL Survivor Picks product.
Book Release!
But first, a quick announcement. We just published our first-ever e-book, Survivor Pool Strategy: What It Takes To Win. It's free right now, so download your copy here.
The book covers a lot of topics that should be of interest to survivor newcomers and veterans alike. It includes chapters on basic strategy concepts such as risk versus reward and future value, as well as a variety of case studies on pool-winning entries and historical pick decision scenarios.
There's also a fun chapter breaking down the results of the 2020 Circa Survivor Contest, in which winners split $2 million in prize money.
Week 2 Survivor Updates
We will continue to add to this post on a daily basis up until the Sunday kickoffs, so make sure to check back for updates. Here's what's available now:
---
Tuesday 9/14
Week 1 Survivor Recap
The biggest favorites survived in Week 1, but a large percentage of the alternative pick options lost.
Tampa Bay, San Francisco, and the Los Angeles Rams were the only teams favored by more than a touchdown in Week 1. Only four of the 13 other favorites who were favored by less than seven points won, making it a treacherous weekend for entries that went slightly contrarian.
About 35% of the public picks in Week 1 went with teams favored by less than seven points, and less than half of them survived.
Here is every Week 1 result that eliminated 2% or more of public entries:
| Team | Opponent | Line | Popularity |
| --- | --- | --- | --- |
| Buffalo | Pittsburgh | -6.5 | 5% |
| Jacksonville | Houston | -3.5 | 4% |
| Green Bay | New Orleans | -3.5 | 3% |
| Minnesota | Cincinnati | -3.0 | 3% |
| Baltimore | Las Vegas | -3.5 | 2% |
| Atlanta | Philadelphia | -3.5 | 2% |
| Tennessee | Arizona | -3.0 | 2% |
| New England | Miami | -3.5 | 1% |
No single result knocked out a significant chunk of the public, but there were a lot of little cuts. In the end, about 20% of the public was eliminated in Week 1 in an average pool.
For our subscribers, our pick recommendations focused on Jacksonville (lowest future value of the group) and to a lesser extent New England (lowest popularity) from the group of smaller favorites that lost.
Our recommendations were higher than the public on the three biggest favorites who advanced, especially in standard pools and smaller pools. But those gains were offset by the Jacksonville defeat, a team that was more recommended in specialty rules pools and larger pools because of the low future value.
---
Tuesday 9/14
Week 2 Early Most Popular Teams Summary
Here are the most popular teams early on for Week 2. Barring big injury news, these will likely be the most popular picks:
Cleveland (34%) vs. Houston
Tampa Bay (20%) vs. Atlanta
Green Bay (17%) vs. Detroit
Denver (6%) at Jacksonville
New England (6%) at NY Jets
The top three teams are all favored by double digits and have market odds over 80%. Denver and New England are favored by six points and 5.5 points, respectively, and no other team has win odds of 70% or more.
While there are some moderately popular teams here, and Cleveland is over 30% early on, 17% of entries are picking riskier teams this week. That's contributing to these five also having the best EV's as of today.
Let's quickly hit each one:
Cleveland
If their current popularity holds, the Browns are a reasonable pick in Week 2. How valuable they are ultimately depends on which direction this popularity number goes.
The Browns have decent future value, but that shouldn't necessarily stop you from using them in a relatively high win-odds spot.
Tampa Bay
You will probably see us lighter than the public on the Buccaneers this week because of their high future value and a good-but-not-great EV thanks to their 20% pick popularity.
Interestingly, Tampa Bay has higher win odds this week than last, but a much lower expected value because Cleveland and Green Bay have higher win odds than the other options a week ago, and because relatively fewer entries are concentrated on risky picks compared to the dynamics of Week 1.
Green Bay
Green Bay's disastrous loss to New Orleans is accounted for in our power ratings and in the betting market lines, but that might be holding some popularity down with the public here. Had the Packers not gotten blown out like that in Week 1, they would likely be favored by 12.5 to 14 points here instead of 10.5.
However, that result also lowers the Packers' future value since their power rating and expected win odds in future weeks also went down. We'll probably do a deeper dive on that topic tomorrow.
Denver and New England
These two have a similar risk profile. Both would be reasonable alternative picks.
Right now, with similar pick popularity and win odds, future value becomes a driving factor. Our projections currently have the Broncos with more value in the future since they get the Jets at home next week and get Detroit and Cincinnati at home in Weeks 14 and 15.
That means you will probably see more New England than Denver in Week 2 unless the pick popularity numbers creep up for the Patriots.
---
FYI
Survivor Strategy Articles
If you're serious about winning more survivor pools, you need to learn the key strategies that create edge. You can start with our free survivor strategy articles, which explain a number of the concepts we apply to our customized survivor pick recommendations.
---
FYI
About Our Survivor Pool Advice
We break down the pros and cons of various survivor pick options in this column, but none of our advice is ever absolute.
Why don't we just tell you the "best" survivor pick of the week? Because there is no universal "best pick" for all NFL survivor pools.
The best weekly pick for your pool depends on a variety of factors, including the number of entries still alive and your pool's rules. For example:
Bigger pools reward more risk-taking.
The more entries in your pool, the lower the chance you have to win it. In addition, you have a limited number of weeks to send hundreds or thousands of opponents to slaughter while you survive unscathed. As a result, bigger pools demand more focus on avoiding the most popular picks.
Non-standard rules change pick calculus.
If your pool requires double picks late in the season, or if it's a strike pool (i.e. your first incorrect pick doesn't eliminate you), you don't want to use the same pick strategy you'd use in a standard-rules pool. Those rule variations significantly influence decision factors, such as the value of saving good teams for later use.
Plus, what if you've already picked the team (or teams) that some article says is the best? What if the point spread for that "best pick" has gotten several points worse since the article was published? How should you spread your picks across multiple teams if you're playing more than one entry?
Technology to the rescue
Other sites don't understand this stuff, or they just ignore it because it's complicated and hard. We're the only site that has built algorithms to evaluate all the strategy factors that matter and provide you with customized survivor pick recommendations every week.
The result? Over the past four years, our subscribers have reported nearly $3 million in survivor pool winnings using our data-driven picks and tools.
So if you want to see all the Week 1 picks we recommend for your football pool, you need to use our NFL Survivor Picks product.
As another bonus, the product updates multiple times per day with the latest win odds and pick popularity data, so you're never forced to make pick decisions based on stale data.
Why we write this column
At the same time, we know our subscribers like to understand the rationale behind picks the product may recommend, especially when those picks go against the grain. So over the years, we've started to write more about the "whys" behind our approach.
We also utilize this column to help educate our readers about survivor pool strategy. We highlight tactics proven to result in more survivor pool wins over the long term and point out common pitfalls to avoid.
Our goal with these articles is to dig deeper into the world of survivor pools than anyone else does, using an objective and data-driven lens. We'll recap key results from the previous week, identify the most compelling picks of the current week, and evaluate the implications of breaking news on survivor strategy.
We hope you enjoy reading, and we encourage you to check out more of our survivor pool strategy articles.
---
Wednesday 9/15
About Green Bay and Future Value
Green Bay was embarrassed on Sunday, losing 38-3 to New Orleans after entering the game as a 3.5-point favorite. Aaron Rodgers, coming off an MVP season, posted a 36.8 passer rating. The team managed only 14 first downs, and a chunk of those came late with the outcome decided.