Week 2 NFL Survivor Picks: Advice for 49ers, Titans, Packers, Bucs, Chiefs
The San Francisco 49ers are the most popular pick in Week 2 NFL Survivor pools. But are there other value options that make better sense?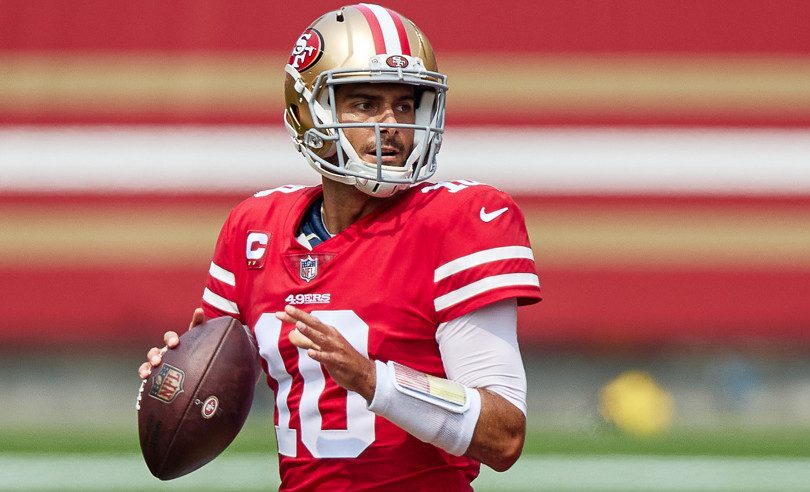 Jimmy G is always looking to score, and occasionally throw a touchdown pass as well (Photo by MSA/Icon Sportswire)
A wild first survivor week is in the books and it's now on to Week 2, which we will dub "Overreaction Week" as there will be at least a few unwarranted swings in the public's perception of various teams.
In this post we analyze the five most popular survivor picks and knockout pool picks of Week 2 using the "Holy Trinity" of survivor pick strategy data: win odds, pick popularity, future value.
How do we know this approach is sound? Over the past three years, our subscribers have reported nearly $2.5 million in survivor pool winnings using our data-driven picks and tools.
Last Week Survivor Recap
Last week was a rough one for survivor pool players. Two of the top five most popular picks and three of the eight teams with 5%+ pick popularity lost. That included the most popular picks, the Indianapolis Colts, losing at the Jacksonville Jaguars.
The Philadelphia Eagles and San Francisco 49ers also lost, and as a result, about 40% of all public entries were eliminated. That elimination rate was four times higher than last year, when only 10% of survivor pool entries nationwide were eliminated in Week 1.
Our subscriber recommendations survived at a similar rate as the public. The bad news was we were heavier on the Colts than the public. The good news was we did not recommendations the 49ers to any of our subscribers, and we recommended the Eagles less often than the public took them.
Another important outcome was that our subscribers that did advance, on the whole, now have a leg up on the public in terms of future value. New England, Pittsburgh, and Buffalo were our three most frequently recommended teams after Indianapolis, and we only recommended Kansas City for 3% of subscriber entries (usually in multi-entry pool formats) and Baltimore to none.
The public used Baltimore and Kansas City at much higher rates, meaning that nearly half of all surviving survivor pool entries have now already used either Baltimore or Kansas City. Those teams are key assets to still have available.
Week 2 NFL Survivor Pick Analysis
First, a quick reminder. If you want to get serious about winning more survivor pools, you need to learn the key strategies behind maximizing your odds to win, and our free survivor strategy articles are a great place to start.
In this post, we will analyze the five most popular Week 2 survivor picks of 2020, which we determine by aggregating public picking rates from national survivor pool hosting sites. So this analysis should cover the picks that you are most likely considering making in your survivor or knockout pool this week.
To be clear, we are not saying that the first team listed, San Francisco, is the best Week 2 survivor pick for your specific pool(s). We're just telling you that the 49ers are the most popular Week 2 pick in survivor pools nationwide. We then break down the major pros and cons of potentially picking them, as well as the next four most popular picks of the week.
The best Week 2 pick for your NFL survivor pool depends on a variety of important factors, including the number of entries still surviving in your pool and its rules. To get our specific Week 2 recommendations, hop over to our NFL Survivor Picks product, tell us a few details about your pool(s), and view customized pick rankings.
Note: Data referenced below was current as of Wednesday morning, and could change between posting time and kickoff time. Our product updates multiple times per day with the latest information.
San Francisco 49ers (at NY Jets)
Survivor Pick Popularity: 19% (#1)
Point Spread: -7
The San Francisco 49ers lost at home last week, and are now the most popular choice in survivor in Week 2. That's how strongly the public wants to go against the woeful Jets, who will now be playing without RB Le'Veon Bell.
San Francisco, though, isn't the biggest favorite of the week. Four other teams have a larger point spread.
Given that they also have a fair amount of future value, the value proposition for using the 49ers this week with relatively high popularity, and good (but not the best) win odds, is not all that great.
Tennessee Titans (vs. Jacksonville Jaguars)
Survivor Pick Popularity: 15% (#2)
Point Spread: -9
Tennessee, hosting Jacksonville, is tied with Tampa Bay for the largest point spread of the week. The Titans also have only modest future value, and some of the other potential weeks to use them come late (Weeks 13-15: Cleveland, at Jacksonville, Detroit).
So they are a decent consideration, with modest popularity for the team near the top in win odds.
Should you be concerned about picking against Jacksonville, though, coming off their upset last week? Going back to 2000, teams that are underdogs of 7+ points in Week 2 are 5-19 (21%) when coming off a win the previous week, and 10-42 (19%) when coming off a loss.
Considering the 0-1 big underdogs had slightly bigger point spreads on average, there is no compelling evidence that a big Week 2 underdog coming off a Week 1 win is any more dangerous to pick against than an underdog that lost the previous week.
Green Bay Packers (vs. Detroit Lions)
Survivor Pick Popularity: 12% (#3)
Point Spread: -6
Green Bay looked very impressive in Week 1, cruising to a win at Minnesota while scoring over 40 points and gaining over 500 yards. Detroit, meanwhile, blew a big lead in the fourth quarter and lost in very Lions-esque fashion. Detroit also now has potential injury concerns in the secondary entering Week 2.
All of those factors are known, though, and Green Bay has been established as a 6-point favorite in the betting markets. Meanwhile, the public is heavy on the Packers compared to their objective win odds, picking them 12% of the time in survivor pools.
Green Bay doesn't have a lot of future weeks where they set up as a potentially high value survivor pick, but they do get Jacksonville at home in Week 10, when they will likely be among the largest favorites of the week.
Given their relative high popularity compared to their win odds, Green Bay provides lower expected value than some other options this week.
Tampa Bay Buccaneers (vs. Carolina Panthers)
Survivor Pick Popularity: 11% (#4)
Point Spread: -9
The Bucs join the Titans as the largest favorite of the week. Tampa Bay did not look very impressive last week versus the Saints, with Tom Brady throwing two interceptions in his Tampa debut.
Tampa Bay did end up gaining more yards than the Saints, though, and the defense generally played well. Carolina, meanwhile, played the Raiders tough before losing a close game at home. So this one comes down to whether you trust the objective win odds or refuse to believe them after Brady's poor debut.
As far as future value goes, Tampa Bay does have some moderate value in coming weeks. However, Week 2 is the only week we currently have the Bucs projected for over 70% win odds. They could potentially serve as a secondary or contrarian option in Week 8 (at the Giants) or Week 10 (in the rematch against the Panthers).
Kansas City Chiefs (at Los Angeles Chargers)
Survivor Pick Popularity: 8% (#5)
Point Spread: -8.5
As we noted in our preseason analysis of the 2020 season, deciding when to use Kansas City will be a key strategy consideration in 2020 survivor pools. KC will be a good option in most weeks, including this one, where they are just slightly behind Tampa Bay and Tennessee in terms of having the largest point spread of the week.
Because you can only use the Chiefs once, though, you have to decide which week is the best to employ them as a pick.
Kansas City already had very high future value entering the season, but because of how Week 1 played out (with entries picking Kansas City surviving, but 40% of all survivor entries losing), the future value of saving the Chiefs is now even higher than it was entering Week 1.
Get Our Week 2 Survivor Pick For Your Pool
Every possible NFL Week 2 survivor pick has an expected value and future value associated with it, and those values can vary significantly based on the characteristics of your pool.
It takes a lot of data and math to figure out which pick (or combination of picks, if you're playing multiple entries) gives the biggest boost to your expected survivor pool winnings. That's why we spent years building our NFL Survivor Picks product.
You answer a few questions about your pool's size and rules, and it provides customized pick recommendations for your pool using the latest matchup data, betting market odds, and public picking trends. It tracks the picks you've already made with each of your entries, and even recommends how to split up your picks for up to 30 different survivor pool entries.
We invite you to try it out, and good luck in your survivor pools this week.
Football Picks From TeamRankings
Survivor Pool Picks | Pick'em Pool Picks |  NFL Betting Picks