Week 18 Survivor Pick Strategy & Advice (2021)
Week 18 NFL Survivor picks look at the last week of the regular season, where the Titans are likely to be popular.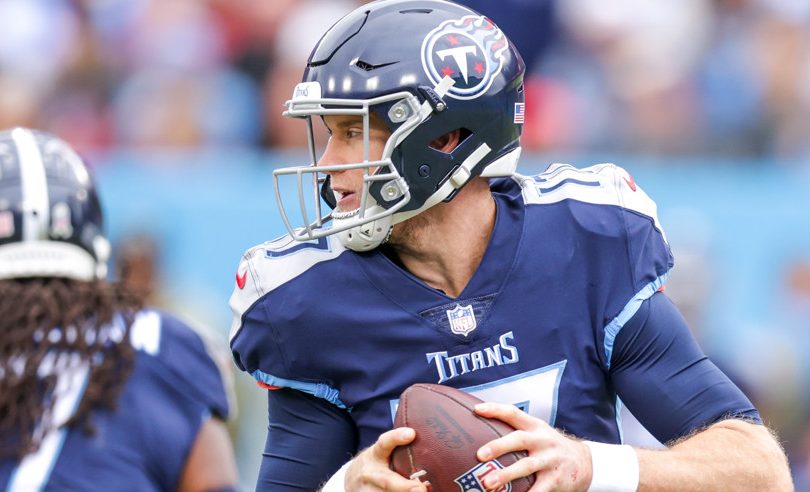 The Titans will be the most popular Week 18 pick as they go for the 1 Seed (Stephen Lew/Icon Sportswire)
In this column, we explore strategies to maximize your edge in NFL survivor pools, also known as knockout or eliminator pools. We also provide some of the rationale behind picks potentially recommended by our NFL Survivor Picks product.
Week 18 Survivor Updates
We'll add to this post every day until the Sunday kickoffs, so check back for updates.
---
Tuesday 1/4
Week 18 Early Most Popular Teams Summary
We've made it to the last week of the regular season, where the future is now. This is an early summary of the most popular picks so far in Week 18.
We also want you to know that these popularity estimates are based on our modeling based on the win odds and availability of teams. The early public pick numbers from some of the sites we use looked fairly suspect this morning (Packers at 20 percent, for example). These may reflect incomplete data and picks set weeks ago, and things change drastically with Week 18 motivations.
The data you see today is based on our modeling using current win odds and availability estimates. We'll transition to the actual public data as more picks roll in and the numbers look more reasonable.
Tennessee Titans (38%) at Houston Texans
Washington Football Team (15%) at New York Giants
Baltimore Ravens (9%) vs. Pittsburgh Steelers
New Orleans Saints (8%) at Atlanta Falcons
Buffalo Bills (4%) vs. New York Jets
Tampa Bay Buccaneers (4%) vs. Carolina Panthers
New England Patriots (4%) at Miami Dolphins
---
Tuesday 12/28
Week 17 Survivor Recap
Here is a summary of the most popular picks for Week 17, and the results:
| Team | Opponent | Popularity | Result |
| --- | --- | --- | --- |
| Seattle | Detroit | 20% | W, 51-29 |
| New England | Jacksonville | 18% | W, 50-10 |
| San Francisco | Houston | 18% | W, 23-7 |
| Chicago | NY Giants | 7% | W, 29-3 |
| New Orleans | Carolina | 6% | W, 18-10 |
| LA Chargers | Denver | 5% | W, 34-13 |
| Tampa Bay | NY Jets | 5% | W, 28-24 |
| Green Bay | Minnesota | 5% | W, 37-10 |
| Tennessee | Miami | 3% | W, 34-3 |
| Buffalo | Atlanta | 2% | W, 29-15 |
| Kansas City | Cincinnati | 2% | L, 34-31 |
| Philadelphia | Washington | 1% | W, 20-16 |
| Washington | Philadelphia | 1% | L, 20-16 |
| Las Vegas | Indianapolis | 1% | W, 23-20 |
It was a relatively rare week where all the top survivor picks won and were comfortably in control late in the game. The closest game was Tampa Bay at the Jets, where it took a late scoring drive by Tampa Bay to win it. A small percentage of entries had the Kansas City Chiefs in their shootout loss to Cincinnati.
About 92 percent of the public advanced. Ninety-nine percent of TR subscribers advanced, with the few who didn't being in multiple-pick and rebuy pools.
---
FYI
Survivor Strategy Articles and E-Book
If you're serious about winning more survivor pools, you need to learn the key strategies that create edge. You can start with our free survivor strategy articles, which explain a number of the concepts we apply to our customized survivor pick recommendations.
We've also published a strategy e-book, "Survivor Pool Strategy: What It Takes To Win," available for free download.
---
FYI
About Our Survivor Pool Advice
We break down the pros and cons of various survivor pick options in this column, but none of our advice is ever absolute.
Why don't we just tell you the "best" survivor pick of the week? Because there is no universal "best pick" for all NFL survivor pools.
The best weekly pick for your pool depends on a variety of factors, including the number of entries still alive and your pool's rules. For example:
Bigger pools reward more risk-taking.
The more entries in your pool, the lower the chance you have to win it. In addition, you have a limited number of weeks to send hundreds or thousands of opponents to slaughter while you survive unscathed. As a result, bigger pools demand more focus on avoiding the most popular picks.
Non-standard rules change pick calculus.
If your pool requires double picks late in the season, or if it's a strike pool (i.e. your first incorrect pick doesn't eliminate you), you don't want to use the same pick strategy you'd use in a standard-rules pool. Those rule variations significantly influence decision factors, such as the value of saving good teams for later use.
Plus, what if you've already picked the team (or teams) that some article says is the best? What if the point spread for that "best pick" has gotten several points worse since the article was published? How should you spread your picks across multiple teams if you're playing more than one entry?
Technology to the rescue
Other sites don't understand this stuff, or they just ignore it because it's complicated and hard. We're the only site that has built algorithms to evaluate all the strategy factors that matter and provide you with customized survivor pick recommendations every week.
The result? Over the past four years, our subscribers have reported nearly $3 million in survivor pool winnings using our data-driven picks and tools.
So if you want to see all the Week 1 picks we recommend for your football pool, you need to use our NFL Survivor Picks product.
As another bonus, the product updates multiple times per day with the latest win odds and pick popularity data, so you're never forced to make pick decisions based on stale data.
Why we write this column
At the same time, we know our subscribers like to understand the rationale behind picks the product may recommend, especially when those picks go against the grain. So over the years, we've started to write more about the "whys" behind our approach.
We also utilize this column to help educate our readers about survivor pool strategy. We highlight tactics proven to result in more survivor pool wins over the long term and point out common pitfalls to avoid.
Our goal with these articles is to dig deeper into the world of survivor pools than anyone else does, using an objective and data-driven lens. We'll recap key results from the previous week, identify the most compelling picks of the current week, and evaluate the implications of breaking news on survivor strategy.
We hope you enjoy reading, and we encourage you to check out more of our survivor pool strategy articles.
---
Wednesday 1/5
Week 18 Survivor Outlook
There is no more future, unless you are in a pool that extends into the playoffs. So this week, it's all about making the pick that gives you the best chance of winning all or some of the pot.
Our pick recommendations are based on public pick estimates, but if you're down to only a few opponent entries remaining, you should pay attention to who everyone can take, and who they are likely to pick. Each pool can have quite different pick distributions at this time, especially with a small number of entries remaining.
Ideally, you want to pick the team with (a) the highest win odds that (b) few others can take. Of course, those ideals can conflict. Especially with a team like the Titans, who should have some popularity but may be the best win-odds options for several entries.
You can use our EV Calculator tool to compare which picks would be best for you by inputting picks that you anticipate your opponents making and seeing which choices have the best EV based on those assumptions.
Here's a general guide for pick strategy this week:
Use Buffalo, Indianapolis, or Kansas City If You Have Them
These are the three double-digit favorites who should have lower popularity because most entries have used them. If you are fortunate enough to have one available, and most other entries still alive in your pool cannot pick them, then fire away.
These are the three highest-EV choices in most pools based on limited availability and win odds.
In early pick recommendation data, it looks like around one-third of all TR subscriber entries are being recommended to use one of these three teams.
Tennessee? Probably the Better EV than Most Others, But Likely Guaranteeing Pot Splits
The Titans likely have a higher EV than the next tier of options because of their higher win odds. But with a popularity that could be at 30 percent or more in many pools, picking them is the conservative option.
It's more likely to result in you getting some share of the pot, but if several other entries are on them, it will also reduce your chances of a huge pot-share increase.
Whether you should take a chance on another team may depend on your risk tolerance and how much you value winning a bigger pot versus the likelihood of winning a share of the pot this week.
Arizona, Dallas, and Tampa Bay Are in the Next Tier
These teams all currently have win odds between 72 and 74 percent, and they also have their availability limited by most entries having already used them. The decision of whether to use one of them or Tennessee may come down to risk tolerance and just how popular you expect Tennessee to be in your pool.
Washington Is the Best of the Rest
Washington has the highest win odds of the remaining options that should be available to at least a decent percentage of entries, and you should monitor its win odds throughout the week. Right now, the WFT are ahead of the Ravens, Saints, Rams, and Patriots in terms of win odds and EV.
About 97 percent of all current recommendations are on the eight teams above, with the only exceptions being in pools that require multiple picks this week and have to extend further down the pecking order to choices like the Ravens and Saints.
---
Thursday 1/6
How Popular Will Tennessee Be This Week?
The Tennessee Titans should be the most popular pick this week because of both availability and win odds. There's a genuine question about just how popular, though.
Because most individual pools are down to a handful of entries, we could see quite a range of outcomes when it comes to how popular Tennessee is.
Having a popular team in Week 18 (or formerly, Week 17) is pretty rare. For the most part, the teams with the highest win odds have been heavily used, and popularity is spread out more in the last week.
The Titans are a rare case of a team that (a) is a heavy favorite, and playing for the top seed in the conference, who (b) is largely available primarily because they lost in the previous weeks when they had some popularity.
According to Survivor Grid, here are the most popular survivor picks in the final week since 2011:
Houston, 2014, 38%
Philadelphia, 2011, 33%
Pittsburgh, 2013, 29%
Los Angeles Rams, 2019, 24%
Indianapolis, 2010, 23%
None of those teams was favored by quite as much as Tennessee is this week (Pittsburgh was -9.5 in 2013).
Plenty of you may assume that everyone else will pick Tennessee if they have that option and don't have a different option with similar or better win odds (like Buffalo, Indianapolis, or Kansas City). While anything can happen, we rarely have a case where a team has popularity over 50 percent, even if they have low future value and have among the highest win odds of the week.
The Titans will likely be the pick more often than not for entries that have a choice between them and Washington, Baltimore, or the like. While it may be 100 percent in some pools, that typically won't be the case.
For example, if you projected that each individual entry was likely to pick Tennessee 75 percent of the time if they had a choice between them, Washington, and Baltimore, you would still expect 3-4 entries out of five to pick Tennessee rather than all five.
We wish we could tell you how individual pools would pick, but we cannot. You'll have to make your best estimate on the Titans and whether they will be too popular in your pool, based on which other teams are available for each entry.
Our EV Calculator is a good tool to use for these endgame situations. You can input some different opponent pick scenarios and see what the highest-EV play among your options would be.
---
Sunday 1/9
Week 18 Sunday Morning Pick Rates and Recommendations
Here's where things stand as of Sunday morning at 10:30 a.m. ET.
| Team | Public | All TR | Standard | Strike | Rebuy | Multi-Pick | Playoffs | Wins Tiebreak | Late Start |
| --- | --- | --- | --- | --- | --- | --- | --- | --- | --- |
| Tennessee | 40.0% | 39.3% | 74.7% | 50.0% | 36.4% | 23.3% | 0.0% | 19.1% | 23.3% |
| Washington | 14.9% | 14.7% | 14.5% | 25.0% | 11.4% | 15.0% | 16.1% | 23.8% | 7.2% |
| Buffalo | 3.2% | 14.1% | 3.6% | 5.0% | 18.2% | 10.4% | 33.9% | 9.5% | 22.5% |
| Indianapolis | 2.4% | 12.8% | 1.2% | 5.0% | 6.8% | 11.9% | 32.1% | 14.3% | 24.2% |
| Kansas City | 4.0% | 6.0% | 3.6% | 3.3% | 6.8% | 7.8% | 7.1% | 9.5% | 8.9% |
| Cleveland | 2.8% | 5.6% | 1.2% | 3.3% | 6.8% | 7.8% | 8.9% | 9.5% | 5.9% |
| Tampa Bay | 2.5% | 3.6% | 1.2% | 5.0% | 2.3% | 5.7% | 0.0% | 4.8% | 5.1% |
| Arizona | 1.5% | 1.1% | 0.0% | 0.0% | 0.0% | 2.1% | 0.0% | 4.8% | 2.1% |
| New Orleans | 3.0% | 0.6% | 0.0% | 1.7% | 0.0% | 1.0% | 0.0% | 0.0% | 0.0% |
Entries can fall under more than one category. For example, a pool that requires multiple picks in future weeks and also allows a strike would be separately included in the percentages for each.
Minnesota (9.6%), Baltimore (6.2%), Green Bay (4.0%) and New England (2.4%) are the most popular teams that we are recommending less than 1 percent of the time.
Much like the public, Tennessee is the most frequent recommendation. Overall, we are in line with the public here, along with being similar to the pick rate on Washington.
The difference is in the relative availability of other options, where our recommendations are higher on teams like Buffalo, Indianapolis, and Kansas City, compared to some riskier choices for the public with Minnesota, Baltimore, and New Orleans.
Good luck in the last week!