Week 13 Survivor Pick Strategy & Advice (2021)
Week 13 Survivor news includes Miami and Dallas seeing positive line movement due to injuries for the opponent.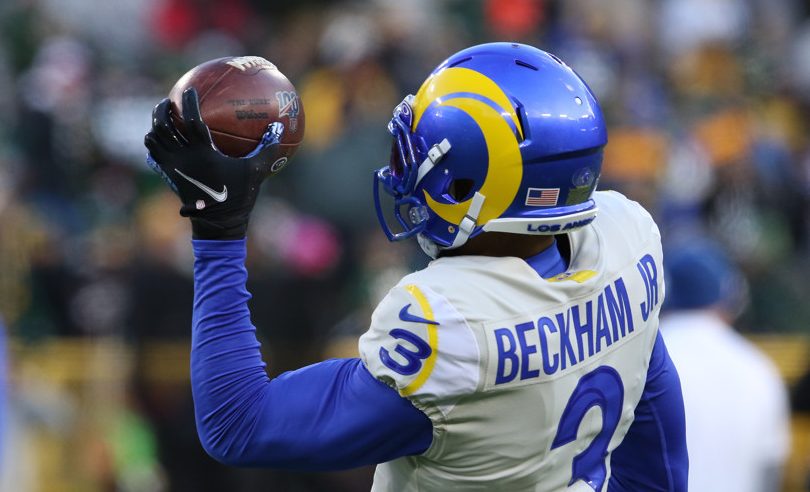 Odell Beckham is in a key survivor matchup with the Rams (Larry Radloff/Icon Sportswire)
In this column, we explore strategies to maximize your edge in NFL survivor pools, also known as knockout or eliminator pools. We also provide some of the rationale behind picks potentially recommended by our NFL Survivor Picks product.
Week 13 Survivor Updates
We'll add to this post every day until the Sunday kickoffs, so check back for updates.
---
Tuesday 11/30
Week 13 Early Most Popular Teams Summary
This is an early summary of the most popular picks so far in Week 13.
Los Angeles Rams (26%) vs. Jacksonville Jaguars
Minnesota Vikings (19%) at Detroit Lions
Tampa Bay Buccaneers (9%) at Atlanta Falcons
Kansas City Chiefs (9%) vs. Denver Broncos
Arizona Cardinals (8%) at Chicago Bears
For the second week in a row, these early pick rate numbers could shift quite a bit. If you're in a pool in the end stages, it's important to see who your opponents can actually pick. The Philadelphia Eagles just miss this list, but they could move up for pools where several of these options have already been used heavily.
We will quickly run through some observations for this week, but the overall outlook is this: Entries will likely use the top team they have available.
Los Angeles Rams
It's hard to believe, but the Rams haven't won since they beat the Texans back in Week 8. That was a key result in survivor pools, as Cincinnati lost to the Jets that week, starting a run of chaos.
In pools that started in Week 1, it's doubtful that 26 percent of the remaining entrants have the Rams as an option. This popularity number is likely boosted by later-start pools. (The Rams were the most popular pick back in Week 1).
So, the Rams are one of this week's "smoke 'em if you got 'em" plays. If you have them as an option, now is the time. They don't have much future value after this week, as their schedule is tougher down the stretch.
Minnesota Vikings
The Vikings may not be the best option in a vacuum, but they could be the best option for plenty of entries that already used the Rams, Colts, Bucs, Chiefs, and Cardinals.
Minnesota slots behind those options this week in win odds, and it does have some moderate future value (particularly if you need to make it through Week 18, at Chicago). But the Vikings are also a safer option than teams like the Raiders and Dolphins that are drawing some picks.
Tampa Bay Buccaneers
Tampa Bay has the second-highest win odds and the best EV for Week 13. And unlike the Rams, the Bucs do have plenty of future value.
With that said, plenty of entries could be in relatively better shape in Weeks 14-18 with other options, so using the Bucs now may be the better overall move. Especially in pools that are down to the last few entries and where others have used the Bucs, employing them now is a higher-value play.
Kansas City Chiefs
Like the Rams and Tampa Bay, Kansas City has already been heavily used. The Chiefs helped many entries get through Weeks 8 or 9, when a large chunk of the public was wiped out.
Just as with Tampa, Kansas City does have some future value in Weeks 14 (vs. Las Vegas) and 16 (vs. Pittsburgh). But those weeks have more options that are likely still available to entries.
So in this tough week, if you have the Chiefs, they are a good option.
Arizona Cardinals
Arizona might be slightly more available than the Rams, Bucs, and Chiefs, but they were the most popular pick back in Week 7.
The Cardinals do have future-value importance in Week 15, which is shaping up as another fairly tough week. Most of the biggest favorites that week have been heavily used to get to this point.
So the Cardinals are worth using now, unless you also have another team among the bigger favorites that you can use instead.
---
Tuesday 11/30 
Week 12 Survivor Recap
We entered Week 12 knowing that it would be a key week with lots of potential pitfalls. No team was favored by more than 7.5 points this week, and many entries were on riskier choices.
That's how it played out, as at least 2 percent of the public picked 14 of the 15 favorites in Week 12. Other than the Rams/Packers game, every game in Week 12 had survivor implications in many pools.
Here is a summary of the most popular picks for Week 12, and the results:
| Team | Opponent | Popularity | Result |
| --- | --- | --- | --- |
| Dallas | Las Vegas | 22% | L, 36-33 (OT) |
| Philadelphia | NY Giants | 18% | L, 13-7 |
| New England | Tennessee | 10% | W, 36-13 |
| Chicago | Detroit | 10% | W, 16-14 |
| Baltimore | Cleveland | 8% | W, 16-10 |
| Houston | NY Jets | 6% | L, 21-14 |
| LA Chargers | Denver | 6% | L, 28-13 |
| Buffalo | New Orleans | 3% | W, 31-6 |
| San Francisco | Minnesota | 2% | W, 34-26 |
| Cincinnati | Pittsburgh | 2% | W, 41-10 |
| Tampa Bay | Indianapolis | 2% | W, 38-31 |
| Atlanta | Jacksonville | 2% | W, 21-14 |
| Carolina | Miami | 2% | L, 33-10 |
| Seattle | Washington | 2% | L, 17-15 |
With the two most popular teams losing, 56 percent of survivor entries were eliminated in Week 12, with only about 44 percent advancing out of the week.
Our picks were heavily focused on Dallas, New England, and Cincinnati. Dallas lost in overtime, while the other two won comfortably. As a result, even with the costly Dallas eliminations, about 54 percent of TR subscriber entries advanced out of the difficult week, a higher rate than the public again.
At least 45 percent of entries have been eliminated each week for five straight weeks. Our recommendations have now survived at a higher rate than the public in all five weeks.
As a result, we estimate about 1.1 percent of entries in a pool that started in Week 1 are still alive in a standard-rules pool. Meanwhile, about 4.5 percent of TR subscriber entries from Week 1 in standard-rules pools are still alive.
Many smaller pools have been decided by this point. Even in larger pools that had several hundred or well over 1,000 entries to start the year, we are now getting down to the end. Hopefully some of you are in contention to win larger pools.
---
FYI
Survivor Strategy Articles and E-Book
If you're serious about winning more survivor pools, you need to learn the key strategies that create edge. You can start with our free survivor strategy articles, which explain a number of the concepts we apply to our customized survivor pick recommendations.
We've also published a strategy e-book, "Survivor Pool Strategy: What It Takes To Win," available for free download.
---
FYI
About Our Survivor Pool Advice
We break down the pros and cons of various survivor pick options in this column, but none of our advice is ever absolute.
Why don't we just tell you the "best" survivor pick of the week? Because there is no universal "best pick" for all NFL survivor pools.
The best weekly pick for your pool depends on a variety of factors, including the number of entries still alive and your pool's rules. For example:
Bigger pools reward more risk-taking.
The more entries in your pool, the lower the chance you have to win it. In addition, you have a limited number of weeks to send hundreds or thousands of opponents to slaughter while you survive unscathed. As a result, bigger pools demand more focus on avoiding the most popular picks.
Non-standard rules change pick calculus.
If your pool requires double picks late in the season, or if it's a strike pool (i.e. your first incorrect pick doesn't eliminate you), you don't want to use the same pick strategy you'd use in a standard-rules pool. Those rule variations significantly influence decision factors, such as the value of saving good teams for later use.
Plus, what if you've already picked the team (or teams) that some article says is the best? What if the point spread for that "best pick" has gotten several points worse since the article was published? How should you spread your picks across multiple teams if you're playing more than one entry?
Technology to the rescue
Other sites don't understand this stuff, or they just ignore it because it's complicated and hard. We're the only site that has built algorithms to evaluate all the strategy factors that matter and provide you with customized survivor pick recommendations every week.
The result? Over the past four years, our subscribers have reported nearly $3 million in survivor pool winnings using our data-driven picks and tools.
So if you want to see all the Week 1 picks we recommend for your football pool, you need to use our NFL Survivor Picks product.
As another bonus, the product updates multiple times per day with the latest win odds and pick popularity data, so you're never forced to make pick decisions based on stale data.
Why we write this column
At the same time, we know our subscribers like to understand the rationale behind picks the product may recommend, especially when those picks go against the grain. So over the years, we've started to write more about the "whys" behind our approach.
We also utilize this column to help educate our readers about survivor pool strategy. We highlight tactics proven to result in more survivor pool wins over the long term and point out common pitfalls to avoid.
Our goal with these articles is to dig deeper into the world of survivor pools than anyone else does, using an objective and data-driven lens. We'll recap key results from the previous week, identify the most compelling picks of the current week, and evaluate the implications of breaking news on survivor strategy.
We hope you enjoy reading, and we encourage you to check out more of our survivor pool strategy articles.
---
Wednesday 12/1 
Daniel Jones Injury News Could Shake Up Survivor Pools
Daniel Jones is now "week-to-week" with a neck injury, so backup quarterback Mike Glennon is likely to start Sunday's game for the New York Giants. As a result, Miami has jumped to a five-point favorite against the Giants.
The Week 13 landscape features five large favorites of over a touchdown who have all been very popular and have limited availability for most entries: Rams, Bucs, Chiefs, Colts, and Cardinals.
After that, the choices are pretty thin, led by Minnesota and Philadelphia. But Miami has now entered the conversation as well, and it could draw some public interest this week. If that draws away from Philadelphia or Minnesota, that could improve the outlook for those choices.
None of those three have great future value, so that shouldn't be a huge differentiator this week. The choice will likely come down to EV and win odds.
Right now, we project the Eagles with the highest win odds of the trio, while the market has the Vikings slightly in front. But news about Eagles QB Jalen Hurts could also impact that outlook, so the relative preference of Philadelphia vs. Minnesota vs. Miami is yet to be determined.
As always, wait as long as you can to submit your picks to have the latest and best available information.
---
Thursday 12/2
New Orleans' Offensive Injuries Lead to Dallas Line Move
The Saints have several key players who will be out tonight. Star RB Alvin Kamara will miss another game, and OT Ryan Ramczyk and OT Terron Armstead are also both out.
The line has now moved back in Dallas' favor (after a dip following the news about head coach Mike McCarthy missing the game). The Cowboys are favored by six points, with 70 percent win odds.
Dallas, with only 1 percent pick popularity, is now at least in consideration as a survivor pick, with an EV of 1.00. The Cowboys do have future value that reduces the argument for using them now, but they are a contrarian option at very low popularity in another difficult week.
---
Friday 12/3
Daniel Jones Confirmed Out, Plus Breakdown of Pick Recommendations
Giants QB Daniel Jones is officially out for Sunday's game against Miami, which means Mike Glennon will start.
The line had rebounded some with some conflicting reports about Jones' status, but with this news, we are already seeing line movement upward for Miami. The Dolphins are now up to -6 at some books, and that number could continue to move a bit.
Miami's survivor status could depend on where that number ends up. Right now, we project the Dolphins with 69 percent win odds.
As of now, here is a rough breakdown of where our pick recommendations are falling:
Philadelphia – 34%
LA Rams – 30%
Indianapolis – 11%
Tampa Bay – 10%
Arizona – 8%
The Rams and Colts are typically the two highest-graded picks in most pools, but their usage is limited by availability here. Most entries that have one of those two available are being recommended to use them. They both have a good combination of good EV and lower future value than other options.
Tampa Bay, Arizona, and Kansas City typically slot right below those two, but they're all also limited by availability. The Chiefs in particular were important for a high number of our subscribers in getting through the wild Weeks 8 and 9.
Right now, Philadelphia is the preferred option among all other teams, though that could be shifting. We have seen a slight line movement downward in the Eagles game (although QB Jalen Hurts is expected to play at the moment), and also the shift in Miami.
You may see the pick grades between Miami and Philadelphia tightening up and Miami sneaking into more portfolios.
---
Sunday 12/5
Week 13 Sunday Morning Pick Rates and Recommendations
Here's where things stand as of Sunday morning at 9:45 a.m. ET.
| Team | Public | All TR | Standard | Strike | Rebuy | Multi-Pick | Playoffs | Wins Tiebreak | Late Start |
| --- | --- | --- | --- | --- | --- | --- | --- | --- | --- |
| LA Rams | 14.0% | 29.9% | 14.8% | 26.2% | 32.7% | 35.0% | 44.9% | 40.8% | 51.0% |
| Philadelphia | 12.8% | 20.0% | 29.6% | 27.9% | 17.9% | 16.4% | 13.5% | 34.7% | 6.7% |
| Miami | 8.2% | 12.0% | 25.9% | 8.2% | 9.0% | 7.3% | 7.9% | 6.1% | 4.1% |
| Indianapolis | 4.4% | 11.0% | 1.9% | 6.6% | 8.3% | 14.4% | 18.0% | 12.2% | 23.3% |
| Tampa Bay | 6.5% | 10.8% | 8.3% | 17.2% | 9.6% | 10.7% | 7.9% | 6.1% | 9.6% |
| Arizona | 6.3% | 9.7% | 13.4% | 9.0% | 9.6% | 6.8% | 5.6% | 0.0% | 3.8% |
| Kansas City | 13.5% | 2.2% | 3.2% | 1.6% | 2.6% | 2.0% | 1.1% | 0.0% | 0.9% |
| Minnesota | 20.3% | 1.6% | 1.4% | 1.6% | 3.2% | 2.8% | 1.1% | 0.0% | 0.0% |
| Dallas | 1.4% | 1.2% | 0.5% | 0.8% | 1.3% | 1.7% | 0.0% | 0.0% | 0.3% |
| Baltimore | 0.9% | 0.6% | 0.9% | 0.0% | 0.6% | 0.3% | 0.0% | 0.0% | 0.0% |
Entries can fall under more than one category. For example, a pool that requires multiple picks in future weeks and also allows a strike would be separately included in the percentages for each.
Other than those teams listed above, the Raiders are the biggest public team we are avoiding. More than 6 percent of the public is on the Raiders, while only two (out of nearly 1000 entries) have been recommended to use the Raiders, both as the second option in multiple-pick weeks.
These numbers are likely to change a fair amount between now and kickoff this morning. We're still waiting for confirmation that Eagles QB Jalen Hurts is out and Gardner Minshew II will start. So please be sure to update your pick recommendations once inactives come out.
The Eagles' spread dropped from the 6.5/7-point range to being a 5-point favorite, and their win odds have dropped below 70 percent. That slight downward movement has been enough to shift the outlook in many pools, and the Eagles are falling below Miami and probably Minnesota now.
We should see the Eagles' usage rate continue to plummet in updated recommendations, and they will likely be replaced with a combination of Miami and Minnesota. You also might see more of the other higher-future-value favorites like KC and Arizona slide in more.