Week 11 Survivor Pick Strategy & Advice (2021)
The Tennessee Titans are the most popular pick in Week 11 survivor pools, while Cleveland has seen their odds move up with Jared Goff injury news.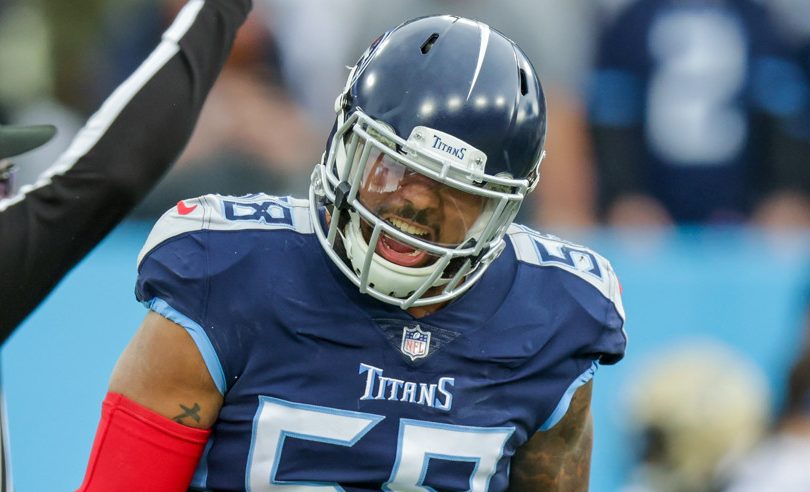 The Tennessee Titans will be a popular pick in Week 11 Survivor (Stephen Lew/Icon Sportswire)
In this column, we explore strategies to maximize your edge in NFL survivor pools, also known as knockout or eliminator pools. We also provide some of the rationale behind picks potentially recommended by our NFL Survivor Picks product.
Week 11 Survivor Updates
We'll add to this post every day until the Sunday kickoffs, so check back for updates.
---
Tuesday 11/16
Week 11 Early Most Popular Teams Summary
This is an early summary of the most popular picks so far in Week 11.
Tennessee Titans (48%) vs. Houston Texans
Cleveland Browns (20%) vs. Detroit Lions
Tampa Bay Buccaneers (10%) vs. New York Giants
Los Angeles Chargers (6%) vs. Pittsburgh Steelers
San Francisco 49ers (4%) at Jacksonville Jaguars
Let's go through the top five options this week by popularity.
Tennessee Titans
There are lots of similar enough options this week based on win odds. Availability to some extent is impacting the choices, but Tennessee is still far too popular given the other available picks.
The most likely explanation is that recency bias and public perception are playing a role here. The 8-2 Titans may be seen as "safer" than the Browns (who lost badly last week), Bucs (who just lost two in a row), Chargers (who lost last week), and 49ers (who won, but are still under .500).
In terms of future value, Tennessee is only clearly behind Tampa Bay, is similar to New England and San Francisco, and has more than Cleveland.
Finding value means taking advantage of public biases, and this week provides that opportunity. At nearly a 50 percent pick rate, Tennessee has a poor EV compared to the other options.
The Titans are also 24th in total yards on offense out of 24 teams who have played two games in the last two weeks. They haven't been as dominant as perceived since losing star RB Derrick Henry to a foot fracture.
The Titans survived against the Saints last week thanks to key controversial plays and the Saints missing two extra points and a late two-pointer that would have tied the game. They got a bogus roughing-the-passer call in their favor that negated an interception and immediately led to a touchdown. They also recovered both fumbles (their own, and the one by the Saints).
The betting market is more accurately pricing the Titans. The perception in survivor leagues is out of whack.
Cleveland Browns
The Browns have similar win odds at less than half the popularity of Tennessee, and they also have the lowest future value of any of the five most popular options. Given that their win odds are higher than New England and the Chargers, their EV is a solid 1.06 at 20 percent popularity.
To make this pick, you have to overlook that the Browns looked bad last week. (Granted, Detroit passed for less than 100 yards in regulation against Pittsburgh). However, the spread and win odds account for those results. The Browns would have been favored by even more if not for Sunday's blowout loss.
Here's the survivor pool stat of the week:
Teams with 5%+ pick popularity who lost previous game: 16-1 (94%)
Teams with 5%+ pick popularity who won previous game: 20-8-1 (69%)
Nothing is ever guaranteed, but to win pools, you have to take advantage of biases, including recency biases. The past three weeks have shown us that the only consistent thing in the NFL is inconsistency.
Don't fall for a handful of key players or one poor performance.
Tampa Bay Buccaneers
The Bucs are the biggest favorite of the week over Tennessee and Cleveland. Given their relatively lower popularity, they thus have the highest EV of the week (1.19). That's a strong EV to fire out and use.
However, Tampa Bay also has the highest future value of any team by far. If you have other alternatives, it makes sense to save the Bucs, especially in large pools with lots of entries left and in those with multiple-pick weeks coming soon.
Los Angeles Chargers
The Chargers are a little riskier right now (70 percent win odds) and have a moderate EV right now. But they also have moderate future value and are at least in consideration as a low-popularity contrarian option in bigger pools.
Keep an eye on the injury news and news about Ben Roethlisberger's status for this one, as it could impact the value proposition and win odds throughout the week.
San Francisco 49ers
The Niners are another solid contrarian option at lower popularity, although they're slightly more risky than the more popular Titans and Browns. San Francisco's future value may be dependent on which teams you have already used.
For example, the Niners' value in Week 15 has gone up. If you have already used Arizona and Buffalo, San Francisco is the highest projected win-odds option available for that week when it plays Atlanta at home.
---
Tuesday 11/16 
Week 10 Survivor Recap
Week 10 continued the run of big upsets and huge elimination weeks. The two most popular picks lost (or rather, lost and tied), and two other double-digit favorites lost on Sunday.
Here is a summary of the most popular picks for Week 10, and the results:
| Team | Opponent | Popularity | Result |
| --- | --- | --- | --- |
| Baltimore | Miami | 25% | L, 22-10 |
| Pittsburgh | Detroit | 21% | T, 16-16 |
| Dallas | Atlanta | 16% | W, 43-3 |
| Indianapolis | Jacksonville | 11% | W, 23-17 |
| Arizona | Carolina | 8% | L, 34-10 |
| Tampa Bay | Washington | 7% | L, 29-19 |
| Buffalo | NY Jets | 6% | W, 45-17 |
| Tennessee | New Orleans | 2% | W, 23-21 |
| Green Bay | Seattle | 1% | W, 17-0 |
| LA Chargers | Minnesota | 1% | L, 27-20 |
Because of the tie involving Pittsburgh, the elimination rate will depend on the pool rules regarding ties.
The majority of pools (nearly 80 percent, based on what all of you reported when setting up the pool) treat ties like losses. Some, though, are heathens that allow entries to survive. (Then there's the DraftKings Pro Football Millionaire Survivor Contest, where DraftKings is not applying its own rules.)
Over 60 percent of the public was eliminated on average in pools where Pittsburgh ties resulted in elimination. In comparison, TR entries were eliminated about 45 percent of the time, again outperforming the public in terms of getting through.
Our recommendations largely avoided Pittsburgh and were heaviest on Buffalo relative to public pick rates.
The last three weeks have been tough ones in survivor with a lot of eliminations. However, TR entries have been relatively better at getting through compared to the average entry that was still alive at the start of Week 8. They've been about twice as likely to make it through an extremely treacherous stretch that saw most pools go from over half of all entries alive to now around or under 5 percent of entries still standing.
---
FYI
Survivor Strategy Articles and E-Book
If you're serious about winning more survivor pools, you need to learn the key strategies that create edge. You can start with our free survivor strategy articles, which explain a number of the concepts we apply to our customized survivor pick recommendations.
We've also published a strategy e-book, "Survivor Pool Strategy: What It Takes To Win," available for free download.
---
FYI
About Our Survivor Pool Advice
We break down the pros and cons of various survivor pick options in this column, but none of our advice is ever absolute.
Why don't we just tell you the "best" survivor pick of the week? Because there is no universal "best pick" for all NFL survivor pools.
The best weekly pick for your pool depends on a variety of factors, including the number of entries still alive and your pool's rules. For example:
Bigger pools reward more risk-taking.
The more entries in your pool, the lower the chance you have to win it. In addition, you have a limited number of weeks to send hundreds or thousands of opponents to slaughter while you survive unscathed. As a result, bigger pools demand more focus on avoiding the most popular picks.
Non-standard rules change pick calculus.
If your pool requires double picks late in the season, or if it's a strike pool (i.e. your first incorrect pick doesn't eliminate you), you don't want to use the same pick strategy you'd use in a standard-rules pool. Those rule variations significantly influence decision factors, such as the value of saving good teams for later use.
Plus, what if you've already picked the team (or teams) that some article says is the best? What if the point spread for that "best pick" has gotten several points worse since the article was published? How should you spread your picks across multiple teams if you're playing more than one entry?
Technology to the rescue
Other sites don't understand this stuff, or they just ignore it because it's complicated and hard. We're the only site that has built algorithms to evaluate all the strategy factors that matter and provide you with customized survivor pick recommendations every week.
The result? Over the past four years, our subscribers have reported nearly $3 million in survivor pool winnings using our data-driven picks and tools.
So if you want to see all the Week 1 picks we recommend for your football pool, you need to use our NFL Survivor Picks product.
As another bonus, the product updates multiple times per day with the latest win odds and pick popularity data, so you're never forced to make pick decisions based on stale data.
Why we write this column
At the same time, we know our subscribers like to understand the rationale behind picks the product may recommend, especially when those picks go against the grain. So over the years, we've started to write more about the "whys" behind our approach.
We also utilize this column to help educate our readers about survivor pool strategy. We highlight tactics proven to result in more survivor pool wins over the long term and point out common pitfalls to avoid.
Our goal with these articles is to dig deeper into the world of survivor pools than anyone else does, using an objective and data-driven lens. We'll recap key results from the previous week, identify the most compelling picks of the current week, and evaluate the implications of breaking news on survivor strategy.
We hope you enjoy reading, and we encourage you to check out more of our survivor pool strategy articles.
---
Wednesday 11/17 
Week 11 Survivor Pick Rate Breakdown