Week 11 NFL Survivor Picks: Chargers Lead in Popularity, But Not Value (2020)
Facing the hapless Jets, the 2-7 Los Angeles Chargers are a hugely popular Week 11 survivor pick — but other options may provide more value.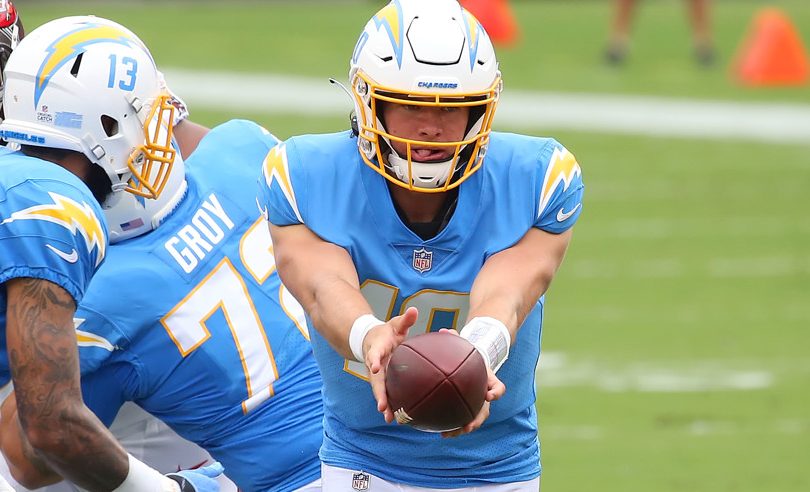 Justin Herbert demonstrates how the Chargers give away games in the fourth quarter (Photo by Cliff Welch/Icon Sportswire)
The Jets are back in NFL Week 11, and still looking for their first win as survivor pool players around the nation welcome them with open arms — even going so far as to make their opponent, the 2-7 Chargers, the most popular survivor pick of the week.
The Chargers are almost certainly a better team than their record indicates, but other picks may make more sense for your entry this week than a team that has been close in several games but seemingly just loves to find a way to lose.
In this post, we'll analyze the five most popular NFL survivor picks of Week 11 using the "Holy Trinity" of survivor pick strategy data: win odds, pick popularity, future value.
The foundation of this pick analysis is the Data Grid feature of our NFL Survivor Picks product, the only tool on the market that customizes picks to maximize your edge in survivor pools.
Last Week Survivor Recap
Meanwhile, 12 of the 14 betting favorites won in Week 10, making for a high survival week. The only two favorites to lose were Baltimore and Philadelphia.
Here is a summary of the weekly pick rate by the public, and our final recommendations, for any team picked 2% or more by either.
| Team | Public Pick Rate | TR Pick Rate | Difference | Result |
| --- | --- | --- | --- | --- |
| Green Bay | 53% | 11% | -42% | Won by 4 |
| New Orleans | 26% | 21% | -5% | Won by 14 |
| Las Vegas | 6% | 0% | -6% | Won by 25 |
| Pittsburgh | 3% | 9% | 6% | Won by 26 |
| Baltimore | 3% | 0% | -3% | Lost by 6 |
| Tampa Bay | 2% | 32% | 30% | Won by 23 |
| Detroit | 2% | 4% | 2% | Won by 3 |
| Cleveland | 1% | 7% | 6% | Won by 3 |
| Philadelphia | 1% | 15% | 14% | Lost by 10 |
Our subscriber recommendations survived 85% of the time, with virtually all eliminations due to Philadelphia. The public survived 95% of the time, with most of those on Baltimore and Philadelphia.
Just as in Week 9, the general approach we took involved taking on slightly more risk than the public, in an effort to build up greater value in coming weeks. In Week 9, that strategy involved avoiding Pittsburgh, and in Week 10 avoiding Green Bay.
Pittsburgh this week and Green Bay next week have the highest projected win odds in Week 11 and 12 and will be far less popular picks than they were in Weeks 9/10, so we should see soon if our future value gamble pays off.
Week 11 NFL Survivor Pick Analysis
Below we break down the public's five favorite survivor picks this week, evaluating the pros and cons of each pick.
You're probably thinking about picking at least one of these teams, but remember there are also other options to consider in Week 11, and highly contrarian picks can sometimes provide a solid boost to win your pool.
To get our Week 11 survivor pick recommendations customized for your pool's size, rules, and the teams you've already picked, make sure you use the My Pool Picks feature of our NFL Survivor Picks product.
Note: Data referenced below was current as of Wednesday morning, and could change between posting time and kickoff time. Our product updates multiple times per day with the latest information.
1. Los Angeles Chargers (vs. New York Jets)
Survivor Pick Popularity: 43%
Point Spread: -9.5
The New York Jets return to survivor prominence after getting a bye week. This time, it's the Chargers that draw the Jets and become the most popular public pick. The Chargers had some popularity (17%) in Week 7 against the Jaguars, which just so happened to be their last win.
The Chargers are an almost unfathomable 3-16 over the last two seasons in games decided by 8 points or less. So those going with the Chargers won't feel comfortable if this one is tight late, given their seeming ability to defy the odds and grab defeat from the jaws of victory unlike any franchise we have seen recently.
Because the Chargers have relatively low future value compared to other Week 11 options, and because they are available to use for most players, the Chargers have high popularity relative to their win odds.
That popularity makes them a lower value choice, since over 40% of the public in a typical pool is concentrated on a team with less than 80% win odds.
Get access to all NFL survivor pool content, picks and tools
Reduced rest-of-season pricing now available
Already a premium subscriber? Sign in for access