Week 1 Survivor Pick Strategy & Advice (2022)
Making NFL Week 1 survivor picks in 2022 won't be easy with no big favorites and road teams in the mix. We evaluate the strategy.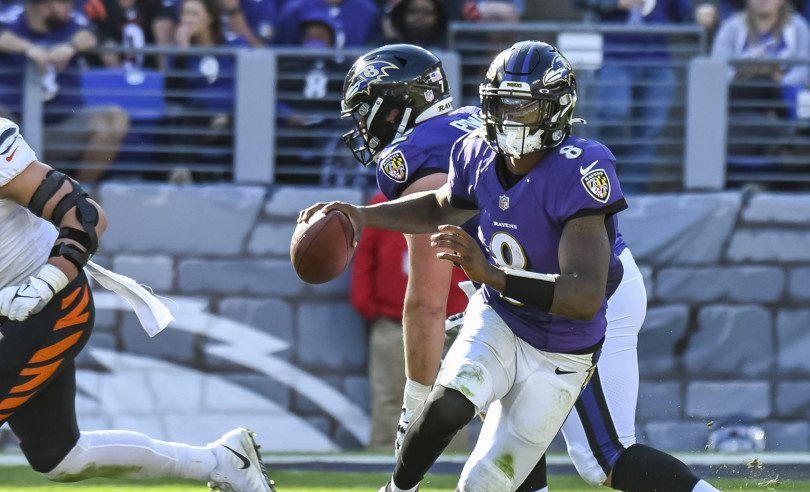 Lamar Jackson and the Ravens are one of the Week 1 survivor options (Mark Goldman/Icon Sportwire)
We have launched our NFL Survivor Picks product for 2022, along with this initial pick strategy and advice column for Week 1 of the 2022 NFL season.
In these weekly columns, we explore strategies to maximize your edge in NFL survivor pools, also known as knockout pools or eliminator pools. We also provide some of the rationale behind picks potentially recommended by our product.
We plan to periodically update this post until Sunday of Week 1 arrives, so check back by Tuesday, Sept. 6 for more news and info. Here's what's available now:
---
Sunday 9/11
Week 1 Sunday Morning Pick Rates and Recommendations
Here's where things stand as of Sunday morning at 10:20 a.m. ET, comparing public picking trends to the percentage of picks we're recommending to PoolGenius subscribers (the "PoolGenius" column).
The last five columns in the table show how our recommended picks vary by subscriber pool format/rules.
| Team | Public | PoolGenius | Standard | Strike | Rebuy | Multi-Pick | Playoffs |
| --- | --- | --- | --- | --- | --- | --- | --- |
| Indianapolis | 17.0% | 31.6% | 35.9% | 29.3% | 24.3% | 25.3% | 29.0% |
| New Orleans | 5.2% | 25.3% | 15.8% | 44.9% | 43.4% | 34.5% | 40.5% |
| San Francisco | 9.6% | 21.1% | 23.5% | 13.6% | 17.4% | 18.7% | 15.9% |
| Philadelphia | 4.0% | 12.7% | 14.5% | 5.5% | 8.4% | 12.7% | 5.4% |
| Denver | 11.0% | 5.8% | 6.2% | 1.8% | 3.1% | 6.6% | 6.3% |
| Baltimore | 20.4% | 3.4% | 4.2% | 3.8% | 3.0% | 2.0% | 2.3% |
| Tennessee | 12.7% | 0.0% | 0.0% | 0.0% | 0.0% | 0.0% | 0.0% |
| Cincinnati | 8.0% | 0.0% | 0.0% | 0.0% | 0.1% | 0.4% | 0.3% |
Entries can fall under more than one category. For example, a pool that requires multiple picks in future weeks and also allows a strike would be separately included in the percentages for each.
Our recommendations are focused on six teams. A few notes there:
Baltimore, the most popular choice publicly, is being recommended at a much lower rate to our subscribers. The Ravens have good enough future value that their increased public popularity is combining to push them below other options.
Philadelphia is the team on the rise this morning. The Eagles have steadily seen their win odds rise with potential offensive line injuries to the Lions, and they are now favored by as much as the Saints and Titans are, at lower popularity.
Meanwhile, we are avoiding the Titans and Bengals.
Cincinnati is one that is entirely driven by the difference between our model win odds and the market win odds, as the Bengals would be in the mix as one of the top EVs (along with teams like Indianapolis and San Francisco) using market odds.
The Titans are too popular given both their market odds and our model.
---
Friday 9/9
Ravens Line Move + Week 1 Risk Outlook
Yesterday, we noted that the Colts moved to the biggest favorite of the week. While that line has fluctuated, their status as the biggest moneyline favorite has held. Meanwhile, the Ravens have seen their odds drop in the markets.
This morning, the Ravens' line has moved to 6.5 points at most places, and their odds have also moved down to 75%. Meanwhile, they have continued to climb slowly as a survivor pick. They are now up to 21%, so the gap in popularity between the Ravens and Colts has widened a bit. Those two had similar popularity when the week began.
The net result is that the Ravens' EV has dropped to 1.02. Given their future value, we are seeing fewer and fewer recommendations on the Ravens. Our pick recommendations are starting to solidify on Indianapolis, San Francisco, and New Orleans.
Week 1 Risk Analysis
We also want to touch on the overall risk outlook for Week 1, where no team is favored by more than 7 points.
If you use only the current pick popularity and win odds, the expected average survival rate this week is about 70%. That means we expect 30% of a pool to be eliminated on average, which is a really high rate. The only week last year with a higher one was Thanksgiving week, when the Cowboys and Eagles both lost as the two most popular choices.
The public is pretty spread out this week, which likely means there will be fairly low variance in elimination rate. It's less likely that over half the public is eliminated since that would take a lot of upsets. But it's also unlikely that more than 90% of the public survives Week 1. That would require the equivalent of hitting a five-team parlay with the teams with 10% popularity. The odds of that are only around 20%.
Our picks right now are largely concentrated on three teams: Indianapolis, San Francisco, and New Orleans. They are all being recommended nearly at the same rate right now, and 87% of the recommendations are on one of those three. (The remainder is mostly Denver or Baltimore).
We are above weight on two of the biggest favorites in this week, but it's still a risky week. By our model estimates, our average survival rate is 75%. That means we are expecting our own picks to get eliminated 25% on average.
That isn't a comfortable place to be. Further, we are more concentrated than the public, basically employing a "do the opposite" approach. With the public so spread out, we don't want to mirror them. If you mirror, you just end up in the same place as everyone else. That place is being eliminated now or eventually.
Using our own estimates, there's a 42% that all three of our top picks survive. That would be great, but it's less than half. So more likely than not, at least one of our top picks will lose in this tough week.
There's also a 2% chance that all three lose, and a 14% chance that two of them do. We can't play survivor pools scared, but we must acknowledge that this week is challenging.
Our pick recommendations are what they are because they do present the best value. If you played out this Week 1 thousands of times, the teams we are recommending would put you in a better position more often than not. But we only have one week. Anything can happen.
We're just going to make the best picks we can this week and root like crazy on Sunday.
---
Thursday 9/8
Colts Move Back to Largest Favorite
The NFL season kicks off tonight with the Rams and Bills. That game shouldn't have major survivor implications since it's an even matchup and both of those teams will play a role in survivor picks later in the year.
For this week, the Colts have re-emerged as the largest favorite right now, at 7.5 points against Houston. Meanwhile, Baltimore continues to rise a bit in popularity. The Colts are thus becoming a pretty good option, and you should see them featured in your pool picks.
The Colts do have some future value, but their current-week expected value (1.11) is the kind of EV you are targeting for all but the most valuable picks with your future-value planning (the Bills, for example). So, using them now is probably a good call as long as their EV stays at 1.10 or more.
---
Wednesday 9/7
Fading the Titans
The specific teams that get recommended to you might depend on remaining shifts in win odds and popularity, as well as the size and rules of your pool. The Colts, 49ers, Ravens, and Broncos all present somewhat similar cases this week, while the Saints are an interesting future-value savings option as a team with slightly more risk.
Meanwhile, we're entirely fading the Tennessee Titans right now. Since they're currently the third-most popular survivor pick this week, we wanted to go through why that is.
Tennessee: Choice of the Anti-Road Team and Anti-Division-Game Crowd
Of the eight teams favored by 5.5 or more points this week:
Six play on the road.
One of the two that doesn't play on the road (Cincinnati) plays a division opponent.
The other one plays in a non-division home game (Tennessee).
A segment of survivor players strongly believes that you should avoid road teams and division games, making Tennessee the natural choice for strong proponents. However, we've written about both the division-game myth and road-team myth. If other entries are giving into biases, you should aim to exploit that.
Is Week 1 tougher because all of the top matchups happen to be on the road? It sure is. The Ravens and Colts would be favored by more and have higher odds of winning if they were playing the Jets and Texans at home.
But that doesn't mean a team with worse odds in the betting markets is safer because it's playing at home against a team from the other conference. Over the last 20 years, for example:
That's about a 7% drop-off in safety to fall for a narrative.
Our Models Are Down on Tennessee 
Tennessee has lower projected win odds in our models than in the betting market. That lower estimate is helping to drive the fade.
Last year, playable picks according to our models went 48-37-1 ATS, while moneyline playable picks were +14.1 units. That makes us inclined to side with the model estimates.
Tennessee has several potential red flags. It underwent major turnover in the receiving group this offseason, and it suffered a key injury on defense last week (DE Harold Landry). Meanwhile, the Giants share some commonalities with teams that were undervalued entering the season (new coach, QB returning from injury).
The Titans also haven't been dominant even before the question marks entering this year. They've been involved in a lot of close games and sweats in recent years. In short, they are the type of team that tends to be overvalued by those just looking at last year's record.
But What About Tennessee's Future Value?
You could argue that Tennessee is a viable survivor option despite its lower win odds because it doesn't have as much future value as the other popular picks. That is true, but two things mitigate against Tennessee here:
The expected value drop-off to Tennessee is too great. You won't consistently win survivor pools making picks that reduce your expected pot share on average.
New Orleans has similar win odds but is far less popular and has less future value.
To the extent that you want to save more future value, the Saints provide that alternative by giving you both a better EV and more future-value savings.
---
Wednesday 9/7
Jets QB News (vs. Ravens)
NFL Network's Ian Rapoport is reporting that the Jets will start veteran backup Joe Flacco at QB against his former team this week, as Zach Wilson is not quite ready.
The Ravens are tied for the largest spread of this week and are currently the most popular pick of Week 1, so we'll see where this news shifts the line. This is not a surprising announcement, as it seemed unlikely that the Jets would rush Wilson back in Week 1 when he had missed the last month of practices.
The spread had already shifted up slightly last month with the initial news of Wilson's injury, so it may not change much now. But at least we know the specific QB matchup that could impact one of the more important survivor options this week.
---
Tuesday 9/6
Five Most Popular Week 1 Survivor Picks
Here are the most popular teams early on for Week 1 of the 2022 NFL season. It's an opening week with plenty of options and split opinions, as no team is being picked by more than 20% of the public .. yet.
Baltimore Ravens (19%) at New York Jets
Indianapolis Colts (19%) at Houston Texans
Tennessee Titans (14%) vs. New York Giants
Denver Broncos (11%) at Seattle Seahawks (MNF)
San Francisco 49ers (9%) at Chicago Bears
As of right now, 28% of the public is taking a team outside of that top 5. The Cincinnati Bengals are the most likely candidate to move into the popular crowd.
Let's briefly go through the five most popular options.
Baltimore Ravens
Right now, Baltimore is running in a virtual tie with the Colts for the most popular pick of the week at 19% popularity. Baltimore is a 6.5-point favorite with 73% market win odds and 75% win odds according to our models.
The Ravens are getting the Jets in Week 1, potentially without QB Zach Wilson, who suffered a meniscus tear in the preseason and had surgery to repair it. The Jets haven't officially ruled out Wilson yet, but if he is not ready, veteran backup QB Joe Flacco will be under center.
While there probably won't be big line movement once the Jets announce who will start for them, we could still see some shift in win odds this week. (The spread initially moved about a point when Wilson suffered the injury nearly a month ago, but has largely stayed in the 6.5 to 7-point range since then.)
The Ravens do have solid future value, but it isn't so prohibitively high that it should preclude considering them this week. Their best-looking future matchup is all the way in Week 16 vs. Atlanta, and they could also be valuable in Week 11 against Carolina. That means the case for saving them may be relatively better in much larger pools and those with multi-pick weeks later in the year.
Indianapolis Colts
The Colts are the biggest favorite (-8) of Week 1, when they travel to Houston.
Like Baltimore, they also have some future value, but their best remaining matchup by win odds is likely the return game against Houston all the way in Week 18. They do also get Jacksonville at home in Week 6, which is a potentially useful spot if you save them now.
The Colts do have the highest expected value of Week 1 thanks to the combination of being the biggest favorite and picks being fairly spread out this week. That makes them a solid pick.
Tennessee Titans
The primary case for using the Titans is future-value savings relative to the other popular teams. We have them rated lower than the other four top options, and most of that future value is late in the year when they play Jacksonville in Week 14 and Houston in Week 16.
However, the Titans have a much lower EV this week than the other popular options. That's because they're relatively popular for a team that is currently tied for the sixth-largest Week 1 favorite (-5.5). They present some risk for a team that 14% of a typical pool is picking.
Our models are also down on the Titans in this one. We give them only a 64% chance of winning.
Denver Broncos
If you want the pick with the biggest storyline, Denver is your survivor choice, as Russell Wilson returns to Seattle in his first game as a Bronco. The spread on this one has been rising, as Denver is up to a 6.5-point favorite and has a 75% chance of winning, according to our models.
Denver does have the highest future value of the five most popular picks this week. That value will be more immediately realized than some of the other options. Next week, Denver hosts Houston and projects as one of the biggest favorites. The Broncos also face the Jets and Jaguars before the midway point of the season.
San Francisco 49ers
The 49ers are in a virtual tie with Baltimore right now as the second-biggest favorite of the week (-7) against Chicago. The Bears have major questions on offense, though the 49ers have a big one themselves as last year's third overall pick, Trey Lance, takes over at quarterback.
The Niners are about half as popular as Baltimore, which gives them slightly higher EV than the Ravens. The 49ers do have decent future value, and like Denver, some of that comes up immediately. They face Seattle next week and get Atlanta in Week 6.
As always, you can get the most up-to-date popularity data in our Data Grid. Check your specific pool rankings and recommendations to see what makes sense for you.
---
Monday 8/29
Early Week 1 Survivor Pick Analysis
Week 1 point spreads are out for all games, and we also have collected some preliminary data on nationwide survivor pick popularity. Though early pick popularity data may not be the most reliable until we get closer to Week 1, the current trends look directionally correct based on what our expectations would be.
Only three teams are currently favored by seven or more points, and all three teams are playing on the road. For players that erroneously believe in the "don't pick road teams" myth, this is going to be a tough week.
As of today (8/29), the five biggest point spreads of the week are:
Indianapolis (-8) at Houston
San Francisco (-7) at Chicago
Baltimore (-7) at NY Jets
Cincinnati (-6.5) vs. Pittsburgh
Denver (-6.5) at Seattle
Only two other teams—Tennessee (vs. New York Giants) and New Orleans (at Atlanta)—are favored by at least five points.
Week 1 2022, same as 2021?
Last season, less than two weeks before the first game, we highlighted the biggest spreads and noted that no team was favored by more than 7.5 points. It looked like one of the most balanced openers in the last decade.
Then, the betting lines for three biggest favorites (Tampa Bay, San Francisco, and Los Angeles Rams) all got steamed up to 9.5 points by kickoff time.
That could happen again, but right now, the point spreads for Week 1 are low for the top options compared to recent years. Here is a summary of the five largest spreads in Week 1 over the last decade, along with the biggest favorite and most popular survivor pick.
| Year | Avg. Spread, Top 5 | Biggest Favorite | Spread | Most Popular |
| --- | --- | --- | --- | --- |
| 2022 | -7.0 | Indianapolis | -8 | ??? |
| 2021 | -8.1 | Tampa Bay | -9.5 | San Francisco |
| 2020 | -7.6 | Kansas City | -9.5 | Indianapolis |
| 2019 | -8.1 | Philadelphia | -10.5 | Seattle |
| 2018 | -7.5 | New Orleans | -10 | New Orleans |
| 2017 | -7.5 | Pittsburgh | -10 | Pittsburgh |
| 2016 | -7.1 | Seattle | -10.5 | Seattle |
| 2015 | -5.8 | New England | -7.5 | Green Bay |
| 2014 | -7.6 | Philadelphia | -10 | Philadelphia |
| 2013 | -7.9 | Indianapolis | -11 | Indianapolis |
| 2012 | -9.8 | Houston | -13 | Houston |
Week 1 typically has slightly lower spreads than later weeks in the season because there is more uncertainty about which teams will end up being good and bad. But even by that standard, this year's Week 1 is more balanced than usual. (The fact that most of the more lopsided matchups feature the better team on the road is one big reason why.)
Only 2015 had a lower average spread for the five biggest favorites, and it was the only other year with no favorite of at least 9.5 points.
No Big Favorite Likely Means Spread-Out Pick Popularity
Although we must wait to see where the Week 1 pick popularity numbers end up, the pick distribution will likely be relatively spread out. If it is, making a riskier contrarian pick would have a lower expected payoff.
For example, right now, our pick popularity data does not show any team with popularity over 20%. The five most popular picks are:
Baltimore (18%)
Indianapolis (17%)
Tennessee (14%)
Denver (10%)
San Francisco (9%)
A team with slightly lower win odds than the top favorites becomes a high-value choice if a big percentage of the public is concentrated on one or two of those top favorites. (In that case, one or two upsets could knock out a huge chunk of your opponents.)
When that isn't the case, like Week 1 is shaping up so far, focusing more on survival odds and saving teams with high future value becomes more important.
The Biggest Favorites in Week 1 Don't Have the Highest Future Value
Last year, teams like the Bucs and Rams were among the biggest Week 1 favorites and also had some of the highest future value as survivor picks for the rest of the season. That isn't the case in Week 1 this year. In fact, none of the seven teams favored by five or more points are in the top six of our future value rankings to start the season.
That isn't to say that they don't have any future value, because they do. At some point, you're almost certainly going to have to use teams like Denver, Indianapolis, Baltimore, and Cincinnati if you go deep in a survivor pool in 2022. But the future value of those teams isn't so prohibitive that you should take on a lot of additional risk to save them for later if they have good expected value this week.
What does all this mean for Week 1? Current-week EV is likely going to be a bigger driver of the best pick(s) if the future values of the top options are mostly similar and if there isn't a hugely popular single team.
If you want to see what the numbers say for your pool, go set it up in our NFL Survivor Picks product and get our customized pick recommendations.
---
FYI
Survivor Strategy Articles
If you're serious about winning more survivor pools, it pays to learn the strategies that give you a long-term edge.
You can start with our free survivor strategy articles, which explain a number of the concepts we apply to our customized survivor pick recommendations:
---
FYI
About Our Survivor Pool Advice
We break down the pros and cons of various survivor pick options in this column, but none of our advice is ever absolute.
Why can't we just tell you the "best" survivor pick of the week? Because there is no universal "best pick" for all NFL survivor pools.
The best weekly pick for your pool depends on a variety of factors, including the number of entries still alive and your pool's rules. For example:
Bigger survivor pools reward more risk-taking.
The more entries in your pool, the lower the chance you have to win it. In addition, you have a fixed number of weeks to send hundreds (or even thousands, in really big pools) of opponents to slaughter while you survive unscathed. As a result, your best strategy for bigger pools generally demands more of a focus on avoiding the most popular picks.
Non-standard rules change optimal pick strategy.
If your pool requires double picks late in the season, or if it's a strike pool (i.e. your first incorrect pick doesn't eliminate you), you don't want to use the exact same pick strategy that you'd use in a standard-rules survivor pool. Those rule variations significantly influence decision factors, such as whether you should be more inclined to save a good team for later vs. use it now.
And then there's all this stuff:
What if you've already picked the team (or teams) that some article says is the best pick this week?
What if the point spread for that "best pick" has gotten several points worse since the article was published?
How should you spread your picks across multiple teams if you're playing more than one entry?
Technology to the rescue
As far as we know, we're the only site that has built algorithms that evaluate all of the strategy factors that matter in survivor pools and provide you with customized survivor pick recommendations based on the data updated multiple times a day.
The result? Since 2017, our subscribers have reported over $3.7 million in survivor pool winnings using our data-driven picks and tools.
If you want to see all the picks we recommend for your pool, use our NFL Survivor Picks product.
Why we write this column
At the same time, we know our subscribers like to understand the rationale behind picks the product may recommend, especially when those picks go against the grain. So, over the years, we've started to write more about the "whys" behind our approach.
This column can also help educate our readers about survivor pool strategy. We highlight tactics proven to result in more survivor pool wins over the long term and point out common pitfalls to avoid.
We hope you enjoy reading, and we encourage you to check out more of our survivor pool strategy articles.