Week 1 Survivor Pick Strategy & Advice (2021)
Making an NFL Week 1 survivor pick in 2021 won't be easy with no big favorites available. We review the strategy behind two tiers of picks.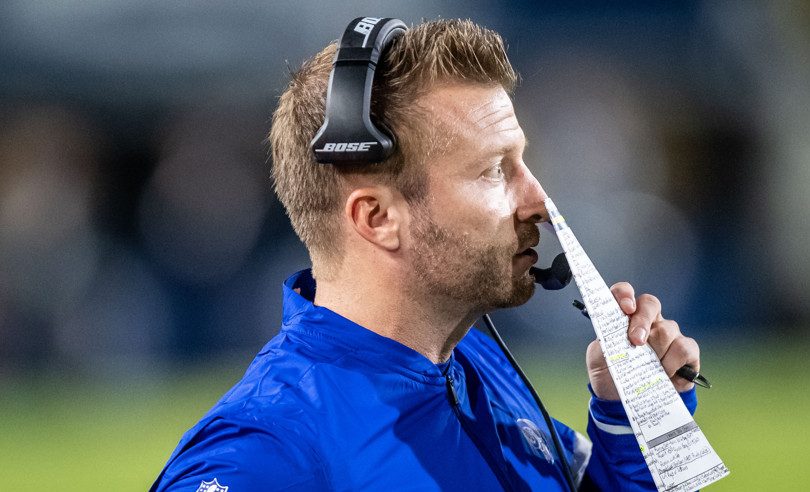 Sean McVay's Rams will be among the most popular picks in Week 1 with new QB Matt Stafford (Photo by Michael Workman/Icon Sportswire)
We have launched our NFL Survivor Picks product for 2021, along with our Week 1 survivor pick strategy and advice column.
In these columns, we explore strategies to maximize your edge in NFL survivor pools, also known as knockout or eliminator pools. We also provide some of the rationale behind picks potentially recommended by our product.
We will continue to add to this post until Sunday of NFL Week 1 arrives, so make sure to check back for updates. Here's what's available now:
---
Friday 8/27
Early Week 1 Survivor Pick Analysis
NFL Week 1 point spreads are out for all games, and we also have some preliminary data on nationwide survivor pick popularity (though that data may not be very reliable until we get closer to the Week 1 games).
However, early Week 1 pick popularity trends look directionally correct, in that the teams we would expect to be popular picks generally are so far. So we will provide some more general commentary on the teams and outlook for Week 1 and update this article with more specifics as kickoffs approach.
Week 1 of the 2021 season looks fairly balanced, with no team currently favored by more than 7.5 points in the betting markets. As of today (8/27), the five biggest point spreads of the week are:
San Francisco (-7.5) at Detroit
Tampa Bay (-7.5) vs. Dallas
Los Angeles Rams (-7) vs. Chicago
Buffalo (-7) vs. Pittsburgh
Kansas City (-6) vs. Cleveland
No other team is favored by more than 4.5 points.
Week 1 features fewer lopsided matchups than past years
Here is a table showing the average of the five largest spreads in Week 1 over the last decade, along with the biggest favorite and most popular survivor pick.
| Year | Avg. Spread, Top 5 | Biggest Favorite | Spread | Most Popular |
| --- | --- | --- | --- | --- |
| 2021 | -7.0 | San Francisco | -7.5 | ??? |
| 2020 | -7.6 | Kansas City | -9.5 | Indianapolis |
| 2019 | -8.1 | Philadelphia | -10.5 | Seattle |
| 2018 | -7.5 | New Orleans | -10 | New Orleans |
| 2017 | -7.5 | Pittsburgh | -10 | Pittsburgh |
| 2016 | -7.1 | Seattle | -10.5 | Seattle |
| 2015 | -5.8 | New England | -7.5 | Green Bay |
| 2014 | -7.6 | Philadelphia | -10 | Philadelphia |
| 2013 | -7.9 | Indianapolis | -11 | Indianapolis |
| 2012 | -9.8 | Houston | -13 | Houston |
Week 1 typically has slightly lower spreads than later weeks in the season because there is more uncertainty about which teams will end up being good and bad. But even by that standard, this year's Week 1 is more balanced than usual.
Only 2015 had a lower average spread for the five biggest favorites, and it was the only other year with no favorite of at least 9.5 points.
No big favorite likely means spread-out pick popularity
Although we must wait to see where the Week 1 pick popularity numbers end up, the pick distribution will likely be relatively spread out. If so, making a riskier contrarian pick would have a lower expected payoff.
A team with slightly lower win odds than the top favorites becomes a very high-value choice if a big percentage of the public is concentrated on one or two of those top favorites. One or two upsets could knock out a huge chunk of your opponents.
When that isn't the case, focusing more on survival odds and saving teams with high future value becomes more important. The optimal balance between those two extremes depends on your pool size and rules.
Most of the biggest favorites in Week 1 have high future value
Kansas City, Tampa Bay, and Buffalo all rate in the top four teams in our future-value estimates for a standard-rules, 100-entry pool. The L.A. Rams and San Francisco have above-average future value as well, which would only increase if they become popular picks in Week 1 since fewer opponent entries could then use them in the future.
In short, Week 1 presents a quandary for survivor players. Should you save future value while taking on more risk by picking a team favored by 4.5 points or fewer, or give up substantial future value right off the bat in exchange for better Week 1 survival odds?
The biggest favorites among the teams we project with below-average future value in 2021 include:
Carolina (-4.5) vs. New York Jets
Atlanta (-3.5) vs. Philadelphia
Minnesota (-3.5) at Cincinnati
Tennessee (-3) vs. Arizona
Jacksonville (-3) at Houston
Some of those options might end up with at least moderate pick popularity in Week 1, but they're also a sizable risk. The odds of elimination for all of those teams are somewhere around 40%, which means they are almost twice as likely to lose compared to the largest Week 1 favorites.
Playing it safe can have consequences
There's a lot of psychological pressure not to take a big risk right away in survivor pools. But if you want to maximize your long-term winnings, you need to separate emotions from logic.
At some point between starting a survivor pool and winning it, you're going to face tough weeks like this. When that happens, you have to take some gambles.
It's brutal that 2021 is starting out on this note. Still, you can't just cop out and pick the biggest Week 1 favorite without modeling all the potential implications. Picking a 4.5-point favorite in Week 1 may save you from having to pick a 1-point favorite later in the season.
If you want to see what the numbers say for your pool, go set it up in our NFL Survivor Picks product and get our customized pick recommendations.
---
FYI
Survivor Strategy Articles
If you're serious about winning more survivor pools, you need to learn the key strategies that create edge. You can start with our free survivor strategy articles, which explain a number of the concepts we apply to our customized survivor pick recommendations.
---
FYI
About Our Survivor Pool Advice
We break down the pros and cons of various survivor pick options in this column, but none of our advice is ever absolute.
Why don't we just tell you the "best" survivor pick of the week? Because there is no universal "best pick" for all NFL survivor pools.
The best weekly pick for your pool depends on a variety of factors, including the number of entries still alive and your pool's rules. For example:
Bigger pools reward more risk-taking.
The more entries in your pool, the lower the chance you have to win it. In addition, you have a limited number of weeks to send hundreds or thousands of opponents to slaughter while you survive unscathed. As a result, bigger pools demand more focus on avoiding the most popular picks.
Non-standard rules change pick calculus.
If your pool requires double picks late in the season, or if it's a strike pool (i.e. your first incorrect pick doesn't eliminate you), you don't want to use the same pick strategy you'd use in a standard-rules pool. Those rule variations significantly influence decision factors, such as the value of saving good teams for later use.
Plus, what if you've already picked the team (or teams) that some article says is the best? What if the point spread for that "best pick" has gotten several points worse since the article was published? How should you spread your picks across multiple teams if you're playing more than one entry?
Technology to the rescue
Other sites don't understand this stuff, or they just ignore it because it's complicated and hard. We're the only site that has built algorithms to evaluate all the strategy factors that matter and provide you with customized survivor pick recommendations every week.
The result? Over the past four years, our subscribers have reported nearly $3 million in survivor pool winnings using our data-driven picks and tools.
So if you want to see all the Week 1 picks we recommend for your football pool, you need to use our NFL Survivor Picks product.
As another bonus, the product updates multiple times per day with the latest win odds and pick popularity data, so you're never forced to make pick decisions based on stale data.
Why we write this column
At the same time, we know our subscribers like to understand the rationale behind picks the product may recommend, especially when those picks go against the grain. So over the years, we've started to write more about the "whys" behind our approach.
We also utilize this column to help educate our readers about survivor pool strategy. We highlight tactics proven to result in more survivor pool wins over the long term and point out common pitfalls to avoid.
Our goal with these articles is to dig deeper into the world of survivor pools than anyone else does, using an objective and data-driven lens. We'll recap key results from the previous week, identify the most compelling picks of the current week, and evaluate the implications of breaking news on survivor strategy.
We hope you enjoy reading, and we encourage you to check out more of our survivor pool strategy articles.
---
Friday 9/3
Week 1 Survivor Pick Popularity Coming Into Focus
The pick popularity numbers are starting to become more stable and look more reasonable as we get a week out from the start of the season. Here are the ten most popular teams (You can also see all this data and more in the Data Grid).
| Team | Opponent | TR Odds | Popularity | Week 1 EV |
| --- | --- | --- | --- | --- |
| SF | at DET | 74% | 21% | 1.03 |
| LAR | vs. CHI | 76% | 20% | 1.06 |
| TB | vs. DAL | 78% | 12% | 1.13 |
| CAR | vs. NYJ | 63% | 9% | 0.91 |
| KC | vs. CLE | 72% | 7% | 1.07 |
| BUF | vs. PIT | 68% | 6% | 1.01 |
| GB | vs. NO(N) | 65% | 3% | 1.01 |
| JAC | at HOU | 65% | 3% | 0.99 |
| BAL | at LV | 63% | 3% | 0.95 |
| MIN | at CIN | 60% | 3% | 0.90 |
As we noted in our Early Analysis on 8/27, the lack of a really large favorite in Week 1 would likely lead to more spread-out popularity. And we do see that, as no team has higher than 21% pick popularity. In turn, that makes taking contrarian values less profitable than in some other weeks, and the focus to start this year is on balancing the interplay of win odds and future value considerations.
So let's categorize some of these teams as we start the week:
Too Much Future Value Relative to Risk/EV Payoff
We'll start off with a standard caveat: things could change, and if odds or information shifts, so will the outlook.
As of now, Buffalo, Baltimore, Green Bay and Kansas City all have enough future value that you typically want to use them in higher value spots than what they present this week. All four of them are in the top six in future value for a standard 100-entry pool. While they have solid Expected Value this week, it's not spectacular enough.
The public is collectively taking these four teams 18% of the time so far, while they make up about 7% of our recommendations. Most of the time we are recommending these teams, it is in smaller pools (where future value matters less) or as diversity additions on larger portfolios using several different teams this week. You can set up a pool in My Pool Picks to see which teams are being recommended for your pool.
Good Value and Risk Combo
The Los Angeles Rams, San Francisco 49ers, and Tampa Bay Buccaneers are the three most popular picks. They are also our three most common recommendations, and we are recommending them collectively at a higher rate than the public. That's because they are not too popular, have good EV, and are relatively safe compared to other options.
The Bucs are the most divisive one here. They have great future value. They also have the highest current week EV. That makes them a reasonable pick now. There might be a handful of better weeks for them, particularly in large pools and strike pools. But taking a team with an EV of 1.13 or more is always a solid play.
The Rams and 49ers do have future value, but it's not as high as the teams listed in the previous section, meaning they are relatively a better trade-off of both saving future value and optimizing advancement odds.
Options to Save Future Value
Finally, we'll discuss the alternate options with low future value but more risk later, but these include Carolina, Jacksonville, Minnesota, as well as some others not listed here, like Atlanta and Tennessee. The logic behind using any of those teams is taking on risk in order to save teams that have higher value, especially in larger pools.
---
Sunday 9/5
Running Down the Options to Preserve Future Value
On Friday, we grouped the most popular picks into some different groups. The last group of options are teams that have lower future value, and are potentially attractive picks even if they have only moderate EV, because they allow you to save other, more valuable teams.
That group includes the following teams:
Carolina (-5) vs. NY Jets
Atlanta (-3.5) vs. Philadelphia
Minnesota (-3.5) at Cincinnati
Tennessee (-3) vs. Arizona
Jacksonville (-2.5) at Houston
All of these teams except Tennessee rank outside the Top 16 in future value in a 100-entry pool, and Tennessee is 15th. Collectively, they are making up about 24% of our pick recommendations. Those percentages are much smaller in standard pools, especially smaller ones. They are being recommended at higher rates in large pools where future value is a bigger factor, and in strike and multi-pick pools.
Which team ends up being recommended the most, out of this group, is fluctuating and could change over the course of this week based on any injury news and line moves.
Carolina is the most popular choice with the public (9%) but our models are lower on them than the consensus market odds, which is holding down how frequently we are recommending them so far. Right now, Minnesota has the highest EV of this group (0.97) and you could see Minnesota climbing. But again, the margins between some of these options are small and subtle changes in the pick popularity and win odds could shift which team is most recommended from this group.
---
Tuesday 9/7
Let's Talk About Tampa Bay's Value
Tampa Bay or Not to Tampa Bay is going to be a key flashpoint this week, as the defending champs kickoff in the season opener on Thursday Night Football against Dallas.
Right now, Tampa Bay:
Is the largest favorite of the week, at -8
Has only 12% popularity
Has the highest Expected Value, well above other options at this point with an EV of 1.14 in a 100-entry pool, but …
Has the most future value in a typical pool.
The Future is Now?
Ideally, you'd like to save Tampa Bay in a pool because of that high future value. But you don't save teams just to save them. You save them for weeks when they have high value because of low popularity and high win odds. In other words, you save them to hopefully use them in weeks …. like this one.
So this is a pretty good spot to use Tampa Bay. Looking back over the decade, only seven teams have had a Week 1 EV over 1.14. Those teams averaged fewer than two weeks the rest of the year with an even better EV than what they had in Week 1. Tampa Bay is a very good play in Week 1. In larger pools, where future value matters more, there will probably be at least a week or two in the future where they are more valuable. In smaller pools, though, you may not even get to a better week than this.
That is why we are seeing a difference in how Tampa Bay is being recommended by pool type. Here's a breakdown of the public pick rates, versus TR recommendations, for all teams we are recommending to more than 0.1% of our subscriber entries so far.
Week 1 Pick Rates, Public vs. TR Standard and Special Rules Pools
| Team | Public | TR Standard | TR Special | Difference |
| --- | --- | --- | --- | --- |
| LA Rams | 21% | 31% | 28% | +3% |
| San Francisco | 23% | 18% | 22% | -4% |
| Tampa Bay | 12% | 28% | 12% | +16% |
| Jacksonville | 3% | 8% | 19% | -11% |
| Kansas City | 6% | 10% | 2% | +8% |
| Minnesota | 2% | 1% | 5% | -4% |
| Carolina | 10% | 0% | 6% | -6% |
| Green Bay | 3% | 3% | 3% | +0% |
| Atlanta | 2% | 0% | 2% | -2% |
We are above average in standard rules pools on recommending Tampa Bay. This is likely even more pronounced in relatively smaller pools where the typical expectation is that the pool will be finished, or close to finished, by Week 10.
Meanwhile, we are recommending Tampa Bay at a much lower rate in Special Rules pools that include variations like strikes, re-buy options, and future multi-pick weeks. These pools tend to be larger and go deeper into the season. The difference between how Tampa Bay is being used in the pool types is stark (16% difference), and more noticeable than for other teams like the Rams and 49ers.
It's very possible that Tampa Bay's value goes up even more, and has even higher value in pools where entries are still pouring in after the Thursday kickoff. Tampa Bay has already moved up a 0.5 point more on the news that star Cowboys offensive guard Zack Martin tested positive for COVID and could miss the game. If he ends up being unavailable, that line could shift a bit more, increasing Tampa's value.
For example, if you use the EV Calculator Tool and shift Tampa Bay from 78% to 80% win odds, and from 12% down to 10% popularity, the EV goes to 1.18. You can probably count on one hand the number of opportunities you will have to pick a team at that Expected Value all year.
So we'll keep an eye on Tampa Bay, but any more shifts have the potential to drive their value up even more.
---
Wednesday 9/8
Teams Where Our Models Differ From the Market
For the most part, our projected win odds are going to be very close to the betting market. We're never going to tell you that the team that the sports books have at 55% to win really has an 80% chance and are the highest value play of the year. We can, though, differ from the market on some teams enough that it has a meaningful impact on survivor recommendations and strategy.
There are a couple of examples of that in Week 1.
Here are the teams where our model odds differ the most from the market, among survivor candidates:
Buffalo vs. Pittsburgh: 68% TR Odds, 72% Market Odds
Carolina vs. NY Jets: 63% TR Odds, 69% Market Odds
Jacksonville at Houston: 65% TR Odds, 62% Market Odds
You can see all that data, and more, for every team in our Data Grid. Using the betting market odds, and keeping the pick popularity numbers the same, does result in some slightly different Expected Values for Week 1. Using our EV Calculator and plugging in the betting market odds, instead of the default where we use our odds, you get the following in a 100-entry pool:
| Team | TR EV | Market EV |
| --- | --- | --- |
| TB | 1.14 | 1.10 |
| KC | 1.07 | 1.02 |
| LAR | 1.05 | 1.04 |
| BUF | 1.01 | 1.04 |
| SF | 1.01 | 1.01 |
| GB | 0.98 | 0.95 |
| JAC | 0.98 | 0.91 |
| BAL | 0.95 | 0.95 |
| NE | 0.92 | 0.87 |
| MIN | 0.91 | 0.92 |
| CAR | 0.90 | 0.97 |
| TEN | 0.90 | 0.86 |
| DEN | 0.90 | 0.89 |
Buffalo's EV would be slightly higher using the market odds, though it likely wouldn't have much impact on our pick recommendations, as Buffalo's future value is high enough that they aren't going to be the top option at either of those EVs.
The biggest material impact is Carolina versus Jacksonville. The public is heaviest on Carolina as the preferred "use a team with no future value" option, and their popularity is up to 10%. As a result of our models being higher on Jacksonville and lower on Carolina, our picks on the other hand, tend to opt for Jacksonville.
Right now, about 14% of TR recommended picks are on Jacksonville and 4% are on Carolina. Because they are picks that are attractive largely due to their preservation of future value, they are more heavily recommended in specialty pools like strike pools and multi-pick pools.
It's pretty unusual to see a team like Jacksonville favored in their opener, coming off a one-win season and getting the first overall pick. In fact, Jacksonville has the fewest wins from the year before, for a team favored to start Week 1, in the last decade. We found three teams in the last decade that were favored in Week 1 a year after they won two games:
2015, Tampa Bay (-3) lost to Tennessee 42-14
2014, Houston (-3) won vs. Washington 17-6
2013, Kansas City (-3.5) won at Jacksonville 28-2
Jacksonville's status as a favorite reflects some optimism about top pick Trevor Lawrence. But it is more a testament to how little faith there is regarding what's going on in Houston right now, where the Texans have the lowest projected win total entering the season.
---
Thursday 9/9
Line Movement on the Top Favorites
Tampa Bay has moved to a nine-point favorite against Dallas in the Thursday opener, with 80% win odds. They were favored by 8.5 points the previous day, and by 7.5 points a week ago. Their win odds are now at 80% as we approach kickoff.
That move has further increased Tampa Bay's EV over the rest of the field, making them a very viable opening pick despite their tremendous future value.
Meanwhile, San Francisco is now favored by 8.5 points at Detroit, making them the second-largest favorite of the week. They are also increasing in popularity, so check the Data Grid and your specific pool pick rankings to see how those moves have impacted your pool.
---
Friday 9/10
How Thursday's Bucs Win Impacts EV for Week 1
Tampa Bay is in the books as the first survivor of the year, and did they ever just survive. Tom Brady led the team down the field for a game-winning field goal in the final minute, after Dallas had just taken the lead with a field goal of their own. That outcome saved somewhere around 13% of all survivor entries so far.
That outcome also has an impact on the Expected Values that you will see displayed for all other teams this week. When the Thursday game has decent popularity and a team playing who has survivor relevance, the outcome can shift the EV estimates. Now, instead of Tampa Bay having an 80% chance of winning, which is what the initial estimates were based on, it's 100%, and that group of entries that picked Tampa Bay are guaranteed to go through.
Because of those impacts, the EV for all other teams went down this week. If you look at the Data Grid, you will see that no other team that you pick in Week 1 has an EV over 1.00. The Rams, at 1.00 are still the highest non-TB pick, but because the potential outcome of "Rams win, but Tampa Bay loses, knocking out 13% of a pool" is off the board, their EV dropped from 1.05, where it was on Thursday.
Every other team also dropped as well.
There has also been some line movement downward in some key games for survivor. Kansas City, Green Bay, and Baltimore have all seen their win odds drop slightly over the last day. For Kansas City, safety Tyrann Mathieu has been on the COVID-19 list since September 1st, and still has not returned, and his status for Sunday is now in doubt. For Baltimore, they have dealt with a litany of running back injuries, and have now lost J.K. Dobbins, Gus Edwards, and Justice Hill in recent days. Cornerback Marcus Peters was also lost for the season.
We aren't recommending any of those teams at the same rate as the public is taking them anyway. This just further cements that these teams are less likely to be part of your pick portfolio (right now, those teams are making up 4% of our portfolio recommendations, mostly on Kansas City, though that could drop more with this line move).
---
Sunday 9/10
Early Sunday Line Movement
Some Sunday line movement could impact your recommendations, so make sure you check as close as possible to the pick deadline. As of right now, both San Francisco and the Los Angeles Rams have seen additional upward movement. The 49ers are favored by 9 points and the Rams by 8 points. Our projections now have both with 77% win odds.
That movement separates them a little more in EV from the riskier options with win odds below 70%.
Carolina is now favored by 4 points, down from 6 points early in the week, and our models are low on the Panthers anyway, so you will not likely see too many recommendations on the Panthers, and those that are will be in some special rules pools as part of a portfolio.
Meanwhile, New England has seen upward movement and is now favored by 3.5 points against Miami, with 65% win odds. So you might see the Patriots appearing in some portfolio recommendations today.