Survivor News and Notes for Week 2 2020
News, notes, and observations impacting the 2020 NFL Week 2 survivor pool landscape, straight from the TeamRankings experts.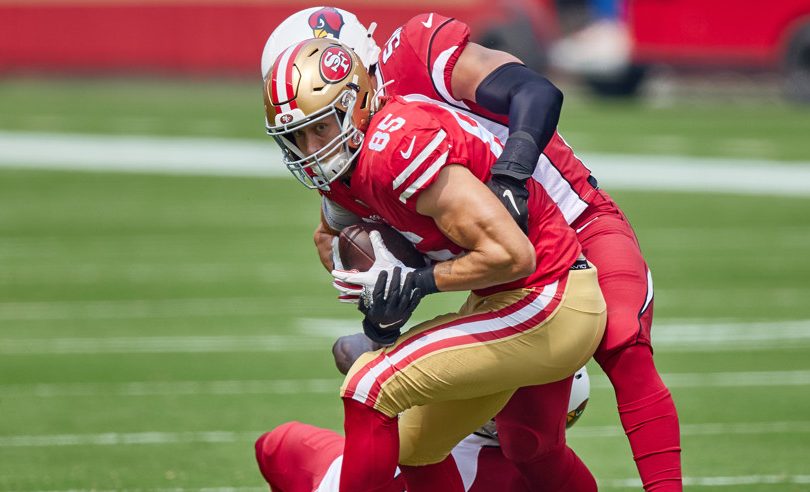 George Kittle's knee didn't completely survive a hospital ball from Jimmy Garoppolo (Photo by MSA/Icon Sportswire)
---
NEW: We've launched two free-to-play NFL contests for 2020 (one for premium subscribers, one for non-subscribers), each with over $1,000 in prizes!
---
Monday, September 21 at 12 p.m.
NFL Week 2 concludes tonight with the Saints playing the Raiders. But all of our recommendations have played, and we have concluded with a perfect week where no entry should have been eliminated or taken a strike. Of course, the public also should get through unscathed, as only 1% of public entries were eliminated so far. (The Saints are drawing 1% of entries, so that result will have a small impact on survival).
It was simply a week where there were no upsets. The only betting underdog to win this week (based on closing lines) was the Rams at Philadelphia, and they were only a 1.5-point underdog, the smallest line of the week. While it's pretty rare for there to be no upsets in a NFL week, it does happen. Back in 2017, Week 15 featured favorites going a perfect 16-0, for example.
We'll be back after the Monday Night Football game to start looking forward to Week 3 and fully recap what the results of Week 2 meant for survivor pools.
Sunday, September 20 at 10 a.m.
The outlook as we enter Sunday morning is largely similar to what we have seen since Thursday. Of course, that could all change in a flurry of activity right before kickoff so check back if you are able. Right now, the Cardinals, Buccaneers, and the Browns make up nearly 90% of our recommendations.
For the public, the numbers have held fairly steady through the week. The 49ers, Titans, Bucs, Packers, and Steelers make up about two-thirds of entries right now.
Let's quickly talk about expectations in a week like this, because like Week 1 last week, there aren't any huge favorites on the board. No team is favored by more than 8.5 points currently, and like last week, no team has over an 80% chance of winning based on the betting markets.
To understand what that means in a more practical sense, you just need to add up the cumulative win probabilities of the top teams this week. The eight safest teams according to the betting markets (Kansas City, Tampa Bay, Tennessee, Baltimore, Arizona, San Francisco, Pittsburgh, Green Bay as of this note) are expected to yield right around six total wins. So we expect two of those eight teams to lose today, and the relative chances for any of them to lose are fairly close.
How many losses actually happen, and whether those losses hurt our subscribers or the public more this week, is the part that comes down to luck.
Plugging in our TR win odds, and applying them to the pick rates for both the public and our recommendations, the average expectation is that 72.3% of public entries will survive, and 73.8% of TR subscriber picks will survive.
That isn't a huge difference, but here's the rub: The weighted average future value score for the public's picks this week is currently 2.9, compared to only 1.4 for TR subscriber picks. Based on the numbers right now, our subscriber base as a whole is taking no extra risk, but if things work out as expected, subscriber entries that survive will be much better positioned for the future.
(Of course, NFL football weeks almost never work out exactly as expected, but you'll never be able to make that kind of variance go away. All you can do is put the smarter plan forward.)
The Browns' victory did bump up the survival rate expectation for our subscribers  a bit, but they weren't a hugely popular recommendation. Right now Arizona and Tampa Bay are still the highest leverage picks for most subscribers.
Meanwhile, the two biggest teams we currently have zero recommendations on are the San Francisco 49ers and Green Bay Packers. Together, they make up about 30% of the public's picks. So unless anything changes this morning, with all due apologies in advance to 49er and Packer fans, those are the upsets almost all TR subscribers should be rooting for.
Friday, September 18 at 12 p.m.
The Cleveland Browns got some of our subscribers off to a successful start in Week 2, with their 35-30 win over Cincinnati on Thursday. As we mentioned in our second update yesterday (below), some line movements involving Arizona and others resulted in the Cardinals moving up the pick rankings late Thursday. That shifted a few entry recommendations away from Cleveland, but had an even bigger impact on the number of times we were recommending Tampa Bay, Pittsburgh, and Tennessee.
As a result, as we now stand on Friday morning, our most frequent recommendations are:
Tampa Bay (36%)
Arizona (32%)
Cleveland (19%) – W
Pittsburgh (8%)
Tennessee (3%)
Maybe you find it frustrating that our recommendations can change suddenly like that.
But we believe that is a positive feature, not a negative, of our survivor picks product. Closing point spread lines (that is, the point spread right before kickoff) are more accurate than opening lines. You are going to have a bigger advantage over your opponents if you use the best information possible. If you don't want to get caught up in these pre-Sunday shifts, though, you can always just wait as long as possible to generate your official picks, and not worry about how it got there.
We do hope, though, that by being transparent about the process and rationale driving the picks, we can keep you informed if you do want a deeper understanding of why certain picks are being recommended.
Thursday, September 17 at 5:30 p.m.
The Arizona Cardinals are rising in our pick recommendations late Thursday, and that is due to some line shifts. They have gone from being a recommendation for about 6% of entries, to now 20% (and climbing, as new pick sets are generated).
The Cardinals' line moved to 7 (from 6.5) and their win odds went from 72% to 74%. Meanwhile, Tennessee and Tampa Bay, who were the two largest favorites (-9) earlier today, both saw line movements the other way, with Tennessee now -8 and Tampa Bay at -8.5.
The net effect of all that is to tighten up the choices in terms of win odds. And when that happens, other factors like pick popularity and future value become deciding factors. Because Arizona has low future value and are less popular than Pittsburgh, Tampa Bay, and Tennessee, they are being recommended more in the last few hours for those generating new picks.
We just discussed why Cleveland was a good choice in some non-standard pools in our previous note today. All of that also applies to Arizona. So make sure you check your most current recommendations before kickoff tonight to see who we are recommending for your pool in light of these shifts.
Thursday, September 17 at 1 p.m.
The Cleveland Browns play in Thursday Night Football, and are a fairly important pick for a segment of our subscribers. They are not popular publicly as a survivor choice, at 2.8%. They are favored by 6 points, with 70% win odds, which puts them in the same range as Green Bay in terms of win odds. But Green Bay is four times more popular this week, despite also having more future value than the Browns (who have little).
We are going to go out on a limb and say the reason for that is the Browns losing by 32 to the Ravens in Week 1, versus the Packers winning by 9 against the Vikings. But when you play the value game looking for edges where the public has biases, you often end up on the side that is unpopular.
Cleveland is not our top graded play for the week in standard pools. But for those with entries in some types of non-standard pools where preserving future value matters more, Cleveland is showing up frequently in those portfolios.
Cleveland is being recommended (as a non-primary pick to round out portfolios) to 9% of standard-pool entries, making them the fourth-most common suggestion in standard pools. Compare that to how often we're recommending them in some non-standard formats:
45% of pick recommendations in strike pools;
40% of pick recommendations in pools that require multiple-pick weeks in the future;
37% of pick recommendations in pools that have a season wins tiebreaker;
35% of pick recommendations in pools that require entries to pick two teams this week;
35% of pick recommendations in pools where buy-backs are available.
So yes, Cleveland on Thursday Night is a big one. It's easy to see the logic behind those formats. The Browns have very low future value, making them ideal for pools that will go deep into the year and require multiple picks, and for pools with strikes and buybacks where you can take on more risk to preserve future value. And they are unpopular, but with similar win odds as some more popular options, which provides value in most pool types. In large pools that require you to save multi-picks for the future, strike pools that can go deeper into the year, and pools where you need to make multiple picks this week, you have to take some risks like the Browns.
That's the logical part. But sure, there's a part of us that says "but it's the Cleveland Browns."
Just last year, the Browns got embarrassed in Week 1, and then in Week 2, ended up being one of our most recommended plays, particularly in non-standard formats, when they played the Jets in primetime. They were similarly unpopular then compared to their win odds (which were boosted when Sam Darnold was ruled out with mononucleosis) and were a subtle factor in our subscribers being able to increase their edge in those strike, re-buy, and multi-pick formats in 2019.
So here we are again, back in the same spot, far more heavy on the Browns than the public is heading to Week 2.
Wednesday, September 16 at 2 p.m.
As we head toward Week 2, it looks like another spread-out Survivor week, similar to Week 1 in that respect. San Francisco is currently the most popular choice with the public, at 20%. There are 12 different teams with betting market win odds between 69% and 79%, providing a variety of strategic options.
Two you are likely not going to see in our Week 2 recommendations are San Francisco and Green Bay. San Francisco is the most popular choice, but they are only tied for fifth in our projected win odds, at 74%. They also have enough future value, including in a couple of upcoming weeks in the next month, that saving them for a higher value week is preferable. The public is apparently very down on the J-E-T-S here, but the 49ers are also not at full strength on offense, and should be healthier at wide receiver in coming weeks. (And all of this, plus playing on the road, are baked into their win odds being below some other options.)
Green Bay, meanwhile, is a 6-point favorite, which means they are behind seven other teams. But they are being selected by 12% of entries coming off their impressive Week 1 game against Minnesota. Given their win odds relative to other options, their Expected Value is going to be below plenty of others this week as long as they stay anywhere near that popularity.
Tampa Bay and Tennessee are actually the two largest favorites in the betting markets (Our models have Kansas City as having the highest win odds, slightly over those two and Pittsburgh). Kansas City is a reasonable choice this week since they have the highest EV, but because they will have even higher EV in some future weeks, we are less likely to be recommending them in Week 2. Expect Tampa Bay, Tennessee, and Pittsburgh to make up a sizable chunk of our recommendations this week, with the exact distribution to be determined by line movements and shifts in popularity numbers.
Finally, for those in strike pools and other non-standard formats, Cleveland looks like a value option. They actually have similar win odds to Green Bay (also favored by 6 points over Cincinnati) but have far less popularity and far less future value.
Tuesday, September 15th (3:30pm ET)
Before we move on to Week 2 of the 2020 survivor season, we will do a quick look-back at the wild week that was. It was a high elimination Week 1, for both our subscriber recommendations and the public in general. That's what happens when the most popular choice of the week (Colts) loses in Week 1.
TeamRankings versus the Public
In total, about 40% of both the public's entries and TR subscriber pick recommendations lost in Week 1. In terms of our subscriber picks, losses were primarily concentrated on the Colts, where TR recommendations were overweight compared to the public. We recommended the Colts for 32% of subscriber picks, compared to 21% public pick popularity. So that was a tough one.
At the same time, TR subscriber picks had no exposure to the 49ers at all (6% public pick popularity, 0% TR picks), and we recommended the Eagles at less than public pick rate as well (about 9% public vs. 7% TR picks). Add in a host of other smaller eliminations for the public, and TeamRankings' subscribers should have survived at a similar rate in aggregate to the public.
The Bad of the Colts Loss
That 40% elimination rate is the second-highest in Week 1 of the last decade, behind only 2018, when New Orleans lost to Tampa Bay as the most popular choice. You can see a summary of weekly elimination rates in this article if you want some further context of how long into the season entries last.
It was also about four times as high as the approximately 10% elimination rate in Week 1 last season (also similar for both TR and the public). So compared to 2019, a much greater number of entries didn't make Week 2 this year.
Of course, we aren't happy when any of our users lose entries, but that is part of the risk of playing in survivor pools, where no game in the NFL is a lock and upsets happen regularly.
Three of the four most frequent TR pick recommendations made it through to Week 2, as we recommended Buffalo at a rate similar to the public, but New England and Pittsburgh at much higher rates than the public (thus saving future value by not using teams like Kansas City and Baltimore). Unfortunately, the Colts were our most frequent single recommendation. Double unfortunately, Indy was by far our most popular pick recommendation to users playing a single entry in a single pool.
That, to be blunt, stinks. The worst part, of course, is that our users lost entries and a bunch got eliminated from pools.
But we feel the pain too: Some subscribers now think they wasted money on TeamRankings, some first time subscribers think they got "conned" and we actually have no idea what we're doing (despite a clear track record of success), and the conversion rate of our Week 1 free trial users to paid subscribers in 2020 is now going to be much lower than it was last year — all because of this untimely Colts loss, and even though on balance, our recommended picks performed no worse than the public last week. It was just a brutal week all around.
Survivor pools are fire, though, and as we all know, when you play with fire, you're occasionally going to get burned. This is gambling, and educated gambles don't always work out. We all need to be prepared for that. And if getting eliminated in Week 1 is going to be too much to bear, you should definitely be playing multiple entries in your survivor pool(s).
The Good for Portfolio Players who had Steelers, Pats, Bills
At the other extreme, there are also likely a number of our users who are in better shape overall now with your survivor portfolios because of how things shook out in Week 1. A lot of our multi-entry subscribers had plenty of recommendations on the Patriots, Steelers, and Bills that advanced, even if they also lost some to the Colts or Eagles results.
If you advanced at the same or higher rate as the public, then your remaining entries are likely +EV relative to your opponents, because nationally, nearly half of all survivor entries used either Kansas City or Baltimore to survive Week 1. We will see if those advantages will be realized, but several upcoming weeks look like valuable spots to have either the Chiefs or Ravens available, when opponents will be forced to take more risk.