2020-21 NFL Playoffs Survivor Pool Picks for Wild Card Round
Our survivor pick recommendations for the 2020-21 NFL Wild Card Round, plus a comprehensive review of playoff survivor pool strategy.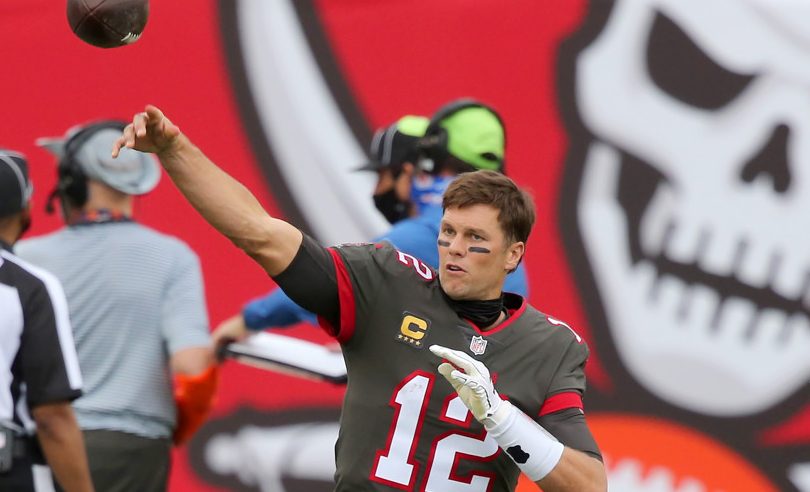 The public loves Tom Brady in the Wildcard Round (Photo by Cliff Welch/Icon Sportswire)
Welcome to our 2020-21 NFL Playoff Survivor Pool Picks Analysis for the Wild Card Round. Because survivor pools often involve limiting how many times you can pick a team, and considering how you will play in future weeks is important, we will also discuss strategy for the entire playoffs.
Below you will find:
Our projections for the NFL round-by-round advancement odds for each team
Strategy discussion on the impact of the new playoff format in survivor pools
Strategy discussion on why you should think of your first pick as part of an entire path of picks through the playoffs
A breakdown of the potential paths you could choose with your first pick
Recommendations on which Wild Card picks, and potential paths, are best for various playoff survivor pool sizes.
NFL Playoff Round By Round Advancement Odds
Whether you survivor pool continues into the playoffs or starts fresh with the Wild Card round, the starting point for NFL playoff survivor strategy is estimating each team's chance of making it to each successive playoff round.
We've combined our own ratings along with betting market data to create these round-by-round advancement odds estimates. We'll be referring to these in the forum as we answer strategy questions.
Before Wild Card Round: