The Five Most Valuable Teams for 2021 NFL Survivor Pools
When it comes to survivor pools, not all teams are equal and deciding when to use teams is a key strategy decision. Here is our list of the 2021 NFL survivor teams that have the most value and present opportunities if you can hold them for key weeks.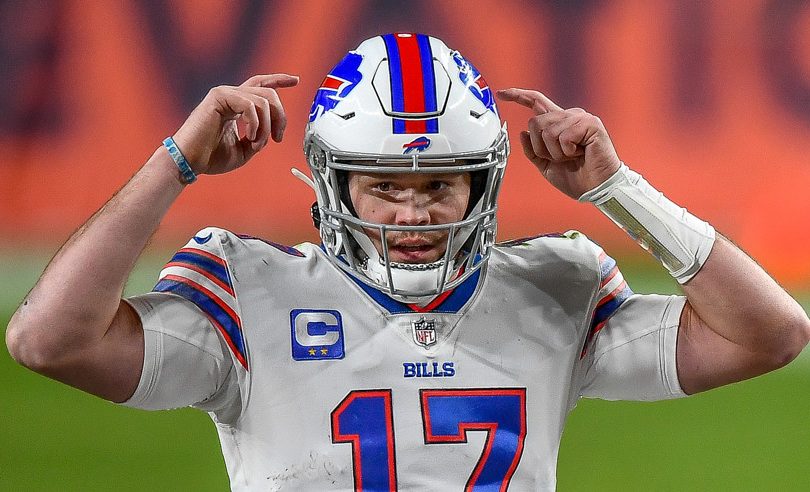 Josh Allen wants you to know its a personal choice as to whether you take a shot on them in survivor (Photo by Dustin Bradford/Icon Sportswire)
Teams are not created equal when it comes to 2021 NFL survivor pools.
Some teams have higher value, so deciding when to use them and when to save them is key. If you can hold off on using a valuable team early, you can use it later when it is not available for many entries.
Across a variety of pools here are the five most valuable teams for 2021 NFL survivor pools, with a look at some key weeks.
Kansas City Chiefs
The Chiefs have the highest expected win total and again are one of the favorites to reach the Super Bowl. We currently project them as the favorite in 16 of 17 games, and they are basically a toss-up in the other one (at Baltimore).
That means you should have lots of opportunities to use Kansas City in survivor pools.
We have them projected with their highest win odds at home against the New York Giants in Week 8. But they will have plenty of high-EV weeks, as we project them with 70% or higher win odds in seven games. Four of those come in Week 11 or later, which makes the decision on when to use Kansas City especially critical in larger pools.
Tampa Bay Buccaneers
The defending Super Bowl champs should also be a high-value play in 2021. They're right with Kansas City when it comes to being the most valuable piece on the survivor chess board.
The Bucs start off the year with two fairly attractive matchups (vs. Dallas and Atlanta at home). If you can save them, though, they have seven other weeks projected with 70% or higher win odds.
Some of those future weeks come in spots where the public could be heavily concentrated on other options.
For example, we project the Bucs (vs. the Giants) to have similar win odds as the Titans do against the Texans in Week 11, making them two of the safest plays of the week. However, Tennessee faces a tough early schedule, so that's going to be one of the first opportunities for the public to go heavy on Tennessee.
Tampa Bay also has a closing stretch of at Carolina, at the New York Jets, and vs. Carolina in the final three weeks, making them the highest-value team to hold in large pools late in the year.
Baltimore Ravens
Another year, another case of Baltimore being a high-value survivor option.
The Ravens likely won't be used much in the first two weeks (at Las Vegas, vs. Kansas City), but they project as one of the highest win odds options in both Week 3 (at Detroit) and Week 7 (vs. Cincinnati). They could also make for a contrarian value play in Week 6 when they host the Chargers.
There aren't many mismatches as we look ahead to Week 6, but the Colts get the Texans. There's a decent chance that the public will be heavily on Indianapolis that week if the expected dynamics hold up.
Buffalo Bills
The Buffalo Bills surprised to reach the AFC Championship Game a year ago, and they are now expected to be among the conference leaders again.
They draw the Houston Texans at home in Week 4, which is a week with a lot of close matchups. Buffalo could have high popularity and still be a decent value that week, especially in smaller pools.
The Bills also have the following schedule down the stretch, which is noteworthy for large pools:
Week 15: vs. Carolina
Week 17: vs. Atlanta
Week 18: vs. New York Jets
Cleveland Browns
The Browns have gone from the team to pick against in survivor a few years ago to a team to save and strategically plan around.
Cleveland could have a high-value week right away in Week 2 when it plays Houston. Green Bay plays Detroit that week and Tampa Bay hosts Atlanta, so public popularity might be divided, preventing the Browns from being too popular.
Cleveland also gets Detroit in Week 11, a week we mentioned above when discussing Tampa Bay. The Browns could be another high-value contrarian play if the public is heavily using Tennessee that week.
2021 NFL Survivor Pools Are All Relative
While we project these five teams to be the most valuable on average for survivor pools in 2021, that value is highly dependent on your pool's rules and size. In larger pools and specialty pools such as strike pools, for example, those later weeks become more important.
The best picks for your particular pool depend on several factors, and it takes a lot of data and math to figure out which pick (or combination of picks, if you're playing multiple entries) gives the biggest boost to your expected winnings. That's why we spent years building our NFL Survivor Picks product.
You answer a few questions about your pool's size and rules, and it provides customized pick recommendations for your pool using the latest matchup data, betting market odds, and public picking trends. It tracks the picks you've already made with each of your entries, and it even recommends how to split your picks for up to 30 different entries across a mix of teams.
We invite you to try it out, and good luck in your survivor pools in 2021!