Survivor News and Notes for NFL Week 7 2020
News, notes, and observations impacting the 2020 NFL Week 7 survivor pool landscape, straight from the TeamRankings experts.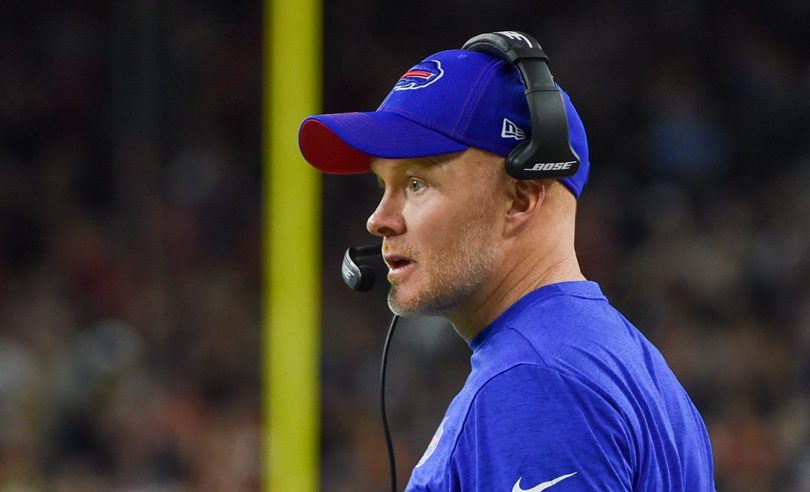 Sean McDermott and the Buffalo Bills get the dysfunctional Jets for the second time in 2020 (Photo by Ken Murray/Icon Sportswire)
Monday, October 26th at 12:00 p.m.
There were some close games on Sunday, but no big upsets. As a result, only about 2% of the public was eliminated (a mix of Seattle, Dallas, Atlanta entries and a few others). Tonight's game is a big one for our recommendations, as about 31% of them are on the Rams to beat the Chicago Bears. The Los Angeles Rams have remained a 6-point favorite throughout the weekend. The public has largely shied away from the Rams, which is why they had the highest EV of Week 7. So go Rams!
Sunday, October 25th at 9:00 a.m.
The news of Saints WR Michael Thomas' injury and WR Emmanuel Sanders being placed on the Covid/Reserve list has been enough to drop the Saints from 7.5 to 6.5 point favorites against Carolina, and that drop in win odds has pushed them down our recommendations.
As of Sunday morning, our recommendations look similar to the public in terms of which teams are appearing most frequently, with a couple of exceptions. The Bills, Chargers, and Saints make up 75% of the public's picks and our 1st, 2nd, and 4th in popularity. Those same teams make up 69% of our recommendations.
The difference is the public is also taking Kansas City 12% of the time, plus a lot of other secondary options (Packers, Browns), whereas most of our remaining recommendations are on the Los Angeles Rams, who are currently our second-most frequent recommendation. The line in the Kansas City game has dropped (likely because of weather issues and a cold, snowy forecast for today's game), going from 10 points on Friday, to 7.5 this morning.
The Rams and Chiefs have the two highest EVs of the week, and are very similar in that department. But the difference is future value. That future value is realized immediately next week, when Kansas City has projected 94% win odds in Week 8 hosting the Jets. With other roughly similar options this week, there's simply little reason to burn Kansas City now. Next week right now has only one other team with over 70% win odds (Tampa Bay at the NY Giants), so there is a massive drop-off from the Chiefs in just one week.
So while our picks are somewhat similar to the public this week (compared to most week), it's about preserving Kansas City for another week, while some of the public is using them in what is becoming a riskier situation relatively for Kansas City due to weather.
Friday, October 23rd at 2:00 p.m.
The point spread in the Buffalo Bills-New York Jets game has dropped a bit over the last day, and that's likely in response to news that QB Sam Darnold is expected to play barring any setbacks. The Bills are now favored by 12 points, after being favored by 13.5 points on Wednesday.
Buffalo is still the biggest favorite of the week, but because little differences matter on the margins, that line movement has tightened up the win odds between Buffalo and some other options, increasing the EV for other choices. That's why you are likely seeing the Saints and Rams more in your pick recommendations. Even though we were a bit below the public on Buffalo Wednesday, the Bills were still the most frequent recommendation. Now with the win odds shifting down a bit to 84%, the Saints are the most common recommendation, and the Rams have climbed to making up over 20% of recommendations for this week, while the public is using them less than 1% of the time.
Thursday, October 22nd at 12:00 p.m.
The Philadelphia Eagles and New York Giants meet in an NFC East battle to see who can maybe get into first place (and have two wins on the season). About 5% of the public is going with the Eagles in survivor pools. Our recommendations are lower on the Eagles, with virtually no recommendations in standard pool formats.
If they are being recommended for you, it's most likely on a few secondary entries in strike pools, multiple pick pools, or pools with a combination of both rules. That's because of their non-existent future value combined with availability and relative low popularity. The Eagles (at 66% win odds) have a 20% safety drop-off from Buffalo and so are too risky for most entries and formats this week.
Wednesday, October 21st at 1:00 p.m.
The Buffalo Bills are the most popular choice of the public, at 50%. So far, we are recommending them at a similar rate to the public in standard pools. The difference between fading the popular choice and largely following along with the public depends on the risk/reward profile, what that favorite's win odds are, and what other options are available.
We project Buffalo with 86% win odds, and the safest alternatives are Kansas City (82%), New Orleans (77%), and the LA Chargers (72%). All three of those teams are moderately popular in their own right (over 10%), and that results in Buffalo having a higher EV than the Saints or Chargers, despite that 50% pick rate. And while Kansas City's EV is higher than Buffalo's, the Chiefs have so much future value that it makes sense to go along with the public in this case.
That could change depending on news at QB. Sam Darnold has not been officially ruled in or out for Week 7 and so you might see some shift there still depending on what happens. While the Jets with Darnold are not a good team, they have only scored 10 total points in the two weeks with Joe Flacco at starter while Darnold has been out.
As mentioned above, a main theme of this week is preserving Kansas City's future value for next week (and beyond). About 11% of the public is on Kansas City. But their high future value starts to get realized heavily next week, when the Chiefs will be a massive favorite against the Jets at home, in a week fairly thin on other top options.
While avoiding Kansas City so far in Week 7, we are recommending two teams at higher rates than the public. One is New Orleans, with 77% win odds and 12% popularity. The Saints have a solid EV this week, and also don't have as much future value as you might think. They are not a clear value option in any remaining weeks. The other one is the Rams, who were heavily used by the public in Week 4, and are very unpopular at less than 1% popularity. If you are going to take a little more risk with a secondary portfolio entry, the Rams present a good value option against the Bears.
Tuesday, October 20th at 2 p.m.
Week 6 got off to a bad start when our most frequent recommendation, Indianapolis, fell behind 21-0 right away. But the Colts came back, the Ravens held on, and the Titans pulled off a wild win against Houston. Meanwhile, New England floundered on offense all day and lost at home to Denver. Minnesota, one of the contrarian secondary picks in our portfolio recommendations, also lost big to Atlanta.
The net effect of all that was that by kickoff of the late afternoon games, our picks were (nearly) done, while the public was heavily on Miami. The Dolphins won comfortably against the Jets, and what could have been a great week ended up as a only a good one, with New England eliminating a chunk of the public.
Here is a summary of the weekly pick rate by the public, and our final recommendations, for any team picked 2% or more by either.
| Team | Public Pick Rate | TR Pick Rate | Difference | Result |
| --- | --- | --- | --- | --- |
| Miami | 48% | 3% | -45% | Won |
| New England | 25% | 1% | -24% | Lost |
| Indianapolis | 8% | 39% | 31% | Won |
| Baltimore | 7% | 26% | 19% | Won |
| Tennessee | 4% | 14% | 10% | Won |
| Minnesota | 2% | 16% | 14% | Lost |
In the end, 82% of our entries survived the week, versus 71% for the public.
Oh, and by the way, San Francisco looked great in handling the Rams. It would have been nice to see that kind of performance the last two weeks, Niners!
As we look ahead to Week 7, it appears Buffalo will be the public's super popular choice this week, based on being the next team to draw the Jets. We'll delve into the Bills and other choices tomorrow.