Survivor News and Notes for NFL Week 6 2020
News, notes, and observations impacting the 2020 NFL Week 6 survivor pool landscape, straight from the TeamRankings experts.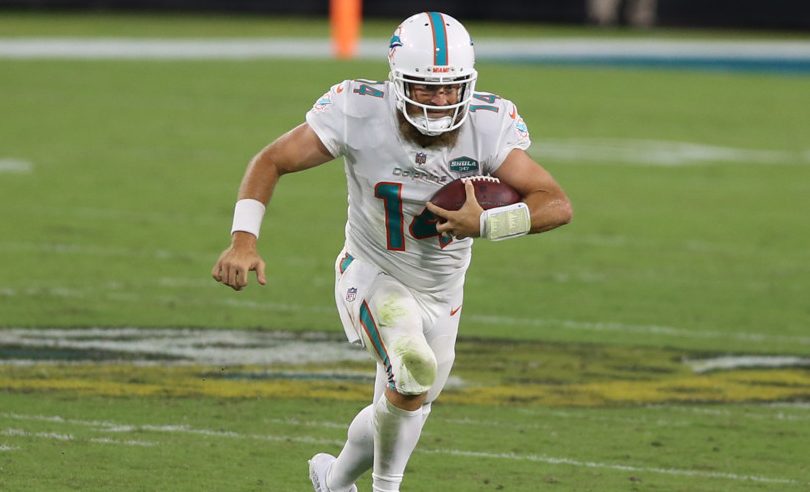 Ryan Fitzpatrick and the Miami Dolphins are going to suddenly be a popular choice (Photo by David Rosenblum/Icon Sportswire)
Monday, October 19th at 11:00 a.m.
The early Sunday games provided plenty of sweat and intrigue, particularly when our most frequent recommendiation, the Colts, immediately fell behind 21-0. That brought back traumatic flashbacks of San Francisco a week ago, but the Colts came roaring back, making it close by halftime and winning the game.
Our picks largely avoided the Dolphins and Patriots because of their extremely high popularity. That partially worked when the Patriots lost at home to the Broncos. Meanwhile, the Vikings played poorly at home against Atlanta, with Kirk Cousins throwing three interceptions in the first half. That outcome eliminated 16% of our recommendations.
The Colts, Ravens (who nearly wasted a 16-point lead against Philadelphia), and Titans (in overtime) won to advance most of our recommendations this week. Overall, 82% of our entry recommendations advanced in Week 6, while 71% of the public so far has advanced (about 1% of the public is still outstanding on remaining games).
We did use more future value with the public, mainly because of our Baltimore recommendations (while the Patriots, a higher future value entry for the public, lost). However, that was a calculated risk as Baltimore doesn't have any games where they are likely to have higher win odds over the next six weeks.
We'll have a full recap tomorrow after the Monday results are in.
Sunday, October 18th at 10:45 a.m.
The Baltimore Ravens have moved to a 10-point favorite versus Philadelphia, and are the largest favorite of the week as we head into Sunday. In addition to all their other injuries at wide receiver, the Eagles will be without RT Lane Johnson (ankle) and RG Matt Pryor (Covid-Reserve list).
With that shift in win odds, Baltimore's recommendation rate is climbing above 20%. Their EV in standard pools with 100 opponents left is 1.31, thanks to a fairly low 7% pick popularity, plus about 73% of the public taking Miami or New England. Getting that kind of EV is the point of saving a team like Baltimore, and for smaller standard pools they make sense to use this week.
Indianapolis remains the most frequent recommendation (they have far less future value than Baltimore, and a similar pick popularity at 8%). Minnesota is the most frequent alternate choice among teams outside the top four in win odds. Given the extremely high popularity of Miami, and the high popularity of New England relative to their win odds and future value, we are only recommending those two choices to about 6% of portfolio entries.
Friday, October 16th at 12:00 p.m.
Good news! All the Colts (one player, three staff members) who initially tested positive with the daily quick test were retested, and they all came back negative. So it looks like those initial results were false positives, and the game should go ahead as scheduled.
Friday, October 16th at 11:15 a.m.
The Indianapolis Colts have shut down their facility today after multiple positive tests for coronavirus on Friday. With the game scheduled for less than 48 hours away, there's now risk of it being moved.
That's bad news for survivor pools. The Colts have modest popularity this week (primarily because most public entries have used them), but are currently our most frequent recommendation against the Bengals, because of a high EV as a counter to the public going heavily on the Dolphins.
The risk of this game moving, if there are any more issues, is also high considering there is a fairly straightforward alternative to re-schedule. Indianapolis is currently scheduled for a bye in Week 7, while Cincinnati faces Cleveland. Cincinnati and Cleveland share a Week 9 bye right now, so their matchup could be moved back to that week, with the Colts and Bengals pushed to next week instead.
You should closely monitor and update your pool picks this week as close as you can to the deadline, because there could be massive shifts in the pick recommendations when it comes to Indianapolis because of this news.
Thursday, October 15th at 1:00 p.m.
Reminder: there is no Thursday Night Game tonight to worry about, with Buffalo-Kansas City moved to Monday. Some of you may still have Thursday pick deadlines, though.
Line movement has shifted some of what we are seeing in survivor pools for Week 6, but public pick popularity continues to climb for Miami and New England. Miami is now up to 46% (from 41% yesterday) and New England has risen to 24% (from 21%). Indianapolis and Baltimore have dropped slightly in popularity as a result.
New England's line movement up to 10 points, with 78% TR Odds and 81% market odds means they are becoming a more frequent recommendation, though still below the public pick popularity figure. We are still coming in well below the public on Miami, who has an EV of only 0.91 this week because of that very high popularity figure, while having win odds under 80% currently.
Minnesota, meanwhile, has solidified itself as a good choice when diversifying from the top four options in win odds this week. Minnesota's popularity has actually gone down slightly, while the spread has moved upward, and our projections have them at 67% win odds. You may be seeing the Vikings in your portfolio because they have the highest win odds outside the top four options and have low popularity and only modest future value.
Wednesday, October 14th at 1:00 p.m.
There are four teams who are in a safety tier above the others this week, and it presents an early fascinating week in survivor strategically. The two most popular games with the public weren't even on the schedule a week ago. Miami has shot up to 41% popularity, with the game against the Jets moved up to this week. New England, meanwhile, is at 21% popularity with their game against Denver being moved back a week.
The other two, Baltimore and Indianapolis, have been used frequently by the public and as a result have lower popularity. And of course, Baltimore also has reasonably high future value.
Our recommendations so far are more heavily on the Colts and Ravens, as you might imagine. Back in Week 3, we recommended the Colts less frequently than the public, and so our entries are better positioned to use them now. As a result of the lower pick popularity, the Colts have a high EV this week, with a large chunk of the public concentrated on Miami.
The Ravens have the highest EV so far (1.17), so our recommendations in standard pools and smaller pool sizes are also higher than the public on Baltimore. In larger pools, Baltimore should more often be saved for future use.
So far, our recommendations are lighter on New England. While some of this is driven by their popularity, they still have a solid EV. So the bigger factor here is future value considerations, to go along with having a little less expected value than Baltimore and Indianapolis.
Finally, our recommendations, so far, are largely fading Miami. The exceptions to that are in multi-pick pools that require two picks this week (there aren't a lot of options with better win odds, and popularity matters less) and in strike pools, where using Miami if you are ahead on strikes is reasonable to maintain your lead. Plus, in large portfolios Miami may be suggested as a back-of-the-portfolio pick, as a sort of hedge.
The win odds on Miami are moving up further with the news that Sam Darnold has been ruled out, and if Miami's odds move up enough, they could become more frequently recommended despite their popularity, considering that they have little future value.
Tuesday, October 13th at 3:45 p.m.
Things were looking dire for New Orleans when it was 20-3 on Monday Night Football. The Saints' big comeback and win in overtime required some good fortune (a game-winning long field goal by the Chargers hit the upright at the end of regulation), but after a rough run of games all going the other way at key moments recently, we will take it.
That result kept what was a disappointing week after the San Francisco loss from becoming worse.
Here is a summary of the weekly pick rate by the public, and our final recommendations, for any team picked 2% or more by either.
| Team | Public Pick Rate | TR Pick Rate | Difference | Result |
| --- | --- | --- | --- | --- |
| Dallas | 26% | 1% | -25% | Won |
| Baltimore | 15% | 0% | -15% | Won |
| Seattle | 13% | 3% | -10% | Won |
| Kansas City | 11% | 0% | -11% | Lost |
| San Francisco | 8% | 44% | 36% | Lost |
| Pittsburgh | 6% | 3% | -3% | Won |
| LA Rams | 6% | 0% | -6% | Won |
| Seattle | 4% | 0% | 3% | Won |
| New Orleans | 4% | 27% | 23% | Won |
| Houston | 2% | 21% | 19% | Won |
Kansas City's loss, along with San Francisco, meant that about 79% of the public entries survived Week 6. Meanwhile, because of the SF loss, 56% of TR recommendations survived the week.
Week 6 is a vastly different week than Week 5 was. Week 5 had a bunch of teams that were favored by a touchdown or more, with pick popularity spread among several options after Dallas. Week 6 has only four teams favored by that much, and two of them, Baltimore and Indianapolis, have already been used somewhat heavily by the public. We'll breakdown the options and outlook for Week 6 more tomorrow.