Survivor News and Notes for NFL Week 5 2020
News, notes, and observations impacting the 2020 NFL Week 5 survivor pool landscape, straight from the TeamRankings experts. (Last Update: October 11th at 9:15 a.m.)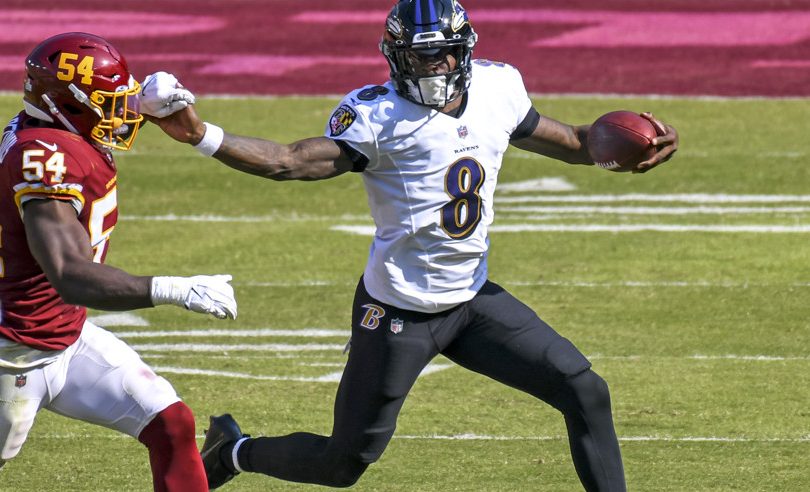 Lamar Jackson and the Ravens are looking to bounce back this week, and get some revenge (Photo by Mark Goldman/Icon Sportswire)
Monday, October 12th at 2:30 p.m.
The San Francisco 49ers are officially the heartbreakers of the 2020 survivor season. They crushed us again, even moreso than in Week 4, losing 43-17 Sunday. (Roughly 44% of our Week 5 subscriber picks were on SF, with Houston and New Orleans making up the other popular plays.)
Jimmy Garoppolo returned, and the 49ers were a big home favorite yet again versus the 1-3 Miami Dolphins. The result? An early failed conversion attempt on 4th-and-1 followed by two Garoppolo interceptions. Garoppolo was benched at halftime and it never got close.
With that result, the 49ers have earned the shameful honor of becoming the first team going back to at least 1978 to lose three of their first five games when favored by a touchdown or more. At this point, all we can say is good riddance to them.
San Francisco had high expected value based on their win odds (79% in the betting markets; our raw model prediction was 80% but we applied a manual adjustment to lower SF's Survivor grade by enough that the effective win% was actually slightly below market), moderate pick popularity, and low-to-moderate future value. As implicit confirmation of that calculus, it's worth noting that the 49ers ended up being the most popular Week 5 survivor pick in the $1,000 buy-in Circa survivor contest, which is presumably stocked with sharp players.
Of course, there is always a greater context with survivor picks, and San Francisco wasn't the only big loss of Week 5. Both teams tied for the second-highest Expected Value in Week 5 lost, as Kansas City also got upset at home by Las Vegas. We didn't have any subscriber pick recommendations on KC this week because of their upcoming very favorable future schedule, yet 12% of the public was eliminated by that game.
Then, of course, came the Dallas Cowboys, the most popular public survivor pick this week. Dallas lost QB Dak Prescott for the year to a gruesome injury and were in a tight game with the Giants. Up three with under nine minutes left, New York had the ball inside the last two minutes of a tie game, but punted, and Andy Dalton led the Cowboys to a game-winning field goal with no time left on the game clock.
That marks the second straight week in which the most popular public survivor pick, which we generally avoided in terms of subscriber pick recommendations, didn't seal its win until the final seconds of the game. So we're talking about a situation this year where a few possessions so far have made a huge difference in where a lot of TR subscribers could be in their pools, vs. where they actually are.
According to the betting markets, San Francisco was a safer pick than Dallas, and the 49ers were a less popular pick, and both teams had similar future value. So the logic was clear there.
Unfortunately, logic alone isn't going to guarantee success in a survivor pool every single year. All you can do is keep stacking the deck in your favor from an Expected Value perspective, and trust that over the long term it will pay off.
Sunday, October 11th at 10:45 a.m.
The Patriots-Broncos game has officially been postponed, and will not take place in Week 5. We have removed the game from the Week 5 schedule, and it should now appear in all the survivor tools as a bye week for both teams.
The NFL has not yet announced when the game will be made up, nor any other future schedule changes. As a result, we have not added the game to any future weeks. We'll do that only after the NFL makes any schedule changes official. The game will likely have some value in survivor, so Future Value scores will likely shift a bit once that announcement is made.
The Bills-Titans game is still officially scheduled to be played in Week 5. We'll monitor the situation and update ac necessary.
Sunday, October 11th at 9:30 a.m.
The news from early Sunday morning is that a Titans staffer has now tested positive, one day after the team returned to the facility for the first time in over 10 days, and that a New England Patriots player was also positive. There has not been an official announcement from the NFL yet, but both New England-Denver (scheduled for Monday) and Buffalo-Tennessee (Tuesday) remain in jeopardy of being postponed. (Adam Schefter is now reporting that New England-Denver will now be played in Week 6 when the Patriots were scheduled for a bye, and the Miami-Denver game will move.) We do not have any recommendations on these games. New England's popularity is down to 4% with the public as we approach many deadlines later today.
Our recommendations are holding steady, heavily concentrated on the trio of San Francisco, New Orleans, and Houston. We discussed why each was showing up on Friday. Line movements have tightened up the win odds between the options this week, with both Baltimore and Kansas City favored by 11 points and 10.5 points respectively. Both opened as 13-point favorites earlier in the week.
Friday, October 9th at 2 p.m.
As we pointed out yesterday, there is still a lot of uncertainty about this week, and things could change. But right now, our recommendations are strongly concentrated on three choices: San Francisco, New Orleans, and Houston. Together, those three make up over 85% of current survivor recommendations for Week 5.
We thought we would briefly discuss each and why you might be seeing them, as well as why Dallas is making up only a small percentage.
San Francisco
San Francisco burned us last week. But you cannot let the past dictate the future. Going back to 2006, there have been only seven other times that a team was (a) favored by at least a touchdown, and (b) had lost 2 of their 4 previous games as a favorite of at least a touchdown. Those favorites who had taken multiple recent bad losses went 6-1 (83%).
It would be a gambler's fallacy to think that the 49ers can't lose again in a big survivor spot just because they have already done it twice. But it's also not a reason to actively avoid them despite the objective odds. Our win odds are at 82% for San Francisco, they are a 9-point favorite, and Jimmy Garoppolo looks on track to start against Miami. The public is only taking them 6% of the time and they have an EV of 1.10. That's the highest EV for a team not named Baltimore or Kansas City so far this year.
Add in that the schedule gets much tougher over the next eight weeks, and this is a nice spot for them in most survivor pools.
New Orleans
A lot of the things that make San Francisco attractive also apply to New Orleans. They are not popular (3%), and this may have something to do with entries trying to save them for Week 7, when they look like the potential most popular choice. The win odds are not quite as high, but at 77% win odds as an 8-point favorite, the Saints are identical to the Cowboys this week. The difference is that the public is taking Dallas 28% of the time.
New Orleans does have some future value, but not so much as to prohibit using them, given their low popularity.
Houston
The Texans are a little riskier, though the difference between their win odds (71%) versus other popular choices like Dallas is not that huge. What they do have going for them is basically no future value after this week against Jacksonville, and low popularity (2%).
Because of their profile, they are not as frequently recommended in standard pools, but you will likely see them in multi-pick pools to preserve future value, and in strike pools.
Dallas
Finally, a quick word on Dallas. The win odds have actually dropped and they are down to an 8-point favorite against the Giants. In a week with so many other similar choices, they just don't have a high EV. And while their future value isn't high, it's about as good as choices like San Francisco and New Orleans. They get Washington at home, for example, in Week 12, which is earlier than San Francisco's remaining higher value weeks.
Thursday, October 8th at 12:30 p.m.
This week has been anything but dull. There's a lot of uncertainty: games that are off the board due to injury, games that may not be played, and even a game that could move to a different location. All these create huge line movement potential that is creating a headache for the survivor outlook. For those that have Thursday pick deadlines, we just have to make the best calls we can with the information available at the time. If you can wait to submit picks, we strongly encourage doing so, because the dynamics of this week are likely to shift as news about various games solidifies.
Tonight's game should not have a huge direct impact. Tampa Bay is being picked by 1% of the public, and makes up none of our recommendations. Further line movement down because of Tampa Bay's numerous offensive injuries now have the point spread at 3.5 points, making the Bucs too risky in a week where a lot of teams are favored by considerably more.
Here are some of the potential survivor situations we are monitoring:
The Bills-Titans game continues to remain "off the board" and is in serious jeopardy of being postponed. Two more Titans players were confirmed positive today, in the aftermath of the news that some players on the team continued to work out together after the team was quarantined last week. While it's unlikely this one could have survivor impact, that would depend on which Titans players were available if forced to play, as they would not be at full strength.
New England-Denver is also "off the board." We still don't know if this one will be played, though there were no further positives reported for New England today. Further, the status of Cam Newton is up in the air, if the game will be played. So expect this to be one we don't have full info until the weekend. New England is being picked by 7% of the public currently. Assuming that they would be a bigger favorite if Newton played, they might have some survivor value if he was active, but likely not if Brian Hoyer or Jarrett Stidham is the starting quarterback.
San Francisco, meanwhile, did open up as a 9-point favorite yesterday with news that QB Jimmy Garoppolo was practicing on a limited basis. With that addition last night, the 49ers are showing up near the top of pick rankings in several pool types. They make up 32% of our recommendations so far, and that could go either way pending further news on Garoppolo's status.
The Baltimore line was pulled off the board yesterday with the news that Lamar Jackson missed practice due to a "minor knee injury." Baltimore is a heavy favorite but any setbacks there could have an impact on the odds and how many public entries use Baltimore this week. Currently, they are making up 16% of the public's picks, but only 0.1% of our recommendations.
The New Orleans-LA Chargers game set for Monday Night could potentially move to Indianapolis depending on what happens with Hurricane Delta over the weekend. The Saints are a potentially attractive choice (13% of our recommendations so far) but that could be altered if the game is moved and the win odds shift as a result.
The Los Angeles Rams-Washington line has now dropped to 7 points, after the announcement that the team was benching Dwayne Haskins in favor of Kyle Allen at quarterback. It had been at 8.5 points two days ago. The public is selecting the Rams 6% of the time so far.
Phew. All of that is making the Houston Texans seem like they are having a perfectly normal and serene week after firing head coach Bill O'Brien, and holding steady as a 6-point favorite over Jacksonville so far this week. Houston is showing up as the most frequent recommendation so far (though that will likely give way to San Francisco as more entries are updated). We'll plan on going into Houston in more detail as a pick this week tomorrow morning.
Wednesday, October 7th at 8:30 a.m.
More bad news on the coronavirus front for Week 5. Two more Titans players have tested positive, putting the Week 5 Titans-Bills game in serious jeopardy, with no apparent fall-back option since the Titans already used a bye week. Further, cornerback Stephon Gilmore has now tested positive in New England, which has forced the cancellation of further practices. The New England-Denver game is also in jeopardy this week because of a risk of an outbreak in New England. The Patriots playing Kansas City after Cam Newton's positive test, in light of another positive today, means the Chiefs will also likely be on hold as well.
The potential survivor ramifications are fairly large if all of those games are off the schedule. Kansas City and New England are making up 9% and 8% of early entries, respectively, in Week 5. Removing those games would also impact EV and the safety rates this week, so it's quite possible that any team recommendations may not look like what they will be later in the week based on all the shifting dynamics.
Tuesday, October 6th at 1 p.m.
San Francisco's loss was a tough one for us, as close to 40% of all entries were on the 49ers. The public was most heavily on the Rams, who held on for a close win against the Giants. We broke down the key plays and strategy behind the 49ers pick and loss in yesterday's Survivor Week 4 note if you want more details.
In short, San Francisco's higher EV than the Rams (because of their low pick popularity combined with win odds), made for a reasonable risk to take this week given the Rams' high popularity. The outcomes were in doubt late, with the Rams surviving and the 49ers giving up a lead. Decisions similar to the San Francisco recommendation have been part of big swings the other way, and have provided a big edge in plenty of other weeks and seasons.
Here is a summary of the weekly pick rate by the public, and our final recommendations, for any team picked 2% or more by either.
| Team | Public Pick Rate | TR Pick Rate | Difference | Result |
| --- | --- | --- | --- | --- |
| LA Rams | 50% | 15% | -35% | Won |
| Baltimore | 22% | 16% | -6% | Won |
| Seattle | 8% | 0.1% | -8% | Won |
| Tampa Bay | 5% | 3% | -2% | Won |
| Green Bay | 3% | 0.1% | -3% | Won |
| Dallas | 3% | 0% | -3% | Lost |
| San Francisco | 3% | 39% | 36% | Lost |
| Houston | 1% | 4% | 3% | Lost |
| Kansas City | 1% | 22% | 21% | Won |
Kansas City ended up being recommended, despite our attempts to manually adjust KC downward with the risk of Monday's game still being postponed. Kansas City was tied for the highest EV after Cam Newton was ruled out, so using Kansas City on entries was a reasonable pick this week. For those that used KC, the glitch that shot them to the top of rankings may have limited a few more losses if they replaced San Francisco entries. So in that sense, it may have been a (minor) blessing in a rough week because of the San Francisco loss.
In the end, 57% of our recommendations survived, versus 92% for the public. The overall impact is that the public has survived 37% of the time to date, versus 30% for our recommendations. The silver lining there is that, even with Kansas City being used more this week, we should be at least even overall with the public on the number of Baltimore and Kansas City options still available, and better off in general on future value.
Right now, one big swing result has our portfolios a little down versus the public, but the next 4-5 weeks present a lot of opportunities where the future value preservation of early weeks will start to come to the fore.
---
WEEK 5 CONTEST
We've launched two free-to-play NFL contests for 2020 (one for premium subscribers, one for non-subscribers), each with over $1,200 in prizes, including weekly prizes every week.
---