Survivor News and Notes for NFL Week 4 2020
News, notes, and observations impacting the 2020 NFL Week 4 survivor pool landscape, straight from the TeamRankings experts. (Last Update: Monday, October 5th at 2:30 p.m.)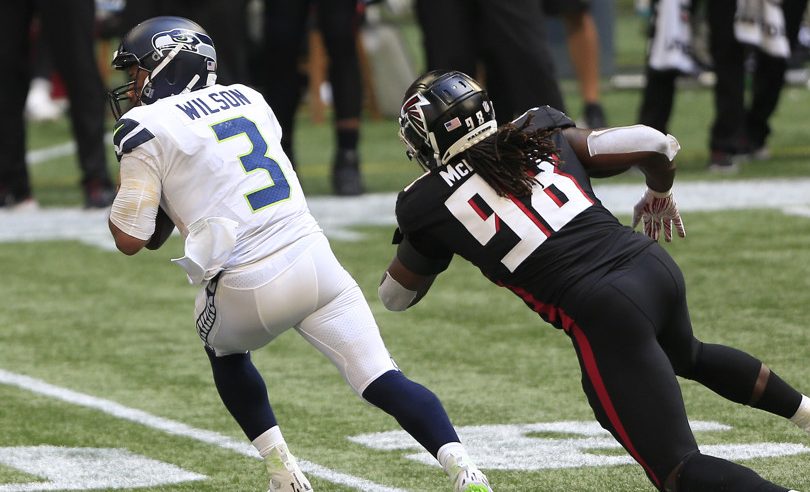 Should you let Russ cook in survivor pools in Week 4? (Photo by David J. Griffin/Icon Sportswire)
---
WEEK 4 CONTEST
We've launched two free-to-play NFL contests for 2020 (one for premium subscribers, one for non-subscribers), each with over $1,200 in prizes, including weekly prizes every week.
---
Monday, October 5th at 2:30 p.m. ET
There's no point in sugar coating it: the San Francisco loss on Sunday night was a big hit to most TR subscriber survivor pick portfolios.
Going into the game, the 49ers had the highest EV of any team besides Baltimore and Kansas City this week, something which was true even before the line jumped from 7 to 9 points in San Francisco's favor on Sunday morning. As a result, the 49ers were our most frequent recommendation in Week 4, and ended up representing around 40% of our subscriber pick recommendations for the week.
As we say often, you need both good strategy and a bit of luck to win any given survivor pool. In general, Week 4's educated gambit was to go lighter on the overwhelmingly popular Rams than the public did, and much heavier on SF. As it turned out, both the Rams and 49ers games came down to the fourth quarter, and the 49ers got the worse end of the luck.
For those who didn't follow both games, the Rams were only up by one point with 10 minutes left in their game against the Giants. At the same time on the game clock, the 49ers were up by 3 points on Philadelphia. ESPN's in-game win probability at those points had the Rams at about 61% to win, and the 49ers at about 59% to win.
Both teams' win odds were, of course, lower than they were pre-game; more so for the Rams, who were favored by 13.5 points going in, vs. the 49ers as 8.5-point favorites. So if we knew ahead of time that both games would come down to the wire like this, we would have been very happy to have picked the 49ers rather than the Rams.
Why? Well, the fact that the 49ers were only up by three was a concern, of course. However, the Rams had roughly the same win odds as the 49ers in the fourth quarter, meaning that the substantial extra risk many TR subscriber entries had taken to avoid the Rams and hope for a Giants upset had almost completely evaporated.
To be more precise, if you froze each game with 10 minutes left to play, there was a 23% chance that the 49ers would win and the Rams would lose, and a 25% chance it would go the other way (Rams win, 49ers lose). While the absolute Expected Value of both teams was lower than when the game began, the relative Expected Value advantage of picking the 49ers instead of the Rams at that point was even better than it was before the games kicked off. Both picks had become more risky, but at least we were on the side with the much higher potential payoff.
Unfortunately, the 25% chance of a Rams win coupled with a 49ers loss was what came to fruition. As is common in big upsets, bad turnover luck (-2 overall, including a late fumble followed by a very ugly pick-six) and coming up short on several key plays sealed San Francisco's fate in the final minutes. In the end, the 49ers lost a game where they out-gained Philadelphia by about 150 yards.
The Rams, on the other hand, survived with a fourth down stop and a late interception in the red zone to hold on against the Giants, despite LAR being outgained by about 50 yards.
This one definitely stings, but there's no point in Monday-morning quarterbacking it. It sucks that the 49ers gambit didn't pay off, but thinking that the Rams were the lock of the week is folly. A few fourth quarter plays ended up making the difference between a significantly bad vs. potentially amazing week for TR subscribers overall.
We'll recap the full aftermath after tonight, because both Kansas City and Green Bay have survivor implications, with 3% of the public on Green Bay, and a chunk of our recommendations coming in on Kansas City (see the Sunday note below).
Sunday, October 4th at 1:45 p.m. ET (Kansas City issues)
If you saw KC show up across the board in your picks, we apologize. We figured out what happened there, but not until right as the Sunday games started.
We get our raw data, including schedule info, from data feeds that we license from another company. We expected that they would simply change the start date of the KC-NE game in their feed from Sunday to Monday. Instead, they added an entirely new KC-NE game, and we ended up with TWO KC-NE games in the schedule.
Our Survivor code didn't gracefully handle this, and Kansas City ended up getting double credit for the Week 4 EV. Basically, the code added together the EV for the two games instead of just replacing the EV of the old game with the EV of the new one.
With a new EV well over 2.0, the rest of the code (appropriately) though KC was pretty much the best pick in the history of Survivor pools, so suggested using them across the board.
We've fixed the underlying data for this week (and now that we know about this problem, we'll fix the code so that if this happens again, it will be handled smoothly). Unfortunately, this second game was added only about half an hour before the Sunday games kicked off, and by the time we figured out what the problem was, and how to fix it, most pools had already locked.
We hope that most of you realized something was wrong, and did not update your picks to use KC in every spot. If you did use KC — on the bright side, assuming the game goes on as planned, the Chiefs are actually a reasonable pick this week. You are giving up a lot of future value, but it's pretty rare to be able to use a team with 80%+ win odds that's being picked by almost nobody.
One other note — this issue is also why the Jets and Broncos appeared high in the ratings. KC's high grade pushed all other team grades down. But since the Jets and Broncos had already played, their grades were locked, and didn't shift down like all the other teams.
Sunday, October 4th at 8:30 a.m. ET
San Francisco, Baltimore, and the Los Angeles Rams are our most frequent recommendations this week, making up around 87% of all entry recommendations in Week 4.
As we noted in our Thursday note, Baltimore is more frequently recommended in standard pools, while the Rams are more frequently recommended in strike, multiple-pick, and other pools with non-standard formats.
As mentioned yesterday, we made a specific call to manually adjust Kansas City to keep them lower in the pick rankings. The Chiefs' current week EV (in a standard-rules reference pool) is now basically tied with Baltimore for highest of the week given KC's extremely low pick rate and the jump in their win odds to 82%. But given the uncertainty of whether that game will even be played on Monday or Tuesday, and the likelihood we will not know before picks lock, we thought that was the wiser course.
NOTE: As of 10:30 am ET, it now appears that the most likely outcome of the Kansas City-New England game is to play on Monday, but still no concrete announcement has come from the NFL. So we'll keep an eye on the situation and update as warranted.
Kansas City has 7 future games with higher projected win odds than this week (and yes, that includes where betting lines landed after Cam Newton was declared out). So this is not really a case where savvy players can exploit a volatile situation to get a big advantage over pool opponents who are not tracking all the last-minute news. If Kansas City were a team that didn't project as a good survivor pick in any other future week, it would be a different story.
ALERT on Kansas City-New England Game (Saturday at 12 p.m. ET)
Today, it was announced that QB Cam Newton of New England has tested positive for coronavirus. The news came out just before the Patriots were scheduled to fly to Kansas City for Sunday's game. The NFL has already announced that the game will be moved from Sunday and now played on Monday or Tuesday.
Of course, that depends on a lot of factors in a short period of time, including further testing results over the next day or two. There's a high risk that this game will end up not being played in Week 4 and will have to be moved further back.
When this news was announced, this game did not actually have big survivor pool implications this week. Only 0.6% of the public is using Kansas City, and none of our recommendations have been on the Chiefs. Of course, a big line move shift in the Chiefs' favor with the Patriots' QB being out (something like KC -11 instead -7) could potentially cause the Chiefs to move up some pick rankings and become a good pick by the numbers.
However, we are making a decision in this case to set a manual adjustment so that KC will remain low in pick rankings, even if updated game odds and lines were posted later today or tomorrow morning. There is just too much risk that the game is ultimately not played, and Kansas City has significant survivor future value. We do not want this news and any resulting line moves triggering a recommendation on a game that could ultimately not be played in Week 4.
Friday, October 2nd at 1 p.m. ET
The NFL has announced the Week 4 Tennessee-Pittsburgh game will now be moved to later in the season, after further positive tests with the Tennessee Titans organization. That means that Tennessee and Pittsburgh will be on a bye this week.
On Friday, the NFL has also announced that the Titans-Steelers game will now be played in Week 7. Tennessee was originally scheduled to have a bye that week, and the Steelers were scheduled to play the Ravens. The Baltimore-Pittsburgh game has now been moved to Week 8, when Baltimore and Pittsburgh shared a bye week. The net effect, for survivor purposes, is that Baltimore is now on a Week 7 bye, and playing in Week 8.
All the survivor tools have been updated with the new schedule. Because Baltimore (along with Kansas City) has high future value, that shift does have a small ripple effect on future value estimates for other teams and our estimates for the value in those weeks.
For reference, here are the top six win odds games in Week 7 and Week 8, after the shift.
Week 7 Top Win Odds Projections
| Team | Opponent | Projected Win Odds |
| --- | --- | --- |
| New Orleans | vs. Carolina | 80% |
| Kansas City | at Las Vegas | 76% |
| Buffalo | at NY Jets | 75% |
| Philadelphia | vs. NY Giants | 70% |
| LA Rams | vs. Chicago | 69% |
| Dallas | at Washington | 69% |
Week 8 Top Win Odds Projections
| Team | Opponent | Projected Win Odds |
| --- | --- | --- |
| Kansas City | vs. NY Jets | 94% |
| Baltimore | vs. Pittsburgh | 76% |
| Tampa Bay | at NY Giants | 76% |
| Green Bay | vs. Minnesota | 72% |
| LA Chargers | vs. Jacksonville | 69% |
| LA Rams | at Miami | 62% |
So the Baltimore move provides another option in what would have been a pretty thin week of candidates, behind the Kansas City Chiefs getting the Jets at home. Meanwhile, it removes a potential option from a week where New Orleans is likely to be the most popular choice, considering they have not been selected by the public even 2% of the time in any week so far, and it's the first week they appear as a top win odds choice.
Thursday, October 1st at 12 p.m. ET
Tonight's game between the New York Jets and Denver Broncos has little survivor impact, though about 1% of the public is going with the (now) underdog Broncos, so go J-E-T-S.
We'll continue our look ahead to Sunday's slate, where yesterday we discussed that San Francisco looks like they will be our most common recommendation across all pool types.
After that, though, there are three teams that are being recommended most commonly, but there are some noticeable splits in the type of pools they appear in. Here is a breakdown of our four most common recommendations so far, and how frequently they are appearing in different pool types.
| Team | Standard | Strike | Re-Buy | Multi-Pick |
| --- | --- | --- | --- | --- |
| SF | 48% | 37% | 41% | 39% |
| BAL | 31% | 2% | 16% | 0.5% |
| HOU | 10% | 26% | 27% | 33% |
| LAR | 6% | 30% | 13% | 19% |
Baltimore is easily the second-most frequent recommendation in standard pools. They have the highest week EV, it's a reasonable spot to use them, and after Week 5 against Cincinnati, a lot of their highest value weeks are in Week 13 or later. That means in some smaller pools, that future value is less important and using them now is a good call.
They are rarely, though, being recommended in strike pools and multi-pick pools, where preserving future value takes more precedence.
Houston and the Los Angeles Rams, meanwhile, are not as common in standard pools, but are more frequently recommended in strike, re-buy, and multi-pick pools.
The Rams are very popular, and have a moderate expected value because of that popularity. But what they do have is relatively low future value (compared to Baltimore). In strike pools where you are ahead on strikes (and where the number of strikes used is a tiebreaker), using the Rams and staying ahead of the crowd, while also preserving future value, is a solid strategy move. In multi-pick pools, where popularity matters less and getting a team with high survival to improve your chances matters more, the Rams also make sense.
Houston is a little more risky, but not very popular at all, and also with pretty much no future value. In multi-pick pools where you are going to have to use a lot of teams to win, getting Houston in this spot is the kind of move necessary to save up some other options for future weeks. Similarly, in strike pools where you are down a strike, taking a chance to get back in it with a big upset of a popular team, and using a pick that is very unpopular, makes sense.
Wednesday, September 30th at 4:30 p.m.
It looks like the San Francisco 49ers are going to be a very important team for us in Week 4. The public is only taking them 2% of the time, but they are tied for the third-highest win odds, behind the Rams and Ravens, who combined are making up about 73% of the public picks this week. Jimmy Garoppolo's absence may be keeping the pick popularity down, but (a) Nick Mullens has played well in place of Garoppolo, and is a quality backup, and (b) that is public info and accounted in the line. (Our predictive power ratings have San Francisco at around 9 points better than Philadelphia on a neutral field, and this one is in San Francisco.)
That combination of win odds and low pick popularity gives San Francisco the second-highest EV this week, behind only Baltimore. But because of Baltimore's very high future value, San Francisco becomes a very attractive choice.
Another subtle factor with the 49ers is that their future value has gone down. That's not necessarily because of anything San Francisco has done, and more because of other shifts in team ratings. Bad teams that are worse than expected create more value for other teams in the future, at the relative expense of the 49ers. After Week 2, they had our fourth-highest future value rating. But after beating up on the Giants and Jets, the outlook has changed. Miami's win over Jacksonville last week moved the Dolphins up in the ratings, to where the Week 5 game for San Francisco against the Dolphins looks slightly less attractive and is now part of a large group of games with high win odds.
And after that, here is San Francisco's schedule for an eight-week stretch: vs. Rams, at Patriots, at Seahawks, vs. Packers, at Saints, bye, at Rams, vs. Bills.
So in pools that tend not to go deeper into the season, San Francisco's Week 14 matchup against Washington may be of little value, and using them now, at such low popularity, is an attractive spot.
San Francisco is the most common recommendation across pretty much every pool type so far. After that, we are seeing some clear splits on the remaining options, depending on the type of pool. We'll cover those more tomorrow.
Tuesday, September 29th at 1 p.m.
The survivor week officially wraps up with a very small percentage of public picks losing with Baltimore on Monday night.
The final tally for the public in Week 3 is an estimated 71.6% of entries surviving, with the most costly public losses being the Arizona Cardinals against Detroit and Los Angeles Chargers to Carolina.
In comparison, our subscriber recommendations survived at an 89.0% rate, assuming that most pools count Philadelphia's tie as an elimination, as 9% of our recommendations were on the Eagles. Put another way, the public's elimination rate in Week 3 (about 28%) was right around 2.5x the elimination rate for TR subscriber picks (11%).
So it should have been a solidly positive week for most subscribers, with Cleveland/New England/Indianapolis making up the bulk of TR recommendations and all of those teams surviving by double digits. In the meantime, the two most popular public choices behind the Colts both lost in Week 3.
Tomorrow, we will begin a deeper look at Week 4. The Rams and Ravens are the biggest favorites of the week, and we will take a look tomorrow at how heavily the public is going to be on the Rams relative to the Ravens, in an attempt to save Baltimore's future value.
In other news, the Tennessee Titans have had multiple players test positive for coronavirus, which could impact both this week's Titans-Steelers game, and the Vikings-Texans game (Minnesota played Tennessee on Sunday). We will monitor those situations and how they could impact survivor.
Right now, the Titans-Steelers is a 1-point line, so unlikely to have value in survivor pools regardless, while Houston is a 4-point home favorite.