Survivor News and Notes for NFL Week 3 2020
News, notes, and observations impacting the 2020 NFL Week 3 survivor pool landscape, straight from the TeamRankings experts.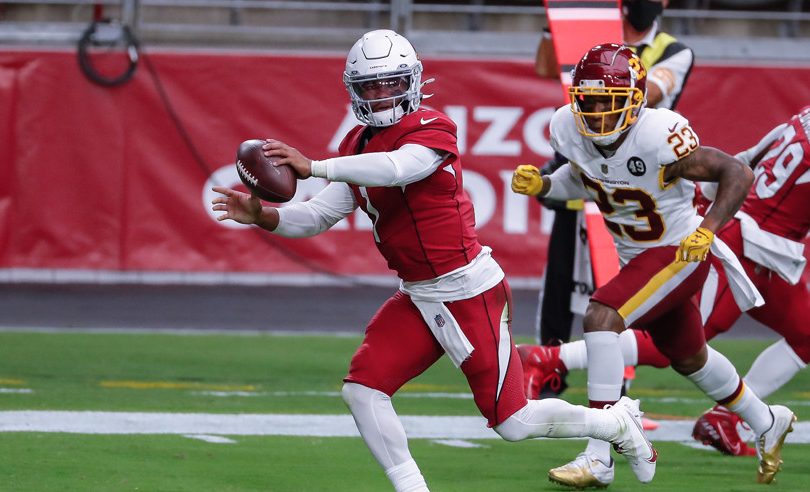 Kyler Murray teases the opponents with his running ability (Photo by Kevin Abele/Icon Sportswire)
---
NEW: We've launched two free-to-play NFL contests for 2020 (one for premium subscribers, one for non-subscribers), each with over $1,200 in prizes!
---
Monday, September 28th at 4 p.m.
The NFL Week is pretty much over when it comes to survivor pools. Baltimore and Kansas City face off in a big game on Monday Night Football but very few entries are tied to that game.
We'll give a full recap of the week that was tomorrow, but it was a solid week overall for the TeamRankings' recommendations. The top three recommendations — the Browns, Patriots, and Colts — all survived the week, and won by double digits each. Meanwhile, two of the teams we recommended at a far lower rate than the public lost their games, with Detroit beating Arizona, and Carolina winning against the Chargers.
The one blemish was the Eagles playing to a tie, which likely eliminated most entries that used them. We didn't recommend the Eagles as nearly heavily as our top three options, but they were a portfolio diversity selection and made up about 9% of all recommendations, and were the one loss where we were higher than the public pick rate.
Still, about 28% of public entries lost versus about 11% of our recommendations, making for an overall strongly positive week for our subscriber base.
Sunday, September 27th at 9:30 a.m.
The Patriots-Raiders line moving another half-point overnight (New England now by 6.5 points) has moved New England to the highest EV in Week 3, because of their low 3% popularity, just ahead of the Browns and Colts.
Those three teams (Patriots, Browns, Colts) should be the top three options for most TeamRankings subscribers this week, barring any substantial shifts in betting lines or big breaking news today. Each team offers a different type of benefit: the highest current week EV for the Patriots, the best relative safety for the Colts, the lowest future value for the Browns.
In total, Cleveland, Indianapolis, and New England make up 83% of all TeamRankings' recommendations so far this week, with that percentage increasing as of Sunday morning. The specific ordering of those teams in your pick rankings, of course, will depend on characteristics like your pool's size and rules, and which specific benefit applies most to your current situation.
In the expectation setting department, based on objective win odds, one would expect a total of about 2.3 wins from those three teams, and there is a greater than 50/50 chance that one of them loses.
This week, there is also a substantial added elimination risk in not picking the Colts, who have 11-12% higher win odds than any other team on the board. That's why so many people see Indianapolis as the "obvious" choice (45% pick popularity).
If surviving Week 3 meant you won your survivor pool's entire prize pot, we'd be recommending the Colts to everyone. But that's not how it works. The pool (likely) won't end this week, and the number of opponents surviving with you is important. If we're not recommending the Colts, it means that either:
Your odds to eventually win your survivor pool this year will increase by taking some extra elimination risk now to set up a better situation to use the Colts down the road, during a week when the majority of your pool has already burned them. (The Browns have similar Week 3 EV, but lower Future Value.)
Or, the added elimination risk is worth it for the chance to have nearly half your opponents knocked out with a single upset. (The Patriots have a higher Week 3 EV, mainly because of the roughly 11% chance that the Patriots win while the Colts lose, roughly doubling your expected prize share.)
That calculated gamble this week might pay off, it might not. Either way, you can't confuse outcomes with process. By the numbers, in many cases it's still the smarter move if you're playing to win, and not just playing to maximize your chance to say, "Yippee, I survived until Week 4!"
For some more good reading on this topic, we also suggest you check out the data on what's happened in recent years when you just pick the safest team of the week.
Friday, September 25th at 1 p.m.
Earlier in the week, we noted that percentage of time the Colts were a recommendation could depend on some line shifts. In the last day, we have seen some shifts in the win odds, and the Colts are currently rising in the pick rankings and should be showing up in more recommendations today.
The relevant shifts are as follows:
The Colts' win odds are up to 84% from 82%
The Cardinals' win odds have dropped from 68% to 66%
The Bucs' win odds have dropped from 71% to 69%
The Eagles' win odds have plummeted from 72% to 64%
All three of those latter cases involved downward shifts in the point spread for those favorites. Since they make up a chunk of the next tier behind the Colts, and the gap in safety has widened, the Colts' EV has risen. We were not recommending Arizona or Tampa Bay frequently anyway, but we have seen a noticeable shift of picks away from Philadelphia and toward Indianapolis.
Cleveland and Indianapolis are now the top two options by Expected Value (EV). If you want a deeper explanation of EV, you can check out our Expected Value strategy article. Today, we thought we would do a quick demonstration, using potential outcomes for our most frequent recommendations, Cleveland, the popular Colts, and the second-most popular choice with the public, Arizona.
Here are the odds, and outcomes, if various possibilities occur:
| OUTCOME | Chance It Happens | Avg. Pool Survival | CLE Cond-EV | IND Cond-EV | ARI Cond-EV |
| --- | --- | --- | --- | --- | --- |
| All 3 Win | 40.7% | 85.8% | 1.17 | 1.17 | 1.17 |
| CLE/IND Win; ARI Loss | 20.6% | 75.4% | 1.33 | 1.33 | 0.00 |
| ARI/IND Win; CLE Loss | 15.1% | 76.2% | 0.00 | 1.31 | 1.31 |
| ARI/CLE Win; IND Loss | 7.7% | 40.7% | 2.46 | 0.00 | 2.46 |
| IND Win; ARI/CLE Loss | 7.7% | 67.8% | 0.00 | 1.47 | 0.00 |
| CLE Win; ARI/IND Loss | 3.9% | 30.3% | 3.30 | 0.00 | 0.00 |
| ARI Win; CLE/IND Loss | 2.9% | 33.1% | 0.00 | 0.00 | 3.02 |
| All 3 Lose | 1.4% | 22.7% | 0.00 | 0.00 | 0.00 |
| Expected Value | | 72.8% | 1.07 | 1.06 | 0.95 |
The single most likely outcome is that all three win (about 40% of the time) though it's more likely that at least one of them does lose than all get through. The least likely outcome is that all lose, about 1% of the time, in which case it didn't matter who you picked from the trio.
The conditional EVs for each team are listed. That is, the expected value of your entry if that specific outcome between the three teams occurs. For example, if Cleveland and Arizona wins and the Colts lose, entries that picked Cleveland and Arizona would be nearly 2.5 times more likely to win the pool than they were before the games began. If you take the percentage of time each outcome is expected to occur, and multiply by the conditional EV, you should get pretty close to approximating the overall EV you see on the Data Grid page. For example, all of Arizona's scenarios add up to 0.95.
Indianapolis is the safest play, resulting in lower odds of a 0.00 (and being eliminated), but the amount of gain is capped by having nearly half the pool advance regardless of other results. Among the other two, Cleveland has a higher EV than Arizona because small differences matter at the margins. Cleveland has both higher win odds and lower popularity, slightly increasing the percentage of outcomes where they survive and benefit, and increasing the reward in scenarios where the Colts lose. It may seem small, but those small differences in value when considering all the scenarios drives gaining an edge in survivor over the public.
There is a lot of data in the above chart, but it is still greatly simplified compared to what goes into truly calculating EV. That's because there are really 32,768 combinations of outcomes. That's 2 to the 15th power — there are 15 games remaining to be played this week, each with 2 possible outcomes (ignoring ties). Here, instead of fully accounting for the other 12 games, we simply used an average expected elimination rate for those, based on win odds and popularity. But these are the kind of calculations our automated pick logic is performing constantly throughout the week as information changes.
Thursday, September 24th at 1 p.m.
The Thursday Night game features Jacksonville and Miami. Jacksonville is only a three-point favorite, but is drawing just over 2% of the public's picks. We do not have any recommendations out to use Jacksonville in standard pools. A very small percentage of you in strike pools and re-buy pools (less than 2% of entries in those types of pools) may be getting a Jacksonville recommendation, likely in really large pools (read: future value very important), as part of large portfolios (where we recommend splitting over 5+ teams), in pools with other rules that increase the importance of future value (like pools that require multiple picks), or some combination of those.
Meanwhile, one (yes, exactly one of you so far) has gotten a recommendation to use Miami in a strike pool, which is likely because strikes are expiring this week in that particular pool (so you might as well pick a team you think has zero future value as an option after Week 3).
In other survivor news, our recommendations are generally leaning more heavily on the Browns, Eagles, and Patriots, with the Colts being the fourth-most frequent recommendation. At 9% of our recommendations so far, the Colts are being recommended about one-fifth as often as the public is using them.
One type of pool where the Colts are creeping up is in strike and re-buy pools, where they make up around 15% of entries. This is because we're accounting for Indianapolis likely being less popular with the public in those pools, compared to standard pools. (And less popular equals more attractive to pick.) A decent chunk of strikes in Week 1 were the result of the Colts' loss to Jacksonville, which means more entries in those type of pools have already used Indianapolis. In standard pools, Indianapolis should be open to everyone and have higher popularity, since no entry that is still alive has used them yet.
Tomorrow, we'll plan on taking a deeper look into Expected Value and why it is what it is for the top picks this week, given the pick popularities and win odds.
Wednesday, September 23 at 3:30 p.m.
Week 3 in survivor brings us the first big favorite and extremely popular choice. The Indianapolis Colts are drawing 45% of public entries so far, as an 11-point favorite against the New York Jets. Given that no other team is favored by more than 7 points, it's understandable that the Colts would have high popularity.
So let's talk about the Colts. They aren't a terrible pick despite the high popularity, given the win odds drop to the second safest team. But they also aren't clearly the best pick from an expected value standpoint. They would be a reasonable choice (the current EV is at 1.01, given the 82% win odds and 45% popularity).
So we aren't ruling out that you could see the Colts move into the recommendations with some slight shifts in either win odds or popularity. For example, if you use our EV Calculator and adjust the pick popularity down slightly for Indianapolis to 37%, you will see that they move into a tie with Cleveland for the best expected value this week. Similarly, a slight adjustment up in win odds would push their EV close to being the best for the week.
That should give you a sense of how close they are to the cut line of being "too popular" versus "worth it because of the safety increase." And depending on the pool size and rules format, they may make sense in some and not others.
Right now, you are likely seeing some choices like Cleveland, Philadelphia, and New England show up as recommendations ahead of the Colts. This is because (a) particularly true of Cleveland and Philadelphia, they have low future value and (b) all three are less popular than other options with similar win odds. That could change–Cleveland and Philadelphia are currently the top EV choices and given the lack of future value that makes them attractive, but only if the win odds stay where they are, or they don't climb in popularity.
So check back as we move toward Sunday on the question of "to Colts or not to Colts" because it's close enough now that the answer could change.
Tuesday, September 22 at 2 p.m.
After a wild Week 1 that featured several upsets, Week 2 provided some stability for survivor participants. None of the popular choices lost this weekend, with the biggest casualty for the public being the New Orleans Saints (1.3% of entries). Our recommendations, which were heavily concentrated on the Arizona Cardinals, Tampa Bay Buccaneers, and Cleveland Browns, advanced at a 100% rate for Week 2.
As a result, the overall survival rate for the public and TeamRankings' recommendations stands at about 60% through two weeks. That's in line with historical averages, and maybe even slightly above them, after two weeks. When so many entries advance, the key differentiating factor is future value. Not all entries are created equal, and those that advanced while not burning valuable picks for the future are in better shape.
Based on the public pick rates and our recommendations (as well as the survival rates for Week 1 and 2) here are our estimates for the most frequently used teams by both the public and our subscribers. We've also included where each of these teams ranks in our Future Value metric in a 100-entry standard-rules pool.
| PUBLIC | Usage | FV Rank | TR RECS | Usage | FV Rank |
| --- | --- | --- | --- | --- | --- |
| Buffalo | 36% | 14 | New England | 43% | 13 |
| Kansas City | 31% | 2 | Arizona | 42% | 16 |
| Baltimore | 27% | 1 | Tampa Bay | 32% | 11 |
| Pittsburgh | 19% | 5 | Pittsburgh | 31% | 5 |
| San Francisco | 18% | 4 | Buffalo | 24% | 14 |
| Tennessee | 15% | 12 | Cleveland | 15% | 23 |
| Green Bay | 13% | 7 | Kansas City | 8% | 2 |
| Tampa Bay | 12% | 11 | Chicago | 3% | 25 |
Four of the five most heavily used teams by the public also show up in the Top 5 in future value, and Kansas City and Baltimore are the 2nd and 3rd most used teams by the public on surviving entries so far.
This week gives us the calm before the storm when it comes to Kansas City and Baltimore's value starting to really emerge, as the two teams meet on Monday Night Football (and should not be an option in survivor pools). Add in San Francisco, and from Weeks 4 to 7, Baltimore, Kansas City, and San Francisco account for 8 of the 12 matchups where we project the favorite with win odds greater than 74% currently, with Baltimore having really high win odds in a couple of those weeks. Having all three of those teams available at a much higher rate than the public will allow better value plays, and more flexibility in reacting to how the public attacks those weeks.
Check back in tomorrow for our detailed look ahead toward Week 3, where early indications are that the Colts (drawing the hapless Jets) will be a popular public choice.