Survivor News and Notes For NFL Week 1 2020
A running tally of news, notes, and observations impacting the 2020 NFL Week 1 survivor pool landscape, straight from the TR Nerds.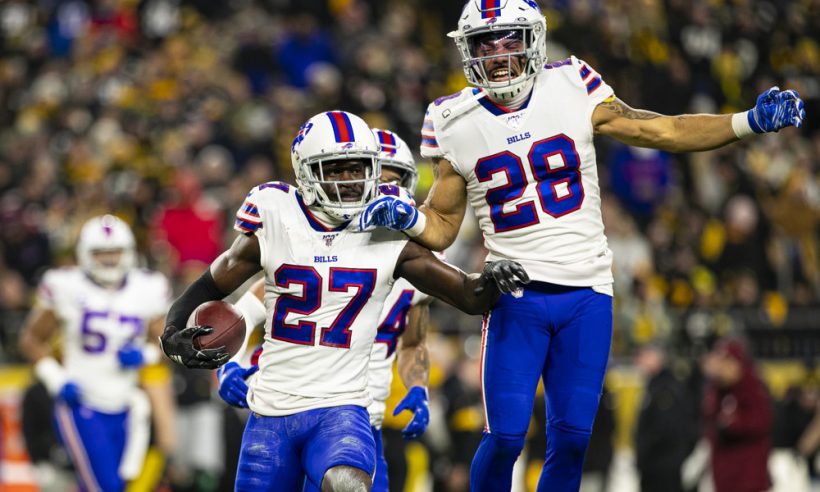 Tre'Davious White demonstrates a different kind of pick popularity (Photo by Mark Alberti/Icon Sportswire)
Monday, September 14 (5 pm ET)
A wild first NFL Sunday is in the books, and survivor pools across the nation took a hit right away after the most popular pick of the week (Indianapolis), as well as two of the other eight biggest favorites (Philadelphia and San Francisco), all lost.
In total, about 40% of both the public's entries and TR subscriber pick recommendations lost on Sunday. In terms of our subscriber picks, losses were primarily concentrated on the Colts, where TR recommendations were overweight compared to the public; we recommended the Colts for 32% of subscriber picks, compared to 21% public pick popularity. So that was a tough one.
At the same time, TR subscriber picks had no exposure to the 49ers at all (6% public pick popularity, 0% TR picks), and we recommended the Eagles at less than public pick rate as well (about 9% public vs. 7% TR picks).
In addition, the team that featured the largest difference between public and TR pick percentage was New England (6% public popularity vs. 25% of TR subscriber picks). That concentration on the Patriots allowed a good chunk of our subscribers to advance without burning the Chiefs or Ravens with that entry, which is huge in terms of future value.
To put Week 1's 40% elimination rate so far into perspective, it's already about four times higher than 2019 Week 1. (Last year about 90% of both public and TR entries survived Week 1, and the biggest elimination event was a Browns loss that eliminated less than 5% of the public.) So getting past Week 1 was a whole different ballgame in 2020, and lots of entries lost.
It also means a pretty wide range of possible outcomes for our users, including:
You got eliminated this week. If you were playing a single survivor pool entry and had the Colts this week, for example, that stinks. Unfortunately, it's also the very realistic outcome of the high risk nature of playing in survivor pools, especially if you are only playing a single entry. Based on betting odds, no team this week had more than an 80% chance of win, so no matter what team you picked, you had at least a 1-in-5 chance of being eliminated. We'll never be able to reduce that chance, which is one of the reasons why we always advocate playing multiple entries and taking a portfolio approach to diversifying your picks — especially when giving yourself the best odds to win a survivor pool often means taking more risk in the early going to save teams like the Chiefs and Ravens for the future.
You lost several entries in a multi-entry portfolio. For those of you playing multiple entries within or across pools, the Week 1 results were likely more mixed, ranging from negative to positive compared to the public. The main theme here is that we largely suggested avoiding Kansas City and Baltimore, so it depends mostly on which other teams the system determined were the top picks for your unique mix of pools and rules. You almost certainly have a future value advantage with any surviving entries, since because of the high Week 1 elimination rate in general, nearly half of all remaining entries in survivor pools this year have now already used either the Ravens or Chiefs.
The general Week 1 strategy was primarily about preserving value to win pools in the future; see our product notes below from September 9th and 10th for more on that. Sure, you could come into your pool guns blazing and use up Kansas City and/or Baltimore right away, but considering both the risks and rewards of that approach, you would be at a disadvantage going forward. (We wrote a deeper strategy article about Kansas City and Baltimore and why they are key to the 2020 survivor season).
In the end, teams like the Patriots did their part to help deliver on this strategy. The Colts, also one of the biggest favorites of the week, did not.
It was a frustrating result, to be sure. Indianapolis managed to lose a game where they never punted, and where they out-gained the Jaguars 451 yards to 264 yards, and held a lead until late in the game. But turnovers (the Colts had two, Jacksonville none), fourth down failures near the end zone, a short missed field goal, and other untimely plays will get you beat in the NFL. When we look back on the year, it's likely that this loss looks like a fluky upset, but flukes can still doom individual survivor pools.
Whether TR subscriber picks come out ahead or behind the public overall in terms of Week 1 survival rate is still to be determined, as the Pittsburgh game tonight actually has the second-highest ratio of TR picks to public picks behind only New England (16.6% TR vs. 5.1% public). But as of Monday morning, TR subscriber picks are in line with the public in terms of overall survival rate, with a higher percentage of our users still having the Chiefs and Ravens available to use.
Losing 40% of pick recommendations is never something we're happy about. But big elimination weeks will happen, and calculated gambles don't always work out. What matters most in the long run is staying with a process that produces results over time, and not overreacting when you catch some bad luck — even if the results are tough to swallow.
Sunday, September 13th (10 am ET)
As we approach Sunday kickoff, the Colts continue to be our most frequent recommendation, even as they also have inched upward in public popularity (now at around 21%). Indianapolis still has the highest EV of any Sunday game, and the best win odds at 78%.
New England has been the biggest mover in our pick rankings, and are continuing to rise up in the pick recommendations overall. The Patriots are now favored by 7 points over the Dolphins, with 72% win odds, tied for third-best this week.
As of right now, the Patriots are the recommendation for 20% of subscriber entries, and that number is climbing this morning as more of you get on to update or set up your pools. New England has the second-best EV today (behind only the Colts) and still has a relatively low public pick popularity (6%).
That New England surge has primarily come at the expense of Philadelphia and Pittsburgh. The point spread in the Philadelphia game has continued to fall after news that RB Miles Sanders is out, and that has lowered the Eagles' EV (they are still moderately popular with the public at 9%).
New England's rise also has impacted the Steelers' rates of being recommended because they have similar win odds and popularity, but Pittsburgh has a little more future value, making it a little better play to save them in many cases.
Data and recommendations may continue to bounce around as the kickoff of the first set of games approaches, so as always, we recommend that you simply update your recommended picks as late as you feasibly can given your personal schedule and your pool's pick submission deadline.
While seeing pick recommendations shift over time can be a bit jarring for first-time subscribers especially, the ability to quickly process the most recent win odds and public pick popularity data is a key feature of our NFL Survivor Picks product.
Those two key metrics tend to move around frequently on Sunday mornings, as the world puts on a mad rush to bet on NFL games and submit survivor pool entries — though usually none of the changes are huge.
If one or more of your recommended picks does change this morning, just keep in mind two important things:
A shift in underlying objective data is what caused it. That's a good thing.
If a modest shift in underlying data is enough to flip one of your pick recommendations, or if you see a pick flip and then flip back the next time you update picks, it means that you have a couple of teams neck and neck in terms of pick quality. The system is basically splitting hairs in terms of determining which one is the absolute "best," so try not to sweat it, as the difference between the two teams likely isn't even significant.
Saturday, September 12th (6 pm ET)
We have a couple of housekeeping notes as we head toward Sunday.
First, for those who wondered why we limit each pool picks subscription to 30 picks each week, we have a Help article up explaining why we chose to limit it at that number.
Second, for new subscribers, we wanted to make sure you are aware of how you will enter the picks that you made, so that we can track which entries are alive, and make recommendations for the correct entries in future weeks. We also have a Help article on that topic. The quick answer is that you do not have to record whether your entry won or lost, within this week's picks.
When you come back to update your picks for Week 2, we will ask you if you followed our recommendation, or which team you selected, for each entry. (There is an auto-fill feature that will put in your last updated pick recommendations from the previous week, you just need to make sure it reflects what you actually entered in your pool.) If the team you selected for an entry won, then we will provide a pick recommendation for the next week for that entry, based on who has already been used. And if an entry lost, it will be removed.
Finally, we also wanted to share our appearance on the FantasyPros podcast, where we (Jason Lisk and David Hess of TeamRankings) discussed survivor and pick'em pool strategy as well as other picks and projections for the 2020 NFL Season.
Friday, September 11 (1 pm ET)
One game down, 15 to go. The Chiefs successfully led off the week with a victory as the largest favorite entering Week 1.
In regard to other teams, our recommendations on some other teams have shifted with some changing information.
The primary change has been a decrease in the number of times we recommend using the Philadelphia Eagles, and an increase in some other teams, most notably the New England Patriots. The Eagles, who have some potential offensive injuries such as RB Miles Sanders' status being in question, have seen a downward shift in the point spread. They dropped from 72% to 70% win odds.
Meanwhile, the Patriots have moved up to a 6.5-point favorite, and win odds have moved up from 68% to 70%. Since the two teams have similar future value, and the Eagles are currently more popular with the public (9% versus 5%), the Patriots are now the better value choice for many entries.
Philadelphia was our fourth-most common recommendation earlier in the week, but they are now falling and are outside the top five. The Patriots have moved from less than 5% of recommendations, to closer to 7%.
Thursday, September 10 (4pm ET)
The NFL Season is here, and we start off right away with the defending Super Bowl champion Kansas City Chiefs facing Houston. So we figured we would delve into why you may or may not be seeing the Chiefs in your recommended picks for some entries.
The primary reason we are not recommending Kansas City to most entries, despite the fact that they have the highest Week 1 EV, and the highest win odds, is that they have very high future value.
When they are being recommended, it is almost always in standard survivor pool formats. Kansas City is often the third option in moderate-sized to larger standard pools. So Kansas City is most likely showing up to subscribers who have multi-entry portfolios, as an additional option to diversify the pick set. Kansas City is a reasonable option in Week 1, as part of a broader portfolio that still saves the Chiefs for future weeks for the majority of entries.
Currently, we are recommending Kansas City to about 5% of all entries, compared to a 13% pick rate for the public. So we are still below the public average, and in general, saving Kansas City is the better call for entries. But there are some cases where using Kansas City now on some entries in a portfolio makes sense.
Wednesday, September 9 (3:30pm ET)
Our most frequent early recommendations for Week 1 are Indianapolis (38%), Pittsburgh (22%), Buffalo (15%), and Philadelphia (11%). Meanwhile, of the most popular public choices, we do not currently have any recommendations to use Baltimore or San Francisco as of Wednesday afternoon (this is where we give you the caveat that this analysis could change as pick percentages and win odds change).
We'll quickly go through the logic of why the early recommendations are what they are.
Indianapolis
For Indianapolis, it's fairly straightforward. They have the second-best win odds, and are almost even with Kansas City in that department at 78%. While they have some future value, including looking like the team with the highest win odds in Week 6, their anticipated expected value that week is not so great that we should avoid using them now. So compared to Kansas City, using Indianapolis now is a preferred option.
The Colts are our most frequent recommendation as of today across pretty much every survivor pool type. They've risen in popularity by nearly 6% over the last four days, though, so we'll see if the popularity keeps climbing and causes a shift in the Colts' numbers.
Pittsburgh
Pittsburgh is an interesting one. There was significant line movement on this game early in the week, which the public may not be on top of (4% pick popularity).  Pittsburgh's win odds are at 72%, putting them right in the middle of a large group of secondary options (behind KC and Indy) in terms of safety. But they have low popularity compared to all those other choices: Baltimore, San Francisco, Buffalo, and Philadelphia, and New England. As a result, they now have the highest EV of that group, and the third-highest EV overall behind the Chiefs/Colts.
So that combo of lower popularity/better EV is driving Pittsburgh as a choice right now for many entries. We are recommending the Steelers in 22% of pools overall, but that number is over 28% in standard pools. They are not being as frequently recommended in strikes/rebuys/bye pool formats.
Buffalo
Buffalo is our third-most frequent recommendation, though we should note that we are roughly in line with the public on usage of the Bills in Week 1. Buffalo's attractiveness as a choice largely stems from their low future value, and that they aren't too popular relative to their 72% win odds. They have a fairly middling EV (0.97) so this one is really about preserving better value for some other weeks in the future by using Buffalo.
Those factors also explain why we are seeing a split between standard and non-standard pools. The Bills are a recommendation to 6% of standard entries, but are recommended to 22% of entries in other types of pools, including those with strikes, re-buys, and multiple picks in the future. That split makes sense based on their characteristics as a choice.
You can read some more detailed strategy for different pool types in our strategy article "How the Rules of NFL Survivor Pools Affect Optimal Strategy." Let's use strike pools as one example.
In strike pools, you can take on a little extra risk early in the season since you could stay in the pool by using a strike, if your choice loses. Further, in strike pools where the number of strikes is used as a tiebreaker, your strategy in future weeks could change depending on whether you have yet to use a strike, or you are "behind on strikes." If you have made it several weeks into the season, and you have not used a strike, and others have, you actually want to take some popular choices to cover those other entries. On the other hand, if you are behind on strikes (you have used some, others have not), you need to avoid popular choices. Otherwise, you will never catch up. (If the popular choices lose, you are out, and the others stay alive with a strike.)
Because of those rules, Buffalo has some features that make it a more appealing choice in strike and buy-back pools. One way to have flexibility in the future is to have teams with high future value. You can later use them optimally for your situation depending on where you stand in strike pools. Thus, by taking Buffalo now, you are preserving future value and flexibility with other choices. Further, the fact that they are moderately popular means, if there is an upset this week, others are taking a strike with you.
Philadelphia
Philadelphia is the fourth most frequent recommendation overall, and the third-most frequent in standard pools. The emergence of Pittsburgh has likely impacted the number of times our customized product is recommending Philadelphia for entries. They both have the same win odds, Pittsburgh has lower public popularity, while Philadelphia has lower future value. Pittsburgh is a little more attractive overall, and likely more attractive in smaller pools (since some of Pittsburgh's higher value weeks are later in the year).
Tuesday, September 8th (2pm ET)
Week 1 of 2020 is unusually balanced when it comes to the most popular survivor choices. The four most popular teams are all within 1.5% of each other in pick popularity, and no team is currently being picked by the public more than 16% of the time.
That kind of distribution is in large part because Kansas City and Baltimore are top options by win odds for Week 1, but they also both have a high amount of future value. Those two teams account for half of the remaining top win odds options for the rest of the season, and are frequently near the top of the safety list even if they are not the safest option in a given week.
If you can only use each team once, that probably means plenty of other opportunities to save Baltimore and Kansas City for even better expected value than in Week 1.
So we are seeing a mix of strategies with the public's early survivor picks. Some people (about 31% overall) are still selecting either Kansas City or Baltimore. But the majority are settling on different options, and there is no real consensus on who the best "other" option is. The two most frequent are Buffalo and Indianapolis.
Both of those teams could be attractive for different reasons. Indianapolis has the second highest win odds of the week, and moderate future value. So they are roughly as safe as Kansas City and Baltimore, but are not as critical for future value, though there are a couple of other future weeks where Indy could be a top option.
Buffalo, meanwhile, presents a slight drop-off in safety from KC and Baltimore, but also has pretty much no future value at the moment. The Bills' next best matchup, besides the Jets at home, is the Dolphins at home all the way in Week 17, not to mention that team motivations in Week 17 can get funky.
Tomorrow, we'll dive deeper into some recommendations that you are likely seeing from us for Week 1, and why you might be seeing those in different pool types and sizes.
Tuesday, September 8th (12pm ET)
Welcome to the 2020 edition of our NFL Survivor Picks product!
Whether you are new around these parts or a returning subscriber, we want you to know that we appreciate you and look forward to helping you make the most informed survivor pick decisions this year.
Every week during the 2020 season, including the playoffs, we will publish a Survivor News and Notes article like this one. It will be updated throughout the week with things like:
Breaking news about teams that are impacting the survivor slate
Comments on major line movements, prediction and pick popularity shifts throughout the week
Explanations of why you may be seeing certain teams show up in your pick recommendations
Observations on how recommended TR picks compare to the general public at large
Results/recaps of the past week's outcomes and their relative impact on TR subscribers
Other random observations by the TR crew
So be sure to check it out whenever you come in to use the product.
Whenever we add an update to these weekly articles, we will include a date and time stamped header. We'll also list the most recent update at the top of the post, so you will see the newest info first.
AMAZING NEW TECHNOLOGY ALERT!
Finally, in case our returning subscribers don't notice, hopefully these words right here now look a heck of a lot prettier to you! After years of grumbling about it, we finally spent time in the offseason updating our content management system for our pool picks products.
More importantly, we published a bunch of new help articles and strategy articles.
And while this is so embarrassing to admit, we can now even do amazing things like put clickable web links right into this copy, as the last sentence proves. Only 25 years behind the curve in web publishing technology there! But hey, priorities. You're not subscribing to TR for a bunch of pretty looking words.