NCAA Bracket Picks 2021 News & Notes
The latest news and updates related to the 2021 NCAA Tournament and our bracket pool picks. The tournament is now final and surveys have been sent out.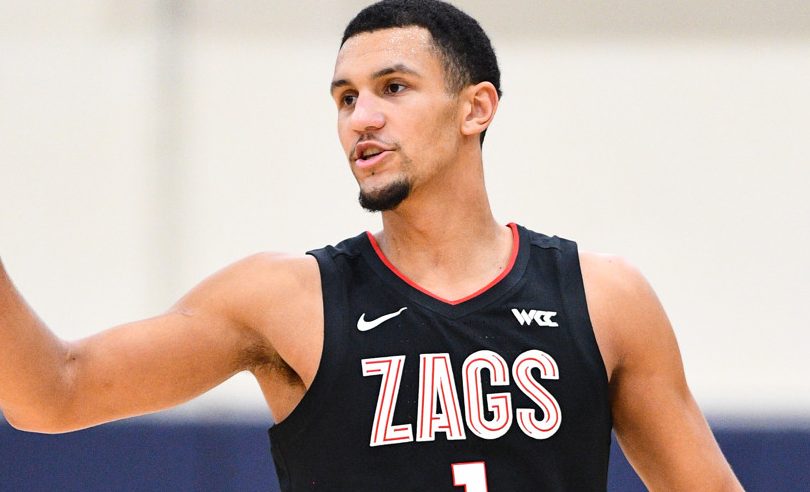 Jalen Suggs and the Gonzaga Bulldogs are the No. 1 overall team (Photo by Brian Rothmuller/Icon Sportswire)
Welcome to the 2021 NCAA Bracket Picks. For those of you who have access to our NCAA Bracket Picks for the NCAA Tournament, this post will be frequently updated with News and Notes through Selection Sunday and up to the start of the tournament, and then at key times throughout the 2021 NCAA Tournament after the tournament has begun.
Here are the most recent updates:
Wednesday, April 7th: 2021 Bracket Picks Surveys have gone out
Thursday, April 1st: Our Round Recaps have now been updated to include all Elite 8 Results
Wednesday, March 31st: A look at the Final Four teams and results
Monday, March 29th: Quick recap of the Sweet 16 and look to the Elite 8
Thursday, March 25th: We have a second round recap article, and also a survivor pool strategy piece.
Tuesday, March 23rd: a brief recap of some of the key observations from the past weekend
Saturday, March 20th: Oregon has advanced in a no-contest after VCU withdraws from the NCAA Tournament.

Wednesday, April 7th at 12:00 PM
Our Bracket Picks surveys should have gone out to all subscribers, so check your inbox. One respondent will be chosen at random to receive a $100 Amazon gift card. Whether you won or lost in your pool, we want to hear back from you on how you did, as that helps us assess how the picks did across a variety of pool sizes and rules.
Thank you so much for your support, and see you next year for basketball, and if you are a pool picks subscriber, in the fall for football pool picks.
 Thursday, April 1st at 12:00 PM
Our Round Recap has now been updated to include all info through the Elite 8 matchups. You can see where TR picks stand relative to the public.
For example, the public averaged getting 1.34 picks to the Final Four, while our Best Brackets for standard scoring are at 1.67 correct Final Four teams on average. 50% of public brackets have a champion pick still alive, while that number is at 100% for TR Best Brackets and 73% for all TR Brackets.
Wednesday, March 31st at 12:00 PM
The Final Four is now set, with Gonzaga handling USC comfortably while No. 11 seed UCLA becomes the second team to come out of a First Four game (2011, VCU) to reach a Final Four after beating Michigan 51-49.
After a wild two weeks, the Final Four has two No. 1 seeds, a No. 2 seed, and an improbable run by UCLA. Gonzaga is the heavy favorite to win the title based on their pre-tournament favorite status plus how they have rolled through the tournament so far (and getting a matchup with UCLA while Baylor and Houston have to face off).
With Michigan's loss, we will get a champion from outside the Eastern Time Zone for the first time since 2008, when Kansas beat Memphis. Gonzaga is a hefty 14.5-point favorite over UCLA while Baylor is favored by 5 points over Houston in the first semifinal.
We will have our full recap of the second weekend of the NCAA Tournament coming by tomorrow.
Monday, March 29th at 9:00 AM
The Sweet 16 is over, and now we have four strong favorite versus underdog situations in the Elite Eight, and which way they go will determine the outcome of pools. Three of the No. 1 seeds are still alive, plus No. 2 Houston. There will be no No. 1 versus No. 2 matchups in the Elite Eight this year after Alabama lost in OT to UCLA, despite hitting a dramatic tying three-point shot to end regulation.
All four favorites over the next two days are favored by between 7.5 and 9 points, putting their win odds in the betting market in 75% to 80% range. Of course, the chances that all four win, if you go by the betting market implied win odds, is still only 35%, making it more likely than not that at least one of the underdogs will break through and reach the Final Four.
We will have our full recap of the second weekend of action on Wednesday, after the games are completed.
Thursday, March 25th at 12:15 PM
We have two articles ready for you. The first is a recap of the Second Round with a look-ahead to key games for our Bracket Picks relative to the public.
The second is a survivor pool strategy article looking at potential pathways of picks from the Sweet 16 through to the championship game.
We will also have the Sweet 16 Brackets Picks article coming soon.
Tuesday, March 23rd at 11:15 AM
The first weekend of the NCAA Tournament is in the books, and it was a wild one. In fact, it was the most upset-filled tournament (if you go by total seed numbers in the Sweet 16) since the tournament expanded to 64 teams in 1985.
It was a rough weekend for our pick recommendations in most standard scoring pools. And the big culprit was that the Big Ten and Big 12 flopped. (The Big Ten collapse hurt us, while the Big 12 collapse was overall costly to the public, but still also a big factor, as we didn't typically have the Big 12 teams that lost advancing deeply.)
Most of the Cinderella runs have come from quadrants where a Big Ten or Big 12 team was the expected team to advance. To wit:
Of the five Big Ten teams seeded as a No. 4 or better, only one advanced (Michigan);
Of the five Big 12 teams seeded as a No. 4 or better, only one advanced (Baylor); and
Of the six other teams seeded as a No. 4 or better, five advanced (only COVID-impacted Virginia did not, with No. 5 Creighton advancing instead).
So all of the teams seeded No. 6 or lower that are still alive came out of beating a Big Ten or Big 12 highly seeded team to advance.
We will have a full Second Recap coming soon.
Saturday, March 20th at 7:55 PM
VCU has had to withdraw from the NCAA Tournament due to COVID protocols, making them the first team to have to do so. No. 7 Oregon advances in a no-contest to the Second Round on Monday.
This one will not have a significant impact on most brackets, as Oregon was the pick in all standard scoring "Best Brackets." We will provide a full update on the First Round tomorrow.
Friday, March 19th at 10:00 AM
The First Round of the NCAA Tournament is here. We made it!
Last night, UCLA beat Michigan State in overtime, but may have lost one of its starters, Johnny Juzang, to an ankle injury. So some of you may wonder if that impacts our picks in any way. The answer is "only at the margins, in larger pools."
UCLA has actually played fine this season without Juzang. But it's a small sample, and based on player stats we think his absence would impact UCLA by about 2 points on average. However, he has not been ruled out, and early chatter is that the injury may not be as serious as some feared, so we are adjusting UCLA's predictive rating down by -1 point instead of the -2 points.
A slight bump downward in UCLA's rating does improve BYU's chances of advancement slightly. but BYU was already the pick in pools without upset bonus or seed scoring. BYU goes from 33.0% to 34.8% to reach the Sweet 16, but Texas's Sweet 16 odds also go up slightly from 43.6% to 44.5%. That's because while they might be slightly more likely to play BYU, they are also a bigger favorite to advance if UCLA does win.
The gap between BYU and Texas does close a bit, and BYU is a value pick, but that only makes some slight changes at the  margins. BYU becomes a bit more reasonable in larger pools of greater than 1000 entries, but not in every bracket in the same portfolio. And it really doesn't change anything in Best Brackets at smaller pool sizes, though you switching in BYU to the Sweet 16 in an alternate bracket as part of a portfolio would also be a reasonable decision.
As for any UCLA picks — if UCLA is being recommended in one of our brackets, it's most likely because you are in an upset pool. Let's use a seed difference pool as an example. You would get 6 points for picking UCLA and only 1 point for BYU. That's a big payoff, and that's why your bracket is recommending it. A downward shift of a couple of percentage points in UCLA's win odds isn't going to change that, and UCLA still has about a 36% chance of winning. If you are getting 6 times the points for picking them, it's still the right move.
Thursday, March 18th at 11:15 AM
The First Four games tip-off at 5:10 p.m. ET with the game between Mount St. Mary's and Texas Southern, followed by Wichita State-Drake, Norfolk State-Appalachian State, and Michigan State-UCLA.
So if you are in a contest that uses those First Four games, make sure to get your picks in before that deadline.
Our Final Brackets* will be released this afternoon, along with a Final Update to our Bracket Picks Picks Writeup. (*Final, assuming no major news break that would significantly shift bracket picks.)
We do have a few changes of note coming to our ratings, dealing with some of the news regarding injuries and COVID. Notably, Georgia Tech will now be without ACC Player of the Year Moses Wright for the first weekend, and they matchup against Loyola-Chicago in the first round.
You can see our current adjustments that will be included in the Final Brackets in our Adjusted Team Ratings & Analysis page, and click on the team names in the table to see the team-specific notes.
Wednesday, March 17th at 10:15 AM
We have a couple of more analysis posts that are up on the site now. The first one deals with looking at the impact of COVID pauses on how teams performed in their first game back.
The second one looked at how teams did in back-to-back games played in short stretches against the same opponent, something that became more prevalent this year.
Reminder that we also have another Bracket Update for today, and will have an update to our Writeup as well by tonight, explaining what might have changed. We don't expect any massive changes, but there is some injury news that we are monitoring, and some adjustments we made to teams based on some player availability uncertainty.
We also have some other content pieces coming your way. That includes a more in-depth discussion of Upset Bonus Pools and Seed-Based Scoring Pools, looking at what picks are showing up most frequently in some of those pools and why.
Tuesday, March 16th at 10:00 AM
Our 2021 Bracket Writeup is out. That will go over some over-arching strategy decisions and things we are seeing specific to this tournament, that impact what picks you might be seeing. So if you want to dig deeper into "why" some of the picks are what they are, check it out.
It includes a breakdown of why we have Michigan and Baylor rated where they are, which part of the brackets are relatively weaker or stronger compared to other recent tournaments, and analysis of value for various picks.
We will next update our Writeup (and the brackets) on Wednesday. Tonight is the deadline for any team to withdraw and be replaced by the next team up (which would be Louisville for any at-large team or team from a multi-bid league).
A couple of other situations we are monitoring include Virginia and Kansas. Kansas' Jalen Wilson will be out for the start of the tournament due to COVID. Virginia still has not traveled to Indianapolis and is currently not practicing.
Monday, March 15th at 9:30 AM
We made it! Selection Sunday came and went, and 68 teams are set to play. We've been hard at work since that time getting everything set up. Later today, you will be able to see customized bracket picks, and read our first Bracket Release writeup, where we explain some key strategy decisions and important factors driving what you are seeing with picks.
Right now, you should be able to view tools like the Survival Odds, Data Grid, and Matchup Predictor now.
Where do the number on advancement and odds in the Data Grid come from? They are powered by our tournament-adjusted power ratings for each of the 68 teams, which determine the relative win odds for each team in each potential matchup in the bracket. Those tournament-adjusted ratings are put together after a deep dive into each team to see which ones might currently be better or worse off than their overall numbers due to things like injuries and lineup changes.
You can see the Adjusted Team Ratings & Analysis here. That has a table of all 68 teams, ranked by power rating after our adjustments have been made. We also have detailed team notes on each team, organized by region. Those give you a little more depth and detail on some of the factors that went in to making those adjustments.
You can check notes on each region:
---
Friday, March 12th at 6 PM
Selection Sunday is two days from now. We have two major programs that had to pull out of their conference tournaments due to a positive COVID test, in Kansas and Virginia, that are projected among the top four seed lines. Those teams have until Saturday night to let the NCAA Selection Committee if they will be able to play in the tournament, but all indications right now is that both teams are still playing. That could change if they have more positive tests tomorrow.
---
Wednesday, March 10th at 12 PM
If you want more information on how the 2021 NCAA Tournament will be structured, check out our information article that details the game schedule for each round, and also breaks down the NCAA's plans in case a team has to withdraw due to COVID.
One thing we do feel very confident about is that Gonzaga is going to be the No. 1 overall seed entering the NCAA Tournament after finishing at 26-0, becoming the fifth team since 1976 to finish the regular season without a loss. Baylor and Michigan are pretty much locks to also get No. 1 seeds, and Illinois is in the lead for the final spot, with Alabama, Iowa, and Ohio State still holding out hope.
You can also check out our full Bracketology and Bubble Breakdown, which will be updated again after today's games.
Some key contests today we are watching include:
Duke vs. Louisville
Syracuse vs. NC State
Xavier vs. Butler
North Carolina vs. Notre Dame