2021 NCAA Tournament Information: Schedule, Dates & Key Details
The 2021 NCAA Tournament is scheduled to take place in March and April as usual, though there will be differences from the typical schedule.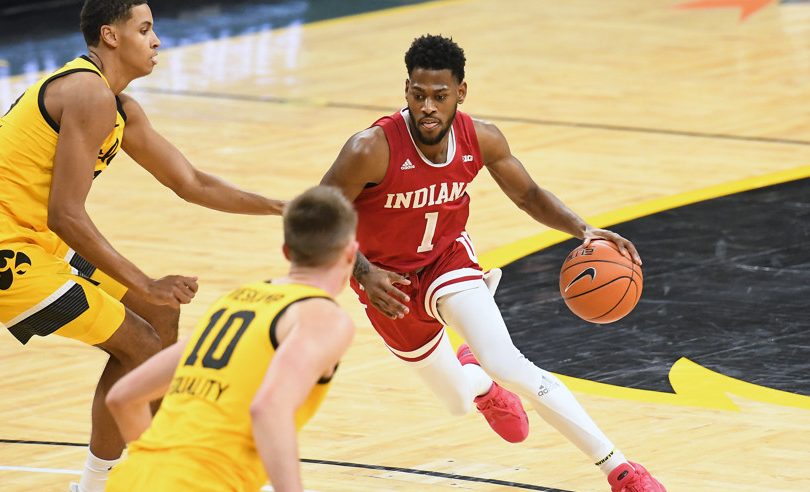 Some of the 2021 NCAA Tournament games will be played at the University of Indiana (Photo by Keith Gillett/Icon Sportswire),
The 2021 NCAA Tournament is scheduled, as usual, to take place in March and early April, with Selection Sunday kicking things off on Sunday March 14.
However, the coronavirus pandemic, has led to some changes in the dates and structure of the 2021 tournament.
This article provides key information related to the 2021 NCAA Tournament in one place. We will update it as any further news breaks.
[Editor's Note: this article was updated on February 25th to reflect the NCAA's release of rules about handling of any teams that have to withdraw]
2021 NCAA Tournament Sites
One of the biggest changes for 2021 is that the entire NCAA Tournament will take place in or near the Indianapolis, Indiana metropolitan area.
The NCAA Tournament typically takes place at 14 different sites spread across the country. However, this season only six will be used:
Lucas Oil Stadium, Indianapolis (home of the NFL's Indianapolis Colts)
Bankers Life Fieldhouse, Indianapolis (home of the NBA's Indiana Pacers)
Hinkle Fieldhouse, Indianapolis (home arena for Butler)
Indiana Farmers Coliseum, Indianapolis (home arena for IUPUI)
Mackey Arena, West Lafayette (home arena for Purdue)
Assembly Hall, Bloomington (home arena for Indiana)
All NCAA Tournament teams will stay in hotels in the Indianapolis area, and the Indiana Convention Center will be used as a multi-court practice facility.
2021 NCAA Tournament Structure
At this point here have been no major changes announced to the NCAA Tournament bracket structure.
The 2021 NCAA Tournament is planned to include 68 teams just as past tournaments have, with eight teams participating in the First Four games to advance to the First Round.
From there, teams will be divided into the traditional four regions, advancing from the First Round to the Final Four.
The Ivy League canceled its basketball season in 2020-21, the only Division I basketball conference to do so. That means 31 conference champions will get automatic bids to the 2021 tournament, and 37 other teams will be selected as at-large entries.
2021 NCAA Tournament Schedule & Dates
The NCAA has adjusted the 2021 NCAA Tournament schedule to allow more time for teams to arrive in Indianapolis and get tested for COVID-19 after arrival.
Here are the key dates:
Selection Sunday: Sunday, March 14th
First Four Games: Thursday, March 18th (all on one day in 2021)
First Round: Friday, March 19th and Saturday, March 20th
Second Round: Sunday, March 21st and Monday, March 22nd
Sweet Sixteen: Saturday, March 27th and Sunday, March 28th
Elite Eight: Monday, March 29th and Tuesday, March 30th
Final Four: Saturday, April 3rd
Championship Game: Monday, April 5th
Other 2021 NCAA Tournament Notes
The NCAA has informed teams that all automatic bid conference champions who have finished their championship game can arrive in Indianapolis on Saturday, March 13th, ahead of the official Selection Show.
At-Large teams will travel to Indianapolis after the official field is announced. Teams very likely to receive an at-large bid are requested to stay at the site of their conference tournament after being eliminated, rather than return home.
The NCAA has also put out a list of its Health and Safety Protocols which cover travel, testing, physical distancing, contact tracing, and who can attend games.
Handling of Any Teams that Have to Withdraw Because of Covid Testing (Update: February 25th)
The NCAA has announced its plans if a team has to withdraw from the tournament because of Covid protocols.
You can basically divide them up by whether the team in question is an auto-bid qualifier from a single bid league, or an at-large quality team, and by whether the withdrawal comes before Selection Sunday, between Selection Sunday and Tuesday night, March 16th, or after Tuesday of tournament week.
Pre-Selection Sunday withdrawals
If any team wins an auto bid before Selection Sunday, but has a Covid issue after winning the auto bid, then that team will be replaced by another team from their conference, by whatever rules the conference established. The replacement team will then be bracketed based on their own qualifications.
If any at-large quality team has issues, they are supposed to communicate them by Saturday night before Selection Sunday, so that they will not be included in the field.
Withdrawals after Selection Sunday, by Tuesday evening, March 16th
If a team from a one-bid league has to withdraw after Selection Sunday, but before Tuesday evening's 6 p.m. ET deadline, they will be replaced in the bracket by another team from the same conference, if possible. The replacement team will be slotted into the bracket in the same position as the team they are replacing.
For at-large quality teams from conferences with multiple teams, any withdrawal will be replaced by the top teams to miss the tournament. The committee will rank and designate four teams as replacement teams. The committee will not redo the bracket if a team has to withdraw. The replacement team will slot into the bracket where needed.
For example, if a 4-seed has to withdraw, the first team on the list will slot in as a 4-seed, playing the 13-seed in that bracket, even though that replacement team would not have been seeded that highly.
Withdrawals after Tuesday evening, March 16th at 6 p.m. ET
If any team has to withdraw after Tuesday, March 16th at 6 p.m. ET, either before or after the tournament has begun, that team will not be replaced in the bracket. Their opponent will advance to the next round in a "no contest."
So it is possible that a team gets to advance a round without having to play, if their opponent withdraws.