Week 8 Football Pick'em Contest Strategy & Advice (2022)
Week 8 of the 2022 NFL season is here, and we have several value favorites showing up in your pick'em pools.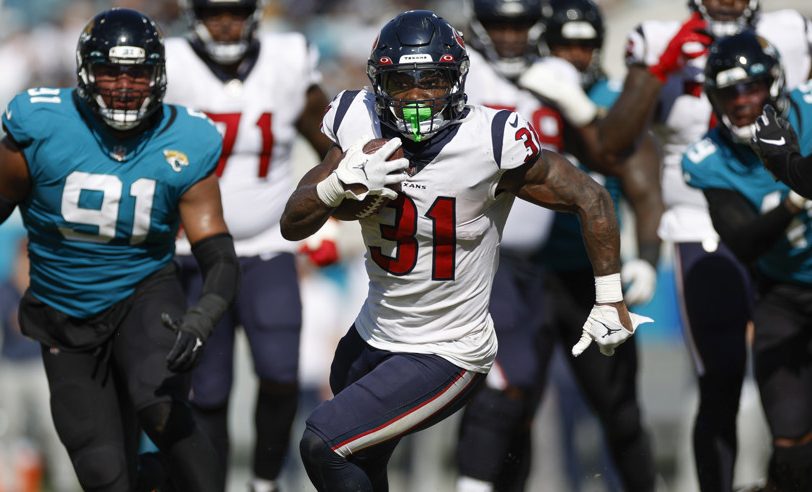 Dameon Pierce and the Texans are looking for an upset (David Rosenblum/Icon Sportswire)
Week 8 in NFL pick'em contests is upon us, as we continue to see plenty of great stories and big upsets.
In these columns, we explore strategies to maximize your edge in NFL and college football pick'em contests. We also provide some of the rationale behind picks potentially recommended by our premium product.
We plan to periodically update to this post through Sunday of Week 8, so check back for updates. Here's what's available now:
---
Tuesday 10/25
NFL Week 8 Early Value Picks
Here are some early value picks we are seeing in Week 8 based on win odds and popularity info.
Houston Texans (vs. Tennessee Titans)
Spread: +2.0
Win Odds: 50%
Pick Popularity: 9%
As you'll see with the value picks this week, this is the week for very unpopular slight underdogs. None are bigger than Houston. The spread on this game is currently only two points, and our models have it as a toss-up.
A whopping 91% of the public is taking the 4-2 Titans over the 1-4-1 Texans. But Titans QB Ryan Tannehill was in a walking boot after last week's game, and his health status is up in the air for this week. If he can't go, rookie QB Malik Willis would start.
The Texans have fared well against the Titans recently. They beat Tennessee in their first matchup last year in a big upset, and they nearly took Tennessee out again in the regular-season finale as the Titans were playing for the No. 1 seed in the AFC.
The Titans have won four straight games, albeit in far from dominating fashion. In fact, they've been outgained in yards in all six of their games so far. The passing game has been struggling after the Titans traded WR A.J. Brown in the offseason, and rookie WR Treylon Burks' injury further set them back.
If Tannehill is out or limited, that makes an upset even more likely. Leverage against the public here with a Texans pick for big value if it hits.
Cleveland Browns (vs. Cincinnati Bengals)
Spread: +3.5
Win Odds: 44%
Pick Popularity: 12%
The Bengals are coming off a blowout win over Atlanta, while Cleveland has lost four in a row (three of which came by a field goal or less). So the public is heavily on Cincinnati on the road in this rivalry game.
The Browns do have a strong running game with Nick Chubb, and the defense has dealt with injuries up front but finally might be getting healthier. They held the Ravens to just 254 yards in their loss last week, which was the first time they've held an opponent under 300 yards since the season opener.
Cleveland has some upset-value potential as an unpopular choice in the Battle of Ohio.
New England Patriots (at New York Jets)
Spread: -1.5
Win Odds: 51%
Pick Popularity: 30%
New England just got embarrassed on Monday Night Football and has a brewing quarterback controversy, while the Jets just won their fourth game in a row. But the Jets did lose star rookie RB Breece Hall to a season-ending knee injury this past Sunday, and he has been making most of the big plays for an offense that has otherwise been pretty limited lately.
This is also a chance to pick a Bill Belichick team coming off a big loss. His teams tend to bounce back in the face of controversy and drama.
With the Patriots favored and the Jets the far more popular side, picking the Pats gives you an opportunity to take the more likely winner at a great value.
Detroit Lions (vs. Miami Dolphins)
Spread: +3.0
Win Odds: 44%
Pick Popularity: 15%
Detroit is yet another unpopular small home underdog this week against Miami.
The Lions have scored only six points total in their last two losses after averaging 35 points per game in their first four games of the season. Injuries are largely to blame for the recent offensive donwtick.
If star RB D'Andre Swift can return from the shoulder and ankle injuries that have sidelined him since Week 4, that should make an impact. WR Amon-Ra St. Brown got placed in the league's concussion protocol after his first catch in the loss to the Dallas Cowboys on Sunday, but head coach Dan Campbell said Monday that he didn't actually have a concussion and should be available this week.
If those two can be on the field for the first time since Week 3, the Lions will be more dangerous here than the public is giving them credit for.
Denver Broncos (vs. Jacksonville Jaguars in London)
Spread: +2.5
Win Odds: 45%
Pick Popularity: 18%
Our last underdog value is across the pond, where the Broncos are currently a 2.5-point underdog against the Jaguars.
Denver could have QB Russell Wilson back, which would make this closer to a toss-up game. However, the public is very down on this Denver team that continues to lose close games.
If the line remains under a field goal, Denver is an attractive small upset pick at higher-leverage value in this game.
---
Tuesday 10/25
Week 7 Results Summary
Week 7 was a down week overall for our picks. There were some big upsets that we didn't have, and a lot of the value plays against the public went the other way.
That happens. After a hot start, we were probably due for some of the public darlings to mostly hit in the same week.
Game-Winner Pools
In game-winner pools, the public averaged 8.6 wins out of 14 games in Week 7. The two biggest favorites (Tampa Bay and New England) losing kept the overall wins from climbing higher.
Overall, our season-long "Max Profit" picks finished just behind the public at 7.6 wins. Some toss-up games where we had San Francisco and Denver more heavily than the public made the difference.
Weekly picks finished down this week at 4.9 wins. The public had their day, as the value plays pretty much all lost. The aforementioned 49ers and Broncos were joined by value picks on Jacksonville, Indianapolis, and New Orleans in many weekly pick sets.
Spread Pools
The public finished over .500 in Week 7 in spread pools, averaging 7.7 wins in 14 games. The Jets, Patriots, and Chiefs were the most popular picks and they went 2-1.
Our pick recommendations were solid in season-long pools, averaging 7.5 wins in season-long max-profit picks, just below the public in a "public" week. Meanwhile, weekly picks, which tend to also account for public pick popularity more to differentiate, slumped to 5.2 wins on average.
---
FYI
Important Notes About Picks We Highlight
Keep in mind three things about picks we highlight in this article:
Optimal pick'em contest strategy balances risk and potential reward.
Maximizing your odds to win a pick'em pool generally requires exploiting the best opportunities to differentiate your picks from your opponents's picks. Ideally, you want to fade the public while taking on minimal additional pick risk to do so. For example, taking a betting market favorite being picked by less than 50% of your opponents is usually a great opportunity.
Not all of the picks we highlight are suitable for all pools.
Don't be surprised if our Football Pick'em Picks product doesn't recommend several of the picks we mention in this post for your pool specifically—especially the upset picks. The best pick strategy for you depends on a number of factors such as your pool's size, rules, and prize structure (a concept that's covered in part by our article on season vs. weekly prize strategy).
Picks we highlight may no longer look compelling by game day.
We analyze and write about picks using data (e.g. win odds and pick popularity) current at the time we publish this article, but that data can change before kickoff. For example, key player being ruled out or a shift in public sentiment about a team can erase the differentiation value that a pick initially offered.
We'll provide periodic updates in this post if major data changes occur for picks we've mentioned, so make sure to check back. However, there's a much better way to stay on top of changing data trends throughout a week, which all sharp players need to do.
Our Football Pick'em Picks product automatically imports the latest win odds and pick popularity data multiple times per day. You can see the latest information in the Data Grid.
After you generate customized picks for your pool, you can also update those pick recommendations whenever you want via the My Pool Picks screen. The updated picks will incorporate the most recent data we have.
---
FYI
About Our Pick'em Pool Advice
What makes pick recommendations from our Football Pick'em Picks product different from other sites is that it isn't generic.
In any given week, the best picks for your football pool depend on a number of variables. Your pool's size, rules, and prize structure all influence strategy, as do factors like your current place in the standings and how many weeks are left.
So many different scenarios exist that it's impossible to give pick advice that makes sense for every one. An underrated 6-point underdog could be a great pick in a big weekly prize pool and a terrible pick for a small season-long pool where you're currently in the money.
Technology to the rescue
As far as we know, we're the only site that has built algorithms to evaluate all these strategy factors and provide you with customized pick recommendations every week.
The result? Every year, an average of 71% of our subscribers win a prize (season-long or weekly) in a football pick'em contest.
If you want to see all the Week 1 picks we recommend for your football pick'em contest, use our Football Pick'em Picks product.
Why we write this column
At the same time, we know our subscribers like to understand the rationale behind picks our product may recommend, especially when those picks go against the grain. So over the years, we've started to write more about the "whys" behind our approach.
This column can also help educate our readers with pick'em pool strategy. We highlight tactics proven to result in more pick'em pool wins over the long term and point out common pitfalls to avoid.
We hope you enjoy reading, and we encourage you to check out more of our football pick'em strategy articles.
---