5 Value Picks For NFL Week 7 Pick'em and Confidence Pools (2020)
The Los Angeles Rams, seeking a bounceback win at home, highlight this week's NFL pick'em value picks against the 5-1 Chicago Bears.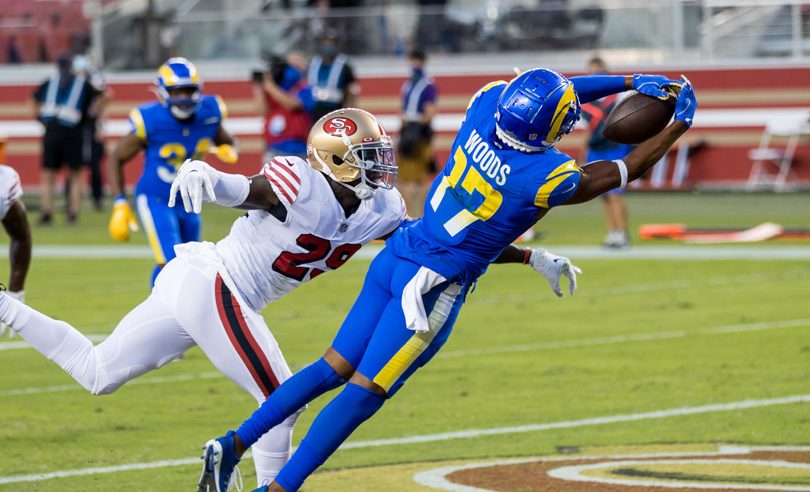 The Rams will try to bounce back against the 5-1 Bears (Photo by Bob Kupbens/Icon Sportswire)
The NFL Week 7 schedule features five different games where the early point spread is less than a field goal, but in which the public is picking the favorites at vastly different rates in those games. That results in a mix of value pick possibilities on slight favorites in some cases, and on moderate risk underdogs in the others.
As you start to think about your NFL Week 7 picks, the analysis below will help you make smarter decisions in your private NFL office pool or in online contests like ESPN Pigskin Pick'em, Yahoo Pro Football Pick'em, and CBS Sports Football Pick'em.
The foundation of this pick analysis is the Data Grid feature of our Football Pick'em Picks product, the only tool on the market that customizes picks to maximize your edge in football pick'em and confidence pools.
Recap of Last Week's Picks
Last week, we identified some value favorites and favorites at a reasonable price, with mixed results. Pick popularity numbers shifted greatly on the Rams-49ers game over the course of the week, and heavily toward the Rams by Sunday, so that one ended up being a wash compared to the public and no real value by kickoff.
The Ravens, meanwhile, held on against the Eagles, the Arizona Cardinals rolled over the Cowboys, and the Panthers lost to the Bears.
For the second week in a row, our value gamble pick came oh-so-close, but managed to grab defeat from the jaws of an upset victory by allowing a touchdown in the closing seconds. This week, it was Houston losing despite holding a 7-point lead over Tennessee with just seconds remaining.
Our four favorite value picks went 2-2, while the public got 2.2 wins from those games, with the Bears being a key swing result for the public with over half the public taking the slight underdog.
Overall, though, it was a really good week overall for our value plays across all games, as some other games emerged over the course of the week that weren't covered in last Tuesday's article; Tampa Bay as a value play against the Packers was one of them.
If you want our most up-to-date pick recommendations, become one of our Football Pick'em Picks product subscribers and get your picks as close as possible to your pick submission deadline, based on the most recent pick popularity and win odds numbers.
Five NFL Week 7 Picks You Must Consider
As usual, we've categorized the picks below according to where they fall on the risk vs. reward spectrum.
As we noted, there are more close games by the point spread this week compared to last week, and the pick popularity so far has revealed some solid early values in Week 7.
Note: Win odds and estimated pick popularity data below may change between publication time and kickoff time. If you want to see the latest numbers, our product updates multiple times per day.
Value Favorites
2020 NFL Week 7 features several favorites that the public is picking at a lower rate than their chance to win. These types of teams are as close to no brainer picks as you can get in NFL pick'em contests, since you can take the team that's expected to win, yet still "fade the public" (in relative terms, at least) at the same time.
Los Angeles Rams (vs. Chicago)
The Chicago Bears are 5-1, one win better than the Los Angeles Rams so far. The Rams are also coming off a primetime loss on Sunday Night Football, so it's understandable that the public would be giving the Bears enough of a chance here to provide value on the Rams.
But the Rams have played the tougher schedule so far, and are favored by 5.5 points, with 71% win odds. With 68% of the public picking the Rams, that means that 32% of pool entries are going the other way and you can get a decent-sized favorite at a value this week.
New England Patriots (vs. San Francisco)
The Patriots were the biggest upset victim last week against Denver, burning plenty of pool players. The 49ers were the biggest upset victim two weeks ago, but bounced back with a Sunday Night Football win over the Rams.
The Patriots are the slight 2.5-point favorite in this one, with 56% win odds. But the public is also similarly split with similar pick popularity, so you can get decent value staying with the favored Pats to bounce back after last week's disappointment.
Pittsburgh Steelers (at Tennessee)
Here we have a battle of the two undefeated teams in the AFC, which is taking place a few weeks after it was originally scheduled. The Steelers are the favorite in this one (by 1.5 points) while the public is taking the Titans a little more than half the time.
Pittsburgh is rated higher in our predictive power ratings (+4.8 points to +2.6 points). The Titans also notably lost one of their best offensive linemen, Taylor Lewan, to a knee injury in last week's win over Houston.
Unpopular Toss-Up Pick
When a matchup is close to a 50/50 proposition, it often makes sense to pick the less popular team. To win an NFL pick'em pool, you're probably going to need some luck in these "coin flip" games, and when you get it, you want to maximize the upside.
Washington Football Team (vs. Dallas)
The Dallas Cowboys remain popular, despite their lackluster performance so far in 2020. This one is close to 50/50 odds to win, with Washington now the slight 1-point favorite. But the public is taking Dallas 73% of the time in early selections.
Given the chaos that has been the NFC East this year, you can get some value right now on Washington. Dallas should be the better team, but they have also lost both their starting quarterback and star left tackle in the last few weeks, and have given up more points through six games than any team since the AFL-NFL merger over 50 years ago.
Value Gamble
If you're going to make a gamble on a decently sized underdog, you need to make sure that the potential reward if you get it right — that is, how much your odds to win your pool will increase — is big. Take a bunch of extra risk to make a trendy upset pick, and the joke is on you.
The pick below is definitely not appropriate for all pools. If you're in a smaller, season-long pool, it is probably not worth the risk. However, it should be seriously considered for single-week contests or if you only care about weekly prizes.
Detroit Lions (at Atlanta)
Atlanta finally broke through with their first win at Minnesota. Now, the Falcons return home in another Dome team matchup against the Lions, who themselves are coming off an impressive win over the Jaguars.
This game is fairly even, in fact our power ratings have the two teams ranked right next to each other and rated nearly equally on a neutral field, but Atlanta is the slight favorite at home (-2).
With about 70% of the public on the Falcons, though, the Lions provide a reasonable upset pick with good bang for the buck in terms of risk vs. reward.
Get All Our NFL Week 7 Picks For Your Pool
The Week 7 pick opportunities highlighted in this article are based on data from our Football Pick'em Picks product, which provides objective game predictions and projected opponent picking trends for every game.
Note that we are not saying that you should make all of the picks we list above — the upset pick especially. The best Week 7 picks for your NFL pool depend on strategy factors such as your pool's size, rules, and prize structure, plus situational factors like your current place in the standings and the number of weeks left.
What we are saying is that the teams mentioned in this post provide some of the best opportunities to differentiate your Week 7 picks from your pool opponents, by taking on only a modest amount of risk, or no additional risk at all.
To learn more, check out our free articles about strategy for winning football pick'em pools. And if you want our game-by-game pick recommendations for your specific pools, we invite you to check out the product:
Pick'em Pool Picks From TeamRankings
More NFL Picks:
Survivor Pool Picks | NFL Betting Picks