Week 6 Football Pick'em Strategy & Advice (2021)
The news out of Arizona continues to potentially impact the Week 6 pick'em pool decisions, while college football gives us some Pac-12 value plays.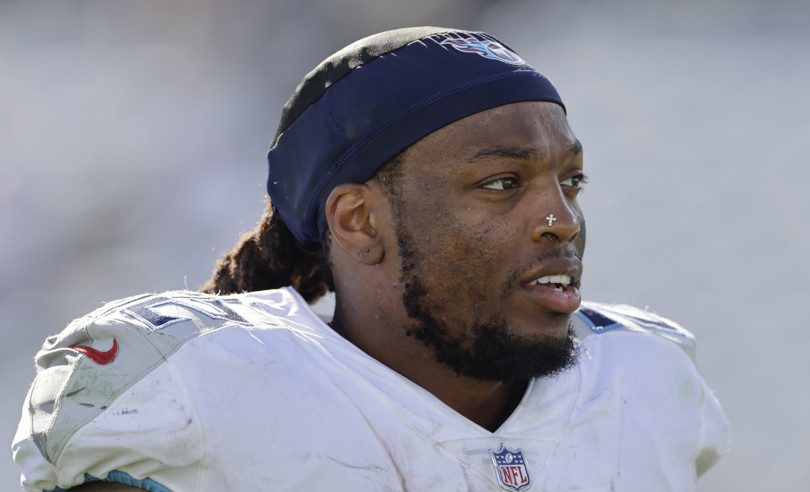 Derrick Henry will try to roll through the Bills (David Rosenblum/Icon Sportswire)
Week 6 of the 2021 NFL season is here.
The Buffalo Bills, Los Angeles Rams, Dallas Cowboys, and Arizona Cardinals are all rolling. Meanwhile, the New England Patriots and Kansas City Chiefs have struggled.
We'll see if there is any bounce-back or fall-off in Week 6, and also how the public opinion on those teams impacts value.
Here, we'll track Week 6 news and discuss the implications for maximizing your edge in NFL and college football pick'em contests. We'll also provide some of the rationale behind picks potentially recommended by our Football Pick'em Picks product.
Week 6 Pick'em Updates
We will continue to add to this post until Sunday of NFL Week 6, which starts early this week with a London game, so check back for daily updates. Here's what's available now:
---
Tuesday 10/12
Week 6 Early Value Picks Outlook
Here's our early look at some potential value plays in NFL pick'em pools for Week 6. This week, the early data shows several value favorites where the public is down on the team favored by the betting markets.
Baltimore Ravens (vs. Los Angeles Chargers)
Line: -3.0
TR Win Odds: 61%
Popularity: 45%
The Ravens staged a huge second-half comeback against the Indianapolis Colts on Monday Night Football, and they also nearly lost to the Detroit Lions in Week 3. Meanwhile, the Chargers have been impressive in the last few weeks, with wins over the Chiefs, Las Vegas Raiders and Cleveland Browns.
Baltimore is favored in this one at home, but early on, the public is slightly leaning toward the Chargers. That means there's some value in sticking with the betting-market favorite here.
Miami Dolphins (vs. Jacksonville Jaguars in London)
Line: -3.5
TR Win Odds: 64%
Popularity: 62%
Miami has lost twice now in blowout fashion to Buffalo and Tampa Bay, who are probably the two best teams in the NFL. Jacksonville is… not that. (Understatement of the year.)
You might also be getting some value here since Miami is coming directly off the Tampa Bay loss. Dolphins QB Tua Tagovailoa, who has been out since the first half the Bills game in Week 2, is eligible to return from IR and could start Sunday.
Denver Broncos (vs. Las Vegas Raiders)
Line: -3.5
TR Win Odds: 65%
Popularity: 64%
The Raiders are now being coached by Rich Bisaccia, as Jon Gruden is now free to empty out his inbox. Denver has not played as well in its last two games, but the Raiders aren't exactly on a roll lately, either.
You can get the Broncos as a favorite of just over a field goal at moderate popularity. For example, Dallas at -4 has 87% popularity, and Cincinnati as a 3.5-point favorite has 85% popularity.
Stick with Denver here in pools for the value play.
Cleveland Browns (vs. Arizona Cardinals)
Line: -2.5
TR Win Odds: 56%
Popularity: 45%
It isn't surprising that the Cardinals are drawing over half of the public picks in this one. They're the last undefeated team, and Cleveland is coming off a loss.
But the Browns are the betting favorite in this one, and there's contrarian value on once again sticking with the favorite.
Minnesota Vikings (vs. Carolina Panthers)
Line: -1.0
TR Win Odds: 51%
Popularity: 33%
The Minnesota Vikings survived a major scare Sunday as they blew a 10-point lead against the Lions in the final three minutes, only to get a long field goal to win. Carolina has now lost two in a row after a 3-0 start.
The Panthers might have star RB Christian McCaffrey back, though that remains to be seen. The Vikings were also without star RB Dalvin Cook against the Lions, and he could likewise return.
Either way, the Panthers' defense isn't playing as well as it did to start the season, and Minnesota is the very slight road favorite in this game. Given that about two-thirds of the public is going with the Panthers, the value here is on Minnesota.
---
Tuesday 10/12
Week 5 Results Summary
Favorites dominated for the most part in Week 5, though there were plenty of close calls and near-misses. As a result, our game-winner picks for season-long contests should outperform weekly picks, and that's what we see.
Game-Winner Pools
In game-winner pools, "max profit" season-long picks averaged 12.3 wins, while "win the week" top options only had 8.6 wins. Several unpopular smaller underdogs lost, sometimes in wild games (see: Cincinnati, Cleveland).
The public, meanwhile, averaged 11.4 wins, about one win below the season picks.
These were the highest-leverage results in game-winner pools in Week 5:
| Team | Opponent | Public | TR | Max Profit | Weekly |
| --- | --- | --- | --- | --- | --- |
| Buffalo | Kansas City | 46.7% | 13.0% | 0.0% | 0.1% |
| New Orleans | Washington | 59.5% | 86.1% | 100.0% | 99.8% |
| Tennessee | Jacksonville | 91.6% | 72.5% | 100.0% | 23.5% |
| Pittsburgh | Denver | 52.8% | 33.9% | 32.6% | 2.5% |
| Philadelphia | Carolina | 12.0% | 30.5% | 4.1% | 83.2% |
The Bills' victory over the Chiefs was the costliest for both season and weekly picks, as the Bills (a slight underdog) were a fairly popular public pick. Even with that result, the game-winner season picks gained on the public this week, thanks to lots of other moderate favorites winning.
Spread Pools
In spread pools, late afternoon and the Sunday prime-time results again sunk what was an early lead on the public.
The "max profit" season-long picks averaged 8.1 wins, and the "win the week" top picks averaged 7.3 wins, compared to a public average of 8.5 wins in Week 5.
Here were the highest-leverage games in spread pools, based on our recommendation rates versus the public pick rate.
| Team | Opponent | Public | TR |
| --- | --- | --- | --- |
| Tennessee | Jacksonville | 70.2% | 2.5% |
| Tampa Bay | Miami | 70.5% | 4.6% |
| Philadelphia | Carolina | 32.2% | 97.9% |
| Arizona | San Francisco | 73.6% | 14.7% |
| Chicago | Las Vegas | 29.9% | 85.9% |
In spread pools, every game has the potential for much higher leverage than a typical game in a game-winner pool. The Chicago and Philadelphia outright upsets as underdogs were the biggest positive outcomes in spread pools, while Tampa Bay, Arizona, and Tennessee covering and winning as popular favorites were the biggest negative ones.
---
FYI
Important Notes About Picks We Highlight
Keep in mind three things about picks we highlight in this article:
Optimal pick strategy balances risk and potential reward.
Maximizing your odds to win a pick'em pool generally requires identifying the best opportunities to differentiate your picks. You want to fade the public while taking on minimal risk to do so. For example, taking a favorite being picked by less than 50% of your opponents is usually a great opportunity.
Not all of the picks we highlight are suitable for all pools.
Don't be surprised if our Football Pick'em Picks product doesn't recommend several of the picks we mention in this post—especially the upset picks. The best pick strategy for your pool depends on a number of factors such as your pool's size, rules, and prize structure (a concept that's covered in part by our article on season vs. weekly prize strategy).
Picks we highlight may no longer look compelling by game day.
We analyze and write about picks using data (e.g. win odds and pick popularity), but that data can change up until kickoff. A key player being ruled out or a shift in public sentiment about a team can erase the differentiation value that a pick initially offered.
We'll provide periodic updates in this post if major data changes occur for picks we've mentioned, so make sure to check back. However, there's a much better way to stay on top of changing data trends throughout a week, which all sharp players need to do.
Our Football Pick'em Picks product automatically imports the latest win odds and pick popularity data multiple times per day. You can see the latest information in the Data Grid.
After you generate customized picks for your pool, you can also update those pick recommendations whenever you want via the My Pool Picks screen. The updated picks will incorporate the most recent data we have.
---
FYI
About Our Pick'em Pool Advice
What makes our football pick'em advice different from other sites is that it isn't generic.
In any given week, the best picks for your football pool depend on a number of variables. Your pool's size, rules, and prize structure all influence strategy, as do factors like your place in the standings and how many weeks are left.
So many different scenarios exist that it's impossible to give pick advice that makes sense for every one. An underrated six-point underdog could be a great pick in a big weekly prize pool and a terrible pick for a small season-long pool where you're currently in the money.
Technology to the rescue
Other sites don't understand this stuff, or they just ignore it because it's complicated and hard. We're the only site that has built algorithms to evaluate these strategy factors and provide you with customized pick recommendations every week.
The result? Every year, an average of 71% of our subscribers win a prize in a football pick'em contest.
So if you want to see all the Week 1 picks we recommend for your football pool, you need to use our Football Pick'em Picks product.
Why we write this column
At the same time, we know our subscribers like to understand the rationale behind picks the product may recommend, especially when those picks go against the grain. So over the years, we've started to write more about the "whys" behind our approach.
We also utilize this column to help educate our readers about pick'em pool strategy. We highlight tactics proven to result in more pick'em pool wins over the long term and point out common pitfalls to avoid.
Our goal with these articles is to dig deeper into pick'em pools than anyone else by using an objective, data-driven lens. We'll recap key results from the previous week, identify the most compelling value picks of the current week, and evaluate the implications of breaking news on pick'em strategy.
We hope you enjoy reading, and we encourage you to check out more of our football pick'em strategy articles.
---
Wednesday 10/13
Mid-Week Line Moves to Watch
There have been some small but interesting line moves early in the week, particularly considering several have moved against the publicly popular sides.
Let's cover some key ones for pick'em.
Cleveland-Arizona
This one opened at Cleveland -3 and then immediately moved down t0 -2.5 on Monday. However, it moved back to -3 today.
Arizona is a popular underdog pick in spread pools (where the public tends to go favorite-heavy). Over half of all entries in game-winner pools are taking the Cardinals.
Cincinnati-Detroit