Week 18 Football Pick'em Strategy & Advice (2021)
The Week 18 Pick'em value picks include games where the teams have differing motivations and could choose to rest starters.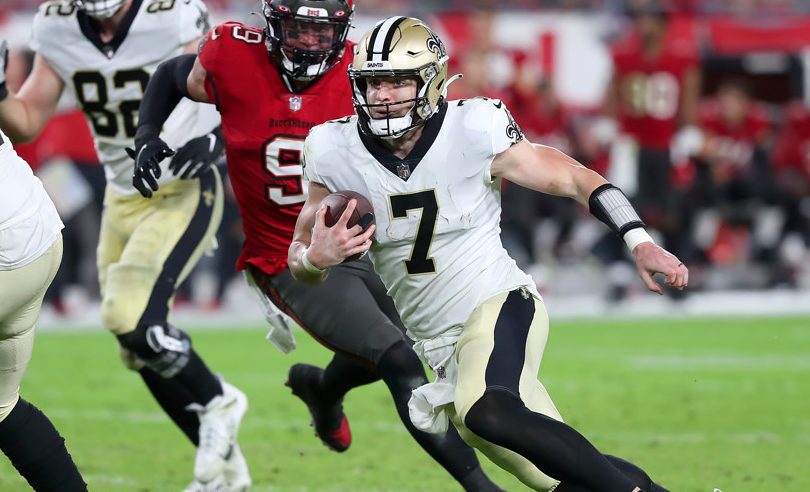 The Saints are in a must-win game to try to get in the playoffs (Cliff Welch/Icon Sportswire)
Here, we'll track Week 18 news and discuss the implications for maximizing your edge in NFL and college football pick'em contests. We'll also provide some of the rationale behind picks potentially recommended by our Football Pick'em Picks product.
Week 18 Pick'em Updates
We will continue to add to this post until Sunday of NFL Week 18, so check back for daily updates. Here's what's available now:
---
Tuesday 1/4
Week 18 Early Value Picks Outlook
Here's our early look at some potential value plays in NFL pick'em pools for Week 18.
As is often the case in the last week, team motivations impact the point spreads. But the public isn't always on board with those moves, which provides value opportunities.
Detroit Lions (vs. Green Bay Packers)
Line: +2.5
TR Win Odds: 48%
Popularity: 12%
The Green Bay Packers are a very popular pick against Detroit, which is not surprising given that the Packers are 13-3 and the Lions are 2-13-1.
But the Packers have already clinched the top seed in the NFC, so there's no guarantee that they play their starters throughout the entire game. The betting market has adjusted the line down to where Detroit is closer to a toss-up here, and with the low popularity, the Lions have a lot of value.
New Orleans Saints (at Atlanta Falcons)
Line: -4.5
TR Win Odds: 69%
Popularity: 63%
The Saints need to win to make the playoffs, and they're favored to beat the Falcons on the road. Atlanta beat them earlier in the year in New Orleans, so that might also be factoring into the public pick rates here.
Right now, the public is picking the Saints at a lower rate than their win odds, making them the highest-value favorite this week so far.
Dallas Cowboys (at Philadelphia Eagles)
Line: -7.0
TR Win Odds: 74%
Popularity: 74%
Both Dallas and Philadelphia are in the playoffs, and Dallas has clinched the NFC East. Philadelphia is locked into either the No. 6 or No. 7 seed in the NFC. Dallas could improve all the way to the No. 2 seed, but it would need some other upsets for that to happen.
The Cowboys are about a touchdown favorite right now, but enough of the public is giving the Eagles a chance that there's value in just staying on Dallas.
Cleveland Browns (vs. Cincinnati Bengals)
Line: +2.5
TR Win Odds: 49%
Popularity: 28%
The Browns' season effectively ended with Monday's loss to the Pittsburgh Steelers.
The Bengals clinched the AFC North with their dramatic win against Kansas City. They can still technically earn the AFC's No. 1 seed, though they'd need Kansas City to lose to Denver on Saturday night and Tennessee to lose to Houston on Sunday.
The Titans play at the same time as Cincinnati, and some of the potential motivational factors are impacting the spread here. Cincinnati could improve to either the No. 1 or No. 2 seed, but that may look bleak by early Sunday afternoon if the Titans get off to a big lead, which could impact how long the Bengals keep their starters in the game.
Chicago Bears (at Minnesota Vikings)
Line: +2.5
TR Win Odds: 46%
Popularity: 17%
Chicago has won two in a row, while the Vikings have imploded and lost the last two to fall out of the playoffs. The Bears can actually finish tied with the Vikings record-wise if they win here.
Minnesota could be nearing the end of the Mike Zimmer era (and Kirk Cousins era) based on how the last two years have gone. Chicago looks like a potential value upset play in this spot.
---
Tuesday 1/4
Week 17 Results Summary
Week 17 featured several blowouts, and most favorites winning. The only underdogs to win outright were the Bengals, Cardinals, and Raiders.
Game-Winner Pools
In game-winner pools, the public averaged 11.9 wins in Week 17.
Our season-long "Max Profit" picks averaged 10.5 wins this week, as some trailing entries took upset chances to come back that mostly did not work out. The weekly picks averaged 11.0 wins.
The biggest swing outcome was Pittsburgh winning on Monday Night Football. Most of our picks had Cleveland, and the line moved to Pittsburgh after the early Sunday kickoff deadline in most pools.
Spread Pools
The Packers were the most popular spread pick and covered even after a big line jump. After that, the popular picks were a mixed bag. Most favorites won, but some (Tampa Bay, Philadelphia, LA Rams) failed to cover the closing line.
The public averaged 8.0 wins in spread pools.
Our season-long recommendations averaged 8.2 wins, while the weekly pick sets came in ahead of that at 9.1 wins, thanks to going against some of the publicly popular picks.
---
FYI
Important Notes About Picks We Highlight
Keep in mind three things about picks we highlight in this article:
Optimal pick strategy balances risk and potential reward.
Maximizing your odds to win a pick'em pool generally requires identifying the best opportunities to differentiate your picks. You want to fade the public while taking on minimal risk to do so. For example, taking a favorite being picked by less than 50% of your opponents is usually a great opportunity.
Not all of the picks we highlight are suitable for all pools.
Don't be surprised if our Football Pick'em Picks product doesn't recommend several of the picks we mention in this post—especially the upset picks. The best pick strategy for your pool depends on a number of factors such as your pool's size, rules, and prize structure (a concept that's covered in part by our article on season vs. weekly prize strategy).
Picks we highlight may no longer look compelling by game day.
We analyze and write about picks using data (e.g. win odds and pick popularity), but that data can change up until kickoff. A key player being ruled out or a shift in public sentiment about a team can erase the differentiation value that a pick initially offered.
We'll provide periodic updates in this post if major data changes occur for picks we've mentioned, so make sure to check back. However, there's a much better way to stay on top of changing data trends throughout a week, which all sharp players need to do.
Our Football Pick'em Picks product automatically imports the latest win odds and pick popularity data multiple times per day. You can see the latest information in the Data Grid.
After you generate customized picks for your pool, you can also update those pick recommendations whenever you want via the My Pool Picks screen. The updated picks will incorporate the most recent data we have.
---
FYI
About Our Pick'em Pool Advice
What makes our football pick'em advice different from other sites is that it isn't generic.
In any given week, the best picks for your football pool depend on a number of variables. Your pool's size, rules, and prize structure all influence strategy, as do factors like your place in the standings and how many weeks are left.
So many different scenarios exist that it's impossible to give pick advice that makes sense for every one. An underrated six-point underdog could be a great pick in a big weekly prize pool and a terrible pick for a small season-long pool where you're currently in the money.
Technology to the rescue
Other sites don't understand this stuff, or they just ignore it because it's complicated and hard. We're the only site that has built algorithms to evaluate these strategy factors and provide you with customized pick recommendations every week.
The result? Every year, an average of 71% of our subscribers win a prize in a football pick'em contest.
So if you want to see all the Week 1 picks we recommend for your football pool, you need to use our Football Pick'em Picks product.
Why we write this column
At the same time, we know our subscribers like to understand the rationale behind picks the product may recommend, especially when those picks go against the grain. So over the years, we've started to write more about the "whys" behind our approach.
We also utilize this column to help educate our readers about pick'em pool strategy. We highlight tactics proven to result in more pick'em pool wins over the long term and point out common pitfalls to avoid.
Our goal with these articles is to dig deeper into pick'em pools than anyone else by using an objective, data-driven lens. We'll recap key results from the previous week, identify the most compelling value picks of the current week, and evaluate the implications of breaking news on pick'em strategy.
We hope you enjoy reading, and we encourage you to check out more of our football pick'em strategy articles.
---
Wednesday 1/5
Joe Burrow and Joe Mixon Out for Cincinnati
Bengals RB Joe Mixon has been placed on the COVID-19 list, and Joe Burrow is going to sit out the season finale as well after Cincinnati clinched the AFC North last week. The Bengals can still technically get the No. 1 seed in the AFC, but it would require several pretty big upsets, including Kansas City losing to Denver and Tennessee losing to Houston.
The Bengals appear to prefer being fresh rather than hoping for a minute chance of getting a first-round bye. As a result, the point spread in this one has shifted dramatically.
The Browns are now favored by six points and have 74 percent win odds. With the popularity numbers showing that 81 percent of entries are picking Cincinnati, Cleveland is currently a value favorite. However, you should expect those pick numbers to shift as well.
Meanwhile, the Browns will start Case Keenum at QB instead of Baker Mayfield. That move did not have as big an impact on the spread given how poorly Mayfield has played recently.
---
Thursday 1/6
Tampa Bay Is the Most Popular Spread Pick
The Tampa Bay Buccaneers are at 83 percent popularity in spread pools, making them the most popular pick of the week and one of the 10 most popular spread picks of the season.
So far this year, teams with 80-plus percent popularity in spread pools are 2-7 ATS (1-6 ATS if not accompanied by big line moves in the popular team's favor).
We featured Carolina as one of our upset picks in our Week 18 Upset Picks BetIQ Daily article.
The other popular spread picks this week are:
Green Bay (76%)
Kansas City (73%)
Minnesota (73%)
Arizona (72%)
Cincinnati (70%)
The Cincinnati one is notable in that it's coming against a heavy line move toward Cleveland. Bengals QB Joe Burrow and RB Joe Mixon have both been declared out, and Browns QB Baker Mayfield won't be throwing incomplete passes and taking sacks since he's out as well.
---
Sunday 1/9
Reviewing The Week 18 Dynamics Entering Sunday
The NFL regular season comes to a close today, with a full schedule of 14 games, culminating with Chargers-Raiders for the final AFC playoff spot tonight.
Cleveland Is Still a High-Value Favorite Because of Bengals' Absences
The Browns are the highest-value play on the board, as they are a 5.5-point favorite against Cincinnati.
The Bengals clinched the AFC North last week, so they'll be without QB Joe Burrow (rest for playoffs) and RB Joe Mixon (COVID-19) in this game. They could choose to rest other key players, especially since Kansas City's win over Denver means they can only be the No. 3 or No. 4 seed in the AFC.
Right now, only about 33 percent of the public is taking Cleveland. Lock in the Browns and look for upset picks elsewhere if you need them today to move up your pool's standings.
Detroit Is the Highest-Value Upset Play
Detroit-Green Bay is another game where the public is skewed heavily because of the overall season results, but not the motivations for Week 18. The Packers are only favored by three points, yet 89 percent of the public is taking them.
Aaron Rodgers will start, but that doesn't mean he will finish the game. This could look more like a preseason game from the Packers' perspective, where they get Rodgers his first-half reps but pull most of their key players as the game progresses.
Meanwhile, Lions QB Jared Goff is expected to play after missing the last two weeks.
If You Need Other Upset Picks
If you are within striking distance of a prize but need to take a chance or two, the most likely upset recommendations after Detroit are Miami and Chicago.
There are five games where the favorite has win odds of between 64 and 66 percent, and New England (vs. Miami) and Minnesota (vs. Chicago) are the two where the favorite is most popular, with both having popularity above 85 percent. That makes them the best bet to take an underdog play opposite how most of the entries you are chasing might pick.
Chargers/Raiders Could Be a Final Swing Game
The season finale is a closer contest. The Chargers are three-point favorites, and the public popularity (63 percent on Chargers) largely mirrors the win odds.
If you get to the final game and are still in play for a prize spot, you should generally consider:
Taking the Chargers if leading
Taking the Raiders if trailing only one or two entries; but
Staying on the Chargers if one win behind multiple entries, where you have a chance of tying for a prize spot, on the theory that some of the leaders will pick the Raiders and you could catch them.
Spread Pools
Tampa Bay is the most popular pick (84%) in spread pools. Minnesota and Green Bay also have fairly high popularity (77%), so you might see contrarian plays against each of those options in weekly contests.
The Browns will also be a frequent recommendation, especially in pools where the line is significantly different from the closing number. The Bengals are still a popular pick, and the line has moved strongly in the Browns' favor.
Our top model spread plays include Miami, Tennessee, Cleveland, Carolina, and Detroit, so you should see those picks as well in many pools.