5 Value Picks For NFL Week 17 Pick'em and Confidence Pools (2020)
NFL Week 17 value picks include several games where the public may not be fully accounting for resting starters and/or motivational impacts.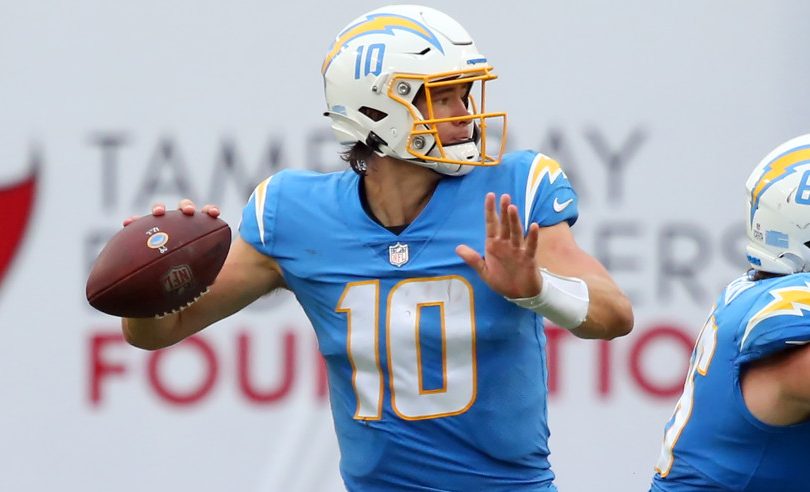 Justin Herbert and the Chargers look to close out the regular season on a win streak, playing against Kansas City (Photo by Cliff Welch/Icon Sportswire)
The final week of the 2020 NFL regular season is here, and with it come plenty of value opportunities because of differing team motivations. The public may not be as keenly aware of which teams are trying all out and which teams are resting players.
As you start to think about your NFL Week 17 picks, the analysis below will help you make smarter decisions in your NFL office pool or in online contests like ESPN Pigskin Pick'em, Yahoo Pro Football Pick'em, and CBS Sports Football Pick'em.
The foundation of this pick analysis is the Data Grid feature of our Football Pick'em Picks product, the only tool on the market that customizes picks to maximize your edge in football pick'em and confidence pools.
Recap of Last Week's Picks
The value picks we highlighted came up mostly empty in Week 16, going 1-4. The only win was one of the upset picks, as Carolina beat Washington. Meanwhile, Indianapolis blew a big lead to Pittsburgh, the Rams lost to the Seahawks, and the Eagles lost to the Cowboys. And finally, Houston lost as a bigger favorite.
Not much to say except these are the breaks sometimes — if you're trying to make up some ground in your pick'em pool with time running out, you've got to look to aggressively differentiate your picks and hope that a good number of underrated and unpopular teams win. That didn't happen in Week 16.
Hopefully that luck evens out in Week 17, as there are some big differences between the public and the oddsmakers.
Five NFL Week 17 Picks You Must Consider
As usual, we've assessed the Week 17 picks below according to where they fall on the risk vs. reward spectrum.
Just keep in mind that not all of these picks are suitable for all pools. How much risk you need to take depends on where you are in the standings and whether you need to make up ground or not in the final week.
Note: Point spreads, win odds and pick popularity data can shift as game day nears, and it's quite possible that one or more of the teams below will no longer be a good value pick later in the week. Use our Football Pick'em Picks product to get our latest recommendations for your pool.
1. Los Angeles Chargers (at Kansas City)
Point Spread: -3.5
TR Win Odds: 62%
Pick Popularity: 20%
Category: Value Favorite
The Kansas City Chiefs are 14-1, and everyone is picking them again this week. The problem is that Kansas City is expected to rest starters, with nothing to play for and the top seed locked up. It's actually the Chargers who are the betting favorite right now, by 3.5 points.
That means you have a pretty unusual situation in pick'em pools. You can get a team favored by more than a field goal who is barely being picked right now, as 80% of all picks are on the Chiefs so far.
We'll see if the public catches on as the week continues, but right now, the Chargers are a big value.
Get access to all football pick'em pool content, picks and tools
Free subscription offers now available!
Already a premium subscriber? Sign in for access