Week 15 Football Pick'em Strategy & Advice (2021)
The Week 15 Pick'em value picks include a value favorite in the NFC East and some close matchups where you can pick opposite the majority.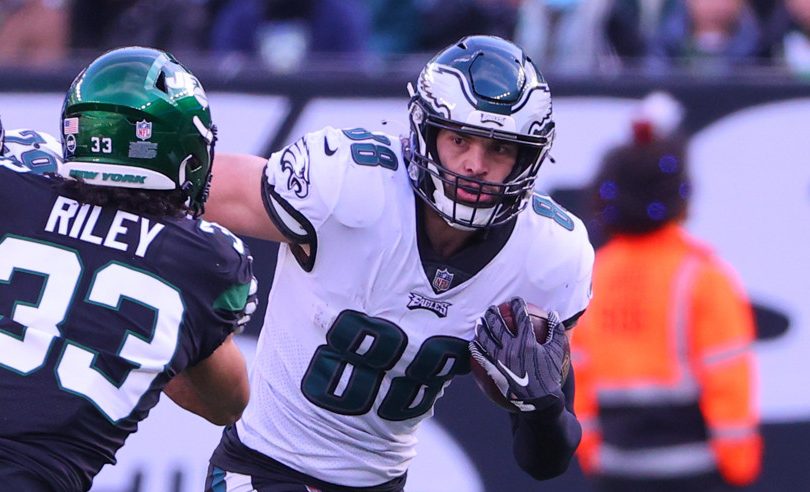 The only Dallas that Philadelphia fans root for (Rich Graessle/Icon Sportswire)
Here, we'll track Week 15 news and discuss the implications for maximizing your edge in NFL and college football pick'em contests. We'll also provide some of the rationale behind picks potentially recommended by our Football Pick'em Picks product.
Week 15 Pick'em Updates
We will continue to add to this post until Sunday of NFL Week 15, so check back for daily updates. Here's what's available now:
---
Tuesday 12/14
Week 15 Early Value Picks Outlook
Here's our early look at some potential value plays in NFL pick'em pools for Week 15.
Philadelphia Eagles (vs. Washington Football Team)
Line: -5.0
TR Win Odds: 68%
Popularity: 67%
Philadelphia comes into this NFC East showdown off a bye and getting some value as a decently sized favorite.
For comparison, Green Bay is favored by 4.5 points against Baltimore, and 88 percent of the public is taking Green Bay. So about three times as many entries are picking Washington in an upset as are taking Baltimore.
Take advantage of that value and stick with the favored Eagles here.
Indianapolis Colts (vs. New England Patriots)
Line: -2.0
TR Win Odds: 53%
Popularity: 42%
The Colts are the betting favorite at home against the Patriots, who have won seven games in a row. The Colts have plenty to play for, though, as they're in a logjam for the final AFC playoff spot after winning four out of their last five games.
With the public treating the Patriots as the favorite, there's a little value here going the opposite way.
Denver Broncos (vs. Cincinnati Bengals)
Line: -1.5
TR Win Odds: 53%
Popularity: 47%
This one is just a moderate value play right now, and it could slide off depending on line movement or popularity shifts.
But as the favorite being picked less than half the time, Denver is a solid pick against the Bengals in a key game between AFC teams sitting at 7-6.
Pittsburgh Steelers (vs. Tennessee Titans)
Line: +1.5
TR Win Odds: 48%
Popularity: 33%
There's probably no bigger disconnect between the average fan and the betting market than on Tennessee. The spread is fairly even in this one, but the public is taking the Titans at a two-to-one clip.
It's another toss-up type game where you can play the less popular side if you need to catch up in a season-long pool or want to give yourself a chance to move past lots of entries in a weekly contest.
Los Angeles Chargers (vs. Kansas City Chiefs)
Line: +3.0
TR Win Odds: 41%
Popularity: 23%
Finally, we'll close with a potential upset play in weekly contests on Thursday Night Football.
The Chiefs and Chargers meet in a key AFC West game, as the Chargers won the first matchup. But with Kansas City winning six straight, the public is heavily on the Chiefs.
If you need an upset play in larger contests or need to take a big leap, consider the Chargers in this one.
---
Tuesday 12/14
Week 14 Results Summary
In Week 14, the favorites mostly won and covered. Even some smaller favorites that were not popular covered, which should make for a big week in game-winner pools.
Game-Winner Pools
In game-winner pools, the public averaged 10.2 wins in Week 14. The biggest upset by spread was Arizona losing to the Rams on Monday Night Football.
With favorites prevailing and some key smaller favorites winning when they were unpopular, our game-winner picks excelled in Week 14. San Francisco beating Cincinnati in overtime, Cleveland holding on against Baltimore, and Dallas beating Washington as a value favorite were all big results.
Did that involve some close-game luck? Yes, but it's just evening out.
Back in Week 9, we did a recap of the underperforming value picks at the time, and said "We'll continue to make the picks that provide the best payoff when they hit, as luck evens out over time, and our performance over time is testament to that. The main thing we need now is to stop losing so many key games in the final moments."
Overall, the season-long "Max Profit" picks (11.6.wins) gained nearly 1.5 wins on average over a typical entry, while the weekly picks (13.5 wins on average) were nearly perfect, finishing with the Rams' upset play. We expect some large weekly prize win rates this week.
Since we posted that Week 9 update about the performance of our weekly pick sets, subscribers have reported winning a prize in at least 10 percent of their pools every week. We hope you didn't jump off when the results were down.
Spread Pools
When the favorites do well, that's good for our game-winner picks, but if large favorites cover, that isn't good for weekly spread picks. The public tends to lean on favorites, and as a result, it averaged 8.0 wins in 14 games. The four most popular public picks all covered.
Our season-long recommendations averaged 6.8 wins, while the weekly pick sets came in below that at 6.1 wins, in a week where most contrarian plays did not work out.
Two of our three playable spread picks by our betting models did cover, as did some others where line value was a factor, so it's possible those in smaller "Pick 5" contests did relatively better. But overall, it was a down week for the spread picks.
---
FYI
Week 14 Was the Start of Pick Strategy Changes in Some Pools
With five weeks to go, Week 14 was the week where your pick strategy may change in season-prize pools depending on which goal you selected (Avoid Bad Finish versus Max Profit).
We are now over 70 percent of the way through the season, which means we're entering the endgame. It's time to try to make a move if you are outside the money in season-long contests. (You can read more about endgame strategy and how it might impact your picks here.)
You should evaluate whether you want to go for Max Profit or Avoid a Bad Finish. The most common result when you become a little riskier with picks is that you drop in the standings.
The best way to come back and get in the money in a pool is also to take those chances when there is a relative payoff, so you have to risk something to get something.
If where you finish—even if it isn't in the money—is important to you for other reasons, such as finishing above your coworker or family member, now is the time to adjust your pick goals by editing your pool.
---
FYI
Important Notes About Picks We Highlight
Keep in mind three things about picks we highlight in this article:
Optimal pick strategy balances risk and potential reward.
Maximizing your odds to win a pick'em pool generally requires identifying the best opportunities to differentiate your picks. You want to fade the public while taking on minimal risk to do so. For example, taking a favorite being picked by less than 50% of your opponents is usually a great opportunity.
Not all of the picks we highlight are suitable for all pools.
Don't be surprised if our Football Pick'em Picks product doesn't recommend several of the picks we mention in this post—especially the upset picks. The best pick strategy for your pool depends on a number of factors such as your pool's size, rules, and prize structure (a concept that's covered in part by our article on season vs. weekly prize strategy).
Picks we highlight may no longer look compelling by game day.
We analyze and write about picks using data (e.g. win odds and pick popularity), but that data can change up until kickoff. A key player being ruled out or a shift in public sentiment about a team can erase the differentiation value that a pick initially offered.
We'll provide periodic updates in this post if major data changes occur for picks we've mentioned, so make sure to check back. However, there's a much better way to stay on top of changing data trends throughout a week, which all sharp players need to do.
Our Football Pick'em Picks product automatically imports the latest win odds and pick popularity data multiple times per day. You can see the latest information in the Data Grid.
After you generate customized picks for your pool, you can also update those pick recommendations whenever you want via the My Pool Picks screen. The updated picks will incorporate the most recent data we have.
---
FYI
About Our Pick'em Pool Advice
What makes our football pick'em advice different from other sites is that it isn't generic.
In any given week, the best picks for your football pool depend on a number of variables. Your pool's size, rules, and prize structure all influence strategy, as do factors like your place in the standings and how many weeks are left.
So many different scenarios exist that it's impossible to give pick advice that makes sense for every one. An underrated six-point underdog could be a great pick in a big weekly prize pool and a terrible pick for a small season-long pool where you're currently in the money.
Technology to the rescue
Other sites don't understand this stuff, or they just ignore it because it's complicated and hard. We're the only site that has built algorithms to evaluate these strategy factors and provide you with customized pick recommendations every week.
The result? Every year, an average of 71% of our subscribers win a prize in a football pick'em contest.
So if you want to see all the Week 1 picks we recommend for your football pool, you need to use our Football Pick'em Picks product.
Why we write this column
At the same time, we know our subscribers like to understand the rationale behind picks the product may recommend, especially when those picks go against the grain. So over the years, we've started to write more about the "whys" behind our approach.
We also utilize this column to help educate our readers about pick'em pool strategy. We highlight tactics proven to result in more pick'em pool wins over the long term and point out common pitfalls to avoid.
Our goal with these articles is to dig deeper into pick'em pools than anyone else by using an objective, data-driven lens. We'll recap key results from the previous week, identify the most compelling value picks of the current week, and evaluate the implications of breaking news on pick'em strategy.
We hope you enjoy reading, and we encourage you to check out more of our football pick'em strategy articles.
Wednesday 12/15
Cleveland Game Now Off the Board With Latest COVID News
The Cleveland Browns have placed six more players on the reserve/COVID-19 list, including QB Baker Mayfield. Head coach Kevin Stefanski has also tested positive.
On Tuesday, the Browns placed eight players, including four offensive starters, on the reserve/COVID-19 list.
The Browns are scheduled to face the Las Vegas Raiders on Saturday afternoon. The line was originally at Cleveland -5, but it moved to -3 with yesterday's news. With Mayfield and Stefanski now out as well, the line has been pulled off the board at several sportsbooks.
The NFL has publicly maintained the position that the game will go forward as scheduled, but that may be untenable if the Browns don't have enough players to safely field a team.
---
Thursday 12/16
Philadelphia Now a Value Favorite With Washington Having COVID Issues
Philadelphia is now a value favorite after a significant line move. The Eagles now have win odds of 80 percent and pick popularity of 73 percent.
The Eagles' jump in win odds is because Washington has placed 21 players on the reserve/COVID-19 list, including several starters. Add in other injury issues, and Washington is coming into this game with a lot of disadvantages.
Expect the Eagles to show up as a high0-confidence play in weekly pick sets now.
Meanwhile, Week 15 kicks off tonight with the Chiefs and Chargers. The Chiefs are a 3-point favorite and will be the pick in game-winner pools, unless you are trying to mount a comeback from a trailing position.
You could see the Chargers as a recommendation in weekly contests and if you are trailing by enough wins and need to take some additional risk.
---
Friday 12/17
COVID Front and Center This Week and Driving Value Plays
There's no way around it: The biggest story this week is the leaguewide spike in COVID-19 infections, and the NFL's refusal to adapt the schedule. That makes for what could be some interesting games when it comes to competitiveness.
It also means some value in pick'em pools by playing against the teams facing the most absences.
Right now, three of our biggest value plays are on teams facing opponents with major COVID-19 issues:
Las Vegas is now a value favorite with a majority still picking Cleveland.
Philadelphia is an extremely large favorite coming at value, given the public's pick popularity on Washington.
Seattle is a value gamble now worth considering in large pools, given the extremely low pick rate on Seattle (7%) compared to the win odds (31%) due to the Rams' absences.
---
Sunday 12/19
Reviewing The Week 15 Dynamics Entering Sunday
Before we get to this week, a quick word on last week, where it looks like we set a record.
Based on all of your reports, 40 percent of entries in weekly prize pools won last week. That's an incredible number, and the biggest since we started tracking in 2014. (Three other previous weeks exceeded 30 percent.)
In game-winner pools, the number was 57 percent, meaning over half of those participating in a weekly pool won a prize last week.
We just want to set expectations right now: That is likely NOT to happen this week, and the uncertainty of this week with all the COVID-19 news has created some chaos.
One Value Favorite With a Win, Three Others to Come
The Colts were a slight favorite, but unpopular, last night, so that was a good result for value plays. We have three other Value Favorites this week:
Pittsburgh (51% win odds, 32% popularity)
Denver (60% win odds, 45% popularity)
Jacksonville (68% win odds, 68% popularity)
The Value Gambles Have Gone Away
The Chargers were one of our few value gambles (at lower confidence), but with teams like Pittsburgh and Denver being treated like underdogs, you don't have to necessarily add more risk. Those picks can differentiate your entry.
Add in that there are a lot of big favorites this week, and the options on picking upsets are somewhat limited.
Las Vegas might have been in consideration, but Cleveland's popularity has also dipped. The Browns' win odds have also rebounded with the game being moved to Monday, as they're likely to get more players back from the reserve/COVID-19 list.
Spread Pools
Green Bay is the most popular pick (81 percent) in spread pools. But we have seen significant line movement based on Lamar Jackson's questionable status, so the popularity is at least tied to a big line jump and the public grabbling value there.
The Buffalo Bills are another popular pick where the line has also moved significantly in their favor compared to most contest lines.
The top five most popular picks are all games where there has been a line move in the direction of the favorite (and popular team), which is something that we don't always see. So, playing against popular picks would involve also playing against line value.
Our top model spread play is Detroit, where the line has held steady. Given Arizona's moderate popularity there, you should expect to see plenty of Detroit recommendations ATS.
---
Monday 12/20
Strategy With Four Games Remaining
Instead of one game remaining heading into Monday Night Football, we have four this week. If you are in a weekly pool, this presents a unique opportunity to adjust your strategy to the results so far and decide how to play each game as the results change.
The Raiders are the biggest value play according to our public pick data, as more entries are still on Cleveland. So that one's more of a clear choice in game winner pools.
After that, you can decide whether to load up on the favored teams, or take some chances, depending on your positioning in the pool.
Of the three remaining games, picking Seattle presents the biggest value opportunity if you need a result to win the week, as only 8% of the public is taking the Seahawks.