5 Value Picks For NFL Week 15 Pick'em and Confidence Pools (2020)
NFL Week 15 offers an intriguing set of contrarian upset picks, which is a good thing if you need to make up ground in your pick'em pool.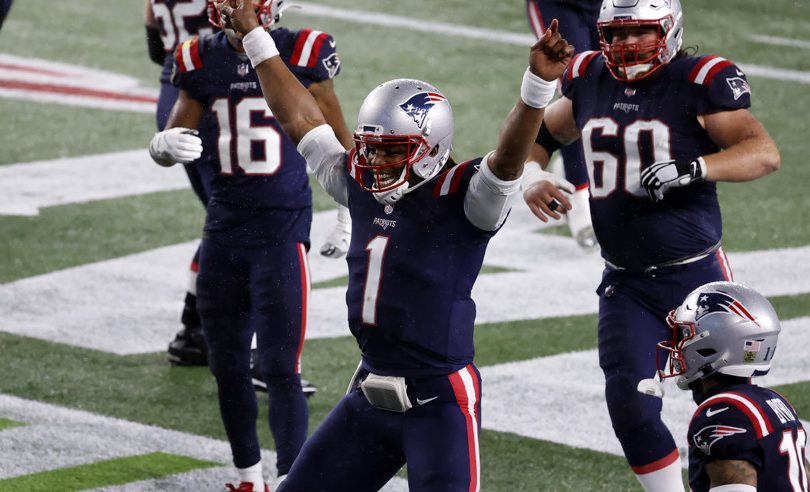 Cam Newton will look to take down Miami's playoff hopes this week (Photo by Fred Kfoury III/Icon Sportswire)
Entering NFL Week 15, it's hard to believe that there are only three weeks left in a season unlike any other we have seen. At this point, you should have a pretty good idea where you stand in your NFL pick'em pools.
Time To Adjust Your Pick Strategy?
Depending on your place in the standings, you may now benefit from adjusting your pick strategy depending on what your goals are, and what you need to do over the last three weeks to secure a prize position.
We have an article discussing end-game strategy in football pick'em pools that may help you think through some of the decisions you may need to make.
(For example, you don't want to make the same types of picks if you are leading your pool, than if you are several points outside of a prize position.)
As you start to think about your NFL Week 15 picks, the analysis below will help you make smarter decisions in your NFL office pool or in online contests like ESPN Pigskin Pick'em, Yahoo Pro Football Pick'em, and CBS Sports Football Pick'em.
The foundation of this pick analysis is the Data Grid feature of our Football Pick'em Picks product, the only tool on the market that customizes picks to maximize your edge in football pick'em and confidence pools.
Recap of Last Week's Picks
Last week's highlighted picks went 4-2, with the top four value picks (Chiefs, Cowboys, Bills and Colts) all winning. The Texans lost in Chicago as an unpopular tossup, and the higher-risk value upset play of the Giants also lost.
For those same six games, the public averaged 3.8 wins, so our performance again put us further ahead of the masses.
Five NFL Week 15 Picks You Must Consider
As usual, we've assessed the Week 15 picks below according to where they fall on the risk vs. reward spectrum.
This week has three different groups of games, all with roughly equal number of games:
Five games have double-digit favorites with extremely high pick popularity. You probably want to stick with those favorite in these games, unless you are in a very large pool and are needing to make a big move.
Five games feature teams favored by 6 or 7 points — also generally games where you will want to pick the favorite.
Six games feature a point spread of 4 points or less, but in some of them, the public is picking a team like they are a heavy favorite, which presents some contrarian opportunities. How many of these opportunities you want to bet on depends on where you are in the standings and how much risk you're willing to take.
Note: Point spreads, win odds and pick popularity data can shift as game day nears, and it's quite possible that one or more of the teams below will no longer be a good value pick later in the week. Use our Football Pick'em Picks product to get our latest recommendations for your pool.
1. New England (at Miami)
Point Spread: +1
TR Win Odds: 51%
Pick Popularity: 16%
Category: Unpopular Tossup
Our first game is the division matchup between the Patriots and Dolphins, where the public is very heavily on Miami, even though the spread on this one is about even. In fact, it's the closest game by point spread this week, and the only game with a spread under a field goal right now.
With the pick distribution going 5 to 1 in favor of Miami, New England provides a great differentiating pool pick if you are needing to make up a small amount of ground on a leader in your pool.
The Patriots are playing to keep alive any long shot hope of a playoff berth, while Miami is also in what amounts to close to a must-win game for their playoff chances. But the point spread in this game, which used to be New England +2.5, has recently moved in New England's favor.
Get access to all football pick'em pool content, picks and tools
Free subscription offers now available!
Already a premium subscriber? Sign in for access