6 Value Picks For NFL Week 14 Pick'em and Confidence Pools (2020)
With a number of close point spreads in NFL Week 14, a smart pick strategy focuses on small value opportunities across multiple games.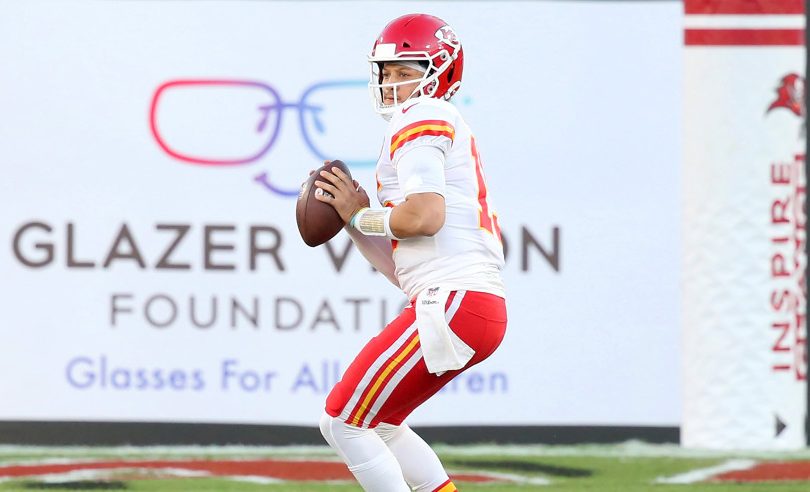 Patrick Mahomes is back in the Super Bowl (Photo by Cliff Welch/Icon Sportswire)
Before we get into the Week 14 picks, we wanted to let you know that with a month to go, your best strategy may depend on where you are in the standings in your pick'em pool — whether you are protecting a lead, or trying to chase down the leader or surge into a money position.
We have an article discussing end-game strategy in pick'em pools that may help you think through some of the decisions you may need to make.
As you start to think about your NFL Week 14 picks, the analysis below will help you make smarter decisions in your private NFL office pool or in online contests like ESPN Pigskin Pick'em, Yahoo Pro Football Pick'em, and CBS Sports Football Pick'em.
The foundation of this pick analysis is the Data Grid feature of our Football Pick'em Picks product, the only tool on the market that customizes picks to maximize your edge in football pick'em and confidence pools.
Recap of Last Week's Picks
Last week's picks again went 4-1, with the top four value picks (Rams, Lions, Colts, Dolphins) all hitting, while the Chargers lost. Sure, it was 45-0, but a loss is a loss.
For comparison on those same set of five games, the public averaged getting 2.7 wins across those five games, so four wins was another significantly positive outcome.
Five NFL Week 14 Picks You Must Consider
As usual, we've assessed the Week 14 picks below according to where they fall on the risk vs. reward spectrum.
This week features eight games where the spread is currently below 4 points, offering lots of options to differentiate your entry from your opponents in game winner based pools.
However, it's worth noting that in general, there aren't many bigger upset picks in Week 14 that really stand out in terms of being great risk/reward propositions.
Note: Point spreads, win odds and pick popularity data can shift as game day nears, and it's quite possible that one or more of the teams below will no longer be a good value pick later in the week. Use our Football Pick'em Picks product to get our latest recommendations for your pool.
1. Kansas City Chiefs (at Miami)
Point Spread: -7.5
TR Win Odds: 76%
Pick Popularity: 86%
Category: Heavy Favorite at a Reasonable Price
For the first time this year, Kansas City shows up in our value picks article. That's not because we think that the Chiefs are a bad pick each week, but rather they have been mostly a bigger favorite, with very high pick popularity, so pointing out that you should pick them isn't exactly mindblowing research.
This week, however, just enough of the public is going with the Miami Dolphins upset pick to mention it, perhaps because of Kansas City's closer-than-expected win against Denver last week. There have been only three other games this year where the Chiefs have had pick popularity below 90%, and the point spreads in those games against the Ravens, Bucs, and Bills were all smaller than this one.
It's rare that you will get Kansas City with a spread of around a touchdown but pick popularity this low. So don't be tempted to follow the 14% of players making a semi-trendy upset pick here — there is much better upset pick fodder elsewhere.
Get access to all football pick'em pool content, picks and tools
Free subscription offers now available!
Already a premium subscriber? Sign in for access