5 Value Picks For NFL Week 12 Pick'em and Confidence Pools (2020)
No team is a huge favorite in NFL Week 12, yet the public is still heavy on chalk. That presents some compelling value upset picks.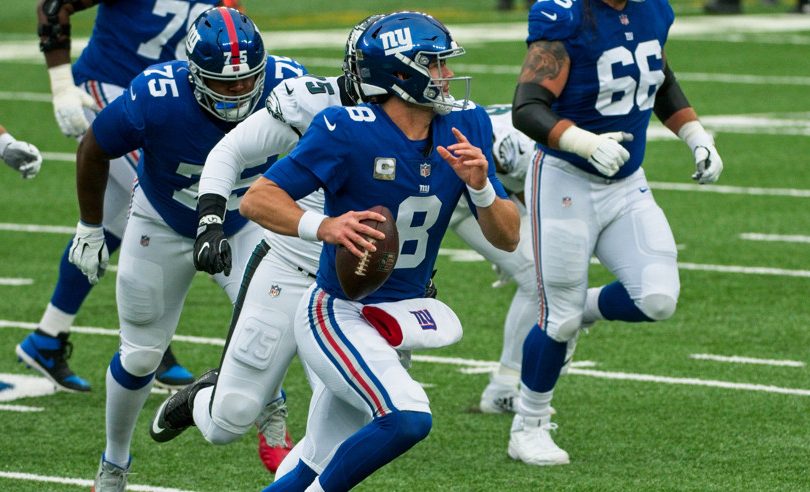 Daniel Jones is healthy for the Giants, and Joe Burrow is out for Cincinnati (Photo by Andy Lewis/Icon Sportswire)
Thanksgiving Week is upon us, and we are thankful for our health, for all our great readers and subscribers who allow us to do what we do, and also for the great run of value picks that have been hitting over recent weeks!
As you start to think about your NFL Week 12 picks, the analysis below will help you make smarter decisions in your private NFL office pool or in online contests like ESPN Pigskin Pick'em, Yahoo Pro Football Pick'em, and CBS Sports Football Pick'em.
The foundation of this pick analysis is the Data Grid feature of our Football Pick'em Picks product, the only tool on the market that customizes picks to maximize your edge in football pick'em and confidence pools.
Recap of Last Week's Picks
Week 11 was another big week for the value picks we highlighted in this post, and for the second straight week, the public got hammered taking some pretty extreme positions that ended up being wrong.
We highlighted five games last week, and those teams went 4-1, even though three of them were betting underdogs by Sunday. The only loss was the favored Ravens losing (in overtime, no less) to the Titans. In those same five games, the public averaged a measly 1.3 wins.
These value picks powered another strong week for subscriber pick recommendations in our Football Pick'em Picks product, which on average finished more than 2.5 wins better than the public across all 14 NFL games.
Five NFL Week 12 Picks You Must Consider
As usual, we've assessed the Week 12 picks below according to where they fall on the risk vs. reward spectrum.
This week, we get three Thursday games on Thanksgiving (…we hope, depending on COVID-19 situations), every NFL team in action (no bye weeks), and no huge favorites, as no team is favored by more than 7.5 points as of Tuesday. Two of the Thanksgiving games make an appearance on our value picks list.
Note: Point spreads, win odds and pick popularity data can shift as game day nears, and it's quite possible that one or more of the teams below will no longer be a good value pick later in the week.
1. New York Giants (at Cincinnati)
Point Spread: -5.5
TR Win Odds: 70%
Pick Popularity: 75%
Category: Favorite at a Reasonable Price
The New York Giants seem to be catching the Cincinnati Bengals at the right time, which means they get to play Cincinnati with either Ryan Finley or Brandon Allen now at quarterback after starter Joe Burrow suffered a season-ending injury last Sunday.
While the public is taking the Giants more often than not, as of right now, it appears as if not everyone is fully accounting for the impact of Burrow's injury on the Bengals' chances of winning.
In a week in which a lot of teams are favored by between 5 and 7.5 points, the public is heavy on the favorites in Week 12 after two weeks of getting beat up picking popular underdogs. Right now, the Giants have the fourth-highest win odds of the week, but are only the 13th-most popular pick in pick'em pools.
So you're getting a decent favorite with the Giants at a relative popularity discount compared to the other bigger favorites this week.
Get access to all football pick'em pool content, picks and tools
Free subscription offers now available!
Already a premium subscriber? Sign in for access