5 Value Picks For NFL Week 11 Pick'em and Confidence Pools (2020)
The public still refuses to believe in Indianapolis, while a very popular NFL Week 11 pick has feasted on good luck that may soon run out.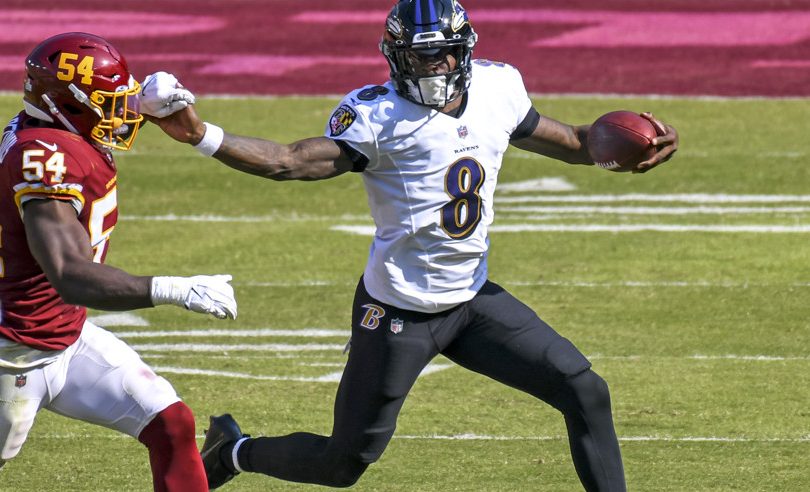 Lamar Jackson and the Ravens are looking to continue road dominance (Photo by Mark Goldman/Icon Sportswire)
On the heels of a juicy past week for value picks, NFL Week 11 provides some more opportunities to differentiate your pick'em pool entry from the crowd in smart ways.
In particular, the public isn't always good at understanding when NFL teams are winning for reasons that are more repeatable, and when teams are likely just benefiting from some recent lucky breaks. You can exploit that knowledge gap this week.
As you start to think about your NFL Week 11 picks, the analysis below will help you make smarter decisions in your private NFL office pool or in online contests like ESPN Pigskin Pick'em, Yahoo Pro Football Pick'em, and CBS Sports Football Pick'em.
The foundation of this pick analysis is the Data Grid feature of our Football Pick'em Picks product, the only tool on the market that customizes picks to maximize your edge in football pick'em and confidence pools.
Recap of Last Week's Picks
Week 10 was a stellar week for the value picks we highlighted in this post, and fading the public paid off in spades.
Four teams we called out were either favored or toss-ups: Indianapolis, the LA Rams, Arizona, and Minnesota. Those four teams went 4-0, and fortune also went our way as Arizona executed one of the plays of the year to beat the Bills with no time left.
Week 10 was a perfect illustration of why paying attention to pick popularity matters. While those four teams went 4-0, the public only got a measly 1.4 wins on average from that same set of games. When it plays out, that kind of setup in key swing games is what greatly increases your chance to win weekly prizes and/or shoot up the standings in season-long contests.
In the end, it didn't much matter that our value gamble play of the Chargers against Miami didn't hit, because there were few upsets last week and the public was on the wrong side of several favorites and toss-ups.
Five NFL Week 11 Picks You Must Consider
As usual, we've assessed the Week 11 picks below according to where they fall on the risk vs. reward spectrum.
In general, Week 11 features several key matchups between teams fighting for playoff positioning where you can find some value on an underrated side.
Note: Point spreads, win odds and pick popularity data can shift as game day nears, and it's quite possible that one or more of the teams below will no longer be a good value pick later in the week. If you want to see the latest numbers and our most recent recommendations for your pool, use our Football Pick'em Picks product.
1. Indianapolis (vs. Green Bay)
Point Spread: -2.5
TR Win Odds: 55%
Pick Popularity: 34%
Category: Value Favorite
There may not be another team this season for which the public has been in such frequent disagreement with the oddsmakers as the Colts.
We've seen Indianapolis appear as a value play in at least half of the weeks played so far, most recently last week, when less than 20% of the public was picking the Colts against the Titans even though Indy was the slight favorite in the betting markets.
Green Bay has certainly been a really good team in 2020. But the public is still sleeping on the Colts and especially how good their defense has been when all of the key players are healthy.
Indianapolis ranks No. 1 in fewest yards allowed per game and ranks in the Top 5 in pretty much every defensive category. They also rank fifth overall in net yards per pass on offense, and despite Philip Rivers being viewed as a turnover machine, Indy ranks near the the top of the league in turnovers as well.
This is a matchup between two top contenders and Indianapolis is at home. More importantly, getting a favorite at a popularity discount is one of the best situations you can hope for in a pick'em pool.