5 Value Picks For NFL Week 10 Pick'em and Confidence Pools (2020)
NFL Week 10 presents several value pick opportunities in key division matchups, and tests your resolve in trusting numbers over emotion.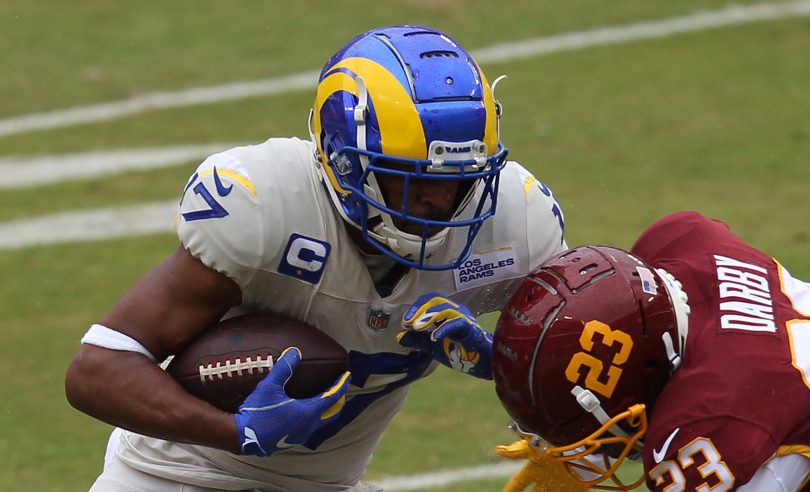 Robert Woods and the Los Angeles Rams are an unpopular pick against Seattle, but are favored (Photo by Lee Coleman/Icon Sportswire)
NFL Week 10 features several relatively close matchups in division games where the public is heavily on one team, providing value pick opportunities. In fact, there are not one, but two games on the schedule where the public is taking the betting underdog the majority of the time.
As you start to think about your NFL Week 10 picks, the analysis below will help you make smarter decisions in your private NFL office pool or in online contests like ESPN Pigskin Pick'em, Yahoo Pro Football Pick'em, and CBS Sports Football Pick'em.
The foundation of this pick analysis is the Data Grid feature of our Football Pick'em Picks product, the only tool on the market that customizes picks to maximize your edge in football pick'em and confidence pools.
Recap of Last Week's Picks
While the value gamble of Buffalo over Seattle was a winner, the Chargers came up just short (again!) on the final play against the Raiders in a key toss-up game for our picks, and the Colts were undone by a long fumble return touchdown — though a flailing Philip Rivers falling to the ground at least gave us some entertainment.
Overall, last week's value picks last week went 2-3 (the Bucs and Texans split as reasonably priced favorites), while the public averaged 2.8 wins in those same five games.
It's been a frustrating run the past couple weeks with several key value picks on the losing side of one-possession games or suffering bad turnover luck, but that's the nature of the NFL. In the long run, this type of luck evens out; you just need to keep positioning your pick'em entry to take advantage of the best risk vs. reward tradeoffs.
Five NFL Week 10 Picks You Must Consider
As usual, we've categorized the Week 10 picks below according to where they fall on the risk vs. reward spectrum.
Overall, Week 10 features some competitive division matchups where public perception is not matching the objective win odds of the two teams. That means we have several value plays among the games will likely be key swing games in game winner pools.
(If you want our most up-to-date pick recommendations, make sure to use our Football Pick'em Picks product.)
Note: Win odds and estimated pick popularity data below may change between publication time and kickoff time. If you want to see the latest numbers, our product updates multiple times per day.
Value Favorites
NFL Week 10 features multiple favorites that the public is picking at a lower rate than their chance to win. These types of teams are as close to no brainer picks as you can get in NFL pick'em contests, since you can take the team that's expected to win, yet still "fade the public" (in relative terms, at least) at the same time.
Minnesota (at Chicago)
The Vikings are actually the road favorite in this one, by 2.5 points, but the public is equally split so far.
Minnesota got off to a rough start to the 2020 season, but have quietly fought their way back with consecutive wins over the Packers and Lions in the NFC North. They look to go three-for-three when they face the Bears, and if they can win against Chicago, will be right back in the NFC playoff picture with a favorable second half schedule.
Minnesota's cold start was a function, in part, of turnovers, when they had 12 in the 1-5 start. But RB Dalvin Cook has returned healthy after a bye week, they've returned to a pounding running game with play action, and Kirk Cousins is averaging 8.9 yards per attempt.
Get access to all football pick'em pool content, picks and tools
Free subscription offers now available!
Already a premium subscriber? Sign in for access