Week 1 Football Pick'em Strategy & Advice (2021)
NFL Week 1 features a lot of close matchups, but in pick'em pools the public may be putting too much faith in last year's results.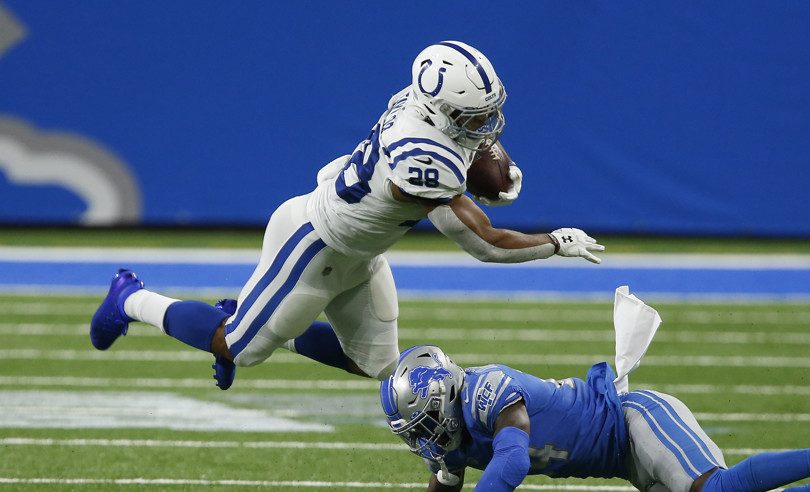 Jonathan Taylor and the Colts start the season off against the Seattle Seahawks (Photo by Jeffrey Brown/Icon Sportswire)
We have launched our Football Pick'em Picks product for 2021, along with our Week 1 football pick'em strategy and advice column.
In these columns, we explore strategies to maximize your edge in NFL and college football pick'em contests. We also provide some of the rationale behind picks potentially recommended by our product.
We will continue to add to this post until Sunday of NFL Week 1 arrives, so check back for updates. Here's what's available now:
---
Friday 8/27
NFL Week 1 Early-Value Picks
Below are some picks initially setting off the value radar for NFL Week 1 in game-winner-based pools. Things are bound to change as kickoffs near, but it's worth keeping an eye on them. 
Los Angeles Rams (vs. Chicago)
Spread: -7
Win Odds: 74%
Pick Popularity: 86%
San Francisco 49ers (at Detroit)
Spread: -7.5
Win Odds: 74%
Pick Popularity: 85%
The 49ers and Rams are two of the largest Week 1 favorites, but they are not the most popular picks in pick'em pools so far. These two teams might remain a relative discount compared to the other top win-odds options for the week.
The only other teams currently favored by more than 4.5 points are the Chiefs, Bucs, and Bills—the two Super Bowl teams from last year and the team that lost in the AFC Championship Game. The 49ers, meanwhile, are coming off a 6-10 season. The Rams lost in the Divisional Round and are playing a team that also made the playoffs.
Based on recent performance and name recognition, the 49ers and Rams may not have as much cachet as other Week 1 favorites. But the 49ers should bounce back after their injury-ravaged 2020 season, and they're facing a Detroit team in rebuilding mode. The Lions traded away veteran QB Matthew Stafford and might have the worst receiving corps in the NFL.
The team that got Stafford? That would be the Rams, who again look like contenders. They're playing a Chicago team that plans to start veteran QB Andy Dalton in the opener. (The Bears also drafted rookie QB Justin Fields from Ohio State in the first round.)
Usually, 7- or 7.5-point favorites have higher pick popularity than these two teams. That means the Rams and 49ers look like potential cornerstone picks in both weekly and season-long contests. They are among the largest favorites of the week, but enough pick'em entries are going with an upset in either game to provide some differentiation.
Jacksonville (at Houston)
Spread: -3
Win Odds: 65%
Pick Popularity: 62%
Jacksonville and Houston are two teams with new coaches but different outlooks in 2021.
The Jaguars stunk last year and had the first overall pick in the draft, but they now have Trevor Lawrence at QB. The Texans haven't announced who they'll start at QB during Week 1, though the current outlook is "not Deshaun Watson."
Does the public fully appreciate how much of a train wreck Houston projects to be this season? Maybe not. The Texans have the lowest projected win total of any NFL team, which was also the case for Jacksonville last year.
It's unusual for a team who got the first overall pick to open the following season as a favorite on the road. So it makes sense that the public would be a bit skeptical.
Trust the oddsmakers, though, and the Jags provide some value here.
Some of the best potential opportunities for differentiation in pick'em contests are games where the public is roughly evenly split but the favorite is the less popular side. You can pick the team most likely to win since a large chunk of a typical pool is going the other way.
Catching some good luck and winning most of these games over a full season can make a big difference.
Picking Jacksonville at these numbers would make sense both in season-long pools, where you typically want to pick conservatively in the early going, as well as weekly prize pools, where more aggressive differentiation is important.
Denver (at NY Giants)
Spread: -1.5
Win Odds: 52%
Pick Popularity: 43%
Denver is a slight road favorite at the Giants, but the public is picking New York at the higher rate.
The Broncos had a rough 2020 season that included playing a game without a quarterback. They also lost their top wide receiver (Courtland Sutton) and top defensive player (Von Miller) right away.
However, they are expected to be better than the Giants in 2021. Yet public sentiment is diverging from the oddsmakers here. You're getting a coin-flip winner (slightly better, actually) that has pick popularity more befitting a 2.5- or 3-point underdog.
That may seem like a small edge, and it is for any one game. But over an 18-week NFL season, modest edges like these add up to a solid expected advantage over your opponents.
---
FYI
Important Notes About Picks We Highlight
Keep in mind three things about picks we highlight in this article:
Optimal pick strategy balances risk and potential reward.
Maximizing your odds to win a pick'em pool generally requires identifying the best opportunities to differentiate your picks. You want to fade the public while taking on minimal risk to do so. For example, taking a favorite being picked by less than 50% of your opponents is usually a great opportunity.
Not all of the picks we highlight are suitable for all pools.
Don't be surprised if our Football Pick'em Picks product doesn't recommend several of the picks we mention in this post—especially the upset picks. The best pick strategy for your pool depends on a number of factors such as your pool's size, rules, and prize structure (a concept that's covered in part by our article on season vs. weekly prize strategy).
Picks we highlight may no longer look compelling by game day.
We analyze and write about picks using data (e.g. win odds and pick popularity), but that data can change up until kickoff. A key player being ruled out or a shift in public sentiment about a team can erase the differentiation value that a pick initially offered.
We'll provide periodic updates in this post if major data changes occur for picks we've mentioned, so make sure to check back. However, there's a much better way to stay on top of changing data trends throughout a week, which all sharp players need to do.
Our Football Pick'em Picks product automatically imports the latest win odds and pick popularity data multiple times per day. You can see the latest information in the Data Grid.
After you generate customized picks for your pool, you can also update those pick recommendations whenever you want via the My Pool Picks screen. The updated picks will incorporate the most recent data we have.
---
FYI
About Our Pick'em Pool Advice
What makes our football pick'em advice different from other sites is that it isn't generic.
In any given week, the best picks for your football pool depend on a number of variables. Your pool's size, rules, and prize structure all influence strategy, as do factors like your place in the standings and how many weeks are left.
So many different scenarios exist that it's impossible to give pick advice that makes sense for every one. An underrated 6-point underdog could be a great pick in a big weekly prize pool and a terrible pick for a small season-long pool where you're currently in the money.
Technology to the rescue
Other sites don't understand this stuff, or they just ignore it because it's complicated and hard. We're the only site that has built algorithms to evaluate these strategy factors and provide you with customized pick recommendations every week.
The result? Every year, an average of 71% of our subscribers win a prize in a football pick'em contest.
So if you want to see all the Week 1 picks we recommend for your football pool, you need to use our Football Pick'em Picks product.
Why we write this column
At the same time, we know our subscribers like to understand the rationale behind picks the product may recommend, especially when those picks go against the grain. So over the years, we've started to write more about the "whys" behind our approach.
We also utilize this column to help educate our readers about pick'em pool strategy. We highlight tactics proven to result in more pick'em pool wins over the long term and point out common pitfalls to avoid.
Our goal with these articles is to dig deeper into pick'em pools than anyone else by using an objective, data-driven lens. We'll recap key results from the previous week, identify the most compelling value picks of the current week, and evaluate the implications of breaking news on pick'em strategy.
We hope you enjoy reading, and we encourage you to check out more of our football pick'em strategy articles.
---
Sunday 9/5
Top Value Gamble Plays for Weekly Contests
Let's highlight some upset picks that make the most sense for weekly prize contests. In a season-long pool, picking favorites and letting others fall by the wayside over time is a solid strategy. In weekly contests where a few high-leverage games swing the standings, though, taking bigger risks can be the best play when the payoff makes sense.
Your recommendations in My Pool Picks for a weekly prize contest, particularly a larger one, might seem a bit crazy. But remember, the more entries you are competing against, the more extreme results you need. If you can take a team with a 25% chance of winning, but who is barely being picked, you increase your chances to win if you leverage that upset outcome.
So with that in mind, and that this advice is for weekly contests only, here are some of the best "bang for the buck" upset plays. Which ones, and how many, make sense depend on your pool size and other rules.
Indianapolis (vs. Seattle)
Spread: +2.5
Win Odds: 46%
Pick Popularity: 18%
The Colts were initially favored in the betting markets, before the news on Carson Wentz' foot injury. The lines then swung to Seattle being favored, and have not bounced back even as it is looking more likely that Wentz will be available.
Indianapolis is a slight favorite at home against Seattle, but the public is heavily on the Seahawks. For some perspective, Buffalo is favored by 6.5 points and being picked by 84% of the public, similar to Seattle being picked by 82%.
That provides a high-leverage opportunity by taking Indianapolis in Week 1. You may even see the Colts recommended at very high confidence points in weekly pools, such as what you see in our "Smith" Quick Picks for 100-entry pools.
Why? If you are in a large pool where your chances of winning are 1% or less, leveraging the Colts, who have a realistic chance of winning, is a play that increases your "pot odds." A lot of entries might pick an upset in a weekly pool, but put it at very low points. Sometimes in weekly contests, you want to maximize your payoff versus everyone else. When they get zero points, you don't just want to get one or two points. You want to make a big leap in the standings.
Arizona (at Tennessee)
Spread: +3.0
Win Odds: 41%
Pick Popularity: 21%
Arizona checks in as another upset play you might see in a weekly picks set, as a slight road dog at Tennessee. Just as with Seattle, the public is giving Tennessee more of the benefit of the doubt and that presents a value opportunity to go opposite.
New York Jets (at Carolina)
Spread: +5.0
Win Odds: 37%
Pick Popularity: 15%
The Jets are a riskier pick as a 5-point dog, but one that you might also see in larger weekly contests. The public is as heavily on Carolina as they are with larger favorites like Buffalo, Los Angeles, and San Francisco. New York has a new head coach and new quarterback, but the public may be still treating them like the old Adam Gase Jets from last season.
---
Tuesday 9/7
Public Heavily on Favorites in Spread Pools
There's a reason why you might take more underdogs than favorites in spread pools if you are seeking to gain value relative to your opponents. The public loves favorites.
And in Week 1 of 2021, they really love favorites.
Of the 16 games in Week 1, the only one where the public is picking the underdog more often than the favorite is the Giants over Denver. That's by the narrowest of margins, with the public taking the Giants 50.1% of the time so far. New England is the only other favorite being picked by the public less than 64% of the time against the spread.
Relatively speaking, the most popular favorites in ATS or spread pools are:
Green Bay -4.5 (77.1%)
Kansas City -6 (75.5%)
Los Angeles Rams -7.5 (74.2%)
San Francisco -7.5 (74.1%)
Tampa Bay -8 (73.7%)
In total, nine of the 16 favorites have public pick popularity above 70.0% in spread pools. So if you are wondering why you might see more underdog picks in weekly spread contests, it's because the public is so heavily on favorites this week, and if it's a "dog" week, you differentiate your entry and increase your chances of success.
---
Wednesday 9/8
Carson Wentz Playing in Week 1
Indianapolis QB Carson Wentz was a full participant at practice today, and head coach Frank Reich announced that he will play in Week 1. We will see if this news, which is not completely unexpected as Wentz has already been practicing this week, moves the line in Indianapolis' direction. Last month, when the news initially broke about Wentz having a foot injury, the point spread moved from the Colts being a 2.5-point favorite to the Seahawks being favored by 2.5 points.
Indianapolis is showing up as a high value upset pick as it is, as only 17% of the public are taking the Colts.
---
Thursday 9/9
Tampa Bay Up to Nine-Point Favorite on Thursday
The Tampa Bay Buccaneers are now up to a nine-point favorite against Dallas, as the line moved another half-point on Thursday. They now have 80% win odds and are the biggest favorite of the week. You should see the Bucs recommended across all game winner formats and at high confidence point values in confidence point pools as we start the week and season.
---
Friday 9/9
J-E-T-S Emerging as a Value Upset Play
Tampa Bay got the season off to an exciting start with the last-second victory over Dallas on Thursday. Now we can look ahead to Sunday, where line moves have shifted the priority order for value plays. As always, make sure you are updating your picks as close to your deadline as possible to have the best information.
The New York Jets have now become the most attractive upset gamble value play in Week 1, as Carolina is now only favored by 4 points. Meanwhile, only 12% of the public are taking the Jets and instead the vast majority are throwing their full support behind former Jets QB Sam Darnold in this matchup.
Carolina is more popular than Buffalo, a team favored by 6.5 points, and nearly as popular as the 7.5-point favorite Los Angeles Rams. Our models, meanwhile, give the Jets a 40% chance of victory in the first game for head coach Robert Saleh and quarterback Zach Wilson.
So if you are in a weekly confidence point contest, you may be seeing the J-E-T-S rising up the point recommendation list as a high-leverage play.
---
Sunday 9/12
Patriots and Washington Become Bigger Value Plays
The Patriots have moved to a 3.5-point favorite while still getting 62% of the public picks. That puts them at an even bigger value as their win odds are higher than their pick rate. So you will probably see them rising up boards in confidence pools (they were already the likely pick in game winner weekly and yearly pools).
Washington, meanwhile, is now favored by 1.5 points, while being picked by 45% of the public. So you can get the slight favorite, while the public is more commonly taking the Chargers.