Pick'em News and Notes for NFL Week 8 2020
News, notes, and observations impacting the 2020 NFL Week 8 pick'em pool landscape, straight from the TeamRankings experts.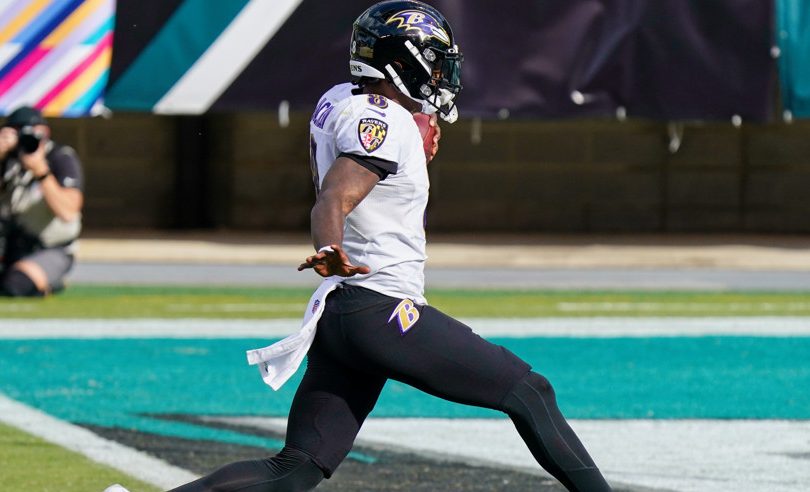 Lamar Jackson will try to avenge last year's playoff loss to Tennessee (Photo by Andy Lewis/Icon Sportswire)
Monday, November 2nd (1:30 pm ET)
Sunday's slate featured several upsets by teams underrated by the public. Including Thursday's win by Atlanta, underdogs where our projected win% was at least 15% higher than the public pick rate went 5-2 this week.
Tonight's game shouldn't impact Game Winner pools much, as nearly 100% of both the public and our pick suggestions are on Tampa Bay.
In spread pools, our pick suggestions were more mixed, and depended in part on what the line was in your pool (as the spread for this game shifted quite a bit during the week), and what type of prize you're shooting for (with the Giants a more common suggestion for weekly prize pools).
We'll recap the full week results tomorrow in both game winner and spread pools.
Sunday, November 1st (9:45 am ET)
First, we hope you had a fun and safe Halloween (unlike Michigan), and remembered to set your clocks back.
We've seen some fairly big line moves in the direction of some big NFL favorites. The line in the Eagles-Cowboys game has moved from Eagles -7.5 to Eagles -11 since mid-week, presumably due to the news that Cowboys rookie Ben DiNucci will start as second-string QB Andy Dalton sits out with a concussion.
In addition, the Buccaneers-Giants line has moved from Bucs -10.5 to Bucs -13, possibly related to the Giants offensive line missing practice time this week due to COVID precautions. (On that front, there were zero new positive tests reported Sunday morning, so all NFL games today are on track to proceed as scheduled as of this note's post time.)
The Ravens continue to hold steady as the best value favorite this week. They're favored by 4 points over the Steelers, with win odds of 66%, but are being picked by only 58% of the public. That makes them the only favorite this week with a win% higher than its public pick%.
In terms of underdog values, while Atlanta was the best underrated upset play of the week, you could see teams like Detroit, San Francisco, Minnesota, Miami, and/or New England show up as recommendations depending on your prize goals and pool structure (though mostly in weekly prize pools):
San Francisco (at Seattle) is very unpopular (14% picked) for a team that is only a 3-point underdog.
Detroit is only a moderate value, at 46% win odds and 36% popularity, but with the game close to a 50/50 toss up it doesn't take a ton of value for them to make sense as the pick in weekly prize pools.
Minnesota is a bit larger underdog (6.5 points), but is being picked by an astoundingly low 2% of the public. For context, the 13-point underdog Giants are being picked by more pick'em entries nationwide (3%).
Miami and New England both have similar value to San Francisco, but have slightly lower win odds, so should only show up as weekly picks in larger pool sizes.
Friday, October 30th (1:45 pm ET)
The Falcons managed to hold a lead for once, beating the Panthers 25-17 last night. That was overall a good result for our pick'em customers, as we suggested the Falcons on nearly 100% of Max Profit (season prize) and Top Option (weekly prize) pick sets in point spread based pools, as well as nearly 100% of Top Option (weekly prize) pick sets in game winner pools.
For Max Profit (season prize) pick sets in game winner pools, our suggestions were mixed, with more Atlanta picks showing up for subscribers that updated their picks later in the week after the spread moved towards the Falcons. (Yet another reminder of why it's always good to wait as long as you can to update and submit your picks each week.) As we mentioned yesterday, the public was heavier on the Panthers, so most customers should have gained some ground last night.
In other NFL news, a Broncos offensive lineman and a Vikings linebacker have tested positive for coronavirus. Those games are currently off the board at most sportsbooks, but still scheduled to take place. We suggest updating your picks as close to game time on Sunday as you can, to account for any potential line moves once those games do go back on the board with updated betting lines. The Monday Night Football game (Bucs-Giants) is also off the board at many books right now.
When it comes to college value plays in straight up pools this weekend, Purdue (at Illinois) and West Virginia (vs. Kansas State) are two favorites that have a pick popularity roughly in line with their win odds. However, Illinois reportedly has some positive coronavirus tests, so there's a chance that game gets postponed or cancelled. Meanwhile, if you are looking for potential value upset plays for weekly prize pools, Temple (at Tulane) has 37% win odds but only 24% popularity, while Northwestern (at Iowa) is currently at 44% win odds vs. only 33% popularity.
Thursday, October 29th (12 pm ET)
Tonight's game between Carolina and Atlanta is an early swing game in pick'em pools. Carolina is the smallest favorite of the week right now, as a 2-point favorite, but is extremely popular. About 84% of entries in game winner pools are going with Carolina, while 72% of spread picks are on the Panthers in Yahoo pools.
That means you are likely to see Atlanta in spread pool prize goal situations where pick popularity impacts value, and are also likely to see Atlanta recommended as a game winner pick in weekly prize goal formats. The win odds right now are also close enough that any further line movement in Atlanta's direction heading into tonight's game could also lead to more recommendations of Atlanta even in season prize formats. So check back on this one as close to game time as possible.
In other news, multiple Giants players are being held out due to a positive test with the team, including several of the offensive linemen. New York is scheduled to play Tampa Bay on Monday Night Football currently. We'll update as more news emerges on that one.
Wednesday, October 28th (2:30 pm ET)
Week 8 features two large double-digit favorites (Kansas City, Tampa Bay), three other favorites of around a touchdown (Philadelphia, Green Bay, Tennessee) and then nine other games where the spread is 4 points or less, and the market win odds for the favorite are 66% or below.
That group of nine games has some extreme splits in how the public is picking games, and will provide the higher leverage opportunities to continue our recent successes.
Baltimore is a value favorite over Pittsburgh, as 39% of the public is going with the undefeated Steelers in game winner pools, and 63% are taking the Steelers in spread pools. As we noted last week in highlighting the Rams as a value pick over Chicago, usually the public has a favorite bias, but that's not the case again this week with Baltimore.
That's because the public also has a bias for teams with good win-loss records. We see that this week with Pittsburgh (6-0) being picked as often as they are, compared to say, the public taking Atlanta (1-6) only 15% of the time against Carolina. This is despite the betting markets having Atlanta as only a 2.5-point underdog compared to the Steelers at +4.
Tuesday, October 27th (1 pm ET)
Week 7 was a good week in both game winner and spread pools, and possibly a great week for many of you. A combination of value picks hitting (Washington over Dallas, the Los Angeles Rams over Chicago) and a higher percentage of underdogs covering against popular favorites should result in some positive moves in the standings in Week 7 for many of our subscribers.
Coming off a Week 6 where our season prize recommendations had the highest gain versus the average public entry, Week 7 was again a positive week. The public averaged 9.6 wins in Week 7. Our max profit season picks averaged 10.2 wins, the avoid bad loss picks averaged 10.0 wins, and the top recommendations for weekly picks averaged 10.4 wins.
With the heavier favorites all winning in Week 7, our confidence points picks should also have fared well against the public.
In spread pools, the public averaged 6.8 wins (out of 14) for a 48.6% win rate. Meanwhile, our max profit season picks averaged 8.1 wins, the avoid bad loss recommendations averaged 8.2 wins, and the top weekly recommendations averaged 8.9 wins. That equates to a 63.6% cover rate for Week 7 for the top weekly picks, and should have some entries in the running for a weekly prize, by outperforming the typical public entry by more than 2 wins.