Pick'em News and Notes for NFL Week 7 2020
News, notes, and observations impacting the 2020 NFL Week 7 pick'em pool landscape, straight from the TeamRankings experts.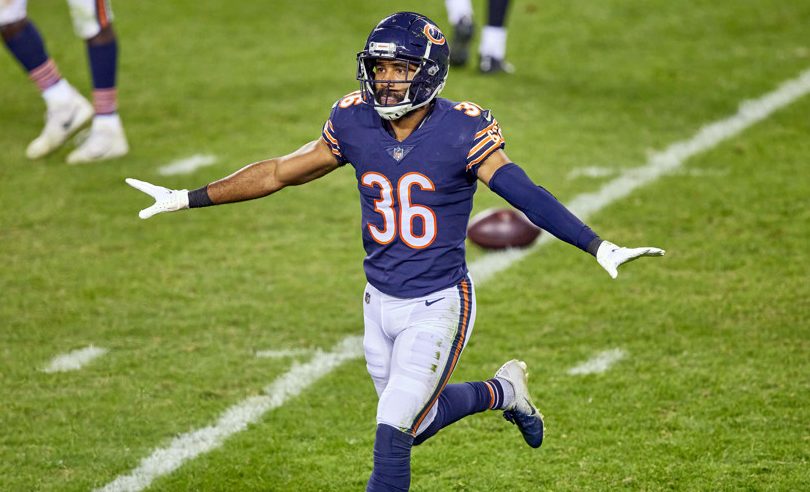 DeAndre Houston-Carson and the Chicago Bears are in position to make the playoffs (Photo by Robin Alam/Icon Sportswire)
Monday, October 26th (12 pm ET)
Sunday's slate featured a few upsets and close calls in the games that were closer to a toss-up, but no big upsets. The biggest one was Arizona's comeback to give Seattle their first loss.
Tonight's game is a pretty important one in both spread and game winner pools, as enough of the public is on the underdog Bears in both types of pools that there is value on the Rams. We'll recap the full week results tomorrow in both game winner and spread pools.
Sunday, October 25th (10 am ET)
We've seen some fairly big line moves downward for the biggest favorites, though they should still remain the pick in season-prize pools. The line in the Buffalo-Jets game has dropped from 13.5 to 10 points since mid-week, while the line in Kansas City-Denver has moved from 10 to 7.5 points. The Bills-Jets movement is likely due to news about Sam Darnold playing instead of the ghost of Joe Flacco, plus several Buffalo injuries and players held out due to COVID protocols. For Kansas City, it's likely driven in part by weather concerns and heavy snow possibility in Denver, which has also driven the point total down for the game.
The Rams continue to hold steady as one of the best value plays this week, now favored by 6 points over the Bears but with moderate popularity for a favorite of that size.
In games with smaller spreads, you could see Houston, Washington, and/or Detroit as value plays depending on your prize goals and pool structure. Houston is very unpopular (7%) for a team that is only a 3-point underdog at home to Green Bay. Washington and Detroit are close to pick'ems right now (Detroit is a slight dog and Washington is a slight favorite) but both are below 30% in popularity.
Friday, October 23rd (2 pm ET)
Big Ten football returns tonight with Wisconsin versus Illinois. The Badgers are a heavy favorite in this one (20.5 points) looking for revenge from last year as Illinois beat Wisconsin on a late field goal a season ago.
It's also your reminder that the college picks are back, and you can see the full slate of games, with pick popularity numbers and win odds, on the Data Grid.
When it comes to college value plays in straight up pools this weekend, Michigan (at Minnesota) and Louisville (vs. Florida State) are two favorites that have a pick popularity roughly in line with their win odds. Meanwhile, if you are looking for potential value upset plays in weekly pools, Indiana (vs. Penn State) has 33% win odds but only 15% popularity, while Missouri (vs. Kentucky) is at 34% win odds and 20% popularity.
Thursday, October 22nd (4 pm ET)
Some breaking news regarding Sunday games. The NFL has shifted the Sunday Night football game, which was scheduled to be Las Vegas vs. Tampa Bay with Tom Brady in primetime. Now, it will be Arizona-Seattle. The Las Vegas game is (for now) scheduled for the late afternoon time slot on Sunday, but could move further because the entire Raiders' offensive line is being quarantined for contact tracing after Trent Brown tested positive. The Raiders are just coming off their bye week, and you could see this game moved off Sunday if the rest of the offensive line cannot return by Sunday.
Thursday, October 22nd (12 pm ET)
Tonight's Philadelphia-New York Giants clash is the first of two NFC Least matchups this week, as Dallas and Washington also play this week. The four teams in the division only have five wins total through 6 weeks, but are guaranteed two more this week (well, unless they tie).
Philadelphia is a 4.5-point favorite against the Giants. This has been a series that the Eagles have dominated recently. They have won seven straight in the series, and 11 of the last 12 matchups. The only win for New York in the last six years was in Carson Wentz' first start against the Giants as a rookie.
The current seven-game winning streak isn't even the longest for the Eagles in this series, which dates all the way back to 1933. From 1975 to 1981, the Eagles won 12 straight games against the New York Giants, a stretch that included the infamous Miracle at the Meadowlands play.
Rooting for a notable gaffe might be the best way to approach this game as well. And this has been your NFL history minute.
Wednesday, October 21st (1 pm ET)
The Los Angeles Rams are the early high value play of the week. They are a 5.5-point favorite with 71% win odds, but only 68% popularity. To put that in perspective, there have been only two other favorites we projected with at least 70% win odds, but who had less than 80% popularity so far this year. Cleveland (vs. Cincinnati in Week 2) and New England (vs. Las Vegas in Week 3) provided great value, as do the Rams because ordinarily bigger favorites have much higher popularity.
The Rams are likely to be a pick in a variety of formats and prize goals. In spread pools, right now our models give a slight lean to the Rams at -5.5, while the public is taking the Bears over half the time ATS. The public tends to have a favorite bias, and the Rams are the only team favored by more than 3 points who are drawing less than half of the public's picks in Yahoo spread pools this week.
Tuesday, October 20th (1 pm ET)
Before we get to how the picks performed in Week 6, we want to quickly mention that college football picks support is back. If you are in a college football pool or a combo pool that uses both NFL and college, you should be able to set up a pool now to get customized picks starting this week.
Now, turning to Week 6 results. In game winner pools, our average season prize pick recommendations had their highest performance against the public to date. It was a week with lots of games where the win odds for the two teams were close, and that provided some opportunity to differentiate against the public. The public averaged 8.4 wins, while our max profit recommendations averaged 9.9 wins (+1.5 wins versus the average entry) and the "avoid bad loss" recommendations averaged 9.7 wins.
Spread pools, meanwhile, slightly outperformed the public, where the public averaged 6.9 wins in 14 games. The max profit season prize, avoid bad loss season prize, and weekly top recommendations all averaged between 7.2 and 7.4 wins in Week 6.
The biggest gains were because of the Tampa Bay game (the public was heavily on Green Bay in both game winner and spread pools), and thanks to Arizona's big win on Monday Night in game winner pools, where the public was more evenly split.