Pick'em News and Notes for NFL Week 6 2020
News, notes, and observations impacting the 2020 NFL Week 6 pick'em pool landscape, straight from the TeamRankings experts.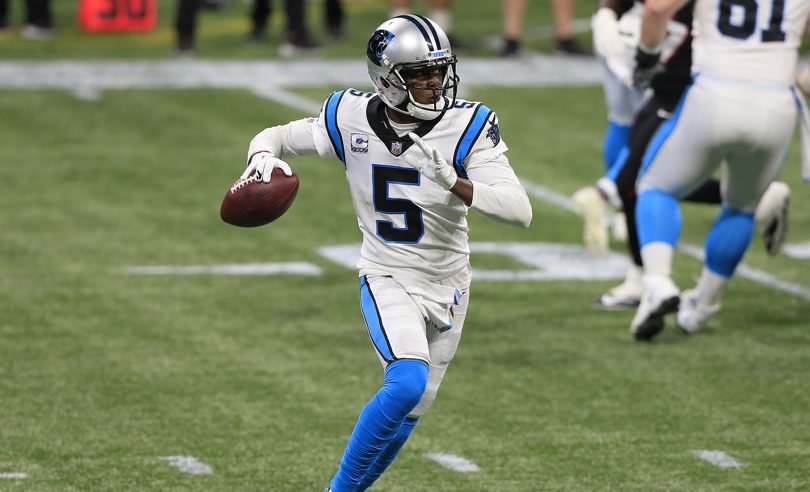 Teddy Bridgewater and the Carolina Panthers are on a 3-game win streak and get Chicago next (Photo by David J. Griffin/Icon Sportswire)
Monday, October 19th (11 am ET)
Sunday's slate featured one big upset (Denver over New England), some close calls (Indianapolis coming back against Cincinnati, Baltimore surviving a failed two-point attempt by the Eagles to win by 2), and plenty of ups and downs in other games. The Falcons won their first game after firing head coach Dan Quinn. The Texans came within a few seconds, and overtime, of winning two in a row since firing head coach Bill O'Brien, losing to Tennessee. Green Bay lost their first game of the year, as the Tampa Bay defense came up huge.
Don't forget that there are two Monday Night games tonight. Kansas City and Buffalo will play early in the evening (5 pm ET kickoff), while Dallas and Arizona is the regularly scheduled game on ESPN. The spread in that second one is close, which means it might be an opportunity to pick a swing game to win a week or hold off opponents. The problem there is that the pick popularity is pretty close to an even divide (Arizona is at 61% popularity). If you are still able to switch picks, you also should check the win odds as close to game time as possible as this one is close enough that recommendations could shift late.
Sunday, October 18th (10:00 am ET)
Some line moves have tightened up several games as we head into Sunday, so you will want to refresh your picks today as late as possible to have the most up-to-date information. There are four games this week where the spread is 2 points or less, and three of those have seen the line drop over the weekend.
The Giants are a 2-point favorite over Washington now. Carolina is down to a 1-point favorite over Chicago, and the line in the Dallas-Arizona game has continued to shift so that Arizona is now favored by only a point. So which team ends up being the recommendation in season prize formats could change by kickoff.
Also, because of the dynamic this week, you may see more value gambles recommended in weekly prize formats among these games where the spread is closer. The public pick popularities have generally risen as the week has continued, in the direction of the favorites, even as several lines have been dropping.
Friday, October 16th (12:00 pm ET)
Good news! All the Colts (one player, three staff members) who initially tested positive with the daily quick test were retested, and they all came back negative. So it looks like those initial results were false positives, and the game should go ahead as scheduled.
Friday, October 16th (11:15 am ET)
Well, we almost made it through the week without any coronavirus-related postponement concerns. But the Indianapolis Colts have shut down their facility today after multiple positive tests. With the game scheduled for less than 48 hours away, there's now risk of it being moved. There's also a fairly straightforward alternative if the game needs to move. Indianapolis is currently scheduled for a bye in Week 7, while Cincinnati faces Cleveland. Cincinnati and Cleveland share a Week 9 bye right now, so their matchup could be moved back to that week, with the Colts and Bengals pushed to next week.
We will update more as we hear more news.
Thursday, October 15th (1 pm ET)
There is no Thursday Night Football tonight. The originally scheduled Kansas City-Buffalo matchup was moved to Monday, to get Buffalo a few more days of rest after their Week 5 game against Tennessee was moved to Tuesday. So enjoy a rare Thursday with no NFL games and early picks to submit in your pools.
Speaking of Tennessee, they are showing up with 92% pick popularity despite being favored by only 3 points over Houston, with 62% win odds. That's the fourth-lowest win odds so far in 2020 for a team with greater than 85% pick popularity. Here are the 10 teams with the lowest objective win odds so far in 2020, who had a pick popularity above 85%.
| Week | Team | Opponent | Win Odds | Popularity | Result |
| --- | --- | --- | --- | --- | --- |
| 4 | New Orleans | Detroit | 60% | 89% | Won |
| 4 | Arizona | Carolina | 60% | 89% | Loss |
| 4 | Dallas | Cleveland | 61% | 87% | Loss |
| 3 | Pittsburgh | Houston | 64% | 87% | Won |
| 2 | New Orleans | Las Vegas | 65% | 86% | Loss |
| 4 | Seattle | Miami | 66% | 97% | Won |
| 3 | Seattle | Dallas | 68% | 88% | Won |
| 1 | Philadelphia | Washington | 69% | 91% | Loss |
| 3 | Arizona | Detroit | 69% | 95% | Loss |
| 4 | Green Bay | Atlanta | 69% | 96% | Won |
Those teams are 5-5 so far. In weekly prize pools, you will likely be seeing Houston show up as a value gamble because of the extreme value proposition with so many entries on Tennessee this week.
(Minnesota, favored by 4 and with 65% win odds in the betting markets, also would make this list with 88% popularity as well.)
Wednesday, October 14th (1 pm ET)
Week 6 has a lot more matchups that are perceived to be close, compared to recent weeks. Ten of the games right now have a point spread of 3.5 points or less.
Four games so far are showing up as value favorite plays, that is, where the favorite is being picked less frequently by the public than their objective win odds. These are games you want in pick'em pools, as if the teams win at a rate around their win odds, you gain on a decent chunk of your pool over time.
Those four games in Week 6 right now are:
Detroit at Jacksonville (64% win odds, 58% popularity)
LA Rams at San Francisco (63% win odds, 55% popularity)
Carolina vs. Chicago (58% win odds, 53% popularity)
Arizona at Dallas (56% win odds, 44% popularity)
We discuss those value picks and more in this week's public picks article.
Tuesday, October 13th (3:30 pm ET)
Week 5 was a week that was skewed heavily with larger favorites, and had very few true swing games. In fact, outside of tonight's game between Buffalo and Tennessee, there were only three games with a point spread of less than 6 points. Those swing games (Atlanta-Carolina, Tampa Bay-Chicago, and Indianapolis-Cleveland) were a mixed bag. We saw two slight upsets with the Bears and Panthers winning, while the Browns closed as a favorite with Sunday line movement, and beat the Colts.
Whether you beat the public average of 8.7 wins so far might come down to whether you got your picks as close to kickoff as possible (and thus likely got Cleveland in game winner season prize pools) or not. Based on overall final recommendations, 29% had Cleveland as the pick, and our season prize picks averaged 8.4 wins, while the top option for weekly prize pools averaged 8.7 wins.
Meanwhile, because of several "unpopular" larger underdogs covering the spread in Week 5, our spread picks outperformed the public. The public has averaged 6.6 wins (out of 13 games so far). Our max profit season prize pool recommendations averaged 7.5 wins, while the top weekly pick recommendations averaged 7.1 wins.
Week 6 presents the opposite situation to the last one. This week, we have only a handful of large favorites, and there are 10 games with a spread of 3.5 or less so far. That presents the opportunity for lots of value plays and swing games in Week 6, which we will break down more tomorrow.