Pick'em News and Notes for NFL Week 5 2020
News, notes, and observations impacting the 2020 NFL Week 5 pick'em pool landscape, straight from the TeamRankings experts. (Last Update: October 11th at 9:15 a.m.)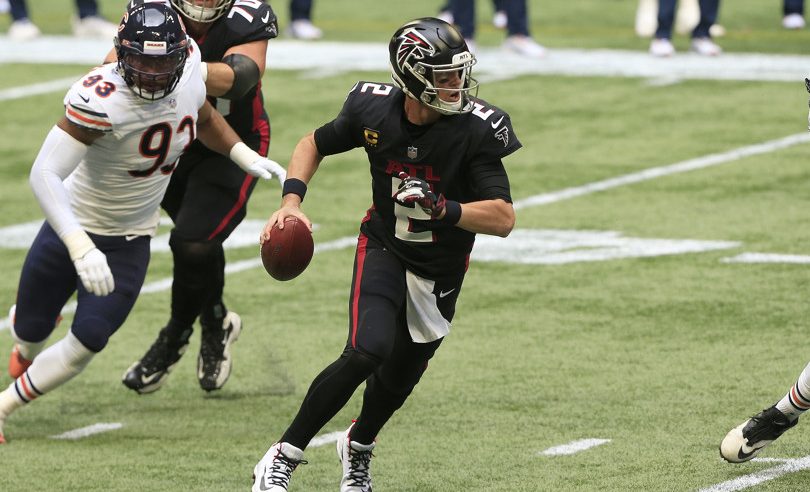 Atlanta is 0-4 and looking for their first win, favored over Carolina (Photo by David John Griffin/Icon Sportswire)
Monday, October 12th (1 pm ET)
Sunday featured two big upsets, with Kansas City losing to Las Vegas and San Francisco losing to Miami. Other than that, favorites largely held serve, surviving in several other games. We'll have a full rundown of the public pick rates and our recommendations tomorrow, but heading into Monday Night Football, our game winner picks (both season and weekly) should be up on the public average of 7.7 wins so far.
Tonight's game features New Orleans hosting the Los Angeles Chargers, favored by 7 points. The Saints are drawing 94% of public picks. The Saints should be the recommendation in season prize pools, so there may not be much differentiation from the public here.
For those in spread pools, though, our models favor the Chargers at most spreads, while the public is heavily on the Saints (69%) in Yahoo spread pools, so it could be a key swing game in spread pools tonight.
Sunday, October 11th (10:45 am ET)
The Patriots-Broncos game has officially been postponed, and will not take place in Week 5. We've updated the schedule info, and you should now see this game marked as postponed in your previously-saved picks.
Again, we recommend reading our article on how to adjust your picks when a game is postponed or canceled, and reviewing your specific pool rules on how the game will be handled. (This may be particularly important in confidence pools, which have different ways of handling the point assignments for postponed games.)
Sunday, October 11th (9:30 am ET)
The news from early Sunday morning is that a Titans staffer has now tested positive, one day after the team returned to the facility for the first time in over 10 days, and that a New England Patriots player was also positive. There has not been an official announcement from the NFL yet, but both New England-Denver (scheduled for Monday) and Buffalo-Tennessee (Tuesday) remain in jeopardy of being postponed.
Unfortunately, we may not know the final status prior to the kickoffs of today's early afternoon games. (Adam Schefter is now reporting, though, that New England-Denver will now be played in Week 6 when the Patriots were scheduled for a bye, and the Miami-Denver game will move.)
We discussed how to adjust your picks when a game is postponed or canceled, and you may want to review your specific pool rules on how they will handle, as you determine how to pick those games. (This may be particularly important in confidence pools, which have different ways of handling if either of those games is not played.)
In other news, the Cleveland Browns have now moved to being the betting favorite by one point against Indianapolis. If the Browns remain favored and you update picks today, you will likely see the pick flip to Cleveland in yearly prize formats, though Indianapolis' lower pick popularity could still play a role in determining the best pick for your pool.
Friday, October 9th (2 pm ET)
More news on the coronavirus front as we head to the weekend. The New England-Denver game has been tentatively moved to Monday Night, while Tennessee-Buffalo is scheduled for Tuesday. There were no more positives with Tennessee or New England today, leaving the door open that those games could be played in Week 5.
However, the New York Jets did have a positive test, which shut down practice today and now has the Sunday game against Arizona in limbo. The Cardinals were scheduled to leave for New York later today but are now delaying travel. So stay tuned for more news on which games are in or out in Week 5.
In other news, the Colts-Browns line is now down to a pick'em, and the Colts announced that LB Darius Leonard would miss the game. The Browns are still the most popular public choice so you should see the Colts in your pick sets unless the line continues to adjust in the Browns' favor. Meanwhile, the Atlanta-Carolina game is down to a 1.5-point spread, and with Carolina drawing only 30% of the public's picks, you may see the Panthers in your picks depending on your prize goal and pool size.
Thursday, October 8th (12:30 pm ET)
Welcome to 2020! Several games have significant line moves due to injury (like tonight's Tampa Bay-Chicago matchup), lines off the board because of uncertainty over players or whether the game will be played, and other notable issues to monitor.
The line on tonight's game has dropped from 5 points earlier in the week, down to Tampa Bay being favored by 3.5 points. The likely driving factor here is Tampa Bay injuries on offense. The top four wide receivers for Tampa Bay have been on the injury report this week, with a short week of preparation for Thursday. Chris Godwin and Justin Watson have already been ruled out. The status of Mike Evans and Scotty Miller is yet to be decided. The Bucs also lost tight end O.J. Howard to a season-ending Achilles injury last week, so Tom Brady's receiving weapons could be limited.
The Bucs are still favored, and should be the pick in season-long pools, though the value proposition in weekly pools could shift depending on further line movement.
Other notable games to watch:
The Bills-Titans game continues to remain "off the board" and is in serious jeopardy of being postponed. Two more Titans players were confirmed positive today, in the aftermath of the news that some players on the team continued to work out together after the team was quarantined last week.
New England-Denver is also "off the board." We still don't know if this one will be played, though there were no further positives reported for New England today. Further, the status of Cam Newton is up in the air, if the game will be played. So expect this to be one we don't have full info about until the weekend.
San Francisco, meanwhile, did open up as a 9-point favorite yesterday with news that QB Jimmy Garoppolo was practicing on a limited basis.
The Baltimore line was pulled off the board yesterday with the news that Lamar Jackson missed practice due to a "minor knee injury." Baltimore is a heavy favorite but any setbacks there could have an impact on the odds (and thus the value).
The New Orleans-LA Chargers game set for Monday Night could potentially move to Indianapolis depending on what happens with Hurricane Delta over the weekend.
The Los Angeles Rams-Washington line has now dropped to 7 points, after the announcement that the team was benching Dwayne Haskins in favor of Kyle Allen at quarterback. It had been at 8.5 points two days ago.
Wednesday, October 7th (8:30 am ET)
This morning, there are now reports that two more Titans players have tested positive. The team was about to begin practicing again after a couple of days with no positive tests, but this changes all that. The Buffalo-Tennessee game this week is now in serious jeopardy, and the league has no easy solution to how to move the game with the bye week now already used for Tennessee.
Further, cornerback Stephon Gilmore has tested positive in New England. New England's practice today has been canceled, and you can expect several days of testing to see if an outbreak similar to Tennessee is now underway. The Week 5 New England-Denver game should also be considered higher risk. Because New England played Kansas City Monday night, after Cam Newton's positive test, the Chiefs (who play Las Vegas) will also likely be impacted and have to pause practice to see if any more positives emerge.
So that now means three of the games this week could be impacted by coronavirus positive tests … so far.
Tuesday, October 6th (2 pm ET)
Week 4 was an up-and-down week with plenty of twists and turns, and upsets. In the end, favorites ended up going 10-5 for the week. A lot of those upsets came in some of the closer games (by the spread). Favorites of 3 points or less went 4-4 straight up. Some of those results were positive for us (Indianapolis was the biggest value favorite of the week), while others were less so.
Our weekly picks also hit on some of the upset calls, but not all. As a result, the season prize picks averaged 9.7 wins, the weekly picks averaged just above 9.7 wins, and the public also came in with a 9.7 average. But because of the upsets in those swing games, there was likely plenty of variation in individual pools.
Given that most of the upsets were in the lower confidence games, the season prize confidence picks finished above the public average. Based on the Yahoo confidence point data, the public averaged 82 points, while our recommendations came in at 87 points on average.
For NFL spread pools, it was another solid week. The public averaged 7.4 wins in Week 4, while our Max Profit recommendations averaged 7.5 wins. The weekly recommendations averaged 7.9 wins, though unfortunately were strongly on Atlanta against the spread in the final game of the week or it could have been an even better ending.
Several games are currently "off the board" this week because of uncertainty about who will play. New England will likely be without Cam Newton again when they play Denver, Tennessee could have several players out when they host Buffalo, and we await word on whether Jimmy Garoppolo will return for San Francisco in a matchup against Miami.
---
WEEK 5 CONTEST
We've launched two free-to-play NFL contests for 2020 (one for premium subscribers, one for non-subscribers), each with over $1,200 in prizes, including weekly prizes every week.
---