Pick'em News and Notes for NFL Week 4 2020
News, notes, and observations impacting the 2020 NFL Week 4 pick'em pool landscape, straight from the TeamRankings experts. (Last Update: Friday October 5th at 1 pm ET).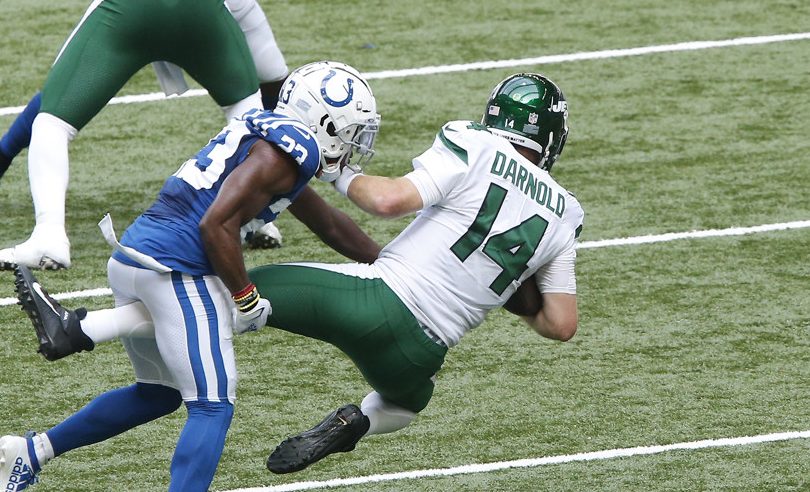 Are you ready for the Jets in primetime to start Week 4? (Photo by Jeffrey Brown/Icon Sportswire)
---
WEEK 4 CONTEST
We've launched two free-to-play NFL contests for 2020 (one for premium subscribers, one for non-subscribers), each with over $1,200 in prizes, including weekly prizes every week.
---
Monday, October 5th (1 pm ET)
Monday brings us not one, but two potential big games in Pick'em pools. Kansas City-New England is scheduled to kickoff at 7:05 p.m. ET on CBS with the original Monday Night matchup of Green Bay and Atlanta now set for 8:50 p.m. ET on ESPN. The Chiefs have moved to a double-digit favorite over New England with the news that Cam Newton will be out, making this the first time the Patriots have been an underdog by that much since February of 2002 in the first Super Bowl win over the St. Louis Rams.
As for the week that was, Sunday featured plenty of upsets, with betting favorites at 8-5 so far this week, so it's possible that relatively lower scores are still decent this week. (The public average so far is 7.6 wins.)
Depending on which value upsets you had in your pick set, you may be outperforming the public in weekly prize pools (Carolina over Arizona and Cleveland over Dallas were some possible recommendations depending on pool size). The value favorites were a mixed bag. The Colts beat the Bears as the favorite, though the public was heavily on Chicago, while the Jets lost the Thursday night game as an unpopular favorite.
Sunday, October 4th (8:30 a.m. ET)
Overnight, it was reported that the New Orleans Saints also had a positive test, after traveling to Detroit. Adam Schefter now reports that the player re-tested negative and it was a false positive, and the game is on as scheduled.
So it looks like there will be 12 games today, plus the regular scheduled Monday Night game between Green Bay and Atlanta, and maybe another game between Kansas City and New England on either Monday or Tuesday.
In game winner pools, with the betting line moving in Jacksonville's favor this morning, our win odds now have the Jacksonville-Cincinnati game as a near toss-up, with Cincinnati at 50.5% and Jacksonville at 49.5%. Depending on your set goal and whether you are playing weekly pools, you may see Jacksonville as a recommendation.
The Kansas City win odds have moved up to 82%, which doesn't impact recommendations in season-prize fixed point pools, but could cause them to move up your pick rankings in confidence pools.
Week 4 Note on Kansas City-New England Game (Saturday at 12 p.m. ET)
Today, it was announced that QB Cam Newton of New England has tested positive for coronavirus. The news came out just before the Patriots were scheduled to fly to Kansas City for Sunday's game. The NFL has already announced that the game will be moved from Sunday and now played on Monday or Tuesday.
Of course, that depends on a lot of factors in a short period of time, including further testing results over the next day or two. There's a high risk that this game will end up not being played in Week 4 and will have to be moved further back.
We have an article on how to adjust your picks when a game is postponed or canceled. Given the timing of this news relative to pool pick deadlines, you may want to read that and also determine how your particular hosting site or pool will handle this game in the event it is moved past Week 4, particularly if you are in a confidence point pool.
This news should not affect our recommendation Kansas City in game winner pools. It could cause the specific confidence point recommendation to change, because Kansas City will presumably see an increase in their game odds with Cam Newton out of the game, if it is played this week. So you could see Kansas City move up those rankings.
How you might want to address that in your pool, though, depends on the incentives (or disincentives) if a game is postponed and removed from the schedule. Every pool could be different so it is important to check what your pool will do before finalizing your picks this week.
Week 4 Note on Titans-Steelers Game (Last Update: Friday, October 2nd at 1 p.m. ET)
The NFL has announced the Week 4 Tennessee-Pittsburgh game will now be moved to later in the season, after further positive tests with the Tennessee Titans organization. That means that Tennessee and Pittsburgh will be on a bye this week, and there will now be 15 games in pick'em pools.
The Titans-Steelers game will now be played in Week 7. The Titans were originally scheduled to be on a bye that week. The Steelers were scheduled to play Baltimore in Week 7, but that game will now take place in Week 8 (when the Steelers and Ravens were going to originally have their bye week). That means Baltimore will now be on a bye in Week 7.
We will leave this note at the top of this week's updates, and continue to update it as more information becomes available. To read other (non-Titans/Steelers game) notes, continue below.Friday, October 2nd (3 pm ET)
The Thursday night result did not go our way, with the Jets losing to the Broncos despite getting three interceptions of Brett Rypien in his first career start. That was one of two games this week where the public is picking an underdog more frequently than the betting favorite (Colts-Bears is the other).
So far this year, favorites who are being picked less than 50% by the public are only 2-5. Which means so far, the public is having their day in outperforming the betting market on those particular games. Those outcomes can have a big impact on the weekly results, and over the short term, can be painful. Over a small number of near-coin-flip games, you can have the underdog win over half the time. We trust, though, in the process, and that things tend to even out over time.
Last year got off to a somewhat similar start with some key games, and through the first seven weeks of the season, our picks were running about even with the public in game-winner pools. Here's a chart of how a sample Quick Picks set of season-prize picks did compared to the public each week in 2019.
| 2019 NFL Week | TR "Starr" Quick Picks Wins | Avg. Public Wins | Difference |
| --- | --- | --- | --- |
| 1 | 10 | 10.6 | -0.6 |
| 2 | 11 | 9.6 | 1.4 |
| 3 | 9 | 9.9 | -0.9 |
| 4 | 7 | 7.2 | -0.2 |
| 5 | 9 | 8.6 | 0.4 |
| 6 | 7 | 7.8 | -0.8 |
| 7 | 10 | 9.3 | 0.7 |
| 8 | 13 | 12.3 | 0.7 |
| 9 | 8 | 8.3 | -0.3 |
| 10 | 5 | 5.2 | -0.2 |
| 11 | 12 | 10.8 | 1.2 |
| 12 | 11 | 9.5 | 1.5 |
| 13 | 9 | 8.5 | 0.5 |
| 14 | 12 | 10.1 | 1.9 |
| 15 | 11 | 10.6 | 0.4 |
| 16 | 11 | 10.5 | 0.5 |
| 17 | 11 | 8.8 | 2.2 |
| TOTAL | 166 | 157.6 | 8.4 |
Three of the first four weeks in 2019 were under the public average as the value picks missed more than they hit. That turned around, though. The final seven weeks saw our pick recommendations beat the public every single week, and that was in part because the value picks in these swing games turned around, and the public started taking a beating when picking these types of games.
Thursday, October 1st (12 pm ET)
Tonight's New York Jets-Denver Broncos game may not be a pretty contest, but we should embrace the terribleness. As it turns out, it is a fairly important game for pick'em this week. That's because the public is heavily on the Broncos tonight, but the Jets are now the betting favorite, favored by a point, and with 52% win odds. The Jets have their issues, but the 0-3 Broncos are also going with Brett Rypien in his first career start, and starting their third quarterback in three games.
Since this one is so close to a coin flip, you should also make sure to check back in right before game time to see where the odds have shifted. As long as the Jets remain favored, they should be the pick in all game-winner pool types. Because of the high percentage of the public going the other way, taking the Jets makes it a very high leverage game where you will either gain or lose ground relative to most of your pool to start the week.
In a lot of spread pools that set their lines early in the week, the Broncos were favored, so you will also likely see a lot of Jets ATS recommendations given the line movement that has happened so far, as long as that doesn't reverse right before kickoff.
Wednesday, September 30th (4 pm ET)
Week 4 is a week where the public pick rates are pretty high on most teams. In fact, only five games have both teams being picked less than 70% of the time by the public. When that happens, some of the swing games where the public is off becoming more important (or high leverage). This week, the Colts at the Bears, and the Jets versus the Broncos present those high leverage cases. In both instances, the public is taking the team we have as the favorite far less than half the time.
We also wanted to use this as an opportunity to talk about realistic expectations. We don't talk in terms of locks, and there are no easy outcomes in the NFL. Plenty of games will go against you throughout the season.
To illustrate this, here is a chart showing the average expected edge we should get from the Week 4 games in season-prize format, fixed point pools, if we just select our favorite to win. That edge is determined by the percentage of entries you gain a win against if your pick wins, multiplied by the win odds, minus the same percentage you would lose ground to in the event of a loss.
| Favorite | Opponent | Win Odds | Popularity | Win Edge | Loss Edge | Overall Edge |
| --- | --- | --- | --- | --- | --- | --- |
| Houston | Minnesota | 68% | 79% | 0.143 | -0.067 | 0.076 |
| Buffalo | Las Vegas | 61% | 71% | 0.177 | -0.113 | 0.064 |
| Indianapolis | Chicago | 55% | 39% | 0.336 | -0.275 | 0.061 |
| San Francisco | Philadelphia | 75% | 90% | 0.075 | -0.025 | 0.050 |
| Cincinnati | Jacksonville | 57% | 69% | 0.177 | -0.133 | 0.043 |
| Dallas | Cleveland | 64% | 88% | 0.077 | -0.043 | 0.034 |
| New Orleans | Detroit | 65% | 90% | 0.065 | -0.035 | 0.030 |
| Kansas City | New England | 71% | 93% | 0.050 | -0.020 | 0.029 |
| Baltimore | Washington | 86% | 97% | 0.026 | -0.004 | 0.022 |
| Arizona | Carolina | 59% | 88% | 0.071 | -0.049 | 0.022 |
| Tampa Bay | LA Chargers | 71% | 95% | 0.036 | -0.015 | 0.021 |
| Seattle | Miami | 75% | 97% | 0.023 | -0.008 | 0.015 |
| NY Jets | Denver | 51% | 26% | 0.377 | -0.363 | 0.015 |
| Green Bay | Atlanta | 72% | 97% | 0.022 | -0.008 | 0.013 |
| Pittsburgh | Tennessee | 51% | 60% | 0.204 | -0.196 | 0.008 |
| LA Rams | NY Giants | 85% | 99% | 0.009 | -0.002 | 0.007 |
| OVERALL | | | | | | 0.509 |
Notice that the overall expected edge this week is just +0.5 wins versus the public. That may sound small to you. But this is a good illustration that in any one individual game, there's not much to be gained versus the public, on average.
Houston and Buffalo, two solid favorites with enough entries picking against them to create more edge, provide the highest expected gains in season-prize pools. But no single game this week is expected to gain you even +0.1 wins relative to your competition on average. A lot of individual games provide very little edge on average, either because the game odds are close to a toss-up (and so the positive and negative outcomes tend to almost cancel out over time), or the pick percentages for the favorite are so high that everyone is gaining and losing points together.
And yet, if we deliver somewhere between +0.04 to +0.05 wins over the public per game for the entire season, when you look back at a 256-game season, that's 10-13 wins more than the public. That's often the difference between being middle of the pack and in the running to win a season prize.
While this week, our average edge is around +0.5 wins versus the public, it's highly variable. This week, the Colts and Jets are likely to decide just how good, or bad, the week is versus the public, since they are each very unpopular. That means bigger standings swings with those outcomes. If the Colts and Jets both win, that means outperforming the public by +1.7 or +1.8 wins on average is in play. If they both lose, being down versus the public is likely. That's just the nature of specific swing games in any given week.
Tuesday, September 29th (2 pm ET)
A tough closing stretch of going 0-for-2 in the primetime games to end the week turned a really good week into just an average one for game winner pool subscriber picks in Week 3. With the Saints and Ravens losing at home, both as favorites, our reference Quick Picks pick set for season prize pools (Starr) won 9 games, directly in line with the public average of 9.0 wins, while the top weekly prize pick recommendations won 8.8 games on average.
On a brighter note, in confidence point pools, most of the teams our recommendations pushed up the confidence point list won, while the losses tended to be on lower value games in Week 3.
For NFL spread pools, it was a solid week for season prize picks. The public averaged 8.1 wins in Week 3, while our Max Profit recommendations averaged 9.2 wins and the "Avoid Bad Loss" recommendations averaged 8.9 wins. The weekly recommendations roughly mirrored the public win rate, thanks to some of the very popular public choices in the final two games (Packers and Chiefs) largely going against our contrarian picks.
This week, we will be monitoring any potential moves related to the news that some Tennessee players and staffers were positive for coronavirus. This situation has the potential to impact the game between the Titans and Steelers, as well as the game between Minnesota and Houston (Minnesota played Tennessee last Sunday).