Pick'em News and Notes for NFL Week 2 2020
News, notes, and observations impacting the 2020 NFL Week 2 pick'em pool landscape, straight from the TeamRankings experts.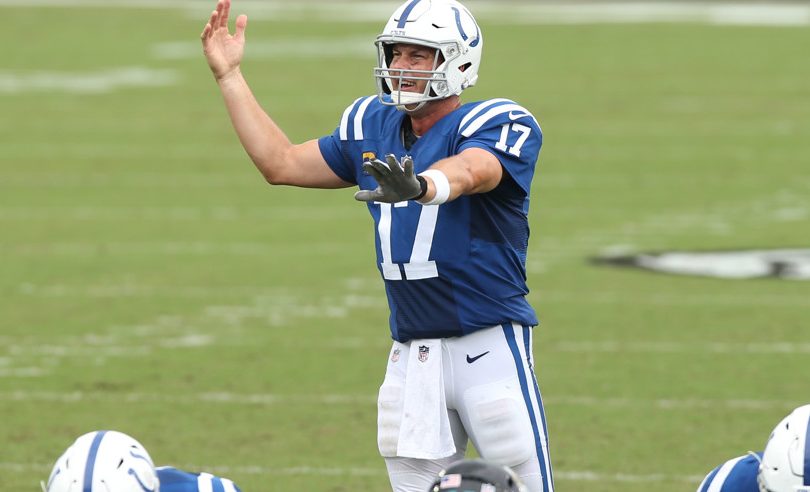 Philip Rivers wants you to slow down and take your time before you throw your picks this week (Photo by David Rosenblum/Icon Sportswire)
---
NEW: We've launched two free-to-play NFL contests for 2020 (one for premium subscribers, one for non-subscribers), each with over $1,000 in prizes!
---
Monday, September 21st (12 pm ET)
The betting favorites have gone 14-1 so far in Week 2 straight up, with only the Saints left to face the Raiders tonight. That means that our most frequent recommendations for season-prize picks have gone 14-1 as well. The Eagles losing to the Rams as 1.5-point favorites was the only "upset" of the week, and a minor one at that.
The average score (based on public pick rates) so far is 12.5 wins in week 2. While that's the average, it's very possible in some pools that going 14-1 may not be good enough to win the weekly prize, or may put you in a tiebreaker. Some pools may have multiple entries at 15-0.
But after last week, Week 2 should have provided an overall positive move in season-long standings, as some entries (who picked a lot of upsets) will have moved down the leaderboard in Week 2. We will have a full recap of the week in our Week 3 thread which starts tomorrow.
Sunday, September 20th (12:45 pm ET)
Late injury news and a late line move has pushed Atlanta into a potential pick as a value gamble in weekly scoring formats. Dallas All Pro left tackle Tyron Smith is inactive, and Dallas dropped from a 4.5-point to a 3-point favorite with that news. With Dallas being picked by 82% of the public but now having win odds of 60%, the value proposition may have changed in your pool. Dallas should still be the pick in season prize goal pools, but Atlanta should move in late in weekly with the Smith news.
Sunday, September 20th (10 am ET)
The Philadelphia Eagles' line has continued to move, and they are now favored by 1.5 points after opening the week as a slight betting underdog.
This betting line movement is counter to public picking trends, as the Rams are being picked by 70% of entries in pick'em pools. That Rams pick popularity may drop down a bit this morning if sharper players adjust their picks and/or the line continues to move in Philadelphia's favor, but it probably won't move much at this point.
As a result, you are likely to see the Eagles as the recommendation across most game-winner pool formats, both season and weekly prize.
For large weekly prize only pools, the Lions and Dolphins are likely to show up as value gambles in certain pool sizes. The pick popularities are extremely low for each of those teams. Detroit is only being selected 2.5% of the time and Miami 6.9% of the time, while both have win odds in the 32-33% range. That makes them potentially attractive picks in big weekly pools where you need to take greater risk to differentiate your entry.
Friday, September 18th (1:30 pm ET)
The Cleveland win on Thursday night was almost universally a positive result for users in our game-winner pools. Cleveland was a value favorite being picked less frequently by the public than their actual win odds. That put them as the pick in season-long contests and weekly pools, and also pushed them up the rankings in pools that use confidence points.
However, Cincinnati's late garbage-time touchdown for a backdoor cover against the most common spreads of Cleveland -5.5 or -6 was generally a negative result for those of you in spread pools.
If you look at the NFL Data Grid, though, you might notice that it says "No" to Cleveland and "Yes" to Cincinnati in the "TR Pick" of the ATS portion of the grid. So we thought we would use this as an opportunity to quickly explain what is going on. As is noted in our Data Grid tutorial, the Yes or No in that column indicates whether the team is the favored by TR to cover the spread at the current "Vegas" line (also shown in the Data Grid).
That's simply based on the betting models, and does not take into account other strategic considerations, such as the size of your pool, your place in the standings, or the pick popularity of that spread pick.
In this case, our betting models had Cincinnati +6 at 50.2% to cover, versus 49.8% (ignoring pushes). So yes, technically, our betting models had Cincinnati as favored to cover, ever so slightly. So why then would we be recommending an "expected loser" in your spread pool? We covered some of the strategic reasons in this Help article.
Here, the public pick popularity was against Cleveland (40% for the Browns versus 60% for the Bengals) and our models viewed this game as nearly a toss up, with the two teams separated by only a 0.4% difference in point spread cover odds. The value on the Browns, due to their low pick popularity, was enough to make them the more frequently suggested pick for our subscribers in point spread pools.
It's also important to note that different pools use different point spreads. You should pay attention to the spread your particular pool is offering, and input that spread in our tool each week when you get your picks. The specific number may impact which side we think is the better strategic play for your particular pool. 
Here's a summary of our recommendations based on the pool type (season prize vs. weekly) and goal (maximize profits, win something, or avoid bad finish in season pools), as well as our top 3 pick sets for weekly contests. The percentages listed are the percentage of time we recommended Cleveland as the spread pick for that category.
| Spread | No. | Season-Max Profit | Season-Win Something | Season-Avoid Bad Finish | Weekly-1st | Weekly-2nd | Weekly-3rd |
| --- | --- | --- | --- | --- | --- | --- | --- |
| CLE +6.5 | 1 | 100% | 100% | 100% | 100% | 100% | 100% |
| CLE -3.5 | 6 | 100% | 100% | 100% | 100% | 100% | 100% |
| CLE -5.5 | 456 | 99% | 99% | 90% | 99% | 61% | 72% |
| CLE -6 | 249 | 90% | 90% | 0% | 94% | 28% | 71% |
| CLE -6.5 | 63 | 0% | 0% | 0% | 89% | 47% | 48% |
| CLE -7.5 | 6 | 0% | 0% | 0% | 0% | 67% | 33% |
| CLE -8.5 | 2 | 0% | 0% | 0% | 0% | 0% | 100% |
As you might expect, since we had this one pretty close to even in our models, the cut-off was right about a 6-point spread. Cleveland was heavily recommended at -5.5 or lower in all formats.
At Cleveland -6, though, it depended on the goal. For picks with the "avoid bad finish" goal, we ignore pick popularity and just go with the team that we project as more likely to cover your pool's spread (as of the time you get picks), so Cincinnati +6 was the choice by a hair.
At Cleveland -6.5, the recommendations shifted to the Bengals in all season-long formats, because their projected chance to cover +6.5 was high enough to outweigh their higher popularity.
So yes, the spread you tell us is being used in your pool matters, as this distribution shows. Our product recommendations are adjusted to the specifics of your contest. Last night, while it worked out for some of our spread recommendations, and pretty much all of you playing in game-winner pools, the majority of spread pools got Cleveland at either -5.5 or -6.
Hopefully, this helped you understand why they were recommended in this particular case, and why sometimes, it goes beyond simply which side our models say has a slightly better chance of covering.
Thursday, September 17th (1 pm ET)
The Battle of Ohio kicks off Week 2 on Thursday Night Football, and it's a fairly important game for our pick'em users. The public is still taking the underdog Bengals 33% of the time, while the Browns are favored by 6 points and have 70% win odds. That makes Cleveland a high value pick as a favorite with both the odds in their favor, and a large enough chunk of the public going the other way.
So you should see Cleveland recommended in essentially all season-long and weekly pick sets in game-winner pools. In weekly confidence point pools, you may also see them at a high confidence number because of the value proposition and how much differentiation they can provide this week.
That makes us Browns backers in Week 2, coming off their embarrassing performance in Week 1.
There has not been any major line movement, yet, in the week's other games. Indianapolis, which we highlighted yesterday as a 3-point favorite, has moved from 25% pick popularity to 29%, but it would have to be a major shift to alter their outlook as a major value play this week. The Eagles-Rams game has shifted to a pick'em (from Rams favored by 1) but you should expect some fluctuation right around zero, in the toughest-to-call contest of the week.
Wednesday, September 16th (2 pm ET)
Week 2 shows some opportunities where the public may be strongly overreacting, and maybe even cherry-picking, certain outcomes from Week 1.
One that immediately stands out is the Colts being picked by only 25% of the public, when they play Minnesota at home. Sure, Indianapolis lost to the Jaguars in Week 1, but they gained way more yards and the things they did wrong are the more random, high leverage plays that can sink a game, but aren't as predictive. They turned the ball over, missed field goals, and missed opportunities in a close game.
The Vikings, meanwhile, got dominated during the first half of their home game against the Packers, and the offensive line really struggled to protect Kirk Cousins. He had 5 pass attempts and was sacked twice, once for a safety. They scored three touchdowns late when the game was for all intents over (the Vikings never had possession down by 10 or less in the second half), and gave up over 500 yards of offense to the Packers.
So you have two teams that lost, in different ways, but the public has largely jumped off the Colts. Meanwhile, Indianapolis is the 3-point favorite. This is one of those opportunities that comes up infrequently, where a favorite is actually being picked by a small percentage of the public.
The other thing that stands out about Week 2 is the sheer number of games that have larger point spreads. Twelve of the 16 games this week have a point spread between 5 and 9 points, while only four matchups have a spread lower than 5. (Last week, in contrast there were 8 games with a spread of 5 points or more, and 8 games of less than 5 points.)
That means there will be fewer toss-up type contests where the public is split. In fact, 13 of the games have a team with greater than 80% pick popularity, and another is the underdog Vikings being picked 75% of the time against the Colts. That leaves just the Eagles-Rams game (69% popularity for Rams) and the Browns-Bengals game (68% popularity for Browns) as the most divided games in public pick rates.
Tuesday, September 15th (3pm ET)
Week 1 is in the books, and so we'll start off Week 2 by taking a quick look back at the picks. If you are looking at your pool, and have about 9-10 wins, that should be right in the middle for this week in most pools.
It was a week with plenty of upsets and relatively close matchups with split opinions. Based on the public pick rates, the average pool entry got 9.7 wins in a week that featured some notable upsets and plenty of fairly even matchups where pick popularity was divided. Sure, it's possible that in some pools, particularly larger ones, a handful of entries posted good scores. But most should be at about 9-10 wins.
Season Prize Pools
The average result for TeamRankings' season-prize recommended picks was between 9.5 and 9.7 wins, depending on which pick set was used, but exact scores will vary based on when you generated picks (since line movement can affect picks), and specific pool rules.
The highest leverage games in a given week are often (though not always) games where the win odds are relatively close and pick popularity is divided. The biggest positive results in season-long pools for TeamRankings subscribers were the wins by Las Vegas, Tennessee, and New Orleans. Users gained nearly 0.9 wins compared to the average entry because enough of the public were picking the mild upsets, and missed.
Meanwhile, the biggest negative results for Week 1 in season-long pools were the Chicago, Green Bay, and LA Rams' wins, where our recommendations were heavily on the other side. The Detroit loss to Chicago was particularly brutal, given that they blew a 17-point fourth quarter lead and dropped a game-winning pass in the final seconds. That outcome was the difference between an average week and an above-average one in season-long pools to start the year.
Weekly Pool Picks
The value picks did not hit in Week 1, so the weekly win rates will probably be below average for Week 1 in those type of contests. This is primarily because the two biggest value plays in weekly contests, Cincinnati and Atlanta, did not hit. (We will also note that by kickoff, the line had moved so Atlanta was no longer the betting underdog, even though 76% of the public was taking Seattle. Picking the betting favorite with most of your opponents on the underdog is exactly where you want to be in these contests.)
The impact of these two games on weekly win rates can be measured by the impact on scoring. The risky value strategy for weekly contests resulted in 1.5 fewer wins than the public in this particular week. That's going to happen when value contrarian plays do not win. If just those two games had gone the other way, though, the weekly wins would have swung to 1.1 more wins than the public average, and likely had more users in the running to win weekly prizes.
There's no getting around it, those value plays are high leverage. But the reason they make strategic sense in weekly contests is that in weeks when a couple of the value plays win (whether you are taking the underdog or unpopular favorite), you shoot past a lot of entries.
So it's on to Week 2, where we will continue to search for value. We'll go over some of the early numbers tomorrow.