Pick'em News and Notes for NFL Week 14 2020
Sunday features several games that have seen line shifts and where injury news could impact who ends up being favored.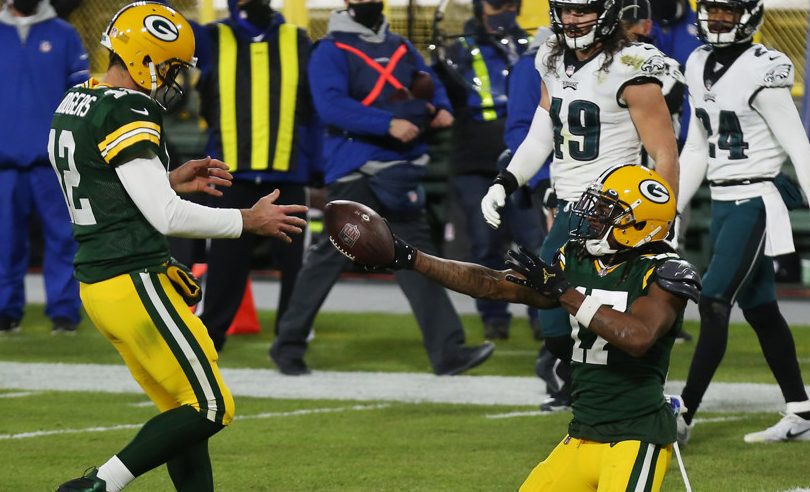 Aaron Rodgers threw his 400th TD pass and now has an outside shot at the Hall of Fame (Photo by Larry Radloff/Icon Sportswire)
We provide near-daily updates (and sometimes depending on the news, multiple updates) each day analyzing games that could impact pick'em pools. So far in Week 14 we have the following updates:
Monday: The week closes with what could be a big game between Cleveland and Baltimore.
Sunday: A rundown of line movements and injuries that could impact the Sunday picks.
Friday: the pick popularity in spread pools is not as extreme as it is in most weeks. Also, remember that college bowl pools will start soon, with eight days until conference championships are played.
Thursday: The Thursday game is between the Rams and Patriots, who played in the Super Bowl less than two years ago, and is fairly important for both teams as they try to get to the playoffs this year.
Wednesday: An early look at the Week 14 schedule, where there are several games that are close in the betting markets
Tuesday: We reviewed the week that was in pick'em pools, looking at how our recommendations stacked up against the public in game winner and spread pools.
Monday, December 14th (4:30 pm ET)
The Week 14 schedule closes with what could be a pivotal swing game in pick'em pools. The Baltimore Ravens are a 3-point favorite at Cleveland in a vital game in the AFC Playoff race. The public is nearly evenly split, with 57% taking Baltimore and 43% on Cleveland, so in game winner pools, Baltimore is a value favorite and the likely recommendation across all pool types.
Tomorrow, we will have a full summary of the Week 14 results for TR versus the public, but right now it looks like the TR picks should be up on average against the public, and this game will decide by how much.
Get access to all football pick'em pool content, picks and tools
Free subscription offers now available!
Already a premium subscriber? Sign in for access