Pick'em News and Notes for NFL Week 13 2020
Three more games remain in Week 13, including the Steelers-Washington game on Monday.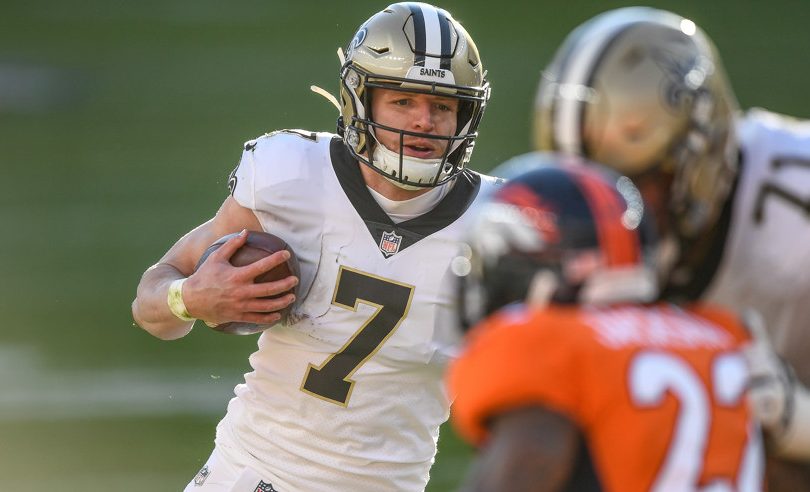 Taysom Hill just knows how to win, so far (Photo by Dustin Bradford/Icon Sportswire)
We provide near-daily updates (and sometimes depending on the news, multiple updates) each day analyzing games that could impact pick'em pools. So far in Week 13 we have the following updates:
Monday: We still have three games left in the Week 13 schedule, as Pittsburgh plays Washington in the early evening, and Baltimore plays on Tuesday
Sunday: Some lines have shifted, opposite of public pick rates, and the Chargers and 49ers are now favored.
Friday: The NFC East is awful, and as a reminder of that, all four teams are large underdogs this week.
Thursday: the line has tightened in the Buffalo-San Francisco game, which is being played in Arizona this week.
Wednesday: Week 13 has a lot of large favorites, focusing the key swing games among a few options. We take a look at some pick rate differences in a group of those closer games.
Tuesday: We recap our performance in game winner and spread pools in Week 12, and also note that Week 13 is the point in the season where we may begin to adjust pick strategy depending on your prize goal and where you are in your standings.
Monday, December 6th (10:00 am ET)
Another week where it's not really over yet until late on Tuesday. We still have three games left in Week 13.
The Pittsburgh-Washington game is at 5 p.m. ET, but is only televised regionally on FOX, on stations that were originally going to get that game in local markets on Sunday afternoon, before it was rescheduled. The line in that game is down to Pittsburgh being favored by 6. Ben Roethlisberger was questionable, but is expected to play.
The regular Monday Night game on ESPN is between San Francisco and Buffalo. The 49ers are now a 2-point favorite after opening the week as the underdog, and public popularity still remains on the side of the Bills. Given the larger lines in the other two games to be played, this one could be a key swing game in many pools.
On Tuesday Night, Baltimore plays Dallas in primetime. The Ravens are favored by 8.5 points. While not everyone is back, most of the players who missed last week against Pittsburgh are, including QB Lamar Jackson. Given all the results on Sunday, this one has taken on even more importance for Baltimore as Cleveland, Miami, Indianapolis, Las Vegas, and New England all won in the AFC.
Sunday, December 6th (10:00 am ET)
The lines have shifted in the San Francisco-Buffalo and LA Chargers-New England games, to where the 49ers (-1) and Chargers (-1.5) are now slight favorites on Sunday morning. Both of those teams are being picked by less than half the public, with the 49ers at 35% pick popularity, and the Chargers at 41%. Those two join the Rams (favored by 2.5 but being picked by 39% of public) so that we now have three games where the betting favorite is being picked by less than half the public.
Get access to all football pick'em pool content, picks and tools
Free subscription offers now available!
Already a premium subscriber? Sign in for access