Pick'em News and Notes for NFL Week 11 2020
The Sunday swing games went our way, and we expect a big week against the public again in Week 11. Plus, a reminder about Thanksgiving.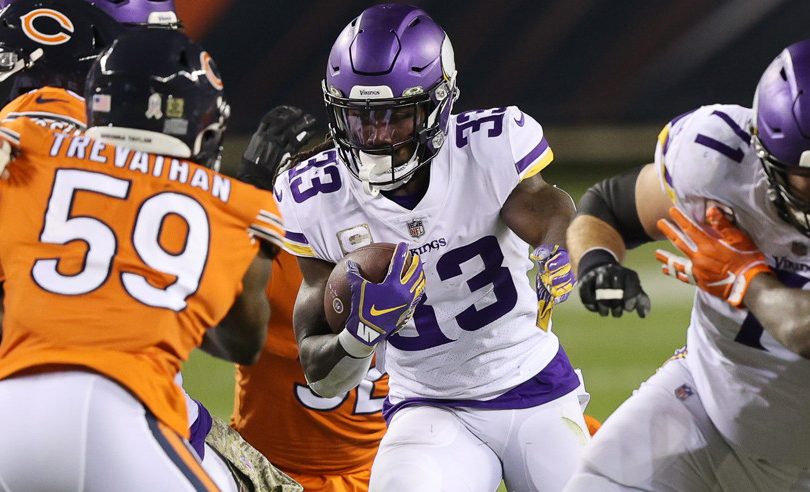 Dalvin Cook and the Vikings are now tied for the final NFC playoff spot after a 1-5 start (Photo by Robin Alam/Icon Sportswire)
We provide near-daily updates (and sometimes depending on the news, multiple updates) each day analyzing games that could impact pick'em pools. So far in Week 11 we have the following updates:
Monday: A quick recap of Sunday's results and a reminder about Thanksgiving week.
Sunday:We go through some of the likely high leverage games this week where the public and oddsmakers differ on the favorite.
Friday: It looks like Teddy Bridgewater will miss Sunday's game for Carolina, so we take a look at line movements and give some information on his backup.
Thursday: We give a quick preview of the Thursday Night game between Seattle and Arizona, and likely outlook for pick'em pools, and also talk about how Teddy Bridgewater's status for Carolina will likely decide which side we pick in Carolina versus Detroit.
Wednesday: The Colts continue to be undervalued by the public in picking games, and we break down their pick rates and win odds this season to show just how much the public has consistently undervalued Indianapolis.
Tuesday: We recapped the huge boost against the public in Week 10 results, by looking at our pick recommendations in various pool types.