Pick'em News and Notes for NFL Week 10 2020
The Arizona victory on the Hail Mary was a big result, as the value favorites being picked by less than half the public went 3-0 for Week 10.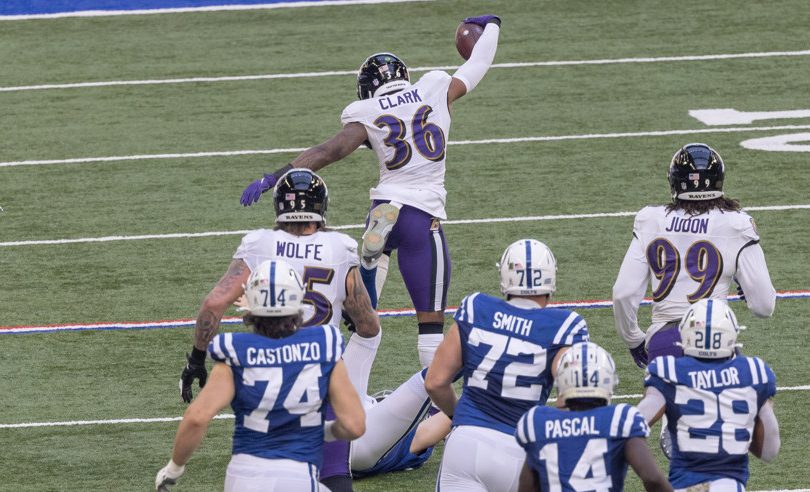 Baltimore's win over Indianapolis could still loom large (Photo by Scott Stuart/Zuma Press/Icon Sportswire)
We provide near-daily updates (and sometimes depending on the news, multiple updates) each day analyzing games that could impact pick'em pools. So far in Week 10 we have the following updates:
Monday: The Arizona Hail Mary for the win highlighted a big week for value picks, where the Colts, Rams, and Cardinals all won as betting favorites, while being picked less than 30% by the public on average. Those three value picks went 3-0 while the public averaged getting only 0.8 wins out of those games.
Sunday: The line movements this week have solidified some value favorite plays for Sunday.
Friday: The Colts' big win has our picks off to a good start in Week 10, and we look at some value plays in college football.
Thursday: The Colts have now moved to the betting favorite in the Thursday Night Game, on the road at Tennessee.
Wednesday: We took a look at several games this week where the public is strongly disagreeing with the betting oddsmakers over who the more likely winner is.
Tuesday: We recapped the Week 9 results by looking at our pick recommendations in various pool types, and comparing it to public pick rates.
Get access to all football pick'em pool content, picks and tools
Free subscription offers now available!
Already a premium subscriber? Sign in for access